How we helped a new multi-location dermatology brand build a patient-generating website that grew lead volume by 309%
Company Overview
VitalSkin Dermatology
Established in 2019, VitalSkin Dermatology was formed with dermatologists as its central focus. The management service organization's mission is to build a multi-location dermatology group that's aligned with the goals of its member practitioners, supports their needs, and creates personalized plans to help them develop their practices and provide exceptional patient care.
The group is backed by Armory Capital, a Champaign-Urbana family private equity office with a legacy of successful and lasting partnerships. With Armory's flexibility and permanent capital, VitalSkin can focus on building stable, long-term partnerships with dermatologists nationwide.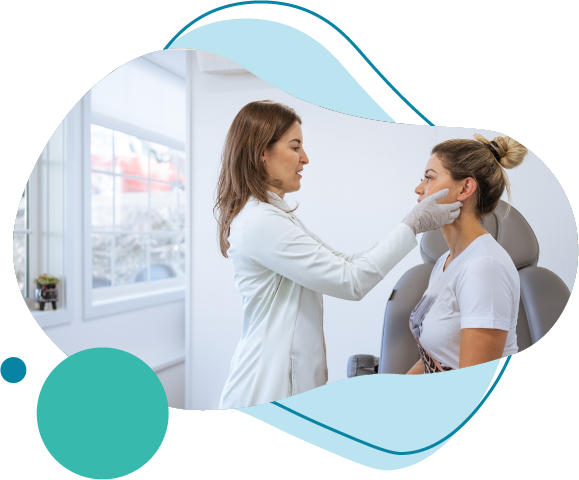 Expand through de novo and acquisition strategies
Build a powerhouse dermatology brand
Drive patient acquisition for acquired and owned practices
The Problem
Build a Foundational Website & SEO Strategy from Scratch
When they approached Cardinal Digital Marketing, the VitalSkin team was building out internal systems and processes quickly to keep up with a growing practice acquisition pipeline. As a new company, VitalSkin had no digital presence or visibility on search engines. They needed a robust website and SEO strategy that would deliver consistent, high-quality patient volume. And they needed it fast.
To get a digital and SEO solution live on such a compressed timeline, we needed to address a few challenges:
Personalize and optimize for each location's value proposition, back story, key service areas, geographic location, and care team.
Stand up live chat and other technologies to handle a high volume of low-friction, low-touch patient interactions.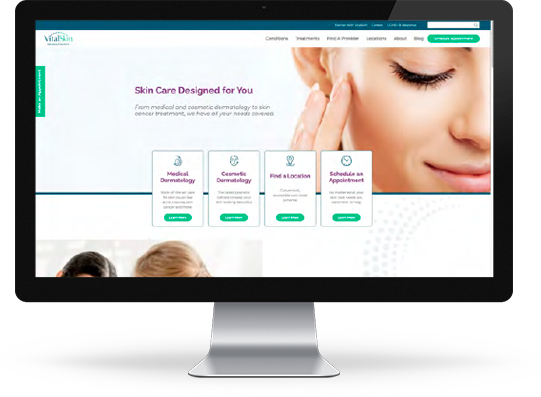 The Solution
Build a Future-proof Website
Then there were more qualitative challenges specific to Transformations' location and market. Patient willingness to get help and insurance qualifications are significant obstacles within the addiction and mental health space. On top of that, South Florida is saturated with substance treatment facilities. Such stiff competition, alongside inadequate insurance coverage in Florida, means that ad campaigns need to target other regions (like the Northeast, Texas, etc.), which can also be expensive and saturated. Undaunted by these challenges, Cardinal devised a paid media strategy that would help them achieve their goals.
1. A Scalable Multi-Location Website Architecture
The underlying website structure, site architecture, and URL hierarchy had to support a great user experience, a comprehensive SEO strategy, and have the ability to scale with new locations. The site architecture itself followed six core principles for high-growth healthcare organizations:
Organized: Like content grouped with other like content
Discoverable: People can get to what they need in three clicks or fewer
Delivers Value: Content, ideas, and information that dental consumers can actually use
Uniqueness: No duplicate or redundant content
Linkable: Build internal links between content
Consistent: Thematic and structural consistency that's on-point and on-brand
As part of this buildout, the Cardinal team designed and developed new top-level category and subcategory pages, page layouts, and custom page types that would be most relevant for the growing dermatology group.
With this high-level structure in place, we then developed comprehensive SEO content for all web pages. At each step of the website buildout, we had the future in mind and ensured the website could easily add new locations and services.
2. Elevated UX Design
Developed features and functional elements to improve the user experience. Tested website responsiveness across devices while adding content and imagery that would enhance the user experience.
3. Seamless Technical Integrations
We implemented third-party scheduling tools with the website to improve conversion rates and integrated forms and scheduling tools with the existing ERM/CRM system. This reduced the manpower needed to book new patients, thus increasing operational efficiency.
Develop an SEO Strategy That Dominates Search
To meet VitalSkin's objective of building a powerhouse brand capable of dominating organic search results, we needed to lay a strong SEO foundation throughout the group's new website. On top of that structure, we orchestrated a comprehensive three-part SEO strategy, as follows: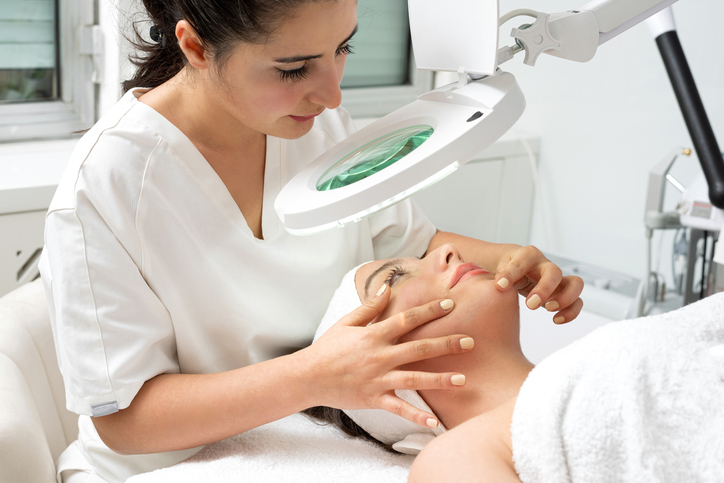 1. Search Insights & Keyword Strategy Optimizations
To help VitalSkin reach their target customers, we conducted deep keyword research, built out our list of target keywords, then built content around high-volume search trends. To quicken time to value, we focused first on core search terms to drive high-intent traffic and increase organic conversion. From there, we performed keyword optimization for the following:
Metadata
URL structure
Header tags
Main menu structure
Site architecture and information hierarchy
Page content
Ancillary onsite and offsite aspects
2. Content Strategy
Our content strategy for VitalSkin was based on keyword research and industry trends. We started with a plan to incorporate on-site content, like blog posts and marketing resource sections, into the website. This included the development of a monthly editorial calendar, which we supported by creating optimized blog content tied to each stage of the patient's journey. Aside from helping VitalSkin rank for more keyword phrases, the blog articles also generated top-of-the-funnel awareness and enhanced the website experience by inviting users to learn more about skin conditions.
3. Link Building
To kick off our link-building efforts for VitalSkin, we conducted in-depth competitor analysis and monitoring to determine competitive baselines. From there, we had the data we needed to develop and execute a more targeted link-building strategy, one focused on core pages that needed a boost from incoming links. Throughout the engagement, we monitored competitors and sought out strategic linking opportunities, such as:
Service-specific directories based on the specialized dermatology services offered at each VitalSkin location
General health directories that healthcare consumers and providers use to find and contact dermatologists
General health publications that publish digital content related to a variety of dermatological themes
Bottom-Line Marketing Results in Less than 6 Months
Any good marketing and SEO agency will tell you that there are no "results overnight" shortcuts, especially when you're building a digital presence from scratch.
But thanks to a new website that supports both SEO and conversions, VitalSkin has enjoyed top rankings for target keywords alongside steady lead generation inside six months. Our efforts at optimizing the site for online appointment bookings have helped boost conversation rate and patient flow, as well.
309% increase in patient leads
171% increase in organic traffic
51% increase in organic CVR
Position 1 ranking for "Louisville Dermatology"
Their new website is a patient-generating machine.
Triple-Digit Growth in Patient Leads and Site Visits
Because we built the VitalSkin website from scratch, we could optimize conversion rates from the beginning. As a result, the group's site visits never outpace patient lead generation, both of which have increased at a steady pace.
Position 1 Ranking for Several Competitive Keywords
All of this growth has been driven in large part by the new website's technical site setup, in-depth content strategy, and keyword-focused optimization. Along with considerable keyword growth rates, VitalSkin has secured several "position 1" rankings quite quickly—all of it in lockstep with the group's aggressive acquisitions strategy. Merging these new acquisitions into the VitalSkin website framework gives them immediate marketing support and, subsequently, results.