Here's How PCLI Increased Leads By 45% With Google Ads
Our Solution
Increased Patient Acquisition with Multi-location PPC Strategy
The Cardinal team helped Pacific Cataract and Laser Institute (PCLI) develop a lead generation program for acquiring self-referring LASIK patients through digital channels. Together, our teams transformed PCLI's pay-per-click (PPC) strategy into a well-optimized, performance-driven program that delivered results beyond the company's initial expectations.
In a short time, this refreshed PPC strategy quickly captured bottom-of-funnel (BOF) lead volume while maintaining a cost per acquisition (CPA) well below PCLI's $100 cap. Thanks to a modern approach to PPC that makes use of the latest best practices and strategies, PCLI today enjoys 44% impression share across all locations—higher than any of their competitors.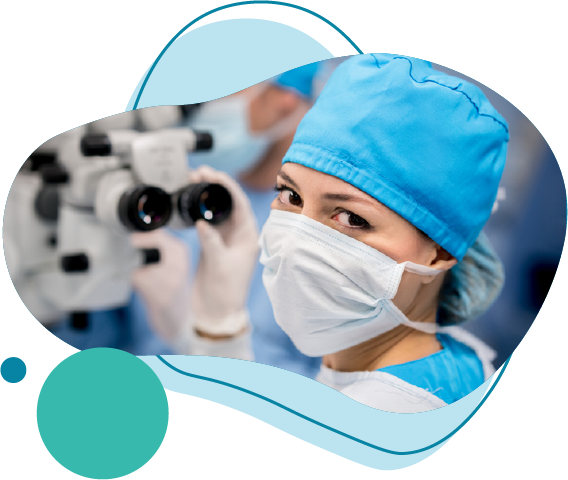 Pacific Cataract and Laser Institute (PCLI)
For 30+ years, PCLI has been a referral center for cataract correction, LASIK vision correction, and LASIK alternatives. In business since 1985, PCLI is trusted by 1700 doctors for patient referrals. Those doctors have performed more than 500,000 surgeries through PCLI referrals. In fact, several NFL players have used PCLI for their own LASIK procedures.
The PCLI team approached Cardinal Digital Marketing to help build a direct-to-consumer paid search strategy to acquire self-referrals from prospective patients. Our objective was to develop a paid search strategy to directly reach consumers, targeting the BOF to build lead volume quickly while maintaining a CPA below their cap of $100.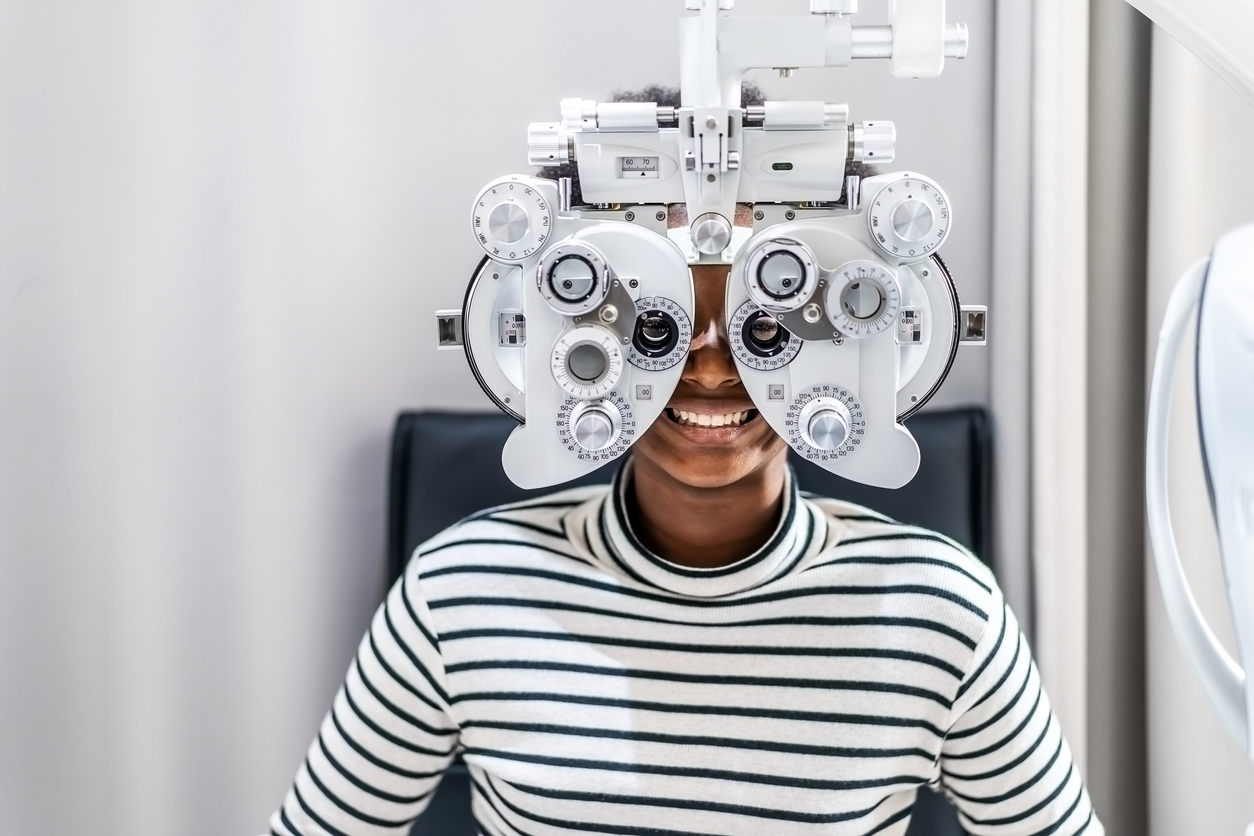 Challenges:
High competition among LASIK providers, especially in the Bellevue, WA area
Tendency for prohibitively high CPAs
Goals:
Build a scalable patient acquisition system rather than relying on provider referrals for growth
Increase cataract surgery volume by 5% (pre-COVID-19) and double LASIK surgery volume (pre-COVID-19)
Keep cost per acquisition below $100 cap
Strategy
A Powerful Mix of Essential PPC Optimizations
To drive qualified leads at an efficient cost, the Cardinal team focused on three core pillars of effective PPC: a well-structured account focused on relevancy and control; strong landing page experiences that engage and persuade conversions; constant testing and optimizations that improve performance. Here's a detailed look at what that looked like in practice.
Optimize Account Structure
For each of its 17 locations (across six states), Cardinal adjusted account structure to group terms by user intent and allocated budget to the most efficient keywords. The team also set up new campaigns and keyword groups that aligned with the setup of the new site, which helped drive incremental efficiencies and increase conversion volume. For example, here are the keyword category groupings for one of PCLI's locations:
Brand: people searching for PCLI and location-specific terms (for example, "pacific cataract and laser institute")
Cataract: people searching for cataract correction surgery
LASIK: People searching for LASIK correction
LASIK alternatives: People searching for corrective procedures other than LASIK
Eye surgery: People searching for eye surgery (e.g., "ophthalmologist near me")
Other keyword categories included laser eye surgery, photorefractive keratectomy (PRK), and reading vision correction.
To further improve conversion rates, the Cardinal team designed, wrote, and hosted landing pages for each of the target keyword categories. You can see an example PCLI landing page below.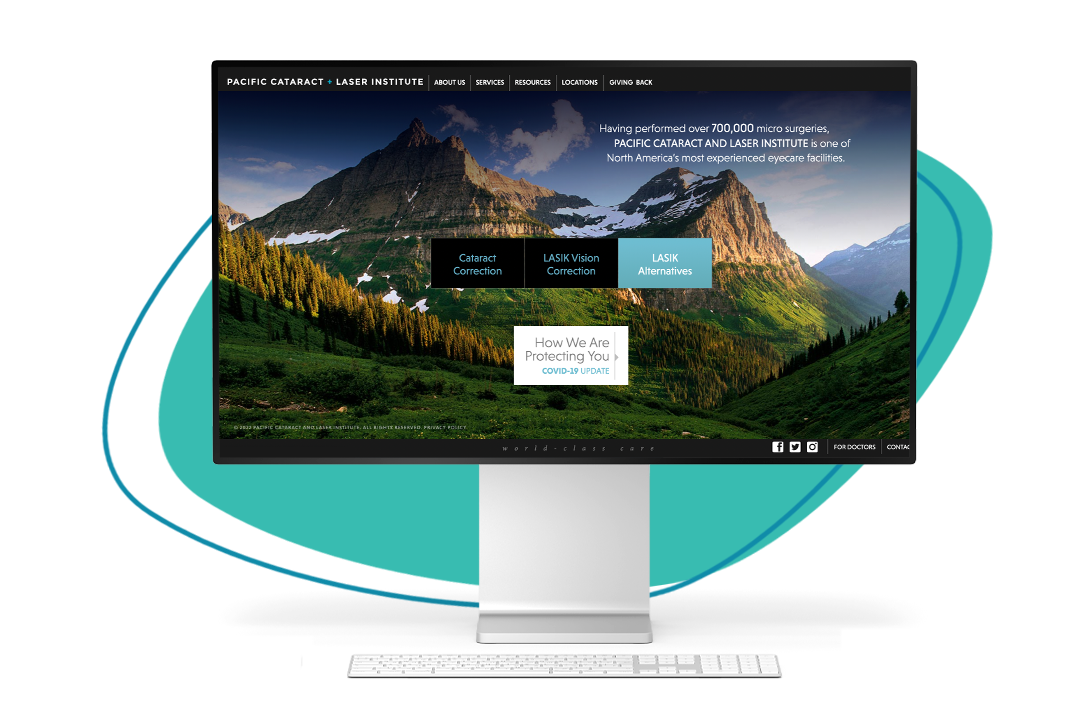 Leverage Smart Bidding
To keep CPA down, we harnessed machine learning to execute non-value-based bidding strategies in each and every auction. This aspect of our PPC strategy was not possible without first taking care of PCLI's account structure.
Test and Refine Ad Messaging
Our team tailored ad copy to the relevant keywords users are searching to best match the user intent (see the keyword categories listed above). We also monitored the Google Search Query report to identify other words patients use to find LASIK providers or to research LASIK surgeries.
Be a Proactive and Performance-Driven Partner
Throughout our partnership, we proactively sought optimizations to ensure PCLI met its business goals. As with all clients, we continually monitored performance, looking at ways to make improvements. If one campaign wasn't working, we assessed and made it right. This philosophy alone allowed us to drive better quality traffic and divert budget to better performing campaigns.
The Results
Unmistakable Progress in a Highly Competitive Digital Market for LASIK
To compete for eyes (literally) on search engines is challenging for LASIK companies. It requires a refined and efficient strategy with little room for error. Before engaging with Cardinal Digital Marketing, the PCLI team lacked a mature digital marketing program capable of this level of paid media strategy.
Since handing over the paid media strategy and landing page management to Cardinal, PCLI has seen impressive results. Through a new location-specific account structure, as well as our essential account optimizations, PCLI has enjoyed the following performance gains:
45% increase in leads
27% improvement in conversion rate
44% share of impressions in a highly competitive market
Perhaps the most significant achievement of this engagement was the delivery of consistently low CPAs. While PCLI aimed to remain below $100, they've enjoyed a CPA of around $82 throughout nearly all of the engagement. This, despite a consistent rise in competition across locations.
Finally, as a vote of confidence in Cardinal's ability to build a direct-to-consumer lead pipeline, PCLI has committed to a 20% increase in their budget allotment for Cardinal's paid media strategy. Considering the results PCLI has enjoyed to date, the future is bright.