Growing DSO increases lead volume with holistic performance marketing strategy
Overview
A Centralized Marketing Strategy to Guide Growth
Before turning to Cardinal, Peak Dental's marketing efforts were fragmented, involving different agencies for various locations. To improve efficiency and guide marketing strategy for their entire platform, the organization determined that they should partner with a single agency that could handle all their digital marketing.
During ongoing expansion, Cardinal stepped in as a growth partner to Peak Dental, centralizing their marketing operations and guiding strategy to drive new patient acquisition. As a result of our holistic, hands-on approach, Peak Dental has seen a dramatic increase in lead volume, conversion rate, and click-through rate, as well as a significant boost in organic performance across their various domains.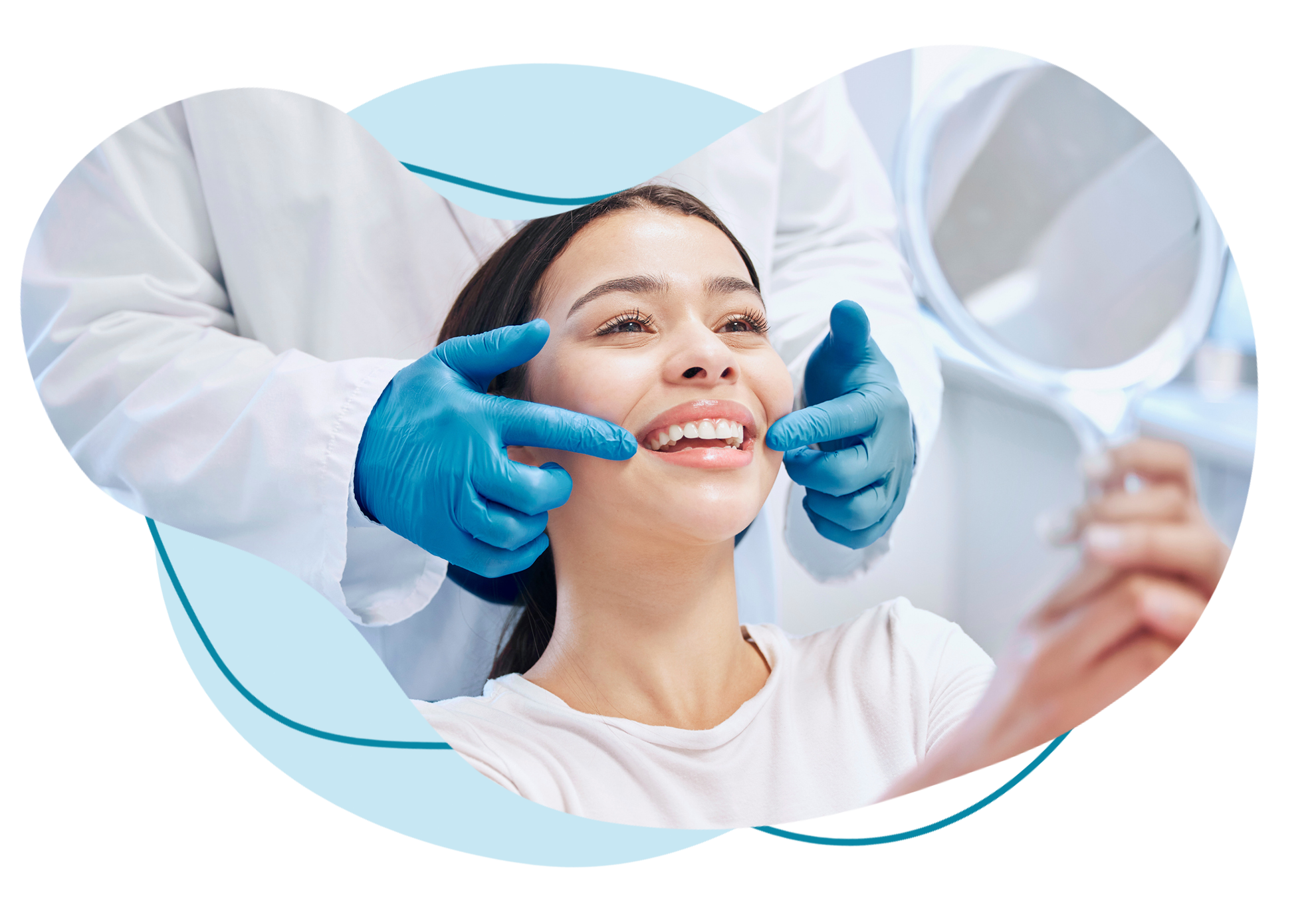 About The Company
Peak Dental Services
A private equity-backed DSO (Dental Support Organization), Peak Dental Services includes 61 locations across Texas & Colorado, each with its own unique identity and brand. As a DSO, Peak Dental helps these practices run smoothly and efficiently, delivering the support dentist leaders need so they can focus on providing the highest standard of patient care.
The organization currently maintains an aggressive growth strategy that focuses on de novo clinic openings and acquisitions across Colorado and into adjacent geographic markets.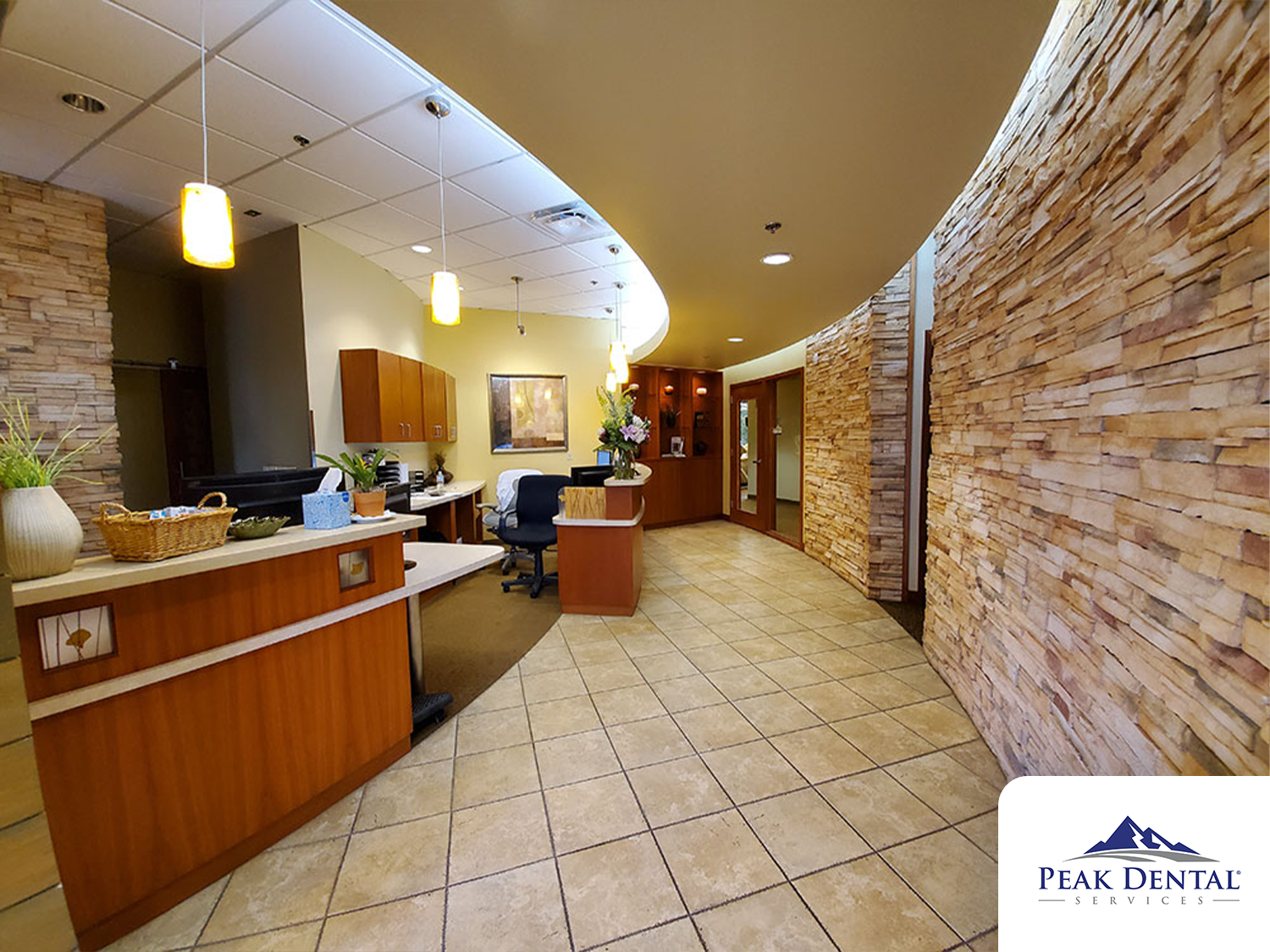 Challenges:
Peak Dental faced a number of challenges in their digital marketing efforts, including:
An inefficient marketing agency structure that spanned multiple, disparate agencies and vendors

No structured, scalable approach to paid media, SEO, and analytics that could facilitate the rapid onboarding of new practices
Goals:
Cardinal established two main goals in partnering with Peak Dental:
T

o drive new patient acquisition for all locations

T

o help the organization gain visibility in a highly competitive industry
Step 1
Improve Google Ads Relevancy & Efficiency
To meet their revenue targets, Peak Dental needed to bring in more patients at a lower cost per acquisition (CPA). To do this, Cardinal ensured that all Peak Dental Google Ads contained the most relevant messaging and were placed in front of an ideal audience—those ready to find a local dentist.
To maximize campaign efficiency and leverage Google's machine learning capabilities, we used a consolidated Google Ads account structure and paired it with a hands-on management approach, fine-tuning all locations.
As a result, we have been able to increase lead volume most cost-effectively, setting Peak Dental up for continued expansion and growth in keeping with their goals.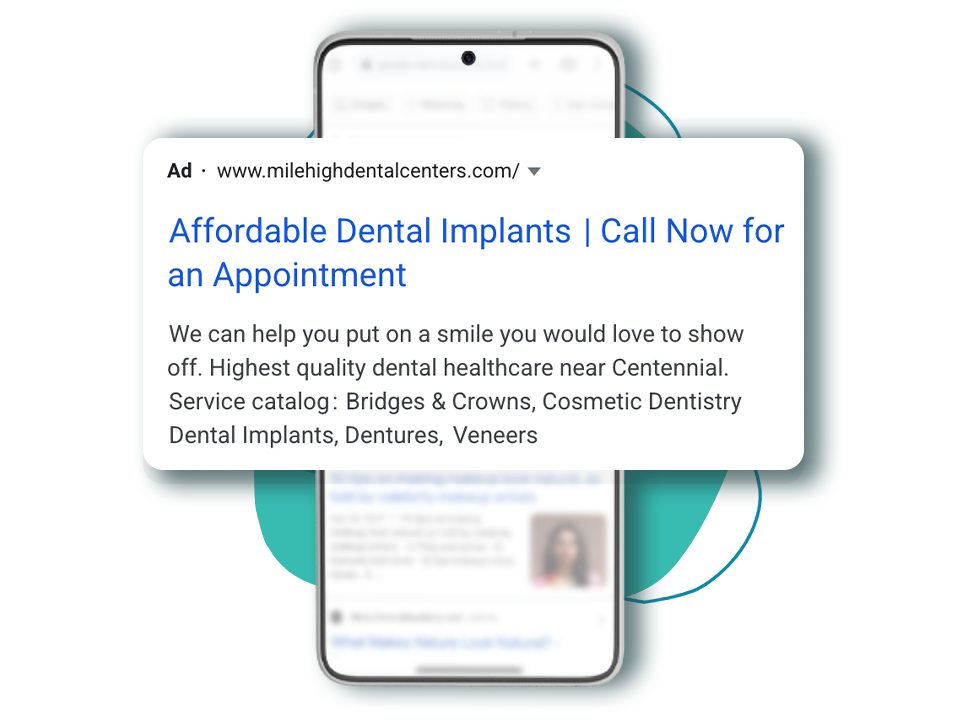 Our Hands-on Management Approach
Refine Account Structure, Keywords, and Copy to Optimize PPC Performance
Account Structure
Consolidation was a must to achieve maximum efficiency. We combined all 60+ of their campaigns into one new Google Ads account, then split up campaigns into Branded and Non-Branded. 
Since Peak Dental locations maintain different hours and emergency centers run 24/7, we also established a separate Emergency campaign for those locations.
Keyword Strategy
Our keyword and bidding strategy has evolved with ongoing testing. We found that phrase matches such as "dentists near me" were helping some Peak Dental locations, but not all. 
We've also tested and deployed broad match where appropriate. Always looking for ways to refine and improve, we have consistently optimized the keyword strategy according to each location's nuances.
Messing & Ad Copy
Next, we turned our attention to Peak Dental's ad copy, cleaning up existing messaging for all locations, revising keywords, and leveraging promotions to drive new patient acquisition. 
Since all locations have their own tagline, we tailored the ad copy to each site to retain individual brand identity. Our messaging strategy reflects each market and addresses patients' information needs. 
With Cardinal, Peak has not only experienced unprecedented new patient growth, but we have also seen our business grow exponentially.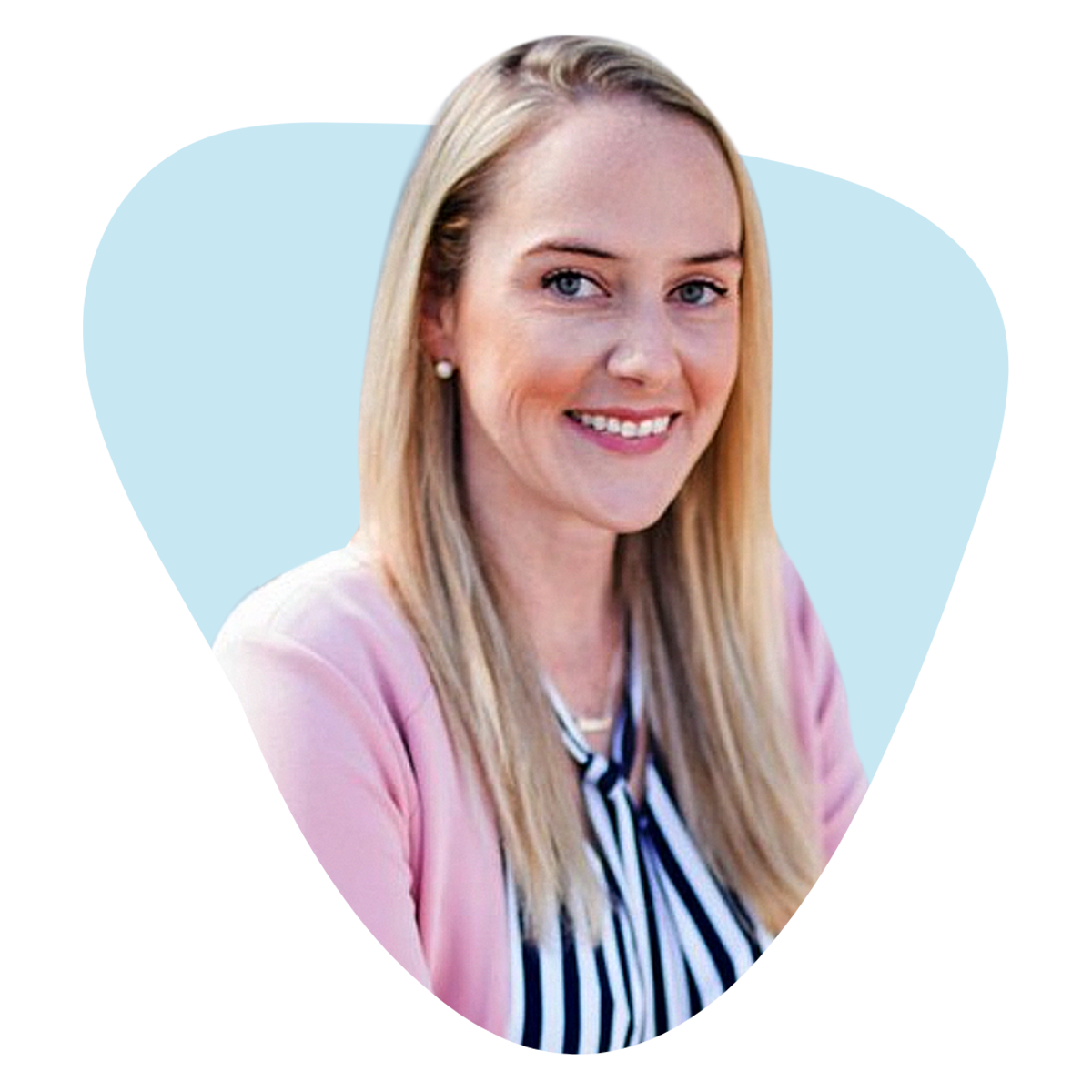 Step 2
Clean Up Domains and Fix Technical SEO Issues
Google is the number one place people go to when searching for a nearby dentist. To beat local competition, we ensured Peak's practices appeared at the top of the search engine results page.
To start, our team tackled three of Peak Dental's domains: Cody Dental Group, Blooming Dental, and Empire Dental. To improve their SEO foundation, we first made sure the sites were technically sound. This was critical, as ensuring a site is being indexed and crawled property is key for rankings and traffic.
We conducted the followings steps:
Optimized title tags and meta descriptions
Added internal links and target keywords throughout content
Audited blogs to limit onsite duplication
Expanded the content on the websites for key services
Next, we completed coverage, canonical, and schema audits to ensure the correct pages were being indexed and crawled. Finally, we executed site speed optimizations on all three sites
Step 3
Leverage Advanced Analytics to Generate Quality Leads
Next, we focused on building custom reporting dashboards that included their most important KPIs, allowing them to track campaign performance across channels and locations. The dashboard reports:
How many qualified leads each channel is driving by location

The number of calls & form fills by channel

Each location's individual performance

Performance based on specific ad groups
We integrated Peak's call-tracking solution (CallRail) into their reporting dashboard and set up CallRail for several locations that didn't have it. This additional data has allowed us to identify optimization opportunities that have increased lead quality and, subsequently, increased conversion rates.
Previously, Peak Dental took an "anything and everything" approach to leads, considering all phone calls as leads no matter the nature of the call. Now, they have stronger understanding of their actual patient pipeline.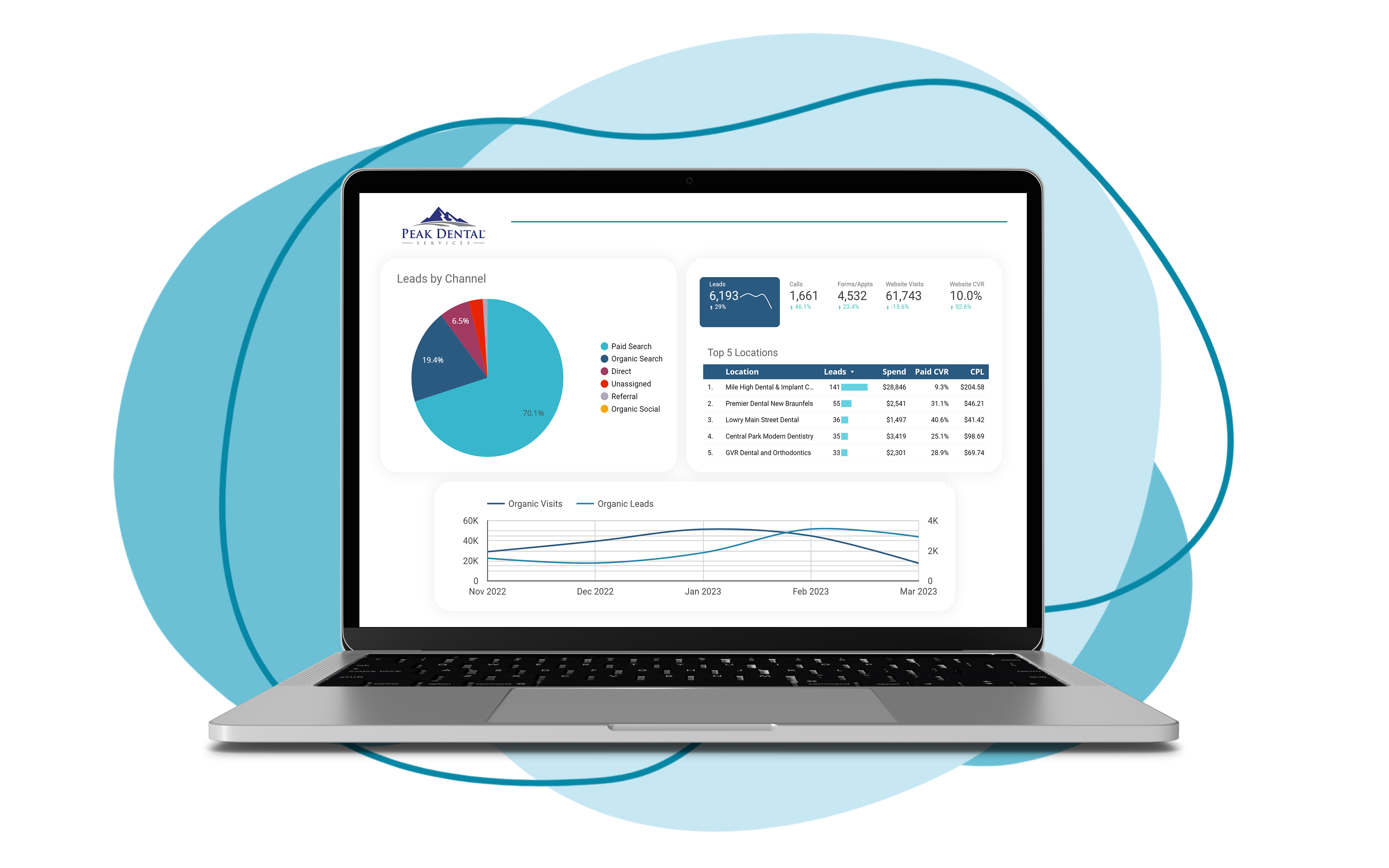 Our Results
Tremendous Increases in Visibility, Lead Volumes, and Conversions Across Peak Dental's Network
In the short time since establishing a working relationship with Cardinal, Peak Dental has seen an incredible amount of new patient growth and organic visibility. We continue to drive organic performance and paid media leads MoM.
PPC results for Peak Dental have been sizable and include a:
116% increase in lead volume;

77% increase in conversion rate, resulting from multiple factors, including improved keyword and search terms focus on high intent keywords and the addition of improved conversion actions in the account; and,

187% increase in click-through rate, resulting from improved ad copy that leverages promotional messaging and the use of extensions.
Peak Dental also saw impressive SEO results across their domains, including a:
167% increase in impressions and a 43% increase in conversions in just 3 months at Blooming Dental.

110% increase in keyword rankings and a 13% increase in organic conversion rate at Cody Dental Group; and,

30% increase in contact form submissions and a 121% increase in keyword rankings with a domain authority of only nine at Empire Dental.