How this pediatrics practice used digital marketing to reinvigorate patient volume.
Company Overview
The Very First Pediatrics Practice in Douglas County, Colorado
Parkers Pediatrics and Adolescents has served its community for decades. Their philosophy is based on a comprehensive care model for helping kids reach their full potential. This starts before children are even born and extends to all areas of health and wellness (including disabilities and psychosocial issues). Today, the practice staffs seven pediatricians, three physician extenders, four child/adolescent psychologists, and a registered dietitian/lactation consultant.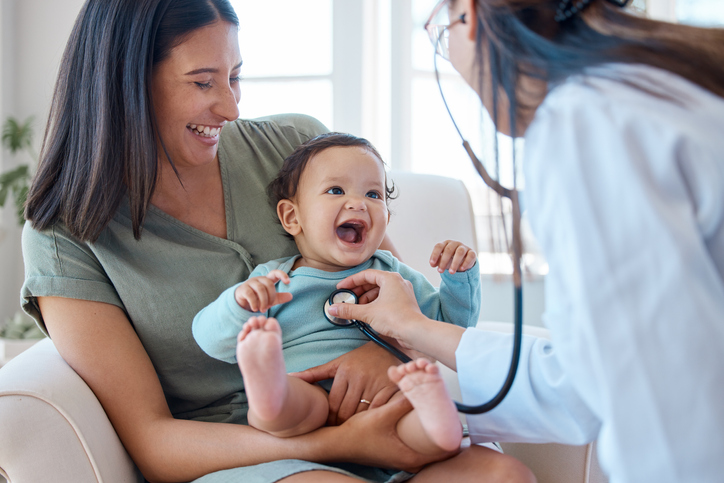 Challenges:
No in-house marketing team
Little to no investment in digital marketing
Problematic reviews and scattered digital presence
Lagging patient numbers due to COVID-19
Goals:
Acquire 30 to 50 new patients per month through digital
Long-term: double monthly patient acquisition from digital to more than 60-100 patients per month
Improve the online presence and launch a review solicitation campaign.
Increase website traffic and organic visibility
The Problem
Problematic Reviews and Scattered Digital Presence
When Parker Pediatrics and Adolescents engaged Cardinal Digital Marketing, the practice had been around for more than 35 years. Known for exceptional service, free prenatal visits, and comprehensive care (including mental health services), Parker Pediatrics needed the help of an agency to improve its digital experience.
Without an in-house marketing team to speak of, the Parker Pediatrics team required an experienced agency to handle SEO, review management, and more—most of it from the ground floor. Today, patient volume has dramatically improved, as has digital reputation. In fact, Parker Pediatrics is so booked that they had to hire a new physician.
Here's what we did to get there.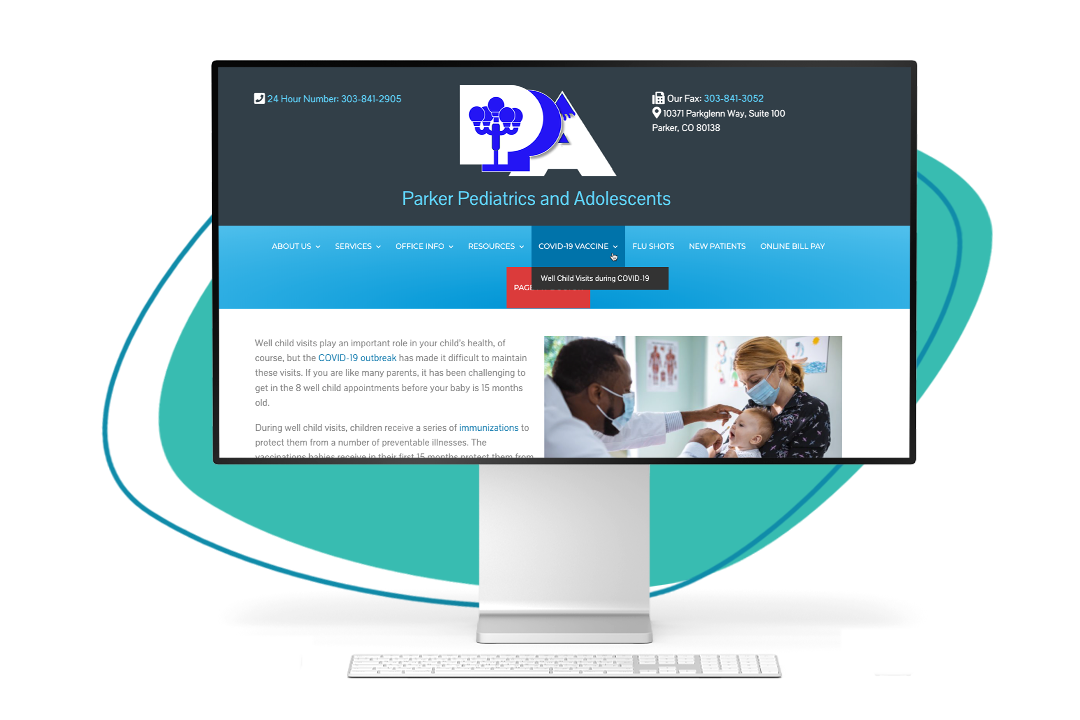 The Strategy
A Focus on Organic Traffic & Reputation Management
For ground-up digital projects like these, we always start with a sitewide technical audit. The Parkers Pediatrics and Adolescents audit revealed some critical barriers to positive organic performance and improved rankings. While the crux of our strategy was to develop a robust content plan that targets high-value keywords, the technical audit revealed core optimizations that directly shaped our first 90-day plan of action.
Site Architecture Optimization
Our technical audit revealed that, at the time, the Parkers Pediatrics and Adolescents site didn't use a directory structure within its URLs, which made it difficult for search engines to understand the site's architecture and the relationship between pages. The first order of business was to ensure search engines and users could effectively navigate the site.
On-Page Optimizations & Content Improvement
While Parkers Pediatrics and Adolescents was already well known in Douglas County, we had to ensure their site was visible for the queries people were using to look for pediatrics services online. This included close attention to title tags, meta descriptions, and SEO headings.
For example, our technical audit revealed that nearly 70 pages were missing meta descriptions. This triggered Google to automatically create a description for each page, which may or may not give a searcher what they need to click through.
We also began keyword optimization and content development for service pages and blog posts. As part of this effort, we identified internal linking opportunities that would help improve overall SEO health.
Technical Optimizations & Performance Improvement
To ensure the Parkers Pediatrics and Adolescents site met technical standards and best practices, we deployed a variety of technical optimizations, including:
Replace broken internal links
Fix permanent redirects
Optimize mobile page speed
Update URL taxonomy
Implement image and plugin optimizations
COVID-19 Vaccine for Children
Even as the global pandemic begins to enter a new phase, parents still had questions about the COVID-19 vaccines, as well as health protocols for in-person visits. The team anticipated these questions by optimizing content to capture those search queries. In particular, we built a dedicated COVID-19 vaccine page, pictured below.
Listing & Review Generation Campaigns
Our reputation management strategy was two-pronged:
Establish, optimize, and manage business listings (primarily Google Reviews)
Generate a consistent flow of quality reviews from actual patients
The goal was to improve their online presence through a review solicitation campaign. And it worked. Today, when people search for Parker Pediatrics, they encounter consistent NAP across listings, as well a trust-building review page, including quality reviews like this one from a Local Guide: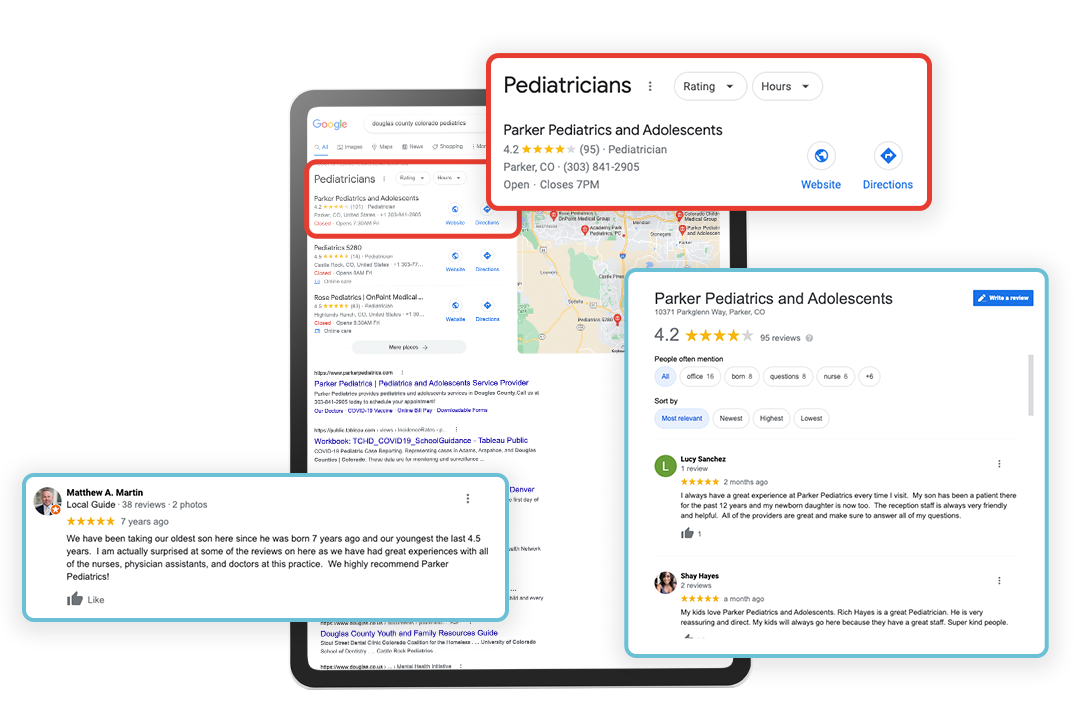 The Results
Impressive Gains in Organic Traffic, Digital Authority, and New Business
When we began this project, there was no direction to go but up in terms of SEO performance—we were starting from the ground floor. Still, the results are notable: organic sessions have increased 15000% since the beginning of our relationship.
Generally speaking, Parkers Pediatrics and Adolescents is capturing top spots in search engine results for competitive, local, high-intent keywords. In the screenshot below, you can see that the practice ranks #1 in both Map Pack and regular search results for "douglas county colorado pediatrics."
Looking at the metrics, the practice has seen a 250% increase in top 10 keyword rankings (YoY). The practice has also seen an 80% increase in total organic impressions, including a 16% increase in new users. 
Recall that digital reputation was an issue when Parkers Pediatrics and Adolescents first signed on with Cardinal. Since implementing our reputation management strategy, the practice has increased its average Google Reviews rating from 3.6 to 4.2. As you can see below, the group now has nearly 100 reviews.
An important part of this relationship has been the monthly 30-minute reporting meeting with Cardinal Account Manager. These are the client's opportunities to discuss performance/results and facilitate deliverables and timelines. In our most recent reporting meeting, the Parkers Pediatrics and Adolescents team shared that our digital strategy has kept them so booked that they had to hire another physician. Overall, the team reports a tremendous impact on patient volume.