How a large hospital increased traffic to its contact us page 255%
Company Overview
Peconic Bay Medical Center
Established in 1951, Peconic Bay Medical Center (PMBC) provides hospital and medical services for more than 250,000 people in Riverhead, eastern central Suffolk County, and Long Island's North Fork. As an eastern hub for the largest healthcare organization in New York state, PMBC is renowned for world-class treatments, medical staff, and facilities.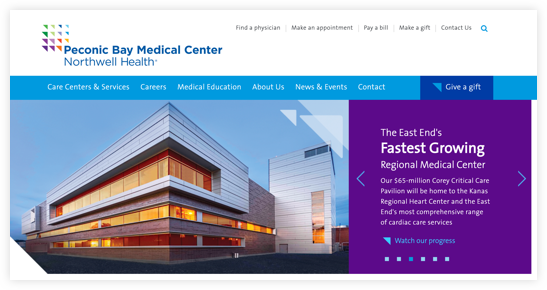 The Problem
Executing a sustained SEO campaign
The way that people seek out hospitals, doctors, and various medical services has shifted significantly toward digital. As such, large hospitals such as PMBC must maintain a highly visible digital presence to reach patients and potential patients so they can find help in the digital channels they turn to first. To this end, PMBC engaged Cardinal Digital Marketing to execute a sustained SEO campaign, including website updates and content, to help the hospital drive more quality traffic to its website properties.

Step 1
On-page and technical SEO updates
Working with the client's existing technical partner, the Cardinal Digital Marketing team performed an in-depth troubleshooting audit of the PMBC website to identify and address any technical SEO issues. This included improvements to site structure and page load speed, resubmitting the XML sitemap, and addressing any duplicate page content to ensure effective page indexing and ranking by search engines.
Step 2
Blogs and backlinks
Throughout the course of this engagement, the Cardinal Digital Marketing content and SEO team maintained a regular cadence of 3-5 new monthly blog posts, each on a topic relevant to both medical professionals and the patients they serve. Internal linking between posts is updated after each new post is introduced, and any new images are optimized with keyword rich alt text to increase potential search rankings. Through competitor backlink analysis and other discovery tactics, our team regularly pursued and secured backlinks from authoritative third-party sites.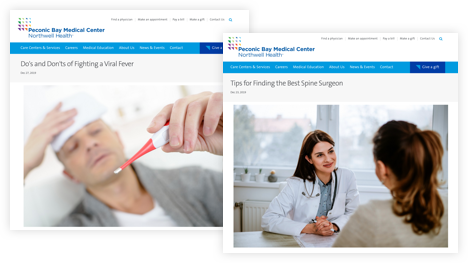 The Results
Significant organic page views increase
As a result of our team's collaborative effort around SEO, content, and link building, PMBC saw rather dramatic gains in a few key areas. Organic page views for the hospitals contact us page increased 255%, leading to more inquiries from qualified prospective patients and other "leads" most likely to convert. In addition, organic visits to the landing page for the PMBC medical imaging center increased 20%, including a 61% increase in quality visits—again, quality traffic more likely to inquire and book time at this center.
In terms of search visibility within local markets, PMBC expanded its website's reach into new cities, including a 31% increase in visitors from Mountain View (alongside a 26% increase in quality visits from that same area), and a 43% increase in visitors from Palo Alto (alongside a 52% increase in quality visits from that same area).
Finally, our monthly cadence of informative, high-value, search-optimized blog posts led to a 10% increase in blog sessions and a 18% increase in pages per session on blog, indicating more organic reach and engagement for this content.