How Northeast Digestive Built a Consistent New Patient Pipeline with Performance Marketing
Company Overview
A Family-Owned Practice Serving Concord, North Carolina
Northeast Digestive Health Center provides consultative, diagnostic, and treatment services for people living with a variety of gastroenterological conditions, including the digestive tract, liver, pancreas, and biliary tree. With two locations—Northeast Digestive Vinehaven and Northeast Digestive Poplar Tent—the group is known around the Charlotte area for its friendly service and personalized care. They're known as a local provider, too, not affiliated with the big hospital systems.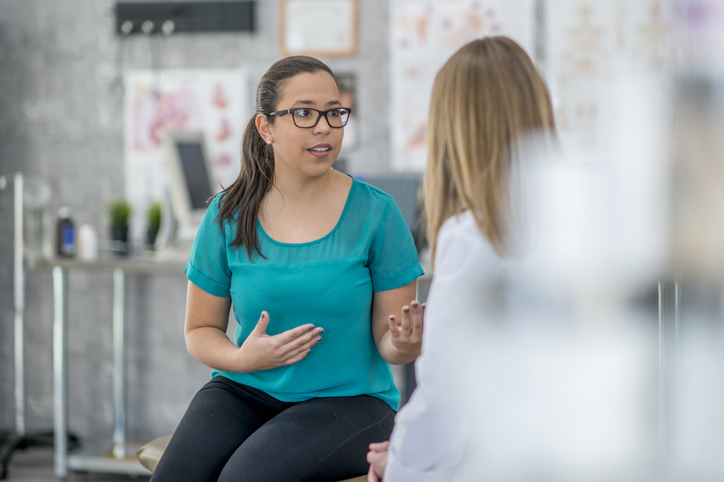 Challenges:
Top competitor owning search results and taking more market share
Stagnant new patient acquisition from digital
Lack of awareness for newly opened second location
Competitors have higher average Google reviews
No marketing people in-house and relatively low marketing maturity
Lack of strategy for ad spending
Goals:
Improve new patient volume from digital and be booked a month out
Generate new calls and lead form-fills from digital (SEO and PPC)
Update website to meet the latest SEO best practices
Address issues with PPC account structure and campaign spend to reduce CPA
Improve CVR for PPC campaigns
The Problem
Lack of a proper digital marketing program
When Northeast Digestive Health Center signed on with Cardinal Digital Marketing, the group already enjoyed a strong reputation and stable digital presence. Their existing patient base was solid, though consistently acquiring new patients was a struggle. Their website was in relatively good shape too. The challenge was a heavy reliance on old-school marketing tactics, such as flyers and print ads.
So the Northeast Digestive team partnered with Cardinal to launch a proper digital marketing program. After a successful first month under contract for search engine optimization (SEO), we added pay-per-click (PPC). Both strategies have grown consistently ever since. Today, Northeast Digestive is booked out two weeks in advance thanks to its consistent new patient pipeline from digital.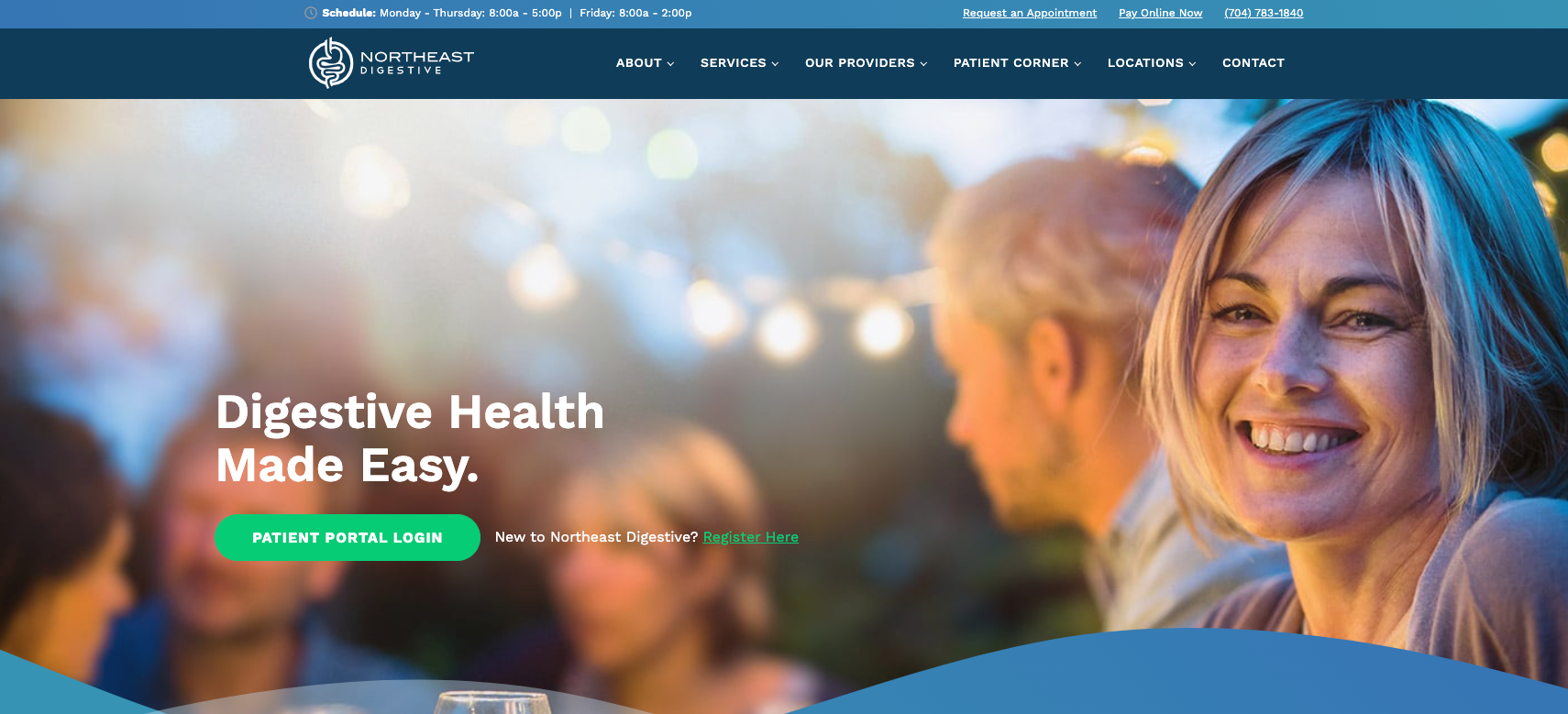 The Strategy
Part One: Build a Foundational SEO Strategy
The primary strategy was to develop a robust content plan that targeted high-value keywords, while implementing key technical optimizations on the group's website, such as updating URL taxonomy, improving page speed, and optimizing internal linking structure. With this foundational SEO in place, the Northeast Digestive website would be better poised for success for both locations.
Site Architecture Optimization
To ensure search engines and people can effectively navigate the Northeast Digestive site, our team made a number of adjustments to the group's website structure. This includes a consolidated top navigation menu, for which the site's many subpages are organized into intuitive high-level categories (About, Services, Our Providers, and so on). We also implemented quick links to what most patients come to the website for: scheduling an appointment; checking hours; and accessing the patient portal.
On-Page Optimizations & Content Improvement
To ensure the Northeast Digestive website was visible for the highest-intent search queries, our team made a number of improvements to on-page SEO and content, including:
New title tags and meta descriptions
SEO-friendly headings (h-tags) aligned with web best practices
Robust overhaul of internal linking
Technical Optimization & Performance Improvement
Despite the excellent look and feel of the Northeast Digestive website, our team took care of some critical updates to meet the latest technical SEO standards and best practices, namely:
Address site crawlability and indexing issues
Assess and improve Core Web Vitals and Mobile Usability scores
Replace broken internal links
Optimize page speed across the board
Keyword Optimization & Content Development
Once our team had a chance to dig in and assess keyword opportunities, we quickly built a target keyword list (long- and short-tail) based on the group's objectives and competitor performance. While we created content across the funnel to help rank for these target keywords, we focused especially on the Conditions We Treat & Diagnose page, which represented a distinct opportunity to capture high-intent traffic.
Part Two: Architect an Efficient PPC Account that Drives Quality Leads
Prior to the paid advertising strategy we developed, Northeast Digestive was spending ad money without a cohesive strategy. When we launched their strategy, we started with three core campaigns:
Brand
Non-brand (based on what Northeast Digital is, general details, region, and location)
Non-brand services (with a particular focus on people searching for gastroenterological services and care)
Ultimately, the goal was to maintain a reasonable ceiling for cost per acquisition (CPA) while ramping up non-brand PPC campaigns. Overall, our focus was on pacing campaigns and improving ad rank, not necessarily minimizing budget.
Build Out the Account Structure
When we build out PPC accounts from the ground up, account structure is almost always the first order of business. Without proper account structure, the rest of our efforts wouldn't bear fruit. As part of this effort, we grouped "phrase" and "exact" ads together, without having to add any more regions. We paused poor-performing services campaigns while keeping non-brand campaigns more generic (optimized for specific areas and near-me searches).
Search Query Report (SQR)
We wanted to see how the group's ads were performing "in the wild," including exactly what people typed in before clicking the ads.
Add negative keywords to PPC optimizations, specifically with phrase match
If people are typing in something we're not targeting, we used this as a new target keyword
Geographic target modifications
Northeast Digestive has two locations in Charlotte, its city and region of interest. To capture locale-specific search traffic, we made a number of geographic target modifications to their PPC campaigns.
Location-specific keywords in ad copy
Improve ad quality score
Target multiple locations within Charlotte
Focus on specific geographic radius
Services Campaign
Our team was particularly focused on the Services campaign, which had delivered mixed results in the past.
Tested pausing ad groups with spend that did not have conversions
Tested adding in new keyword variations
Ended up pausing this campaign due to low-efficiency
Machine Learning
One of the benefits of improving account structure was the opportunity to leverage machine learning to automatically optimize our PPC campaigns.
Auto-applied recommendations (with adjusting CPA targets)
Rolled out Dynamic Creative Optimization (DCO), Ad Scheduling, and Experimental Bidding Strategies
To take the PPC campaigns to the next level, we implemented some next-level PPC strategies that helped improve core PPC metrics.
Paused Expanded Text Ads (ETAs).
Only run Responsive Search Ads (RSAs)
Tested RSA assets, including a rotation of new ad copy
Stopped ads on Saturday and Sunday, since the CPA was higher against lower conversions
Tested new bidding strategies (such as Maximize
Conversions to Target CPA), while adjusting targets based on performance
The Results
New Patient Pipeline From Digital
On the SEO side of things, Northeast Digestive saw a 67% Increase in organic conversions, alongside a 27.6% increase in website visits. Their digital reputation improved from 3.5 to 4.4 stars, now on par with key competitors. Lead quality has improved too, thanks in large part to the stellar performance of non-brand PPC campaigns. Overall, the group has enjoyed a 55% decrease in CPA, a number that's still trending downward.
On the PPC side, lead quality is the main takeaway. More targeted messaging and a refined account/campaign build, as well as more location-based targeting, have contributed to consistent performance. Overall, CVR has improved 20%, and impression share has improved to 85%.