Veterinarian network of 300+ hospitals meets ambitious growth goals with data-driven PPC strategy.
Overview
Delivering Performance Marketing to Meet Growth Goals at Scale
With over 300 locations nationwide and still growing, Southern Veterinary Partners (SVP) needed a strategic growth partner who could adapt and scale paid search campaign support to new brands as they were acquired.
Because the veterinary network spans a wide network, they needed a partner capable of creating a robust PPC strategy and framework. Cardinal developed a system to budget every location's ad spend based on individual ROI goals and capacity, which we fine-tune weekly using the client's operational data.
Working collaboratively with SVP in a true partnership and leveraging their data, we consistently met weekly ROI targets and achieved a 55% increase in total leads YoY.
About The Company
Southern Veterinary Partners
Based in Birmingham, Alabama, Southern Veterinary Partners (SVP) is a veterinarian-owned and operated network of animal hospitals with 314 locations currently open nationwide. 
After joining the SVP network, each hospital retains their name, culture, and local commitment to community, as well as the veterinarians and staff that provide their clients with high-quality veterinary care.
With its remarkable growth, Southern Veterinary Partners employs over 5,000 employees nationwide.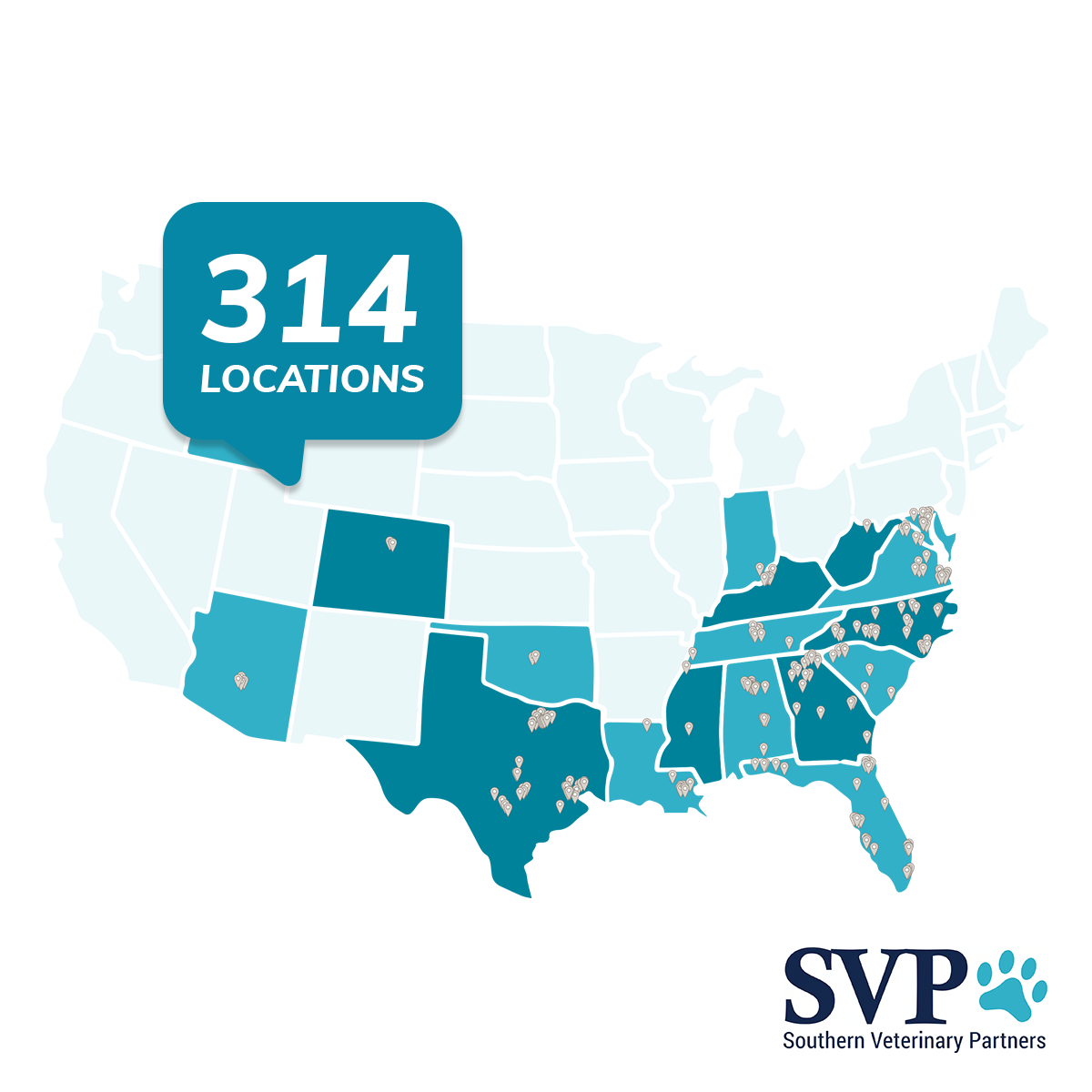 Challenges:
New acquisitions were cumbersome to onboard and integrate into the existing ad account.

Managing hundreds of locations was complicated and they had no system to adjust budgets in response to capacity and other operational requirements
Goals:
To o

ptimize paid search as a new customer acquisition tool and scale paid search to each new location as it folds into the SVP brand.

To maximize network-wide new client acquisition within an acceptable campaign ROI range.
Our Paid Media Strategy
Fine Tuning the Details to Drive Conversions Across the System
Cardinal optimized key aspects of SVP's paid media strategy for ideal positioning that drives conversions and triggers customer actions.
Step 1
Restructure, Consolidation & Smart Bidding
SVP initially targeted a high volume of irrelevant keywords. Cardinal honed in on the most transactional and bottom-of-the-funnel keywords, such as 'vet near me' or 'animal hospital near me' that would yield conversions. 
Campaign-level consolidations helped to improve algorithmic performance significantly. SVP's ad groups were heavily segmented (around 20 ad groups), which limited algorithmic learnings and performance. We reduced it to 4 ad groups, so that each RSA would reach the right audience and receive more impressions.
SVP was also using Google's Maximize Clicks automated bidding strategy, which was not ideal since it doesn't optimize for conversions. To address this, we switched to Target CPA so that SVP would get as many conversions (customer actions) as possible.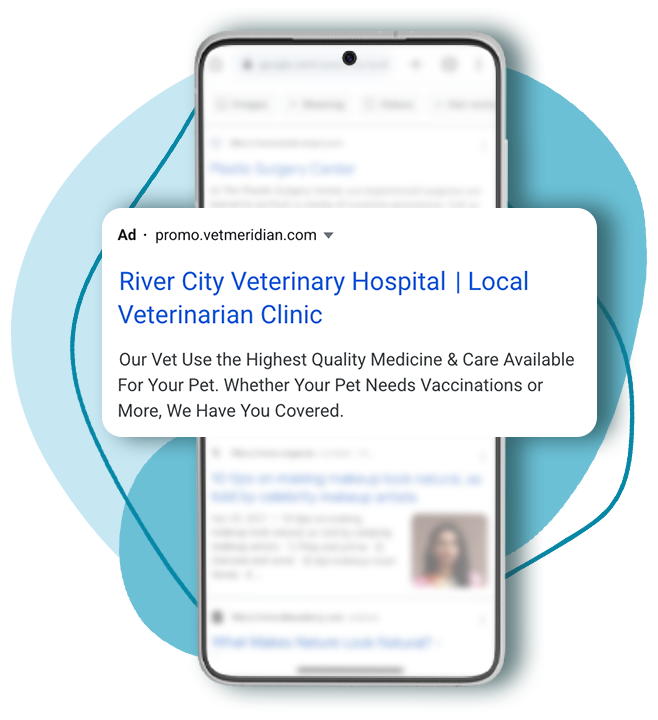 Step 2
Dynamic Leveraging of Data via Collaboration
By leveraging their data, we consistently produced strong ROI results for SVP's PPC campaigns. We created a system to budget each location's ad spend based on their ROI targets and capacity. Maintaining a flexible stance since SVP location budgets change every month, we optimize weekly based on highly rigorous and accurate data from SVP. As a result, we have been able to align PPC ad budgets with operational business objectives across a massive location system.
We adjusted pacing and strategy using extensive layers of client-fed data points. With weekly location-level ROI and location-level weekly capacity information (days booked out, schedule rate of phone calls, etc.) in hand, we optimized CPAs and target spending across the system. This collaborative approach to working with data has delivered new findings and insights along the way, which we then apply to new acquisitions and locations as SVP continues to scale up.
This approach has load balanced the SVP network, as well—locations that need more patients get them, while SVP doesn't waste money sending patients to locations that have reached maximum capacity and have month-long wait times for appointments.
Step 3
Optimizing Ad Copy & Landing Pages
Next, we applied ourselves to optimizing SVP's ad copy and landing pages, executing the following:
Geotargeting: Instead of targeting a "mile radius," we developed a new targeting strategy that leverages the concept of "drive time" and categorized every location based on urban, suburban, and rural based on SVP data that tells us how far people in a given area are willing to drive to the vet.
Seasonal Optimizations: Holidays are often prime times for boarding, so we help SVP tailor their ads and landing pages to boarding pets during those seasons.
Online Scheduling: We advised SVP to implement an online scheduler on their site. Now, we can use online booking data to better optimize campaigns.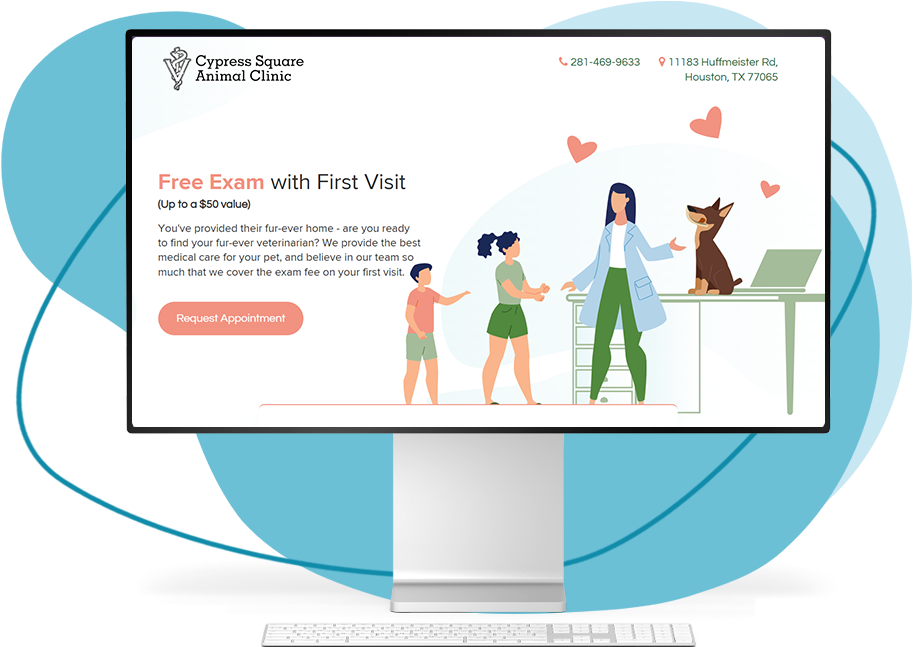 Our Results
Effortless Scaling Across a Massive Network
Since partnering with Cardinal in November 2021, SVP has scaled up from around 250 to 314 locations, and we've onboarded each location into their PPC strategy.
With our collaborative approach to data, SVP has consistently hit their ROI goal month-to-month and even significantly exceeded their ROI goal, even though the ROI goal more than doubled throughout the relationship.
SVP experienced significant jumps in leads as a result of Cardinal's efforts:
231% increase in leads from Nov 2020 – Nov 2021

65% increase in leads from Dec 2020 – Dec 2021

15 % increase in leads from Jan 2021 – Jan 2022

19% increase in leads from Feb 2021 – Feb 2022
All in, Cardinal's efforts resulted in a 55% increase in total leads YoY for the veterinary network, allowing them to keep pace with growth, funnel patients to new locations, and access more opportunities across locations.