Taking a 300+ Location Home Health Care Brand to New Digital Heights.
Overview
Partnership Charts a New Course for DTC Lead Patient Acquisition
BAYADA Home Health Care needed a way to professionalize leads for one of their biggest service lines—assisted care. Cardinal came on board in September 2022 to take on the task and help them introduce lead client acquisition. 
A high-level objective in the project was to validate and prove that digital was a solution for generating leads in their assistive care division. Recognizing BAYADA's struggle to fill staffing vacancies, we also extended our support to help with talent recruitment.
As this partnership developed, we adapted our strategy to better mirror BAYADA's business structure and operational needs. By prioritizing understanding, adaptation, and continuous communication, we've improved lead quality and laid the groundwork for expanding digital strategies across all their home health service lines.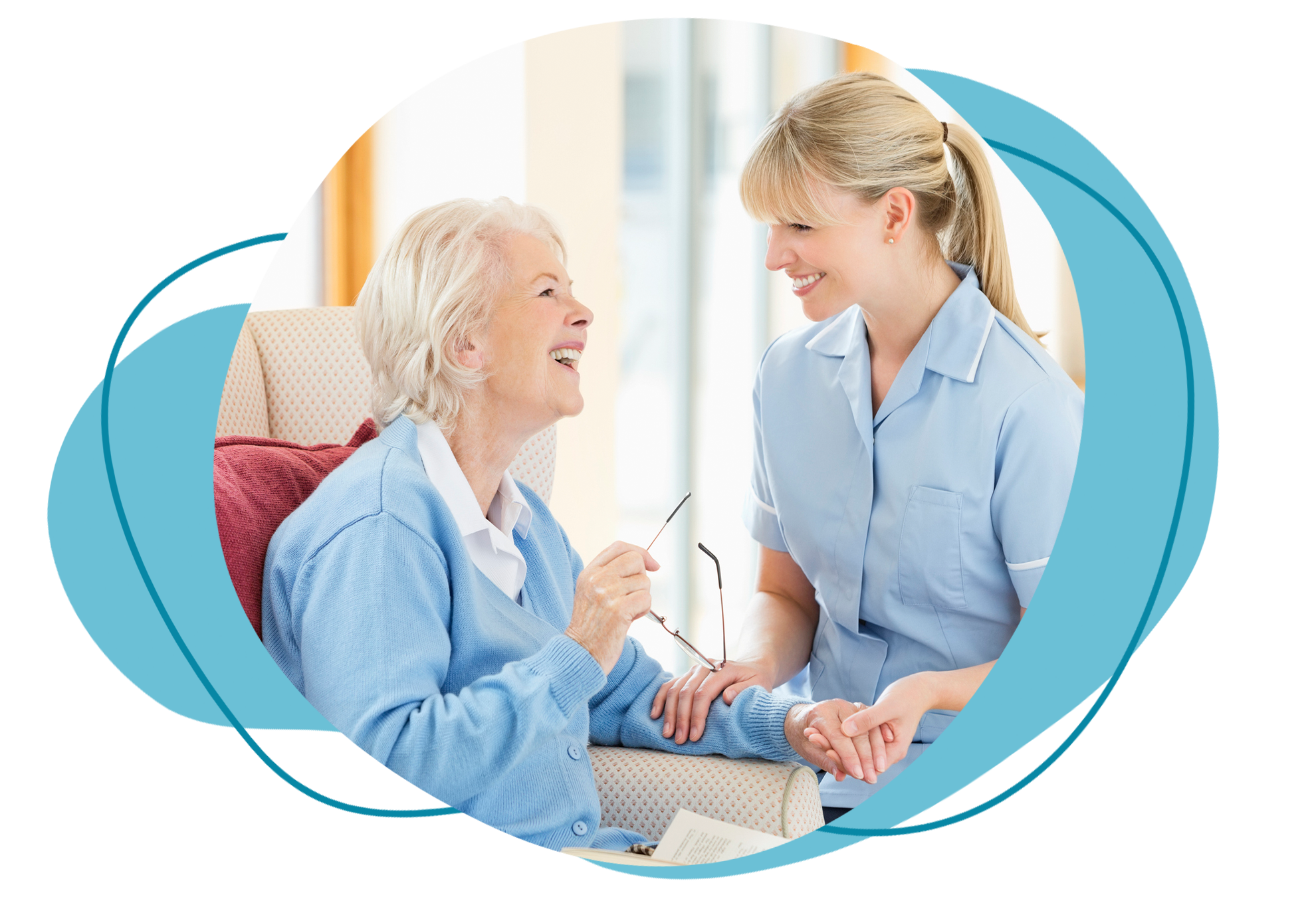 About The Company
BAYADA Home Health Care
International nonprofit BAYADA Home Health Care is a home health care provider operating 324 locations across 24 states, as well as locations in Germany, India, Ireland, New Zealand, and South Korea.
Originally a provider of home health aide services, BAYADA expanded its services to include additional home health care services. As a result, it has become a trusted leader in the space and provides a full range of clinical care and support services for children and adults of all ages.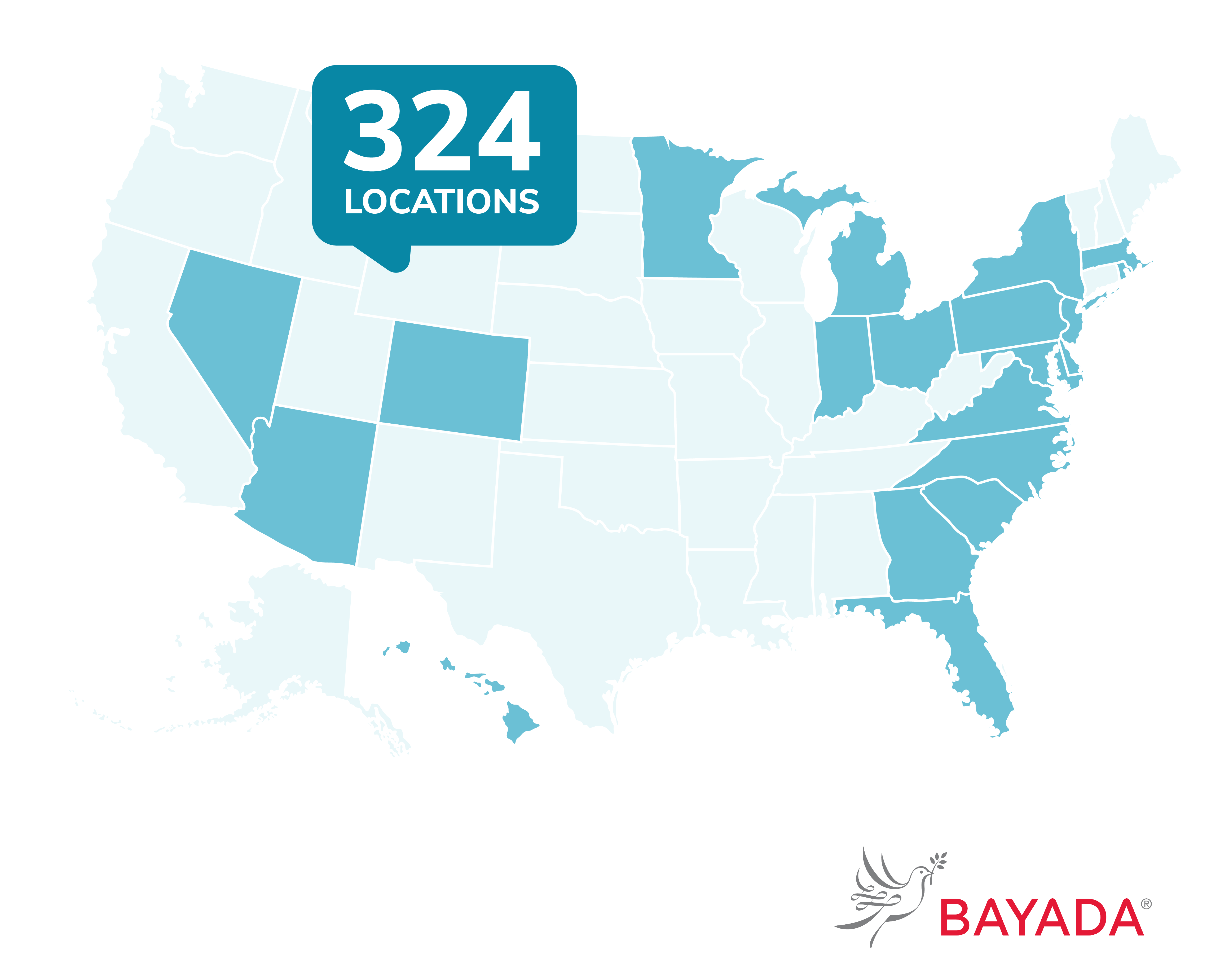 Challenges:
No prior experience in the digital direct-to-consumer advertising space

No centralized call center for handling leads

Staffing shortages without a robust digital talent acquisition strategy
Goals:
Prove that digital marketing is a viable method to generate leads for in-home assistive care

Implement better tracking and attribution to optimize campaign performance

Increase the number of applications and hires
Phase 1
Exploring New Opportunities with Digital Media Strategy
Using digital marketing for assistive care client acquisition was unchartered territory for BAYADA. Cardinal developed a digital media strategy to bring in new clients for their assisted care service line, initially focusing our efforts on 50 of their 324 locations.
We took a meticulously structured approach to our media strategy, organizing the selected offices into three tiers based on capacity needs.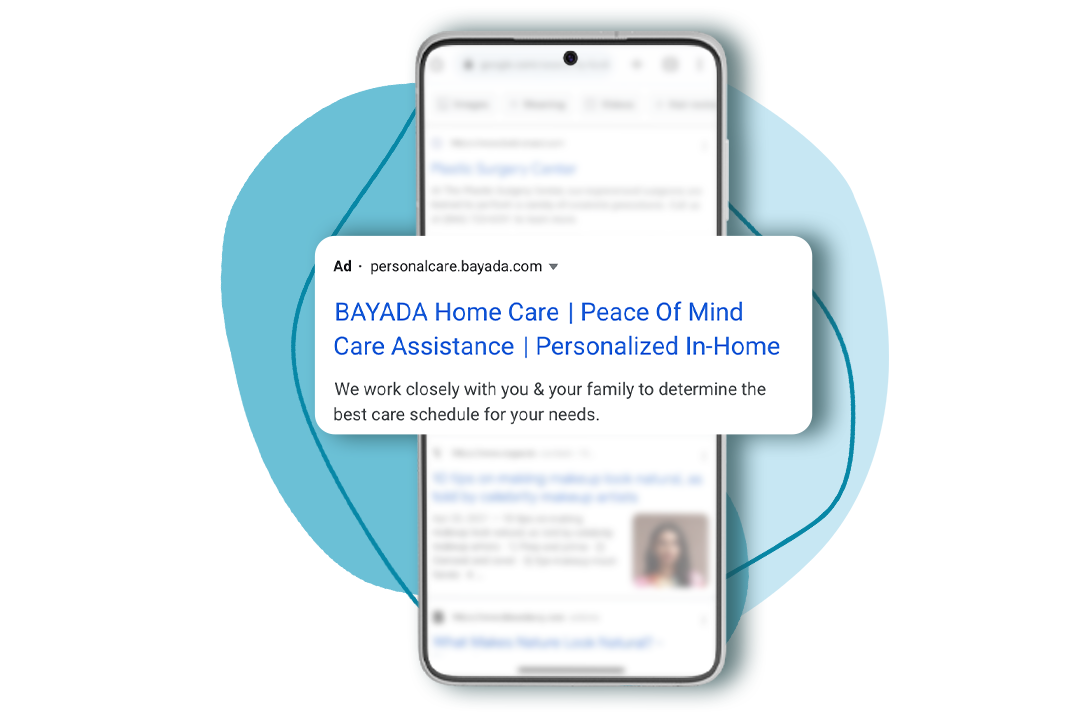 Step 2
Implementing Targeted Talent Recruitment Campaigns
Since June 2023, we've helped BAYADA launch talent recruitment campaigns targeting HHAs and LPNs. Like many in the senior care industry, they've faced challenges building a robust workforce to handle new leads.
We have implemented unique campaigns for each job type in specific cities, allowing for targeted searches and flexible budget allocation based on demand. To engage those who did not immediately apply, we have also utilized display retargeting ads.
All ad copy underscores the benefits of joining the BAYADA team, including flexibility and fulfilling a "calling" for care. To ensure efficient user navigation, all ads direct potential recruits to the job site, with dedicated landing pages spotlighting individual job roles.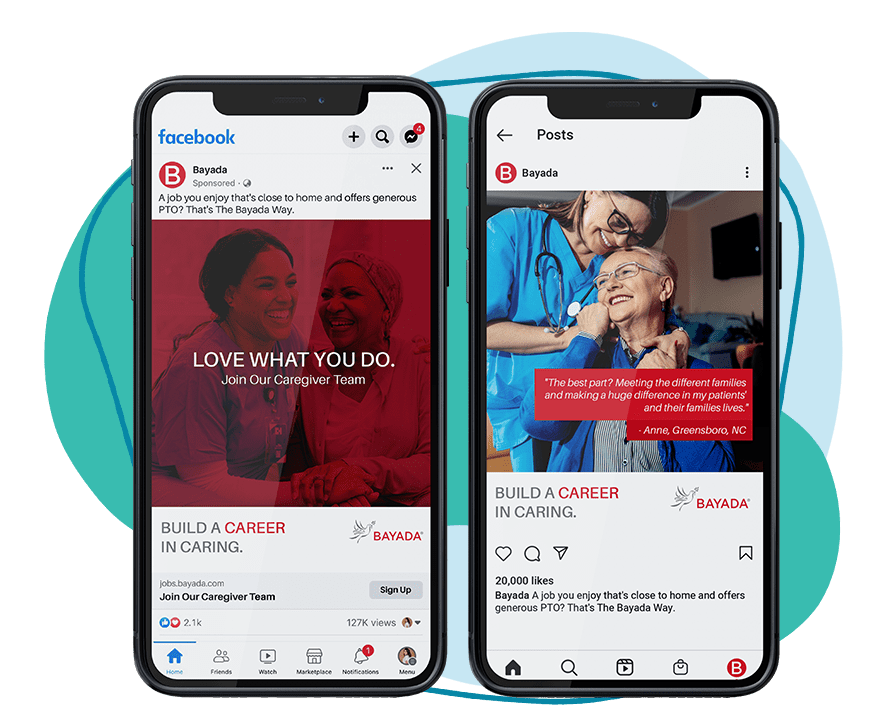 Phase 3
Restructuring & Optimizing BAYADA's Media Strategy
Call Tracking
Historically, BAYADA categorized every caller as a lead, wasting time on low-quality leads. To address this, we refined their lead qualification process to prioritize calls lasting over a minute.
Since they didn't have a call tracking system, we introduced Liine for enhanced outcome measurement, encompassing both form fills and phone calls. Liine passes lead qualification information back to ad platforms to refine audience targeting.
With this new technology in play, BAYADA and the Cardinal team now have a deeper understanding of lead quality, allowing us to optimize campaigns for improved quality and overall efficiency.
Account Restructure
An influx of new digital leads revealed misalignment with Bayada's divisional and regional operations. Collaborative discussions clarified that a capacity-tiered approach wasn't the ideal fit for how they processed leads.
By delving deep into their business model and gaining a more thorough understanding of stakeholder needs, we redefined the account structure strategy to align seamlessly with Bayada's specific operational nuances.
The new campaign structure includes two unique campaigns per region to focus on non-brand and brand terms and capture search intent within each geographic area, as well as two unique National campaigns.
New Media Strategy
Our revamped media strategy for the home healthcare brand is rooted in meticulous keyword research, targeting searches related to live-in care, elderly home care, assistance, and companionship.
We've organized non-branded keywords in the regional campaign into four service types, while branded keywords have their designated ad group.
National campaigns use geo-modifiers to attract those seeking care for distant loved ones, corresponding to specific regions.
Ad copy is tailored to each service type, and all paid search traffic is directed to a relevant landing page.
Our Results
Ongoing Transformation Through Digital Solutions
Our partnership with Bayada has been transformative for the brand. From refining call tracking and talent recruitment to aligning media strategy with their business operations, our efforts have resulted in significant advancements for BAYADA's new client and talent acquisition strategy. Our alignment with the brand's operational structure will allow us to manage campaigns and goals based on their internal needs, including budget flexibility. This approach embodies true partnership: listening intently to their business dynamics and translating those insights into a tailored digital strategy.
Recognizing the immense value brought by these strategies, BAYADA is now enthusiastic about expanding digital solutions across all of their assistive care and assistive care state program offices. As we continue our partnership with this international healthcare brand, our next endeavor will be to implement a comprehensive full-funnel omnichannel strategy, ensuring the company remains at the forefront of digital healthcare marketing.
Talent Recruitment Results (from mid-June 2023 to September 2023):
Job Applications

– 475 directly attributed applications and 500 applications from people who saw our retargeting ads.

Job Alert Signups

– Almost 200 people have filled out the form to receive job alerts from BAYADA and to remain consistently and regularly engaged.

Nurse Residency Form Submissions

– In less than two months running, 357 people have filled out a form to learn more and be contacted about BAYADA's nurse residency program.
We are working with the BAYADA team to create budgeting and strategy to support ALL job types, not just those we support now.