of the links Google users
click on are organic
Make sure you are getting your piece of the pie.
Get More Qualified Leads to Your Site
We design organic strategies that deliver results.
Of all the digital marketing components your business can implement, SEO is often the most misunderstood. Many people aren't sure what an SEO expert does, or how this type of strategy can be measured.

But with
93%

of all online experiences beginning with a search engine, businesses that ignore search engine optimization do so at their own peril.

At Cardinal, we know the frustrations you face as you look to use digital marketing to broaden your reach. That's why we take a no B.S. approach to our
SEO strategies

. We only implement what works, and optimize each campaign daily to ensure our clients' dollars and time aren't wasted.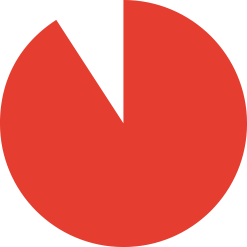 of internet users rely
on search engines
Where do
YOU

rank?
Let us show you the immediate impact we can make
on your bottom line.
When it comes to SEO, there's a simple survival of the fittest approach at play. There are, on average, roughly 10 positions on any given search page. The links found on those pages are ordered by rank. The higher your page is on the results page, the better your click-through rate will be.
Rank in the top 3 spots, and your site will receive far more traffic than links further down the page or (gasp) on the second, third, or subsequent pages.
In other words, ranking high on a search engine page makes business sense. So long as people continue to use search engines to browse the web, companies will continue to compete for those top spots.
A solid SEO strategy implements an array of concepts to give you an edge over your competition and to make your brand easier to find for your target audiences.


173,880
digital leads in 9 months

blended cost per lead $3,94

ranked #1 in local map listings in 50% of searches
Why You Need SEO — The Cardinal Way
You know you want to rank high, but you're still not sure how. You're not alone.
SEO is an extremely complex and layered strategy:
Duplicate pages
Fast-loading sites
Domain authority
URL structures
Inbound links
Keyword-rich content
These are just a handful of the factors that do impact your ranking. But they're not the only ones. There are dozens of reasons why your pages do – or don't rank well. That's why one of the first steps we take when we partner with a client is to uncover the reasons for their current standing.
This requires a deep and methodical audit of all existing strategies and assets, as well as research on the client's marketplace. We want to get to the why, so that we can then move on to the what now.
When it's time to build your SEO roadmap, we leave no stone unturned. Each of our clients get the benefit of our entire team – from strategists to analysts, content creators and designers – who take an all-hands-on-deck approach to develop a comprehensive strategy focused on your growth.
Rather than throw ideas against the wall and see which one sticks, we attack SEO with a risk-reward methodology: We focus first on the strategies that deliver the fastest – and biggest return.
That way you're never left wondering:
What does an SEO do?
You're Never Left in the Dark
Want to know why so many SEOs are hard to get a hold of for weeks or months at a time? That's because they're not delivering the results you expect – and deserve.
We handle things differently.
Our clients know every step and move we make to broaden their reach, and we never hide from the data. It's that data – be it good or bad – that helps us optimize our campaigns to provide the value our reputation is built on.
Ready to see your organic rankings take flight?
We have one mission: to get you to the top of every search engine.