Over the years, gastrointestinal (GI) providers have grappled with the constant decline in Medicare reimbursements for procedures like colonoscopies and endoscopies, primarily due to the ever-changing healthcare policies, rules, and regulations. This means revenue cuts both on the professional front (RVU-based payments) and outside income sources (outsourced pathology labs).
Moreover, GI providers are still dealing with the effects of the COVID-19 pandemic–rising inflation, staffing shortages, and increased salaries, to name a few. As a result, GI providers will have to find ways to improve their patient acquisition strategies if they want to stay competitive and, at the same time, achieve growth targets.
In this case, gastroenterologists will need a robust digital marketing campaign with proven strategies like SEO, PPC advertising, Facebook Ads, conversion rate optimization (CRO), reputation management, and analytics. Below are the top digital marketing strategies GI providers should consider.
Use Local SEO to Grow Your GI Practice
The healthcare industry has evolved over the years, and providers can't rely on referrals and word of mouth anymore to increase patient acquisition. Nowadays, patients are more tech-savvy and will use search engines for researching health-related topics and providers. Like with many healthcare practices, gastroenterology is a local service–emphasizing the importance of having a strong digital footprint on a local level.
In this case, GI providers should optimize for local SEO. Below are some best practices to strengthen your local SEO footprint and dominate the local GI market. 
Citations & Listings
A winning local SEO strategy starts with optimized local citations and listings. Citations and listings are some of the many ways Google can validate your business information and help build your online credibility. For starters, you should list your GI practice on structured listing directories like Yelp, WebMD, RateMDs, Healthgrades, and ZocDoc. In addition, look for niche-specific directories for GI practices like the American Gastroenterological Association and the American College of Gastroenterology (ACG).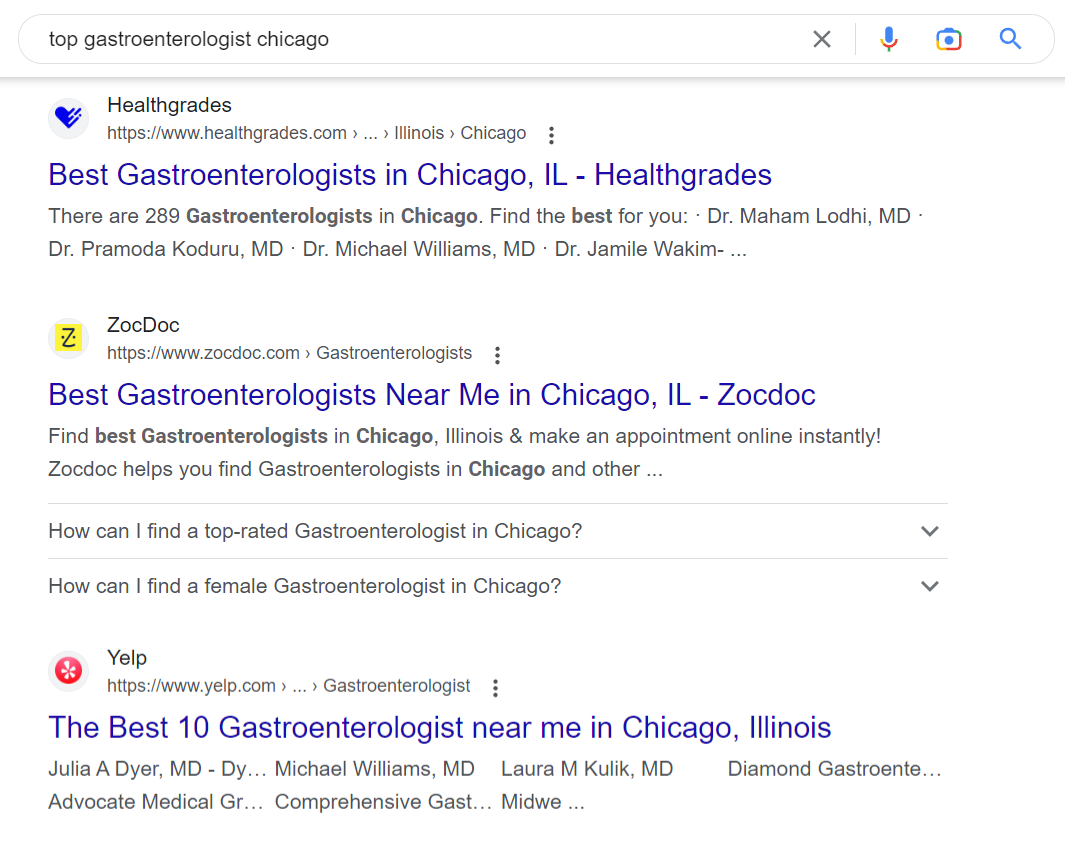 Google Business Profile (GBP)
Google Business Profile or GBP (formerly Google My Business) is one of the best and free ways to improve your local SEO ranking. Think about it; Google is unequivocally the most popular search engine, with 8.5 billion searches per day. Even more eye-opening is that nearly half of all searches (46%) are from users looking for local information.
As you can see, if you haven't claimed or optimized your GBP listing, you're missing out. Optimize your GBP listing by providing the following vital information:
Name of practice

Website URLs

Directions

Hours of operation

Phone number

Email address

Customer reviews

Brief business summary

Photos of practice and staff
It's also a good idea to include FAQs or frequently asked questions about common patient inquiries such as accepted insurance, details about services and treatments, and whether you accept new patients.
Localized Keyword Strategy
You can't just use your sitewide keywords for local SEO. Take time to determine the correct local keywords to optimize. Create a keyword list based on your unique selling propositions (USPs), the local area you serve, and how people search for your services. Local keywords are typically the following:
High-intent, solution-aware

: the user knows that his problem requires an appointment with a gastroenterologist.

Location-based

: long-tail keywords and phrases that include location identifiers (e.g., top gastroenterologist Chicago).
During your brainstorming sessions, list solution-aware and location-based keywords that align with specific GI procedures, such as "colonoscopy doctor palm springs." The best practice is to be as detailed and granular as possible with your keywords for optimal results and less competition.
Geo-Targeted Websites and Landing Pages
Multi-location GI practices must invest in creating location-specific (geo-personalized) websites and landing pages. These pages are optimized based on the location of your GI clinics and centers and be discovered by patients while doing a local search. You usually use location-specific keywords like the city or county where your practice is located. More importantly, geo-targeted pages offer a personalized experience for visitors, which is always appreciated.
Build geo-targeted pages for your location and affiliates, and add custom content for each. Think of high-value content like a map to the location, FAQs, physician videos, facility tours, and more.
Deliver Patient-First Digital Experience on Your Website
Your gastroenterology website is a core component of your digital presence. Most patients' first exposure to your brand is through your website. Therefore, it's critical that your web design should be purposeful and aims to deliver high-quality user experiences. Below are the best practices to help you provide first-rate digital experiences on your healthcare website.
Optimize for Speed, UX, and Mobile
Did you know that 88% of users will abandon a brand following a poor experience? Did you also know 38% of customers will outright quit a website if it's poorly designed? In other words, if you want to engage healthcare consumers long enough to convert them, you should aim to deliver top-notch user experiences.
In this case, you must optimize your website for speed, user interface, and mobile-friendliness. Apart from quick-loading pages and intuitive navigation, healthcare websites should adopt responsiveness in design. This means your gastroenterology website should display correctly regardless if it's being viewed on a smartphone or desktop computer. With 59% of worldwide website traffic coming from mobile, you can't afford to overlook your website's mobile-friendliness. Conversely, a well-optimized website will help build brand awareness and increase conversion rates.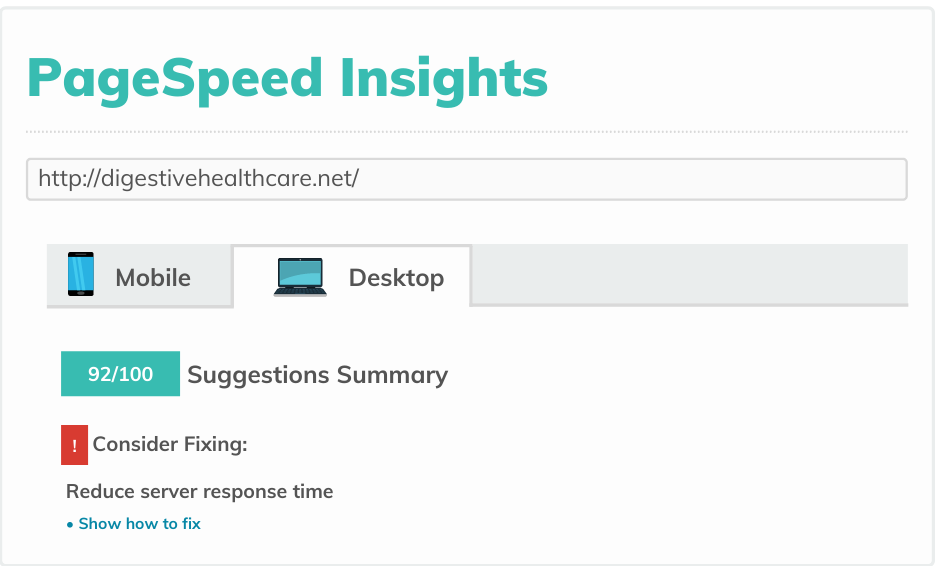 Valuable Content Should Be Discoverable
Gone are the days when you must worry about keyword density and writing content to please the search engines. With Google's recent Helpful Content Update, providing helpful and valuable content is more important than ever. This means you should regularly create content that offers real-world value and answers the visitor's questions.
But your library of helpful content becomes useless if it's not discoverable.
Content discovery is the process your patients go through when they find and engage with your brand's website content. Perform a content audit to determine how patients access and engage with your critical content offerings. Make sure they are easily discoverable and searchable by visitors.
Make It Easy for People to Choose Your Practice
Remove all potential barriers to conversion on your website for a seamless experience. Make it easy for patients to reach out using AI chatbots, live chat apps, and click-to-call phone numbers.
In addition, investing in patient scheduling software, such as RXNT, AthenaONE, and DrChrono, will help streamline your appointment process. Not only are you making it easy for patients to book appointments, but you're also decreasing staff workload due to fewer incoming phone calls. This often results in better patient and employee satisfaction across the board.
Leverage the Power of Google Ads
Google Ads or PPC advertising remains one of the fastest ways to put your GI practice in front of your target audience. PPC will help you capture the bottom of funnel (BOF) leads, aka people ready to book an appointment with a GI specialist. Your ads will appear on top of the search engine results page (SERP), essentially putting your practice right in front of audiences ripe for conversion.
However, you can't just launch a PPC campaign and be done with it. Below are some of the best practices for optimizing Google Ads for gastroenterologists:
Use the Right Account Structure
Beating your competitors in a PPC slugfest is always challenging. With most modern PPC campaigns, the focus has shifted to automation. The Google Smart Bidding feature allows marketers to optimize for conversions or conversion value. However, using the proper account structure is the key to maximizing these strategies.
For instance, we used the hybrid account structure for many of our client's campaigns with reasonable success rates. Hybrid brings the best qualities of both consolidated and segmented account structures. With the consolidated spectrum, your campaign benefited from maximized ad impressions and leveraged smart bidding performance. Meanwhile, the segmented structure improves budget control and precise targeting, often by location.
Aligning PPC Ads With Search Intent
Your PPC team must have a funnel-based structure where your ads must align with search intent along the funnel. Diversity in content and keywords is vital to cover each step of the patient journey. This way, you'll send the right message at the right time and to the right audience.
At a basic level, your conversion funnel should look something like this:
Upper funnel "problem aware" leads:

These users actively seek solutions. They don't need a digestive disease specialist yet, but they know there's a problem (e.g., gastroenteritis, ulcers, etc.). Use problem-aware keywords like "early stage woman ulcer symptoms."

Mid-funnel "solution-aware" leads:

These users have found solutions but can't determine which treatments they will need. At this stage, your content and keyword should focus on educating patients about gastroenterology services.

Lower funnel "product aware" leads:

These users are ready to convert and are actively looking for a GI specialist. For this stage, you should target high-intent, product-aware keywords such as "best gastroenterologist near me."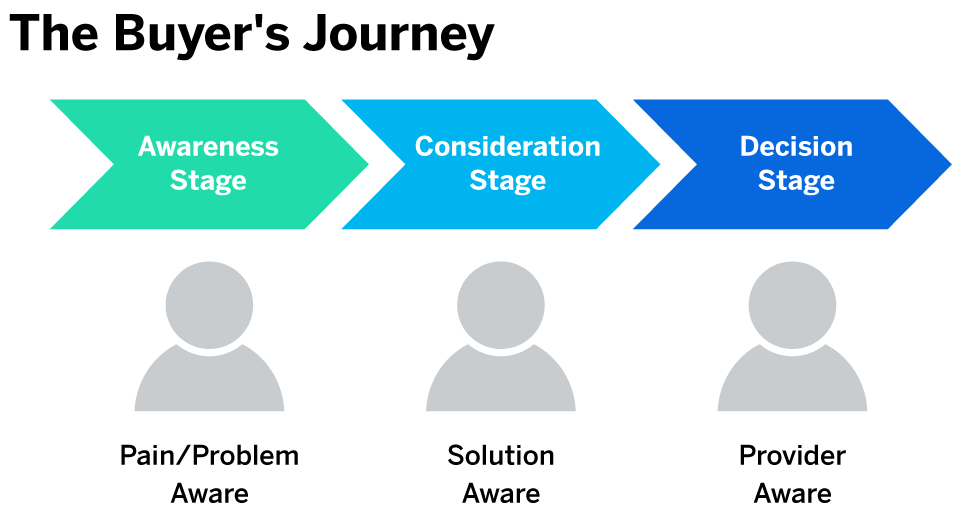 Build a Reputation Management Strategy
Remember how tech-savvy patients use search engines when looking up healthcare providers? It closely ties in with your online reputation. You see, 72% of patients use online reviews and testimonials when evaluating healthcare providers. Furthermore, the same percentage of patients (72%) will only consider a provider with a rating of four stars or better.
What do these stats mean for your GI practice?
A positive digital reputation is an invaluable asset to any healthcare business. Not only will you attract more patients, many doctors, healthcare professionals, and hospitals will be more inclined to refer people to your clinic.
Best Practices for Reputation Management
Collecting patient reviews may seem easy, but it takes a lot of work and perseverance, not to mention a proper review-collection strategy. Gastroenterologists can start by training their staff on the best practices of review generation. The simplest way is to ask patients directly for reviews after an appointment. Most folks will happily leave a short review, especially with regulars. Don't tell them to make something up; encourage them to relate their care experiences truthfully.
Aside from asking for reviews, provide numerous accessible ways for leaving feedback, including short patient surveys, your GBP listing, follow-up emails, and your website. Patients are more likely to complete the review if it's quick and easy. Otherwise, they won't bother at all.
If you have the budget, I also recommend investing in reputation management programs like Birdeye, Podium, and Weave. These platforms help you generate and manage reviews from hundreds of websites. It's a great way to monitor conversations around your brand. As a result, your team can hop in and address the situation if there's a reputation crisis like a negative review.
Implement Marketing Analytics
You know what they say about marketing: if you're not measuring, you're guessing. Data-driven marketing is the foundation of a robust marketing campaign and is crucial in delivering personalized user experiences. Marketing analytics offer deep insights into the performance of each marketing piece within your campaign. In other words, you'll know which marketing facet you're crushing and what areas need tweaking.
Below are the best practices to gain valuable insights into your marketing campaign's performance:
Use centralized marketing systems:

Your marketing team should have a single source of truth for data. This approach provides benefits like the removal of unnecessary silos, cross-department data reviews, and system integration (e.g., your CRM, Google Ads).

Improve team communication:

The most effective marketing teams are built on effective communication—poor communication results in wasted time and unnecessary strain in the group.

Choose the suitable attribution model:

By assigning credits to your digital marketing channels and touchpoints, you can determine the ROI for each strategy and identify aspects of the patient journey that could use improvement.
Conclusion
With increased competition and constant decline in reimbursements, GI providers will continue to fight an uphill battle. Gastroenterologists who want not only to survive but also to dominate the market will need a robust, multi-faceted digital marketing plan. The best practices I outlined above should be a great launchpad to help you get started and take your digital marketing to new heights.