According to Globe News Wire, the ear, nose, and throat (ENT) treatment sector is expected to hit over US$ 27.95 billion by 2030, with a 6.3% CAGR starting in 2022. However, with more spending comes more competition as consumers continue to raise their standards and call for an optimal experience. As a result, ENT doctors must capture these future patients as soon as they start online research and build trust as quickly as possible.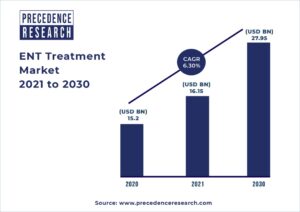 With digital marketing, ENT doctors can serve their audience the exact information they're looking for: educational content or the nearest solution. You can also generate more demand for your service with top-of-the-funnel content to attract more consumers.
Why ENT Doctors Need Digital Marketing
In the past, ENT patient acquisition almost completely relied on word-of-mouth referrals. Yet that landscape is rapidly changing as patients now prefer to research online independently before choosing a provider.
This means
Digital will be the bread-and-butter for patient acquisition from here on.

The digital world is now highly competitive for ENT doctors, and your

digital marketing strategy

must follow all best practices for you to stand out.

Even your referral leads would look you up online to get a second opinion before directly coming to you.
Therefore, you must invest in developing an ENT marketing strategy to attract patients ASAP, or you'll be left behind in the competition.
Website For Patient Acquisition
You must develop a website that meets modern consumers' expectations when 60% of consumers consult a healthcare organization's website when conducting research, according to Kyruus. 
 As your digital front door, your website must immediately appeal, serve, and capture leads.
Web Design Best Practices
Today's ENT websites must optimize for a better mobile experience. Use a responsive design with an easy-to-navigate UI and make sure your images, text, and buttons display correctly on mobile devices.
Other website best practices include
Optimize page loading speed

Add robust, informative content on service pages

Showcase positive reviews, testimonials, and patient success stories

Provide multiple ways of conversion, such as calendar booking, contact forms, emails, and click-to-call.

Use sticky CTAs to make conversion easy
An SEO-Driven Website Content Strategy
Consumers go online to seek information. Therefore, your website must provide valuable, comprehensive info to answer consumers' questions while keeping SEO in mind, so your webpages show up high under answer-seeking queries.
Ensure your website has a standalone page (pillar content) for each ENT condition you treat. To establish your expertise and credibility, provide robust information on the condition's symptoms, effect, treatment, and aftercare. You should also include information regarding specific procedures and operations you provide. Google's recent Helpful Content algorithm demonstrates Google's preference for user-centric, helpful content. Keep prospective patients in mind whenever you are developing content.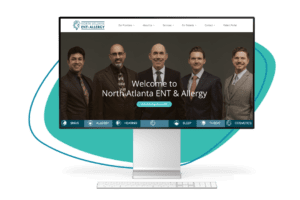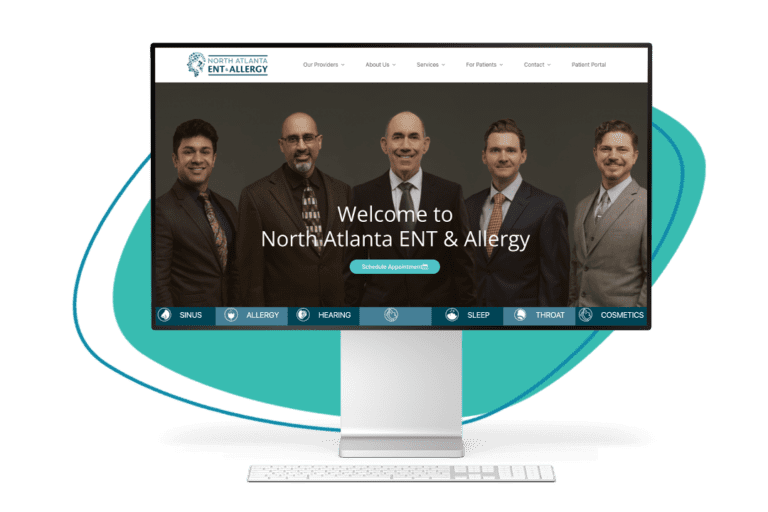 Tailor your website copy to target the entire funnel. For example, creating a blog to serve top-of-the-funnel (TOF) and middle-of-the-funnel (MOF) prospects educational content to increase awareness, generate demand, and prepare them for conversion. Don't forget that you need to answer comment questions, like explaining your insurance and payment policy and what next steps site visitors can take.
Some TOF and MOF topics are
Why am I sneezing so much?

Why are my ears itching?

Do I have an infection if my eyes are red?
Ultimately, you want your website content to move consumers through the funnel and convert them into patients.
Local SEO
ENT issues are uncomfortable and often chronic. Therefore patients would much rather visit a provider nearby so they can have everything taken care of as quickly and easily as possible.
With local SEO, you can easily connect with audiences in your target areas. By putting yourself in front of someone seeking a solution right then, you'll significantly increase their chances of reaching out to you.
Listings & Citations
List yourself on local directories such as Yelp, chamber of commerce, and other local healthcare associations.. And don't neglect healthcare platforms like Zocdoc with their online booking and review solicitation system.
Select all services that apply and update your business hours when listing on niche platforms. Also, add a detailed description of your doctors to attract specialist leads.
Google Business Profile
Did you know that 49.3% of patients wouldn't book an appointment with a provider with incomplete online listings? But that also means you'll simply stand out from the competition by building a powerful Google Business Profile (formerly GMB) listing!
When creating your business profile, create one for each location. Utilize the healthcare-specific attributes and specify the treatments offered at each branch. Update your Covid-19 protocols and the languages you speak. You can also create an FAQ to answer specific questions your patients had in the past.
Geographical Keyword Strategy
Create a geographical keyword strategy to target high-intent queries. For example
ENT doctors near me

Sinus infection treatment in Chicago

Ear infection doctors available right now
These queries indicate urgent needs. Patients using these search terms are ready to buy—you're the only missing piece between them and the solution they need.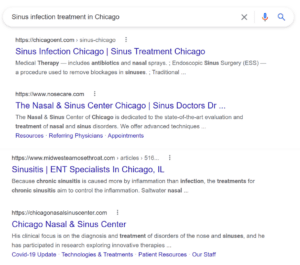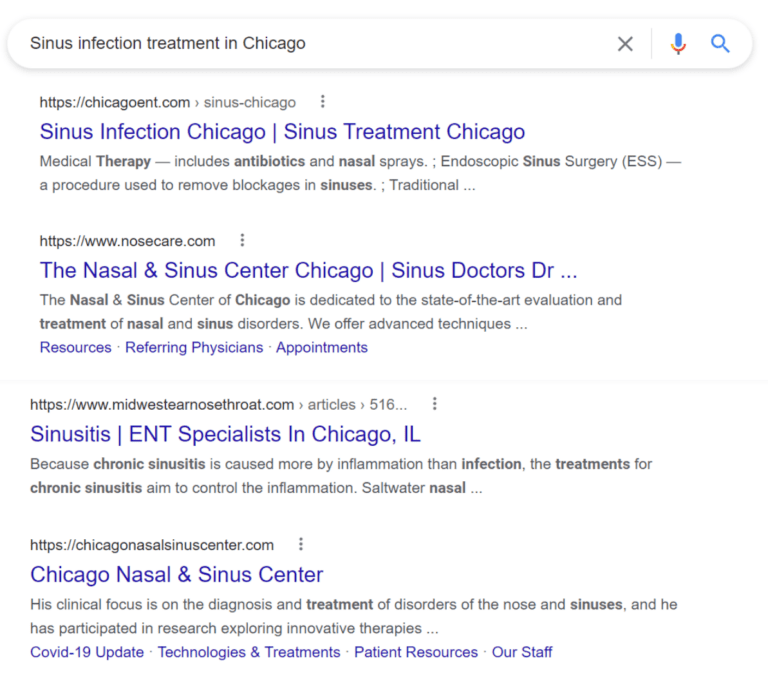 Optimized Location Pages
Your location pages are a critical component of your local SEO strategy. These are the pages most likely to appear for location-based queries. That means they need to answer searchers' questions and steer them towards conversion. 
They should include robust information on services and providers at that location, insurance information, reviews and testimonials, and next steps (book an appointment online or call). They should be optimized according to your geographical keyword strategy and include unique copy.
You can make these location pages the landing destination for the corresponding ads and GMB listings. This will provide your future patients with more relevant information, thus generating higher quality conversions.
Brand Reputation Management
Online reputation is closely tied to your local SEO strategy. Additionally, it also affects your patient acquisition and referral efficiency.
Traditionally, ENT doctors heavily rely on word-of-mouth and physician referrals. While it still holds true in today's landscape, referrals often take the extra step to look a doctor up after someone has made the recommendation. Meanwhile, new patients would pay attention to your past patients' reviews before coming to you.
For example, by creating reputable directory listings for NAENTA and getting involved with quality review sites, we successfully created an 87% increase in organic traffic and new organic visitor traffic. Combined with other strategies, this increase translated into a significant 81% increase in calls and a 69% increase in conversions.
Therefore, maintaining a positive online reputation is vital for ENT doctors who focus on referral programs and those who want to capture local leads.
How To Manage Your Online Reputation
Online reputation management has two core pieces: collecting more positive reviews and maintaining a positive reputation.
You may already have quite a few reviews if you have listings on platforms like Zocdoc. However, you need to take initiative to collect reviews for your Google Business Profile or any other listings. Start with your current and previous patients while developing a review solicitation system for the future. Also, the easier you make the review process, the more likely patients will leave one.
On the other hand, long-term reputation management is largely about staying on top of your listings. Whenever there is a negative review, ensure a fast response and try to find a solution. Meanwhile, invest in media relations to build up your specialists' reputation. You should also select the most representative testimonials to showcase on your website.
Learn more about reputation management for healthcare providers
Using Google Ads to Capture BOF Leads
Google PPC ads are extremely effective for ENT patient acquisition since they're designed to capture high-intent leads looking for a solution right then. With Google PPC ads, you can place yourself on top of the SERPs of high-intent keywords, such as
allergy doctors near me

ear infection treatment in the Chicago area

best sinusitis doctor in Kansas City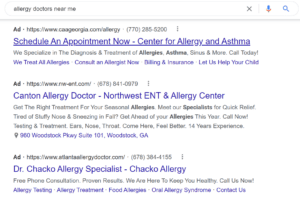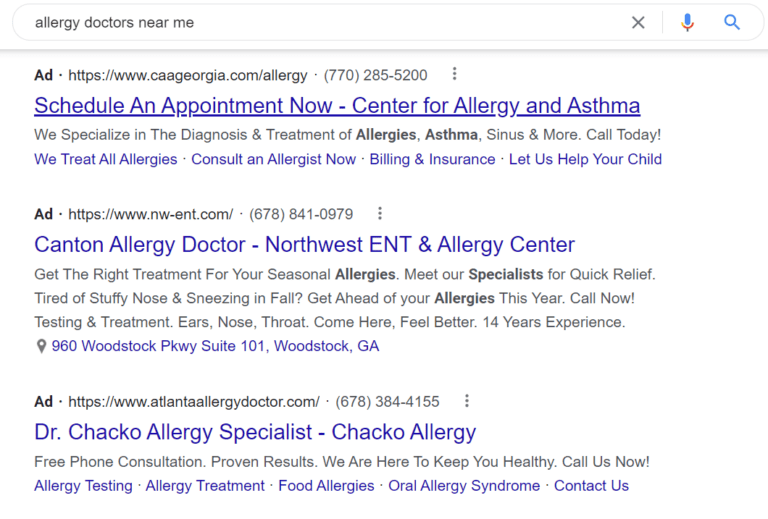 Account Structure
With Google Ads, your account structure is critical to performance. The structure of your organization and your goals determine how you should build your account. A segmented structure gives you more control. Therefore, it's suitable for multi-location organizations with individual budgets for each branch. In the meantime, consolidated accounts run larger ad groups to maximize impressions and collect data in bulk, so Google's smart bidding strategy can optimize your spending most efficiently. In most cases, ENT doctors use a hybrid account structure to ensure control and scalability simultaneously.
Google Ads Best Practices
Always use A/B testing to find the best ad copy, extensions, and call-to-actions. And remember to optimize for a better mobile experience since 70% of mobile searches lead to online action within an hour.
Other Google ads best practices include
Implement conversion tracking

Refine your keyword strategy continuously 

Avoid overly segmenting your account

Use Google's Smart Bidding 

Optimize your landing pages and create a unique landing page for each campaign

Build a funnel-based paid media strategy while focusing on Google PPC ads for BOF lead capture
Learn more about healthcare PPC best practices
Full-Funnel Social Media Advertising
ENT doctors can leverage social media platforms by sharing high-quality visual content and directly engaging with potential customers. You can also use your organic content to generate demand since many people don't realize they need an ENT doctor. For example, educate your audience about the risks of unattended ENT issues or early symptoms they should look for.
Meanwhile, develop a full-funnel paid social media strategy focusing on TOF and MOF audiences. In other words, your Facebook ads should primarily focus on demand generation. However, you can also run conversion campaigns on Facebook to capture leads if you follow a full-funnel approach.  Nonetheless, you should only tap into Facebook ads after maximizing BOF lead capturing with Google Ads.
Implementing Data-Driven Marketing
ENT doctors need visibility to make informed decisions to improve their digital marketing campaigns. Therefore, data-driven marketing is the only way to build a sustainable ENT marketing strategy.
Like all other healthcare service providers, ENT doctors should implement closed-loop reporting (CLR) to gain holistic insights into their campaign performances.
CLR uses different attribution models to help organizations identify patient patterns, high-performing campaigns, and the weaker links in their strategy. The four most common attribution models are
First-touch model: gathers information on the interaction that initiated the patient acquisition process.

Last-touch model: gathers the last interaction a patient had with you before the final conversion.

Linear model: maps out a patient journey by assigning equal credits to each interaction the lead had throughout their conversion journey.

Multi-touch model: allows you to evaluate the higher and lower performing campaigns in a conversion journey by assigning credits to each step proportionally based on impact.
Marketing Analytics Best Practices
You must build a powerful team to create an effective data-driven marketing process. Invest in collaboration and communication with project management and analytics software. Meanwhile, integrate CRM, Google Analytics, Search Console, and other systems into one place to reduce unnecessary data silos and create a single source of truth. You should also set individual goals and KPIs for each campaign to gather actionable insights instead of redundant data.
Learn more about healthcare data measurement
Conclusion
ENT and allergy doctors are in high demand. However, not everyone realizes that they need treatment or the options available to them. Therefore, ENT online patient acquisition comes down to educating TOF patients while capturing MOF and BOF patients with an undefeatable reputation and maximizing online visibility as you target high-intent, problem and solution-aware keywords. Then, ensure a positive, seamless patient experience to make conversions easy. Finally, create actionable, sharable reports using centralized data to make informed decisions for a higher performance.