Digital Marketing
For Physical Therapy Clinics




30%
of patients utilize outpatient physical therapy services and attend all their visits.
Studies
have shown that physical therapy can be as more effective than surgery.
450 Thousand
U.S. Google searches occur monthly for physical therapy.
Attract Clients Online in Their Time of Need
In the modern era, you would be hard pressed to find something more important to the future of your physical therapy practice than your digital marketing efforts. Digital marketing isn't just about attracting new patients – it's also about strengthening your relationships with your existing ones, all while establishing trust and credibility across the board.
42%
of prospects will check your online reputation before choosing you
Only 32% of patients will choose your practice because you are close by
At Cardinal, our number one priority involves shattering the myth of the "one size fits all" approach to healthcare digital marketing. We take the time to get to know your physical therapy practice, learning about your strengths and coming up with the right, customized and actionable digital marketing strategy that lets you put your best foot forward and reach the largest possible audience at just the right time.
We are proud to announce that our CEO, Alex Membrillo, has released his latest book titled The Anatomy of Medical Marketing.
Offering a step by step approach to increase your patient volume and keep your practice off life support, Membrillo will help you grow your practice with ease.
Igniting your Growth with Cardinal
Leverage Cardinal's medical marketing solutions to grow your physical therapy patient base.
SEO
These days, 93% of ALL online experiences begin with a search engine. The right search engine optimization (SEO) campaign can help improve your visibility, broaden your reach and allow you to make a positive first impression with those seeking essential physical therapy.
Paid Search
The right paid search tactics are the best way to laser-focus your efforts on new and potential patients based on things like past online behaviors and even their geographic location. Plus, targeted paid ads, combined with an organic search engine campaign, will elevate your online presence. This will help keep you in front of prospective physical therapy patients everyday.
Social Advertising
Did you know that 18 to 24 year olds in particular are more than twice as likely than the previous generation to use social media for health-related discussions and searches? The right social advertising campaign can help carry your practice into the next decades and beyond. Prospective physical therapy patients can be targeted based on location, demographic, gender, likes, and more.
Web Design
According to Pew Research Center, 62% of smartphone owners said that they used their device to look up health information at least once in the last year. This is why the right Web design can't just look pretty – it also needs to be optimized for smartphones, tablets and more modern day devices that your patients are actively using. Cardinal's medical website design will highlight your physical therapy practice and can includes features such as a patient portal, video testimonials, booking engine, and more.
Reputation management
Did you know that 86% of people say they would pay more for services with a provider with higher online ratings and reviews? This is just one of the many, many statistics that underline the importance of online reputation management – particularly for something as important as a healthcare professional. We'll manage your reputation on professional sites such as Zocdoc, Healthgrades, and Yelp.
Cardinal – Your Partner in the Digital Era
At Cardinal, we understand how to craft the right digital marketing campaign for your practice – one that not only effortlessly brings together techniques like marketing and Web design to form a cohesive whole, but one that lets you reach both potential and existing patients at such an important point in their lives. To find out more information about our physical therapy healthcare digital marketing or related services, please don't delay.
Contact Cardinal today to learn more about our physical therapy marketing solutions.

Cardinal's competitors constantly try to get us to switch to them. We are not interested in switching.
CARDINAL'S PROPRIETARY MARKETING TECHNOLOGY PATIENT STREAM'S BENEFITS:

Double Your Patient Volume for the Same Spend
Dump the campaigns that don't generate returns. Our AI based marketing platform automatically optimizes towards the campaigns that are driving high value patients.

Modernize Your Medical Practice
Tired of relying on billboards & TV that don't have quantitative ROI numbers? Step into the future of marketing and run medical group patient preference campaigns digitally and see which campaigns bring top of the funnel awareness that ends up converting through bottom of the funnel campaigns down the road.

Executive Level Reporting
Give your CMO the reporting she didn't even know was possible. No longer do you have to report on cost per lead. With Patient Stream, you will now be able to report on Cost Per Patient.

Improve the Patient Experience
Keep patients in your hospital system by showing remarketing campaigns at the right time with the right message with Patient Stream. Your patients will never forget where to go for care.

Increase Patient Volume Across Service Lines
Patient Stream not only helps you see if a patient was driven from a campaign, we can also track a patient who came in through primary care and ended up having an ACL repaired.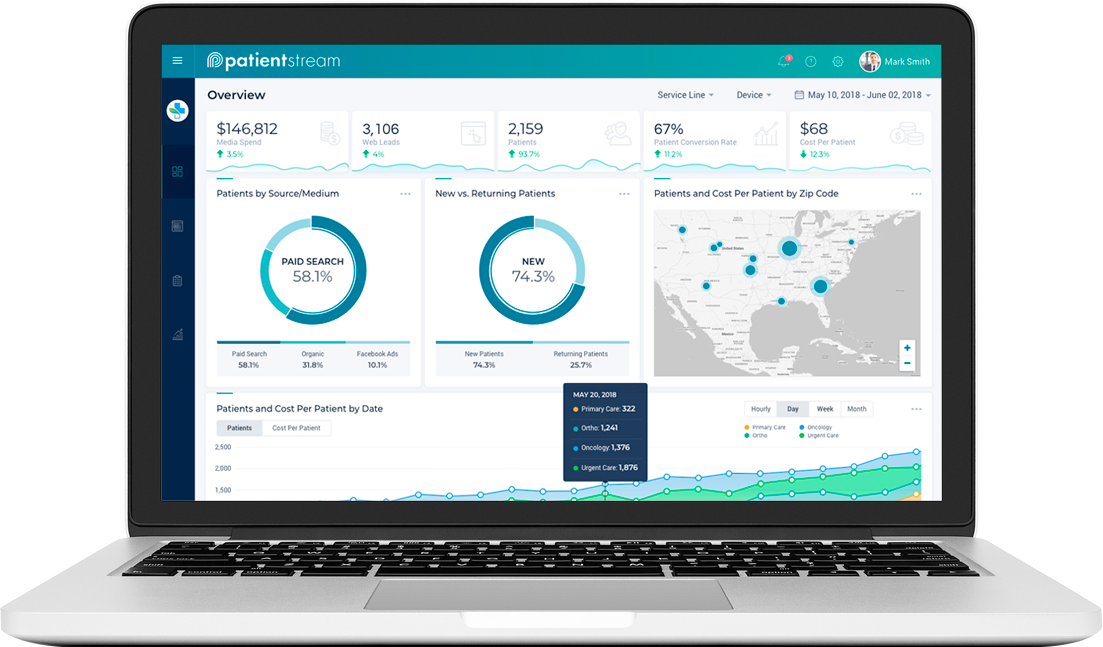 Ready to Rise Up on the Internet?
Fill out the form to get started!