Summary:
What will be the most effective ways to attract new patients this year? What follows is a closer look at three essential components to incorporate in your patient acquisition strategy.
When people need medical care they tend to turn to their smartphones first. Much of the patient journey is now conducted online and will be into the foreseeable future.
Which prompts the question: what is the best way to attract new patients in 2021? Which digital channels will make the most impact in terms of increasing patient acquisition? Here are three essential components for a digital acquisition program that reaches more patients in 2021.
1. Increase Brand Awareness and Nurture Leads with Facebook Ads
These days, healthcare marketers love to incorporate Facebook into their patient acquisition strategies for two main reasons: 1) Many people use Facebook every day; 2) Facebook advertising has the potential to deliver results a lot faster than search engine optimization (SEO).
The usage statistics really do make Facebook difficult to ignore as an advertising channel. According to 2019 data from Pew Research Center, 69% of all U.S. adults use Facebook. Of that cohort, 74% visit Facebook every day. This kind of volume creates many, many opportunities to reach your target audience and expand brand awareness.
Why Facebook Works for Healthcare Marketing
What's nice about Facebook are all the ways that you can engage with, and hear from, your audience. You'll find many healthcare brands publishing a variety of content at a steady clip, including educational videos, Facebook Live, testimonials, and other resources. More established brands typically enjoy rich engagement with their regular flow of content. This kind of living, breathing, and growing Facebook presence can increase visibility, reveal valuable audience data, and even generate leads.
On the paid advertising side of things, there's plenty to recommend the Facebook Ads platform. Namely:
Cost-effectiveness: With the right best practices in place, Facebook Advertising can be a cost-effective way to drive consistent leads. More automated (and sophisticated) bidding strategies help you control costs and keep the cost per acquisition (CPA) down.
Targeting: Healthcare marketers, in particular, appreciate how easy it is to target particular patient demographics, lookalike audiences, and geographic locations (otherwise known as "geotargeting"). You can even build custom audiences based on user activity, such as visiting your website or watching a certain video.
Retargeting: There are net-new patients, and then those prospects that already know a thing or two about you. Maybe they've already engaged with your mobile app or visited the website for your Atlanta location. Or maybe you have a pre-defined, particular target audience—a senior citizen, for instance, who lives in Chicago and likes your Facebook page. With remarketing, you can dynamically serve up personalized ads to these people automatically.
Campaigns across the patient journey: Build highly personalized campaigns tailored to patients still in the awareness stage, considering various providers for a specific healthcare need, or those ready to make an appointment.
Get creative with a variety of ad types: The Facebook Ads platform seems to evolve with each passing day and offer new ways to engage users. Beyond sharing simple photos and videos, you can incorporate carousels, unique mobile experiences, and even augmented reality.
RELATED: For more tips on driving patient acquisition while maximizing budget, see Strategies to Optimize Your Google and Facebook Ads Budget.
2. Master Local SEO
For ages now, we've been telling our healthcare clients that local SEO is an essential component of patient acquisition. Granted, there are some industries where local SEO is less relevant to lead generation; but for something like healthcare, where services are so often location-specific? It's a no-brainer.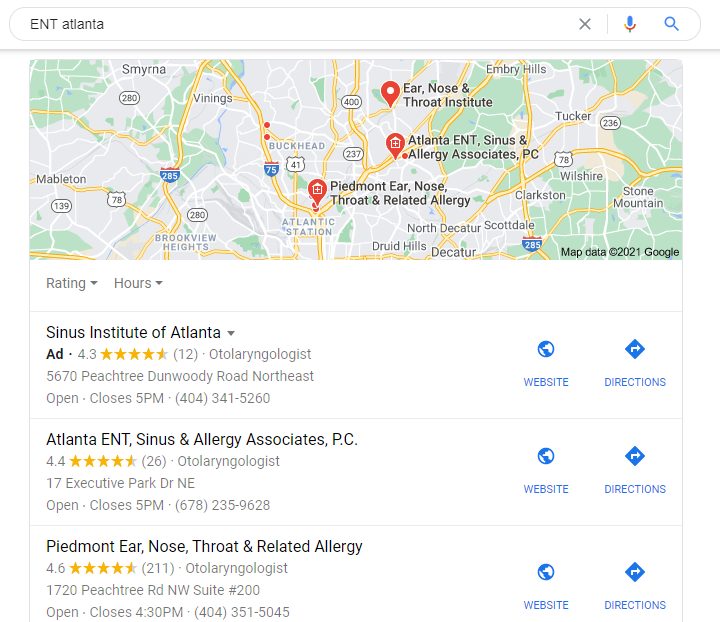 Here's why: people tend to search for and visit healthcare providers that are nearby. Your Austin plastic surgery folks are probably looking to get their nose job done in Austin. And your Atlanta people shopping for a LASIK provider probably want to find a laser located in town. In response to this local demand, Google and other search engines are getting very good at stitching together highly relevant local search experiences.
Why Local SEO Works
When people search locally, they tend to follow through and show up in person. According to Google, 76% of smartphone users who search for things nearby visit a business within 24 hours. That goes for your prospective patients, too. By optimizing your content, business listings, and overall digital presence for one or more local markets, you can make sure you reach them.
At a high level, your objective is to send lots of signals to Google that you're an active, authoritative, and reputable provider in a given geographic area. While there are a variety of ways to do so, here are a few fundamental parts of a local SEO strategy:
Listings (such as Google My Business, Yelp, and Facebook Business)
Patient reviews
Locally relevant backlinks
Location-specific pages and content
The idea is to cover these bases for each of your locations. By consistently churning out this kind of rich content, healthcare organizations supply search engines with all kinds of information to surface in all kinds of local search experiences, including:
Map searches
"Near me" searches
Search engine results pages (SERPs)
RELATED: For a more extensive look at local SEO strategies for healthcare, see: How to Get More Patients with Local SEO.
3. Boost Search Visibility with PPC Advertising
Finally, you should strongly consider pay per click advertising (PPC) as the third pillar of your 2021 patient acquisition strategy. The hard truth is that not all healthcare businesses can wait the six to twelve months needed for a longer-term SEO strategy to start creating bottom-line value. Others with a more mature SEO strategy cannot rely on SEO alone to drive new patient acquisition.
Set up properly, PPC campaigns can begin generating new patient leads today.
PPC is a search engine advertising model where you pay each time a user clicks on an ad. Let's say you'd like to rank organically for a competitive local keyword, but are having trouble. With PPC, you can slap an advertisement at the top of that SERP—above the organic results.
More specifically, you can optimize PPC ads to show up in search engine results when specific audiences use specific search language—and you pay when a user clicks one of your ads. Because PPC ads can be difficult to distinguish from normal search results, they tend to generate a lot of clicks.
Why PPC Advertising Works
In a setting where bringing in new patients in quick, measurable ways is paramount, PPC is particularly effective. You can land a new patient, appointment, booking, and so on as soon as your campaign goes live. Plus, PPC platforms, such as Google Ads or Bing Ads, make it easy to track campaign performance and adjust campaign targeting and spend on the fly.
Speaking of cost, healthcare marketers can now use sophisticated automated bidding strategies to help you control costs and keep CPA down. These include the ability to bid based on a target CPA, maximum conversions, or using an enhanced cost per click (CPC) approach.
What we've found is that effective healthcare PPC campaigns do a few things particularly well:
Define client personas
Build well-researched, locally optimized keyword strategy
Bring together persuasive ad copy and conversion-oriented landing pages
Enhance ads with extensions, such as site links and call buttons
RELATED: In most cases, we recommend both a PPC and longer-term SEO strategy, as the two tend to complement each other. For more on the difference between SEO and PPC, read How Medical Practices Can Drive Growth with PPC and SEO.
Don't Forget that All Roads Lead to Your Website
At the end of the day, the goal of all three strategies we've outlined above is to generate more appointments. Some patients will call, while others will visit your website. Yet, even the person who found and called your number on a PPC ad is likely to end up on your site at some point in the patient journey.
Which makes your website a centerpiece of your patient acquisition strategy. So, let's build a welcoming digital front door. This is a great chance to make things easy for your prospective (and existing) patients. Put yourself in their shoes. After landing on your site, where do most patients want to go first?
Scrutinize the data behind who is visiting your site, from where, and what those people are trying to accomplish. From there, test different flows and look for opportunities to remove friction and make your website experience as seamless as possible. Generally speaking, patient-friendly websites:
Load fast on all devices
Exude thoughtful, professional web design
Are built on logical site structure and content hierarchies
Provide timely, authoritative content that brings value to the patient journey
Avoid the use of symbols, jargon, highly technical language, and "cute" labels
Make it easy to navigate to things like scheduling, treatments, insurance information, and COVID-19 updates
Sites that follow these web best practices will not only increase patient access in and of themselves, but firmly support other strategies, such as Facebook marketing, local SEO, and PPC advertising. Of course, many healthcare organizations take the patient experience a step further with investments in online scheduling, chatbots, and virtual assistants.
Above all else, it's important to keep in mind that it is people—not marketing dollars or campaign metrics—that make the wheels of patient acquisition turn. With that in mind, if you stay firmly focused on fulfilling their needs, you'll be able to drive growth.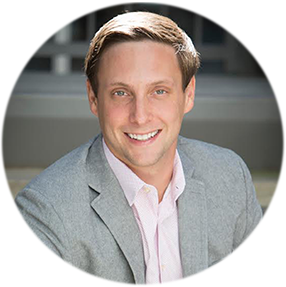 Alex Membrillo
Founder and CEO
Alex Membrillo is the CEO of Cardinal, a digital marketing agency focused on growing multi location companies. His work as CEO of Cardinal has recently earned him the honor of being selected as a member of the 2018 Top 40 Under 40 list by Georgia State University as well as 2015 and 2016 Top 20 Entrepreneur of metro Atlanta by TiE Atlanta, Atlanta Business Chronicle's 2016 Small Business Person of the Year,and the Digital Marketer of the Year by Technology Association of Georgia (TAG).