The COVID-19 pandemic may have slowed down elective surgeries, including LASIK. However, the industry has been experiencing a fast comeback with a predicted compound annual growth rate (CAGR) of 4.02% through 2028, approximately reaching $2,238.7 million before the decade's end. However, recent economic uncertainty could impact elective surgeries like LASIK.
For many consumers, LASIK remains an intimidating decision, even among those with a higher education level and income level. LASIK consumers are also more cautious when choosing a LASIK company than seeking traditional eye doctors, and they're willing to do extensive research. They want to ensure they find the best provider possible to mitigate any risk to their vision. That's why a strong digital marketing strategy is essential to building trust and increasing your patient volume.
In this LASIK marketing strategy guide, you'll learn to
Gain digital visibility with

SEO

strategies

Dominate the competition

Build trust with your potential customers through diverse channels

Create a sustainable full-funnel strategy that generates demand and moves consumers to conversion
Digital Marketing for LASIK Surgeons
Like all other healthcare products, consumers heavily rely on the search engine for healthcare decision-making. PEW Research found that 66% of consumers search for information about a specific disease or medical problem online. 
LASIK surgery is no exception. 
Most consumers approach LASIK with some hesitancy. While the allure of improved vision is strong, they need reassurance that the provider will provide quality care. LASIK companies must leverage digital marketing strategies to build a reliable connection and trust with consumers to sway their decisions.
Website For LASIK Patient Acquisition
Your website is your digital front door; the first place consumers turn to when they need information on LASIK surgery and your company. An informative, easy-to-navigate, and well-designed website tends to leave a professional and trustworthy first impression on your potential customers.
As we mentioned earlier, consumers are selective when choosing a LASIK provider. The doubt in the air means you have little room for error or ambiguity with your online presence, and a poorly-designed website is no different from a death sentence on your pipeline.
Then, how can you turn your website into a lead generation machine?
Optimize For a Better User Experience
Website user experience (UX) will make or break your online patient acquisition. Therefore, you should always begin with optimizing UX. For example,
Optimize for faster page speed by reducing image sizes and removing unnecessary scripts in the back.

Use responsive design for a better experience across devices

Prioritize mobile performance

Improve website accessibility with easy-to-read font, comfortable text sizes and white spaces, and other design best practices
Make Conversion Easy
To capture leads, you must make conversion easy for them. Offer website visitors multiple ways to convert, such as a calendar booking link, contact form, email inquiries, or booking via an automated chatbot. 
Create identifiable CTAs, so visitors know where to click. On mobile devices, use a "sticky" CTA that is always accessible, so users don't have to navigate to your contact page. You can also incorporate a click-to-call function on the mobile to make it easy for them to call you.
Additionally, consider tying your website with your booking software to send confirmation and reminders to elevate user experience to a new level of effortlessness.
Educate Visitors with Robust SEO Content
Studies found that about 7% of all Google searches are healthcare-related. But according to MarketingProf, only 28% of healthcare service providers have a documented content marketing strategy, and only 26% believe their organization's content marketing is effective. Therefore, having quality educational content that's SEO-ready will put you ahead of your competitors.
Tailor your content to target TOF and MOF keywords to generate more demand. For example:
Is LASIK safe?

How long does it take to recover from LASIK?

Does LASIK have side effects?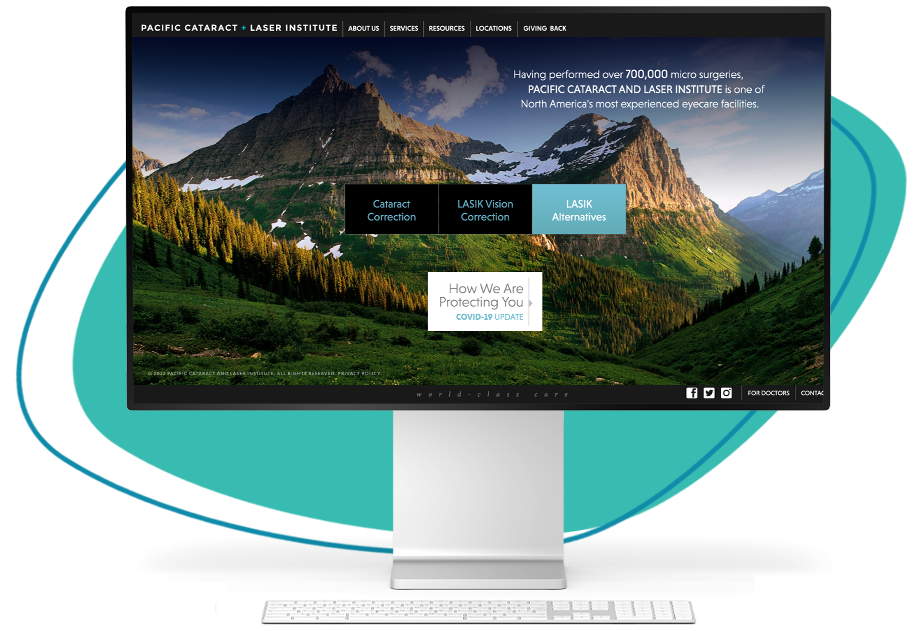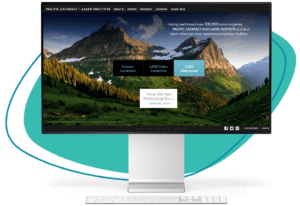 Remember, your TOF and MOF patients are seeking information. Help them realize you're the solution they've been looking for this whole time with professional and comprehensive content. Google's Helpful Content algorithm update aims to remove unhelpful and misleading content from the search results page. You must ensure you're providing robust, factual information on your website that answers users' top LASIK questions. 
Consider all questions a prospective patient may have, and expand your service pages with easy-to-understand and accurate information. 
Local SEO
Eye surgeries are inconvenient and can leave patients feeling vulnerable. Therefore, they naturally prefer a provider closer to their home. They won't be able to transport themselves and will rely on their family or friends to get to and from their appointment.
That's why local SEO is critical for LASIK providers. After a person decides that they want LASIK surgery, they're going to find a provider that is close to them, using location-based keywords.  However, to find the best surgeon possible, some patients are willing to travel. So you must develop a strong understanding of the market you serve.
Listings & Citations
Listings and citations are an essential part of local SEO and help you appear for location-based searches. Citations are business listings placed in online directories that include your location's name, address, and phone number (NAP). These links tell Google that your business is trusted by other organizations, and the words that are linked communicate what your organization does. 
Beyond common directories like Google Business Profile, Facebook, Yelp, and Bing Maps, there are healthcare-specific directories that consumers visit like ZocDoc, Vitals, Healthgrades, and many more. Build a robust listing that highlights your surgeons, experience, and services. 
Don't forget about local listings and business directories. Contact your local chamber of commerce or search for healthcare associations in your area to see if you can acquire a link to your organization. 
Google Business Profile (formerly GMB)
GMB listings are essential, especially for LASIK providers, because LASIK is a local service. After all, nobody wants to drive an extra 30 minute home right after eye surgery.
Create a Google Business Profile for each of your locations. Ensure the address, phone number, and hours are up-to-date. Meanwhile, connect these profiles to the corresponding location page instead of the general website homepage.
You can also include the following information to provide consumers with more details.
FAQ unique to each branch

Languages spoken

Facility photos
Geographical Keyword Strategy
Develop a geographical keyword strategy to capture BOF leads seeking solutions in your target market. Some of these high-intent keywords are
Best LASIK surgeon in Minneapolis

LASIK surgery near me

LASIK surgery available next week in Chicago

Hispanic LASIK doctor near me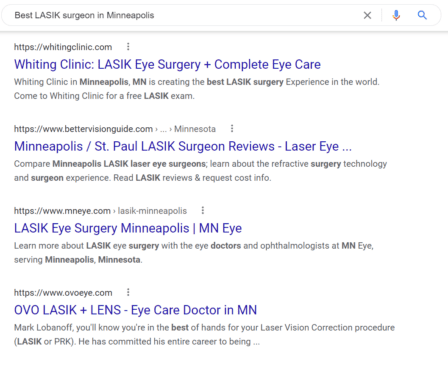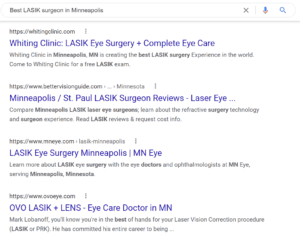 Optimized Location Pages
Optimize your location pages following your keywords strategies and website best practices, such as optimizing for a better mobile experience and making conversion easy.
Furthermore, ensure you have unique content for each location, even though you're offering LASIK surgery at each office. Create differences with detailed surgeon information, insurance, payment policy, and unique visual content. You should also showcase positive reviews, testimonials, and patient success stories on your location pages.
Reputation Management for LASIK Surgeons
No matter how much technology has developed, patients tend to think LASIK surgery is risky. Therefore, patients are more cautious with choosing a LASIK surgeon than other healthcare professionals, meaning it will be challenging for LASIK providers to acquire patients online without legitimate, credible positive reviews.
Furthermore, 68% of word-of-mouth referral patients indicated online reviews as their number one reason for choosing a doctor. In the meantime, they're also more likely to complain about a negative experience with their family and friends. Therefore, positive online reviews also help with referral partnerships and patient-to-patient referrals.
Digital Reputation Management Best Practices
First, collect positive reviews and testimonials from previous patients and display the most representative ones on your website. Similarly, highlight any professional or media recognition to boost your credibility.
Meanwhile, keep tabs on your listings and check them regularly. Promptly respond to any negative comments and try to resolve the issue. If your budget allows, invest in reputation management software and streamline your review solicitation process.
Learn more about multi-location reputation management
Promoting LASIK Surgery with Google Ads
Do Google Ads work for LASIK surgery companies with patients taking more time to decide? The answer is yes.
Despite the more conservative consumer behaviors, Google PPC is still one of the most effective methods for LASIK surgeons to capture BOF leads. It places you on top of the SERP for high-intent, purchase-ready keywords, such as "LASIK surgeons near me" and "best LASIK company in Las Vegas," so you can capture consumers at their decision-making moment.
Maximize Return With The Right Account Structure
When we worked with the Pacific Cataract and Laser Institute (PCLI), we developed a multi-location patient acquisition PPC strategy, optimized the client's account structure, and focused on their brand influence and services.
Using a hybrid model, we set up new campaigns and keyword categories aligned with their updated website. We built campaigns that maximized the impression of LASIK surgery, LASIK alternatives, cataract correction surgery, and general eye surgery keywords, as well as their brand name. Meanwhile, we used segmentation to maintain spending control over different locations.


Google PPC Strategies
for LASIK Providers
Since it typically takes longer for a patient to purchase LASIK surgery, you must focus on gaining high-quality conversions through compelling ad messaging. Test different body, extension, and CTA copy to find the winning combinations that attract BOF leads with stronger buying intention.
Meanwhile, optimize each campaign's landing page to provide the exact information your leads want and make conversion easy. Additionally, optimize your ads and landing pages for a better mobile experience. You can also experiment with call-only ads to capture purchase-ready leads.
Finally, optimize for more effective bidding with Google's AI-powered bidding adjustment tool once you have enough data to provide accurate, actionable insights.
Learn more about core Google PPC strategies for LASIK surgery
Facebook Advertising for LASIK
Social media marketing is a great way to increase brand awareness since 75% of users who follow businesses on social media talk about those companies with friends and families.
Social media is also the perfect place to capture TOF and MOF audiences. For example, you can
Educate them on risks to create a sense of security, so your audience becomes more comfortable with moving forward.

Showcase post-surgery recovery with visual content, such as patient photos without glasses on

Highlight your company's community activities to create a stronger brand image and build a positive impression
Effective Channels for LASIK Surgery Providers
LASIK surgery content is highly visual (literally) because nothing speaks more than a patient who came with thick glasses and left without. Therefore, take advantage of before-after comparison photos and choose platforms that allow you to build engagement via visual content like Instagram and Tik Tok.
Full-Funnel Paid Media Strategy
LASIK surgery providers must invest in a full-funnel strategy when using paid social media ads. Align your campaigns with your patient's journey and focus on moving TOF (awareness stage) and MOF (consideration stage) leads forward with Facebook or Instagram ads.
Essentially, you want to develop campaigns for these three audience groups:
Problem-aware

: Provide educational content on why LASIK is the best solution.

Solution-aware:

Focus on demystifying LASIK risks and highlighting your professionalism and credibility.

Product-aware:

Create branded BOF campaigns for easy conversion since these leads already know your product/company.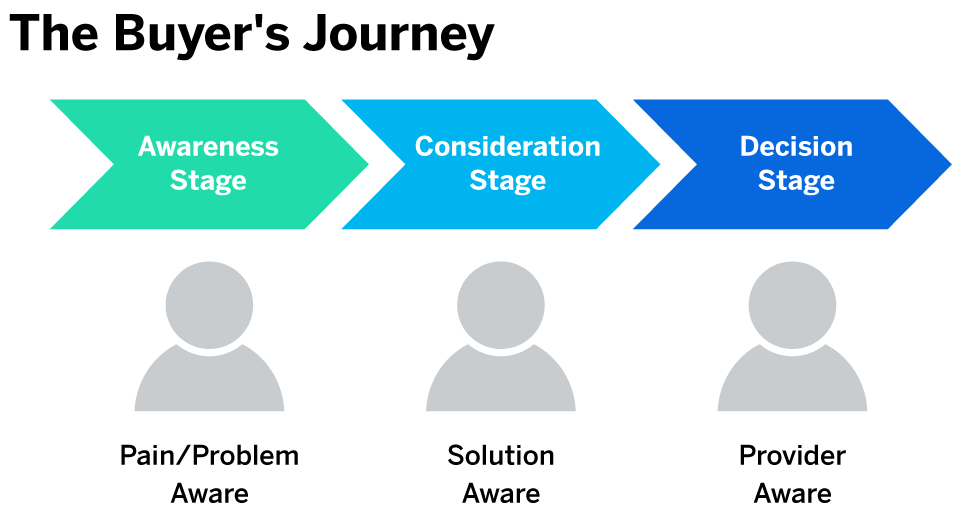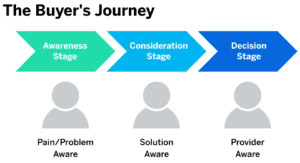 See? A full-funnel strategy adapts your ad creatives and copies according to the patient's funnel stage. As a result, you can serve your consumers with highly-relevant content and eventually improve conversion.
However, you should only look into paid social media ads after fully maximizing BOF lead capturing with Google PPC campaigns because Google Ads are the bread-and-butter in your paid digital patient acquisition strategy.
Gaining Insights With Data-Driven Marketing
LASIK companies should implement closed-loop reporting (CLR) to measure their marketing results. Choose between first-touch, last-touch, linear, and multi-touch attribution models depending on your goal. For example, the first touch model tells you what campaign format is most effective in initiating interaction. Meanwhile, the linear model is perfect for mapping your patient's journey.
Other marketing analytics best practices for LASIK companies are
Build a robust team with designated personnel monitoring each piece in your LASIK marketing strategy

Integrate all your systems into one place to remove redundancy

Invest in project management and communication software for more efficient collaborations

Set individual goals and KPIs for each campaign

Use industry benchmarks to assess your market performance at scale
Learn how to measure healthcare marketing performance
Conclusion
Nobody wants to deal with glasses and contacts if they can see this world. Therefore, the demand for LASIK surgery will continue to grow in the upcoming years. Therefore, invest in your LASIK marketing strategy now if you want to earn more market share. After all, the only way for a LASIK company to win online patient acquisition is by building trust with consumers.