The complexities inherent in senior care only became more complex since the pandemic. With earnest, high-level issues on hand, including rapidly increasing demand for services and staff shortages, senior care organizations are reevaluating their marketing strategies and priorities. How is senior care marketing evolving in 2023, and how do you adapt your strategy to remain competitive? Here are the top senior care marketing trends we think you need to keep in mind as 2023 approaches:
1. Senior Care Must Focus on Maximizing Marketing Budget and Keeping CPL Low
Competition in the senior care industry has increased in the last few years. You know this. America's population is aging, and there's a growing need for senior care providers, and more emerge each year. Another looming question is, who will pay for this growing need?
U.S. Centers for Medicare & Medicaid Services (CMS) also introduced new payment rules at the end of October this year. After floating the idea of an aggressive 4.2 percent aggregate decrease for 2023, CMS settled on a $125 million increase in aggregate payments over 2022's numbers, after nationwide pushback from providers. While this final ruling was happier news for senior care providers, CMS is still planning to phase out other cuts and adjustments in the coming year.  
The triple whammy of increased competition, payment adjustments, and a recessive economy will mean senior care providers need to maximize their marketing budget. More than ever, every dollar counts now.
Senior care providers that are desperate and need new residents and patients will be pouring more money into Google Ads—a high-intent bottom-of-the-funnel (BOF) channel—with the hope that they can generate leads and admissions fast. When money floods BOF channels, like Google Ads, the cost per lead (CPL) often increases, driving up patient acquisition costs. These players are desperate for any leads, so they don't care if it comes at a high price. This approach has a ripple effect and will drive up advertising costs across the industry. 
In 2023, senior care marketers must keep a close eye on their Google Ads campaigns and budget to ensure their acquisition costs don't creep too high. Here are our tips on how to monitor your account and optimize it:

Remove Low-Intent, Low-Quality Keywords
Low-intent, low-quality keywords may look appealing with their high search volumes, but they rarely translate into buying intent. A great first step is to filter out low-intent keywords and keywords that are too high up in the funnel. 

Target Relevant Keywords
Refine your keyword strategy and target the most relevant keywords that produce high-quality leads.  Be careful with broad matching, as well. This blanket approach can attract the wrong people, wasting your ad dollars. Instead, frequently monitor performance, update your negative keyword list, and remove poor-performing keywords from your campaigns.

Refine Your Ad Game
Your messaging and ad copy forms the foundation of any Google PPC strategy. You need to put your best foot forward with relevant, quality ad copy with a solid CTA and supportive information to capture those seeking immediate answers.

Enhance Digital User Experience
Landing page optimization is about improving the user experience and removing hurdles that block conversions. As we explore further down below, a streamlined UX is especially relevant for senior care organizations. When someone clicks on your ad, they must be sent to a page with compelling messaging that answers their questions and allows them to convert easily.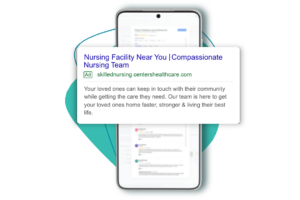 For a detailed look at how to optimize Google ads to maximize your budget, you can review our full-length post here.
2. Recruitment Marketing Captures Greater Marketing Budget Share
Any senior care provider can confirm it—the industry has been and will continue to face dire staffing shortages. While the Bureau of Labor Statistics predicts that home health and personal care aides will grow by 33 percent in the next ten years, that still will not be fast enough to keep up with an aging population. Pandemic exhaustion, of course, compounded the problem, with 400,000 nursing home and assisted living staff quitting since early 2020. With census statistics showing that the elderly population is predicted to double by 2040, senior providers will have to focus more of their marketing initiatives on recruitment.
With numbers like those, it's clear—senior care companies must invest in employee retention, brand marketing, and provider recruitment. Your affiliated brands and caregivers should be prioritized as much as your patients and residents. Without a strong recruitment pipeline, senior care groups won't be able to expand their capacity or grow. 
Marketing is increasingly being tasked with supporting recruitment efforts. In 2023, this will only become more mission-critical. Marketing can help with recruitment in several ways:
Manage Your Digital Brand Reputation
Senior care is a personal decision, and your potential admits and their families will want to see your brand's personality and culture. It's also important to your potential hires who may have experienced a lot of exhaustion and disillusionment over the last few years. Social media can be an effective tool for achieving this. Highlight your brand's positive culture, employment perks, and employee achievements to attract applicants.
When potential applicants evaluate your organization, they read online reviews and ask their network for feedback. You need to ensure what they find is positive. Be proactive in addressing negative feedback on platforms like Indeed, Glassdoor, and Google Business Profile. Your recruitment campaigns will fall flat if you're not cultivating a positive digital reputation.  
Run Targeted Google Ads Campaigns
Your marketing team can also develop highly targeted campaigns to capture high-intent active job searchers, including recent graduates, recent immigrants, and highly specialized providers and experts. Use a tight keyword strategy that involves long-tail niche keywords to hone in on these specific job seekers. 
Optimize Your Career Pages and the Digital Application Experience
Once you've effectively engaged the right applicants, you don't want to lose them in the weeds of a complex or confusing application process. Create employee-centric recruitment and career pages featuring videos from your team, your core values, growth opportunities, and more. This is your chance to sell your company and culture—don't neglect it.
Next, you'll want to run some conversion rate optimization testing to improve application rates. You can test headline messaging, information hierarchy, and CTA copy to improve conversion rates. 
3. Senior Care Industry's Digital Transformation Continues
In general, the healthcare industry has lagged in digital advancements. Senior care is no exception. While many senior care providers may have websites at this point, they are typically basic with little content or information. Many senior care providers don't even utilize a CRM—stunning for a service-centered industry in 2022. Our State of Healthcare Marketing Survey showed that 47 percent of healthcare providers still do not use a CRM solution. This number barely budged from the year before, indicating that senior care is making little to no effort to adopt this essential customer service technology.
This is something that needs to change…and needs to change in 2023. Digital is the key to improving operational efficiency, producing outsized returns for investors, and helping more people get mental health care.
Digital is also vital to improving the quality of patient and resident care, and it's especially relevant in senior care. For example, wearables with fall detection provide much-needed acute data in crises, while edge-supported cameras and sensors help with monitoring. Artificial intelligence and machine learning are also stepping in to address some care pain points, parsing large data sets related to behavior patterns to tech-powered services and products.  
While all this is promising, investment and momentum needs to build—fortunately, private equity investment and consolidation fuel technology adoption in senior care. To improve efficiency and reduce redundancy, groups are investing in marketing and patient access technology like online appointment scheduling, online tours, centralized CRMs, and more.
Remember, digital transformation extends beyond marketing—it increases overall operational efficiency and profits.
Finally, technology may be one of the best tools for retaining quality staff. By implementing solutions such as mobile communication devices and smart speakers, senior care staff can enjoy more efficient and productive environments, improving their workflows and increasing their job satisfaction.
4. Your Website User Experience Remains Paramount
Google wants good user experiences, as do potential admits and their families. A top priority for Google and senior care consumers is the ability to find information easily. While seniors are more digitally savvy than before, many are still technology illiterate. To address this, your site must be easy to navigate with an easy-to-understand information architecture.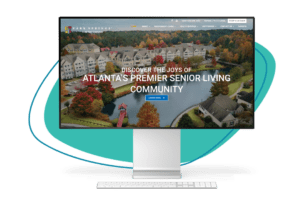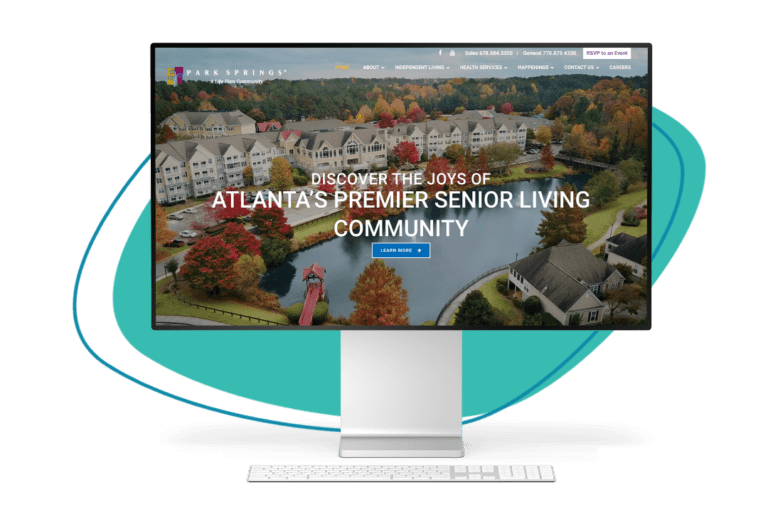 Follow these fundamental website UX best practices to improve conversions and drive more appointments from potential clients and their families: 
Make It Easy to Schedule an Appointment
You want to eliminate any barriers that make it difficult for a user to book an appointment. That is even more important when seniors are involved. 
Schedule a consultation or book-an-appointment buttons should feature prominently on ads and your site. As users scroll, make sure that the scheduling button and phone number are sticky on every webpage, so they don't have to navigate back up to find it. Use the same design and color for your appointment button across the site.
Offer more than one option to book an appointment, tour, or consultation.
You may not realize it, but you may be forcing your audience to conform to what you want and limiting their options. Provide a range of options when it comes to bookings, including:
Call directly from an ad

Click to call on a mobile device

Fill out a contact form

Send an email directly

Dial your number

Visit your physical location
Optimize Your Mobile User Experience
You know users are looking for you on mobile. Why make it harder for them? You need to prioritize the mobile UX to be fast and responsive. Make sure that your click-to-call functionality on your landing pages and your online scheduling and forms are optimized for mobile, too. How can you run a check on your mobile UX? Pick up your smartphone and test a couple of ads. If you feel any friction in the mobile UX, you can rest assured that your potential admits will, as well.
Make Text Skimmable
Site and ad texts are always tricky. They have to be detailed and precise but disseminated in an easy-to-consume way. To meet this strange balance of detail and "skimmability," start here:
Include rich, comprehensive detail, but do it strategically

Break up long blocks of text with an organized hierarchy of headers, subheads, and bullets

Limit titles and headings to eight words or less (leaning toward less, where possible)

Keep paragraphs tidy (three to four sentences max)

Keep bullet points brief (a paragraph-long bullet point is just another paragraph!)

Emphasize pull quotes, key statistics, and social proof with distinct web elements
Use Social Proof
Like in any industry, online reviews and digital reputation markers are essential in healthcare. Patients and admits tend to make decisions based on reviews, ratings, and testimonials they read online. So make sure to incorporate what available social proof you already have throughout your digital channels.
How can you do that? In senior care, you might consider embedding reviews in ad campaigns. You should also make sure your site is replete with video testimonials, too, that can be repurposed across social media. In our experience, video is the most compelling social proof, though photos and quotes are more than adequate. 
5. Seniors Have Questions—You Need Quality Content To Answer Them
The U.S. has a rapidly aging population that needs to determine their senior living and care options, quickly. Of course, given the stakes involved, it's never that easy or quick a decision. Admits and their families will have questions, and your brand needs to answer them.
We've already discussed how seniors are becoming more tech-savvy, and you can be confident that their children are, too. They will go to the internet to find answers to their senior care needs. What are they asking? Anything from "what types of senior living communities exist" to "what's the difference between independent and assisted living." When they ask these questions, you need to make sure your senior care organization appears for those queries.
Google continues to show that it will prioritize quality, unique content. That was made clear in its recent Helpful Content Update. Google is looking for user-centric content these days—a shift from its historical practice of prioritizing content written for its bots.
Because of this, in-depth, robust content is a must for every page of your website. The best approach? Follow E.A.T. standards on creating authoritative healthcare content. That means creating content that is rife with Expertise, Authoritativeness, and Trustworthiness. In-depth robust content is a must for all of your care offerings across your site. How can you ensure that your content is as E.A.T. as possible?  Consider the following:
Add more useful long-form content that gives unique and helpful answers to common queries your target patient has.

Optimize pages based on keywords, and add more content related to secondary keywords.

Add an FAQ section to service pages.

Optimize your page structure, headings, meta tags, and titles.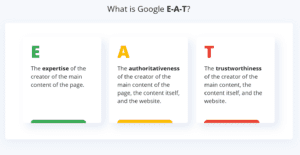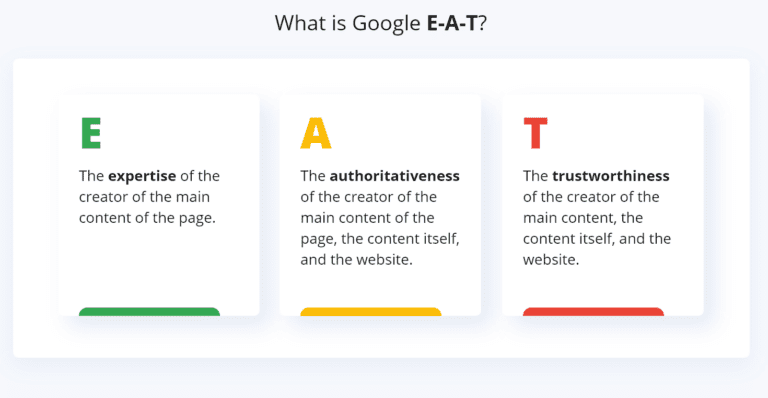 Creating quality content also means you'll be adhering to YMYL guidelines. Google YMYL guidelines now apply to  "pages (that) have a high risk of harm because content about these topics could significantly impact the health, financial stability, or safety of people, or the welfare or well-being of society"—a category that certainly includes your senior care organization's website. By making all your content as E.A.T. as possible, you can ensure that you are adhering to Google's Page Quality rating guidelines and moving up in the ranks.  
Conclusion
As senior care moves into a busy future, 2023 will be all about engaging the best new hires, attracting admits, and leveraging technology in dynamic new ways. With an increasingly tech-literate senior population, senior care organizations have a wealth of opportunities to attract admits and their families by optimizing content, ads, and more. By leveraging the 2023 senior care marketing trends listed above, senior care organizations and their marketing teams will ideally position themselves for a busy and potentially enormously beneficial year.