Nearly 2 million Americans–1,958,310, to be exact–will be diagnosed with cancer this year. Due to advances in treatments and an increase in widespread screening, it makes sense to expect that demand for oncology and cancer care services will remain high.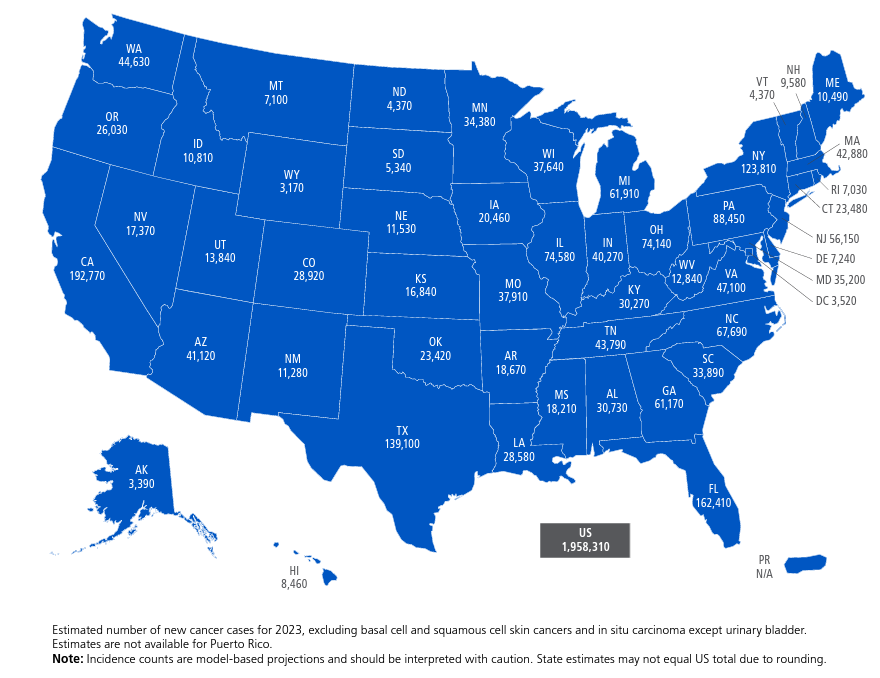 In addition, the oncology market is evolving quickly, thanks to the advancement in cancer treatments and therapies. With more than a hundred products in the late-stage pipeline, the competition will be fiercer for oncology practices. As an oncology and cancer care provider, you should look for opportunities to keep up with the industry and have an edge over the competition.
In the digital age, where most healthcare consumers look for information and solutions online, there's no better way to increase your patient base and grow your practice with cancer care and oncology digital marketing.
The Importance of Cancer Care and Oncology Digital Marketing
First, let's take a look at some vital stats.
Over the years, oncology has been one of pharma's most dominant therapeutic areas. According to the Pharma World Preview report by Evaluate, oncology's dominance will stay put through 2026 and accounts for 22% of all prescription drug sales. In addition, 82% of Americans use search engines when researching healthcare providers in their area.
Why are these stats meaningful for oncology practices?
Oncology and cancer care providers must accelerate their adoption of digital marketing solutions if they want to keep pace with industry growth and tighter competition. However, the "vanilla" brand plan for marketing your oncology, hematology, and cancer care practice just won't cut it anymore.
Digital marketing for oncology has evolved and has increasingly become more patient-centric. This means you need a patient-centric oncology marketing campaign that communicates with your target audience through an empathetic and personable lens. This is best accomplished with a multi-faceted marketing campaign that includes high-level strategies like SEO, PPC marketing, web design, conversion rate optimization, and reputation management.
Build a User-Friendly Oncology/Cancer Care Website
Your oncology website is your digital front door and the first touchpoint for many patients. When building an oncology website, it pays to go back to the basics. For starters, you want a comfortable and intuitive user experience with sensible layouts and menus, easy-to-read fonts, professional images, and prominent call-to-actions (CTAs) to guide patients along your funnel gently.
Also, with 59% of worldwide website traffic coming from mobile devices (not including tablets), your healthcare website must be mobile-friendly and features a responsive design. This means your website should adequately display whether it's being viewed on desktop or mobile. A well-designed, professional website doesn't just build trust toward your brand; it also helps with improving conversion rates.
Key Content Should Be Discoverable
Most people who go to your website have recently received a cancer diagnosis or their families–and they need answers and fast. If you haven't already, your website should be packed with valuable information about your services, treatment programs, procedures, and insurance information. This aligns with Google's Helpful Content Update, highlighting the importance of providing useful content for users and not just writing for the algorithm.
Moreover, ensure that your key content is easily discoverable. If visitors don't find the information they need after the first few minutes, they will likely leave your website and go to a competitor. Therefore, avoid burying your content behind web pages, links, and poorly-designed menus.
Make It Easy for Potential Patients to Reach Out
After providing detailed and complete answers to patient queries, you should offer several ways to reach out to your cancer care center. For example, cancer patients who want to schedule a preoperative medical evaluation can fill up a contact form and receive answers from real doctors. Meanwhile, visitors who prefer to talk with a customer representative may use your website's tap-to-call function and AI chatbots. Lastly, an online booking system will significantly streamline the process of scheduling appointments.
Leverage Local SEO for Oncologists
Did you know that 46% of Google searches have local intent? This statistic is even more relevant for healthcare services, including oncology and cancer care. Most healthcare providers rely on attracting patients in their local area. At the same time, people would want to go to a local hospital or clinic rather than drive for miles to see an oncologist. Therefore, any decent healthcare marketing campaign should include local SEO.
Local SEO Best Practices
Below are several strategies to help improve the local organic visibility of your practice:
Citations & Listings
Start your local SEO strategy by creating optimized listings on trusted local directions, including Healthgrades, TripAdvisor, Yelp, and ZocDoc. Make sure you provide accurate and up-to-date information such as the name of your practice, address, contact number, etc. Also, register your practice in oncology-specific directories (e.g., OncologyDirectory.com) to further improve your local digital presence.
Google Business Profile (GBP)
Google Business Profile or GBP (formerly Google My Business) is one of the best tools to optimize for local SEO. 64% of customers use GBP to search for information about local businesses, including healthcare providers in their geographical area. If you haven't already, claim and optimize your GBP by providing essential information about your practice such as practice name, address, contact information, hours of operation, photos, etc.
Another excellent strategy for optimizing your Google profile is to create frequently asked questions or FAQs to answer relevant customer questions about your oncology treatments, pricing, and insurance information.
Geographical Keyword Strategy
Take your time to develop a local keyword strategy since they're often BOF (bottom of the funnel) or high-intent keywords–these are potential patients on the decision-making cusp. When making your local keyword list, hone in on your unique selling proposition or USP and geographical market, and determine how people search for your services.
Also, when choosing local SEO keywords to optimize, include solution-aware keywords specifying your services and treatments or insurances you accept to help you capture conversion-ready patients.
SEO Content Marketing
Oncologists and cancer care specialists must create patient-centric content that addresses all stages of the patient journey. The goal is to educate consumers about oncology as a healthcare item. For example, posting optimized blog posts about "early warning signs of cancer" will help you capture top of funnel (TOF) patients searching for information.
High-quality and valuable content will help educate patients about various cancer types and symptoms, generate TOF awareness, and provide a patient-first experience. The very best content strategies consider various industry trends and keyword research. Therefore, you should develop a highly-scalable content strategy with a solid internal link structure.
Invest in Google Ads Strategies For Oncologists
PPC marketing or Google Ads is a fast and effective strategy for oncology and cancer care providers for building brand awareness and capturing BOF consumers ready for their first appointment. With pay-per-click ads, your practice will appear on top of the SERPs, so you can optimize for high-intent, geographical keywords that effectively puts your brand in front of high-value patients.
Google Ads Account Structure for Oncologists
In the age of automation, healthcare groups should revisit their account structure for optimal results. For oncology and cancer care with multi-location practices, we have used the hybrid account structure to a more significant effect. It sits in the middle of the modern Google Ads account spectrum–getting you the best of both worlds.
On one hand, your account benefits from a segmented structure that enables tighter budget control and granular targeting, often by location (e.g., abramson cancer center, best cancer Hospital in Pennsylvania). On the other hand, you have consolidated ads designed for maximizing impressions and letting Google's smart bidding algorithm shine.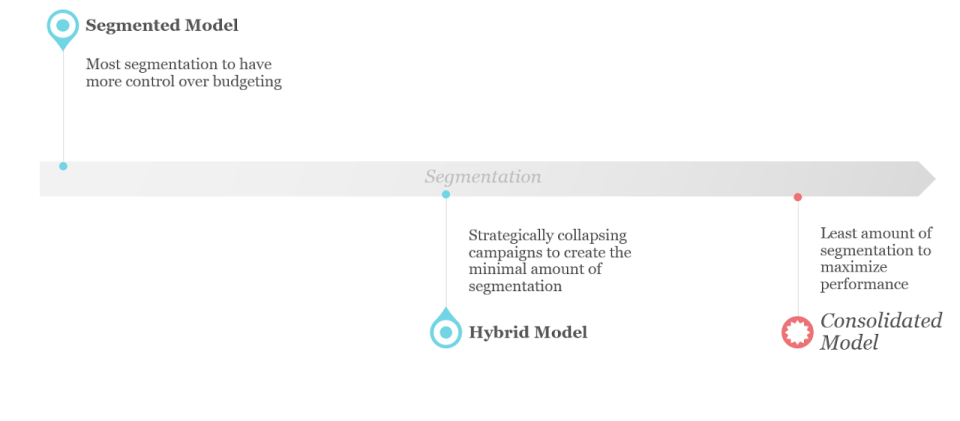 Google Ads Best Practices
After structuring your Google Ads account, you can let your campaign run so you can collect data for further optimization. While you're at it, build location-specific landing pages with personalized content that answers patients' questions.
In addition, many consumers need education regarding the management of cancer as a chronic illness and the importance of early detection. In that case, you can launch a full-funnel paid ads campaign. However, your priority is still capturing BOF leads before they move up the sales funnel.
Manage Your Digital Reputation
Like many healthcare practices, a positive digital reputation is invaluable for oncology and cancer care providers. According to a 2022 Healthcare Trends Report by YouGov, 72% of healthcare consumers use reviews and ratings when evaluating a healthcare provider. Moreover, 72% of the respondents also claimed that they prefer providers with four stars or better.
With a sound online reputation, doctors and other care professionals will be more inclined to send referrals your way.
Best Practices for Getting More Reviews
Getting more reviews may seem simple, but it takes a lot of work, persistence, and a review collection strategy. Oncology providers can start by training their staff to ask for reviews from patients after every appointment. More often than not, most patients will be happy to leave a review of their experience. Just instruct them to honestly relate their experiences and avoid making something up.
Next, ensure you offer many accessible ways to leave a review so that they can complete the task in the most convenient way. Also, if you have the budget, acquire a review collection program such as Birdeye, Podium, or Weave. These programs integrate with your CRM and can send automated review requests via email and SMS.
Of course, it's not enough that you're getting many positive reviews; make sure you include your reviews in your marketing. For instance, you can highlight reviews on your About page, landing pages, and social media accounts.
Use Marketing Analytics to Gain Clarity
Data-driven marketing is the only proper solution if you want to scale a multi-location oncology and cancer care practice. Data-driven digital marketing removes the guesswork for oncologists. When you monitor campaign performance, you'll gain clarity about which marketing activities are working and which ones need improvement–thus, enabling you to adjust for optimal performance.
Oncology and cancer care practices should use closed-loop reporting (CLR) to gain insights into how each digital marketing piece affects the consumer's journey. One of the crucial factors of CLR implementation is choosing the suitable attribution model, including:
First-touch: This attribution model captures the initiation points of the patient's journey. Like when a person searches for "oncology services" on Google and clicks your website through the results.
Last-touch: This model attributes the last interaction of the user before converting. Like when a searcher clicks on one of your radiation therapy paid ads and calls your practice for an appointment.
Position-based:

This attribution model gives 40% of the credit to the first and last touchpoints, with the remaining 20% spread out between any interaction in the middle.

Linear model: This model maps the patient's journey and assigns credits to all touchpoints before conversion.

Marketing Analytics Best Practices
Integrate all of your channels and systems, including CRM systems, Google Analytics, Search Console, and social media analytics, to gain a more comprehensive insight into your digital marketing campaign. It pays to have different metrics assigned to your goals for a more accurate assessment. Remember not to leave out offline conversion metrics like in-person visits and direct calls to complete your loop.
Conclusion
Top-shelf digital marketing for oncologists has renewed its focus on patient-centricity. People are now more accepting of their roles as healthcare consumers, so you need to step your marketing game up and provide personalized marketing experiences and offer real value to them. Follow the strategies I outlined above to help bring your oncology marketing up to speed, stay on top of the trends, and gain that much-needed competitive edge.