Digital Marketing
For Endocrinology Practices



1.25 Million
American children and adults have type 1 diabetes.
Diabetes
kills more Americans every year than AIDS and Breast Cancer combined.
550 Thousand
Google searches are preformed monthly for thyroid.
GROW YOUR ENDOCRINOLOGY PRACTICE with EFFECTIVE DIGITAL MARKETING
Patients may be unfamiliar with the practice of endocrinology until they have been diagnosed with an hormonal or glandular disorder. They may be told they have diabetes, a thyroid disorder, an adrenal disorder, osteoporosis, or a type of cancer affecting part of the endocrine system. Then they'll rely on the internet to research practitioners in this specialty. Cardinal's medical marketing experts can drive new clients to your endocrinology practice at this critical time in their lives.
Digital Marketing Strategy for Endocrinology
Cardinal will develop marketing solutions to help prospective patients connect to your endocrinology practice. Many patients are referred to an endocrinologist when their condition has not responded to traditional treatments. Just as there are customized treatment plans for each patient, digital marketing strategies for endocrinology should be tailored to meet the needs of your practice.
We are proud to announce that our CEO, Alex Membrillo, has released his latest book titled The Anatomy of Medical Marketing.
Offering a step by step approach to increase your patient volume and keep your practice off life support, Membrillo will help you grow your practice with ease.
Igniting your Growth with Cardinal
Leverage Cardinal's medical marketing solutions to grow your endocrinology patient base.
SEO
368,000 Google searches occur for Endocrinologist each month in the U.S. That's nearly 2 Million searches each year.
Cardinal uses targeted search engine optimization to help prospective endocrinology patients and primary care physicians find your website. People rely on the internet to find healthcare information. We focus on increasing your site's search rankings for specific keywords and markets. Conversion optimization directs potential clients to your site, and then closes those leads. As people search online for information on conditions and treatment options related to endocrinology, we want them to find your practice.
Paid Search
Paid search can be a cost-effective way to direct people to your endocrinology website. Paid search programs like Google Ad Words put your ads at the top of the page, where they will be seen first. Pay per click ads can be very reasonable, often just a few dollars per click. Cardinal can create custom landing pages, if needed. Your costs can be managed by using geo-modifiers that control who views your ads.
Social Advertising
Social media platforms such as Facebook have millions of users in the U.S. Paid social advertising is another strategy that may help you reach your audience. Ads can target specific groups based on age, geographic area, interests, and other factors. Think of your ad as a digital billboard for your endocrinology practice.
Web Design
Let the experts at Cardinal design a custom website for your endocrinology practice. An optimized, responsive website is a key component of your digital marketing strategy. Prospective patients will visit your website to read provider profiles and testimonials, even after receiving a referral from another physician. A patient-focused site that is attractive and engaging will direct people to the information they are seeking.
Reputation management
Cardinal recognizes the value of your professional reputation. Prospective patients may visit sites like Healthgrades, ZocDoc, or Yelp to read online reviews. Negative reviews can be very damaging to your practice. Let Cardinal help you protect and maintain one of your most valuable assets.
Cardinal specializes in Endocrinology healthcare marketing
Cardinal can develop the right digital marketing strategy for your endocrinology practice. Our techniques will help you increase your web presence, retain new patients, and generate more referrals.
Contact Cardinal today to move your marketing to the next level.

Cardinal's competitors constantly try to get us to switch to them. We are not interested in switching.
CARDINAL'S PROPRIETARY MARKETING TECHNOLOGY PATIENT STREAM'S BENEFITS:

Double Your Patient Volume for the Same Spend
Dump the campaigns that don't generate returns. Our AI based marketing platform automatically optimizes towards the campaigns that are driving high value patients.

Modernize Your Medical Practice
Tired of relying on billboards & TV that don't have quantitative ROI numbers? Step into the future of marketing and run medical group patient preference campaigns digitally and see which campaigns bring top of the funnel awareness that ends up converting through bottom of the funnel campaigns down the road.

Executive Level Reporting
Give your CMO the reporting she didn't even know was possible. No longer do you have to report on cost per lead. With Patient Stream, you will now be able to report on Cost Per Patient.

Improve the Patient Experience
Keep patients in your hospital system by showing remarketing campaigns at the right time with the right message with Patient Stream. Your patients will never forget where to go for care.

Increase Patient Volume Across Service Lines
Patient Stream not only helps you see if a patient was driven from a campaign, we can also track a patient who came in through primary care and ended up having an ACL repaired.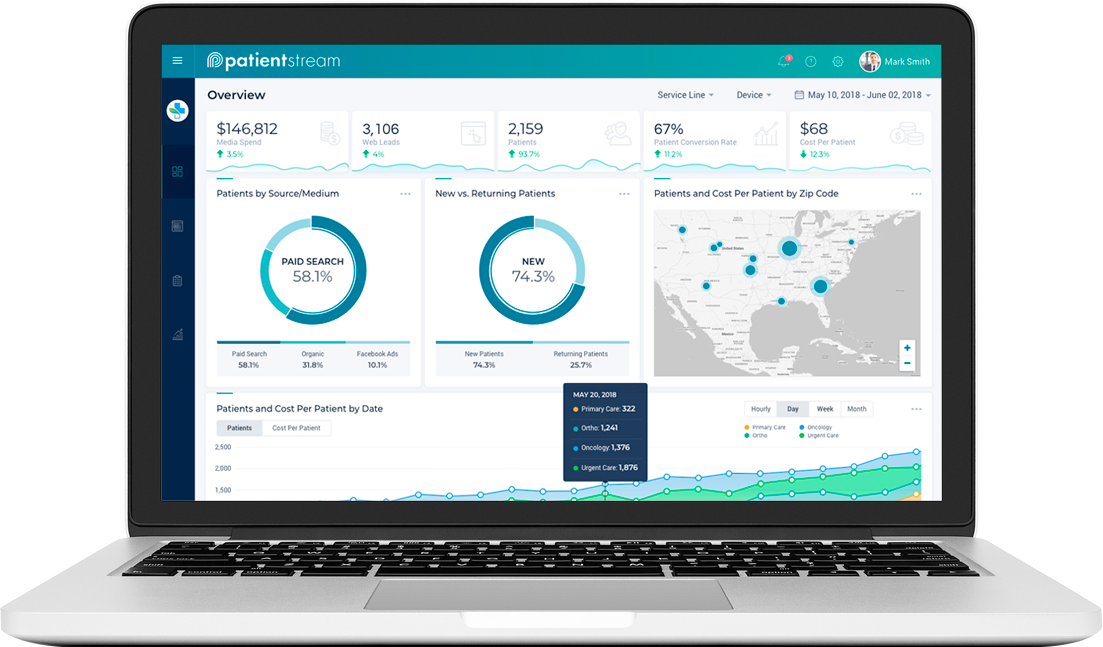 Ready to Rise Up on the Internet?
Fill out the form to get started!