Much of the fear that initially surrounded LASIK surgery is gone. It's now a popular surgery, and more providers are offering it. However, despite the high demand, it doesn't mean patients will be lining up at your doorstep. 
With the rapid growth of the LASIK market and increased competition, it's crucial to stay on top of LASIK marketing trends for 2023. With the year ahead of us, we look at some of the top LASIK digital marketing trends that will help providers stay competitive and grow their patient base.
Like many healthcare branches, LASIK surgery providers have grappled with the effects of the COVID-19 pandemic, especially concerning staff shortages limiting capacity. However, the pandemic has proven to be both a curse and blessing for many LASIK surgery practices. According to the American Refractive Surgery Council (RSC), the demand for LASIK has doubled since the onset of the COVID-19 pandemic. Many experts predict that requests for laser vision correction (LVC) procedures will continue to increase.
As the world slowly escapes the worst phases of the pandemic, LASIK surgeons must monitor the top LASIK marketing trends and adapt their marketing strategy accordingly. Here are the top LASIK marketing trends for 2023 that marketers should be aware of.
1. Personalized Marketing in LASIK Remains a Priority
Personalized marketing made way for some fantastic results in healthcare marketing in 2022 and will remain relevant in 2023. It makes sense; healthcare consumers expect to be treated as unique individuals with unique medical needs and circumstances. A personalized approach in LASIK marketing will help increase customer retention and allows your organization to build more meaningful relationships with patients.
How can you make your LASIK marketing campaign more personalized? 
Use Geo-Personalization
Geo-personalized marketing relies on location data to provide patients with proximity-based, personalized experiences. One of the best ways to leverage geo-personalization is in your LASIK landing pages. Thus, when your patients visit one of your landing pages, all the information they'll see on the page will be relevant to their proximity location.
When potential patients look for a LASIK surgery provider, their primary criteria for choosing is convenience (i.e., a nearby practitioner). With a geo-personalized landing page, patients will have every information they need to ease into conversion, including:
Which LASIK providers are the closest to their location

Which LASIK providers are accepting new patients

Laser eye surgeries offered in that location

Which insurances are accepted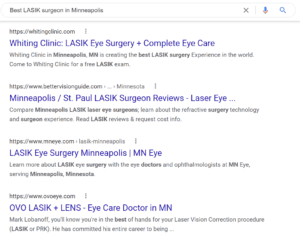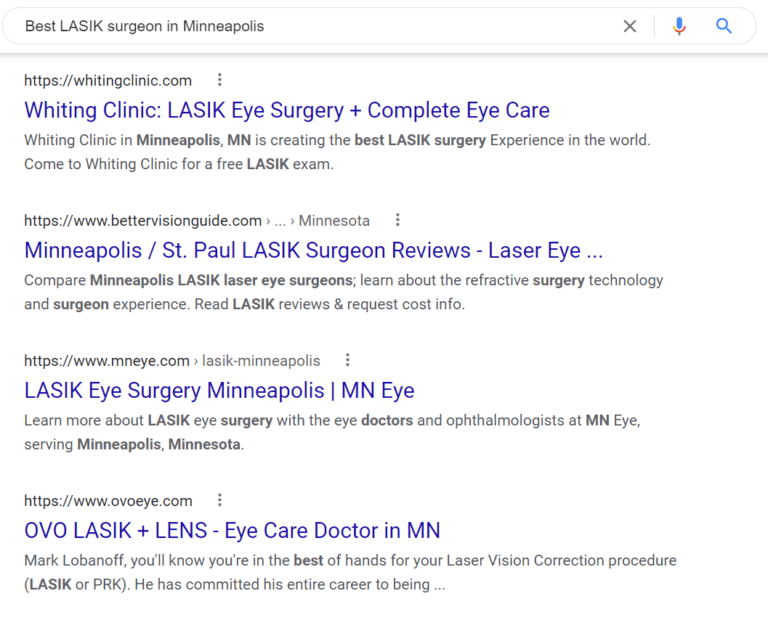 Geo-personalization helps patients with navigation and supports their digital journey of finding the best LASIK treatments and related services by sharing relevant information based on their location.
2. LASIK Marketers Must Implement Lead Quality Control Measures
While there are clear benefits of ready-to-use, machine-learning solutions like Google's Performance Max, there's a good chance you'll end up chasing leads that won't convert into new patients. In this regard, LASIK marketers should execute quality control measures to ensure you're getting high-quality leads instead of letting the algorithm chase the most straightforward conversions. Basically, healthcare marketers should focus on lead quality, not quantity.
Check out our How to Improve Lead Quality for Healthcare Organizations guide to learn more. Basically, healthcare organizations should consider the following steps:
Evaluate Your Current Leads:

Examine the current leads you're getting to gain insights into where the good leads come from and which areas can be improved. Provided you have a sound lead tracking system in place, you should be able to find out what good and poor leads search for and the steps they take along the patient's journey. Look into a few essential metrics, including length of the patient's journey, click-through rate (CTR), conversion rate, and patient acquisition cost.

Learn What a Bad Lead Looks Like:

Be on the lookout for signs such as the mismatch between what your lead wants and what you offer, messaging that overpromises or with inaccurate descriptions, and messaging that needs more crucial details (e.g., insurance information).

Invest in Lead Quality Improvements:

Your top priority is to gain a deeper insight into your ideal patient and determine their needs, wants, and concerns. This step should enable you to build a conversion-focused keyword strategy around those needs and wants. In addition, define your Unique Selling Proposition (USP) to help you stand out from other LASIK brands.

Pump Conversion Data to Your Ad Platforms:

You can train and improve the ad algorithm by feeding it with conversion data and telling it which leads become actual patients. 
If lead quality is a problem, look at the data, and you should find the answers.
3. Recruitment Marketing Will Capture Greater Marketing Share to Overcome Staffing Shortages
There's no way to sugarcoat it; healthcare staffing shortages are very real. Workforce shortages have become severe enough that many healthcare organizations have made this issue their main focus in their mid- to long-range strategic planning efforts. As the effects of the pandemic gradually waned, many LASIK providers have begun restaffing.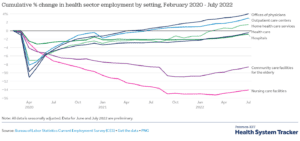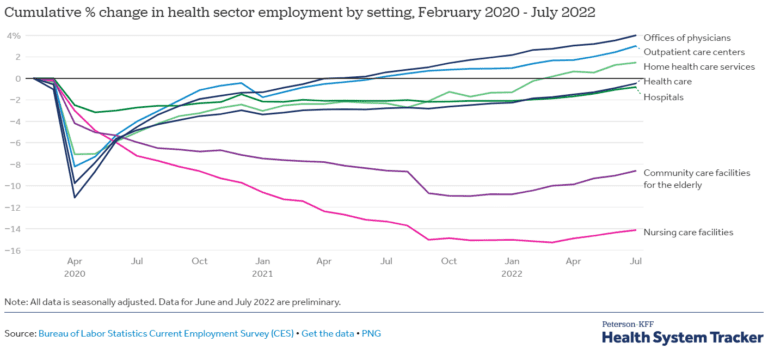 However, with the ongoing staffing challenges, many healthcare executives have implemented strategies to cope, including:
Enhancing employee retention programs and initiatives

Improving operational processes and infrastructure

Increasing wage compensation practices and systems

Leveraging advanced technologies to streamline or eliminate redundant work
These strategies have two primary goals: keep employees satisfied with their current job and recruit enough people to prevent service disruptions. These topics, along with the competitive talent marketing, highlight the importance of allocating more resources to recruitment marketing. For LASIK providers to be competitive in the talent market, they need a robust marketing strategy to support their recruitment efforts. Below are some of the ways marketing can help attract top talents for your LASIK practice:
Communicate Your Brand and Value as an Employer
Instead of spending too much time crafting the persona of ideal candidates, healthcare recruiters should focus on presenting value to potential hires. As per LinkedIn's The Ultimate List of Employer Brand Statistics, 75% of job seekers claim they first evaluate the employer's brand before sending their applications, emphasizing the importance of any employer's brand personality and reputation.
Therefore, recruitment managers should look through the marketing lens and consider how potential hires will interpret their company's brand. Look through the optics of employees who have experienced burnout and disillusionment during the height of the pandemic. In this case, social media is an excellent tool to attract high-quality candidates, even for hard-to-fill positions. Effective employee branding highlights your company's positive culture, employment perks, and workforce achievements.
In addition, you should also address negative feedback from leading recruitment platforms like Glassdoor, Indeed, and Google Business Profile. Without a positive digital reputation, you will not be able to attract the best healthcare talents.
Run Targeted Google Ads Campaigns
Although most LASIK PPC marketing campaigns are designed to attract patients, a robust paid search campaign can help your organization attract front-line workers to staff your LASIK practice. Many headhunters in healthcare have reported excellent results with their Google Ads campaign to recruit receptionists, technicians, and other practice administrative staff. 
With PPC marketing, you can target job seekers within the ophthalmology niche. Your marketing team should focus on researching long-tail keywords and using negative keywords to hone in on your ideal candidates. In addition, you should ensure your recruitment landing pages are optimized for social engagement, have clear CTAs, and are SEO-friendly. Moreover, since more than 70% of job seekers use mobile phones for applications, your landing pages must have a fast and responsive web design.
A solid PPC campaign can help your recruitment team capture high-quality leads faster and avoid wasting resources on unqualified candidates.
Refine Job Postings and Career Pages
Both search engines and job applicants value the "completeness" of information in job listings. Therefore, having detailed job postings and career pages is knocking two birds with one stone–your recruitment pages and listings will have a higher search rank, and applicants will have the information they need to apply. Make sure your career pages and job listings have the following information:
Employment type (full-time, part-time, PRN, etc.)

Transparent salary and benefits information

Minimum education requirement

Minimum experience requirement

Required skills

Clear job duties (e.g., ability to conduct eye exams, provide pre and post-operative Lasik/PRK examinations, etc.)

License and certifications

Relocation and travel requirements
Once you've got the attention of qualified candidates, the last thing you want is to lose them because your recruitment and career pages aren't optimized for conversion. For example, many applicants will walk away if your application page and process are too complex or confusing. You should create employee-centric recruitment and career pages that sell your company culture, core values, and growth opportunities and feature an intuitive application process.
4. LASIK's Digital Transformation Will Continue
While digital technologies have profoundly transformed how industries deliver services to consumers, the healthcare sector has always needed to catch up in adopting technology. In our The State of Healthcare Marketing 2022 Survey, 47% of healthcare organizations have yet to use customer relationship management (CRM). Admittedly, there are many legitimate concerns in going digital such as patient privacy, but some organizations are entrenched in analog workflows.
Fortunately, the appetite for digital technologies in the LASIK space has increased and will continue to grow in 2023. It should be because digital is key to improving efficiencies and producing returns for healthcare businesses and the quality of patient care and access.
As private equity groups swarm into America's eye care, technology adoption for LASIK organizations is bound to accelerate. More LASIK practices are investing in marketing and patient access technologies, such as:
Online patient scheduling systems

Centralized call centers

Centralized CRMs

Call tracking software

Chatbots for automated customer service

Review generation and management software
The technologies mentioned can significantly impact any medical group's operations. For instance, implementing an online patient scheduling system will streamline your operation and give patients control over scheduling appointments. This frees your administrative staff from phones and focuses more on the critical parts of the operation. Meanwhile, chatbots are AI-based virtual assistants that conduct human-like conversations when dealing with patients, providing more proactive customer service without human intervention.
Multi-location LASIK groups will benefit from centralized call centers by offering an easier way to address routine patient questions such as hours of operations, physician availability, accepted insurance, etc. On the other hand, a healthcare CRM can improve the patient experience, communication, and support, while the administration can easily manage patient information and data.
5. Keyword Strategies in PPC Will Keep Evolving
As search engines like Google become smarter, keyword strategies keep evolving, and we're likely heading into a keyword-less future. However, despite recent developments and uncertainties, eye care specialists must still have solid keyword strategies, and keyword research will remain a core pillar of any patient acquisition campaign.
With search engines becoming more intent-based and less focused on targeting and audience-building capabilities, healthcare marketers should gain a deeper understanding of their patients and how they search for information and solutions. This means marketers should conduct more research, dig into consumer behavior, and create messaging strategies that resonate with their target audience.


The simplest way to achieve this is to listen to your patients. For example, you may use call-tracking software and analytics to understand how people search for LASIK treatments and determine their questions and concerns. Another good way to keep a pulse on your patients is to monitor forums, social media groups, subreddits, and other communities related to LASIK and general eye care.
Many experts predict that the importance of keywords as the foundation of PPC will deteriorate, and we're on our way to a keyword less world. In this case, focusing on user intent and developing top-tier ad creatives will become more critical than ever.
6. Patient-Centric Content is Mandatory
As consumerism grows in the healthcare industry, patients are heading online to find information and qualified providers. You need to appear on search engines for those queries when they do. Therefore, a top priority in 2023 will be creating content that answers consumers' top questions. 
Google's Helpful Content Update has clearly stated that its goal is to display the most relevant information on the SERP. The days of writing for search engines are behind us. Now, Google shifted its focus to rewarding better and more useful content designed to help humans. 
In 2023, LASIK marketers must develop a patient-centric content strategy–meaning content that engages patients, collaborates with them, and creates initiatives to fulfill the needs of a particular patient population.
When people research LASIK treatments or an ophthalmologist, they use Google before booking an appointment. Therefore, when someone queries for "LASIK surgery recovery time," your patient-centric content library puts your practice in front of the patients seeking your services.
So how can LASIK surgeons create patient-centric content? Follow the guidelines below:
Determine the needs of your patients and tailor your content based on those needs.

Create relevant and comprehensive content that answers the questions of the average ophthalmology patient.

Establish your practice as the authoritative resource in LASIK treatments by providing timely and consistent content updates.

Create evergreen content that discusses topics that stay relevant and valuable to patients.
With a solid patient-centric content strategy, LASIK providers may discover opportunities to optimize their patient funnel.
Conclusion
That concludes the top LASIK marketing trends for 2023. For many LASIK practices, 2023 will remain a challenging year, especially with regard to staffing and predictions of global economic uncertainty. Staying on top of these marketing trends will enable your LASIK practice to become more competitive, spark growth, and increase your patient base.