Market research suggests that the otolaryngology & ENT market will grow to a US$ 27.95 billion industry by 2030. The rising prevalence of various ear, nose, and throat ailments and the growing geriatric population are just a few growth drivers of the ENT market. In addition, increased awareness and rising adoption of less invasive ENT operations are also expected to fuel future market growth.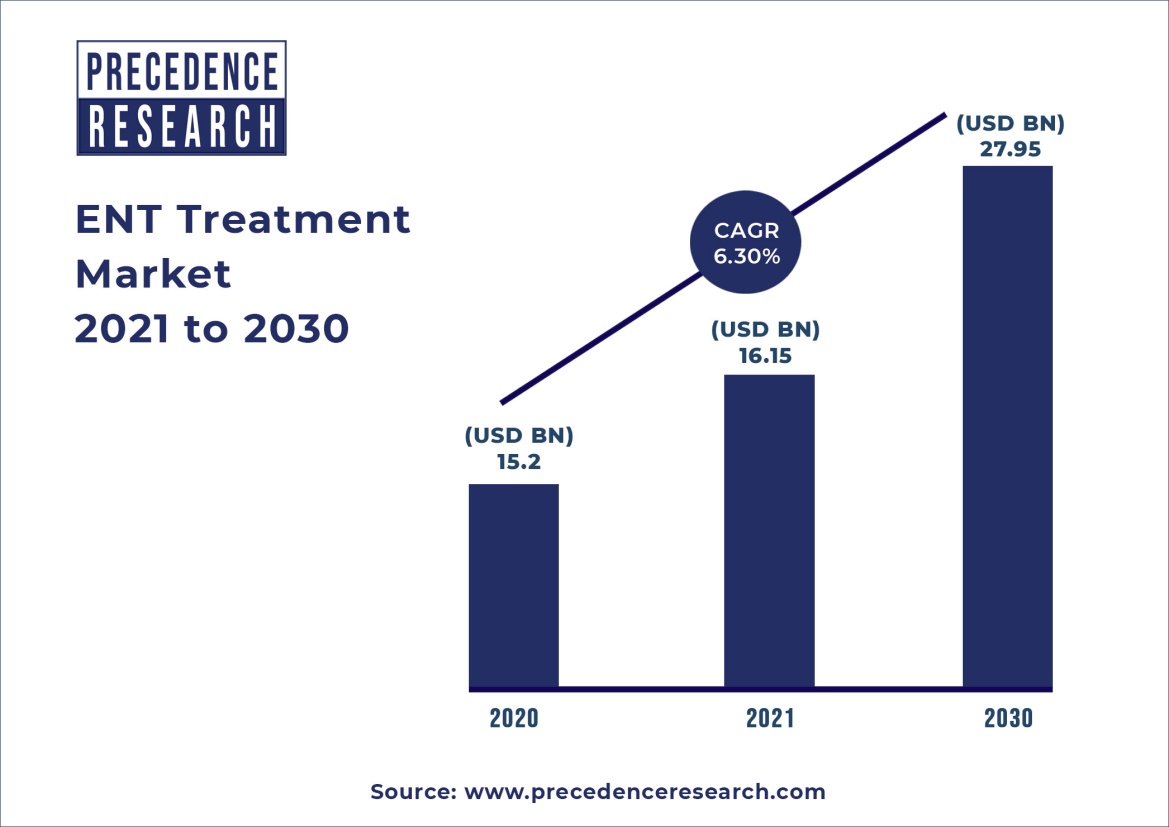 As the ENT market grows, providers can expect more formidable competition. On top of competing practices, otolaryngology & ENT providers have another significant concern: the encroachment of your treatments and services by family care providers. Therefore, you have increased competition from within and outside your area of specialty. In addition, the continuing decline in reimbursements for otolaryngological services is threatening the very survival of many practices.
As a result, otolaryngology & ENT specialists must find other ways to improve patient acquisition and achieve growth targets. Therefore, you need robust digital marketing for otolaryngology & ENT that involves proven strategies like SEO, PPC advertising, Facebook Ads, conversion rate optimization (CRO), web design, reputation management, and marketing analytics.
Consider the following best practices to take your healthcare digital marketing to new heights:
Web Design for ENT Providers
For healthcare providers, a website is your digital front door and is likely the first touchpoint for many patients. As with most healthcare practices, building intuitive, functional, and scalable websites that put the patient front and center is crucial. As such, your ENT website must be optimized and well-designed to provide first-rate digital experiences. Below are some strategies for optimizing your ENT website:
Deliver Frictionless User Experience
A considerable part of your web design strategy should be to deliver frictionless user experiences. In other words, your website must be intuitive, easy to navigate, fast, and works properly on all devices, including mobile. For starters, incorporate intuitive design elements like professional images, sensible menus, legible fonts, and prominent call-to-actions (CTAs). More importantly, your ENT must also have a strong SEO foundation for maximum scalability.
In addition, you can't hope to engage patients with a slow website, so ensure your page load speeds are up to par. Just increasing page load speeds from 1 to 3 seconds can increase bounce rates by as much as 32%. I highly recommend using Google's PageSpeed Insights to evaluate the speed and performance of your web pages.
More importantly, your ENT website should employ responsive design. This modern web design technique lets your web pages display correctly on all devices and screen sizes, including desktops, laptops, tablets, etc. Overlooking mobile-friendliness will cost you, especially when 59% of the global website traffic is from mobile devices.
Key Content Should Be Discoverable
People that go to your ENT website will have questions about ears, nose, and throat conditions; thus, you must provide them with answers through timely and relevant content. This aligns with the recent Helpful Content Update, which prioritizes websites that provide value to users instead of content designed for search engines.
In addition, your ENT website's key content must be discoverable by making it technically discoverable. For instance, your content can't provide value to anyone if it hasn't been correctly loaded onto your website. Go to your content management system (CMS) and configure your content for discoverability. Also, avoid hiding your best content behind tons of links, excessive pages, and poor navigation.
Streamline the Conversion Process
Bad web design is the silent saboteur of website conversion rates. Regardless of your desired conversion type, your web design must always support the conversion process. The last thing you want is to make it hard for patients to choose your practice by requiring too many steps before conversion.
Use AI chatbots, live chat programs, and click-to-call phone numbers for patients who wish to speak to a representative. Also, consider investing in patient scheduling software such as RXNT, AthenaONE, and DrChrono to streamline the process of setting appointments.
Local SEO for ENT Providers
With the continued decline in reimbursements for otolaryngology procedures, ENT service providers can no longer rely on word of mouth and referrals. Modern healthcare consumers are more tech-savvy and will use search engines to look up local providers. If your practice has less-than-desirable local visibility, you'll lose many potential patients to your competitors. This is why you need a solid local SEO strategy.
Below are the best practices for supercharging your local SEO presence:
Use Healthcare Citations & Listings
One of the simplest ways to improve your digital footprint and in-person visits is to use local citations and listings. These are online listings and directories that list information about your healthcare practice–enabling Google to easily validate your business and improve your trustworthiness as a hand. Look for structured directories such as Yelp, RateMDs, WebMD, Healthgrades, and ZocDoc, and populate your listings with accurate information.
Optimize Google Business Profile (GBP)
Another effective strategy to boost local SEO is to claim and optimize your Google Business Profile or GBP (formerly Google My Business). When a user searches for a specific business or industry, Google may present a "3-pack" or "local SEO 3-pack," highlighting three relevant businesses. The information in the 3-pack is generally pulled from GBP listings, so you must claim and fill out your GBP listing.
To optimize your GBP, ensure you accurately provide the following information:
Practice name
Website URL
Address
Hours of operation
Phone number and email
A blurb about your practice
Photos of the practice and staff
Furthermore, enable the FAQ section of your GBP listing so that patients can ask questions and you provide the answers. Businesses may also add their Q&As, so create questions regarding common patient inquiries and answer them accurately.
Develop Location-Based Keywords
Keywords optimized for your geographical area are high-intent keywords that will capture BOF leads–consumers ready to book an appointment with an ENT doctor. Location-based keywords are also less competitive, making you more likely to attract suitable patients. Some examples of high-intent geographical otolaryngology keywords are:
Top ENT doctors in Miami
Ear, Nose, and Throat doctor Manchester, NH
Pediatric ENT Orange County
Tinnitus ENT Specialist Montana
Sinus infection treatment in Chicago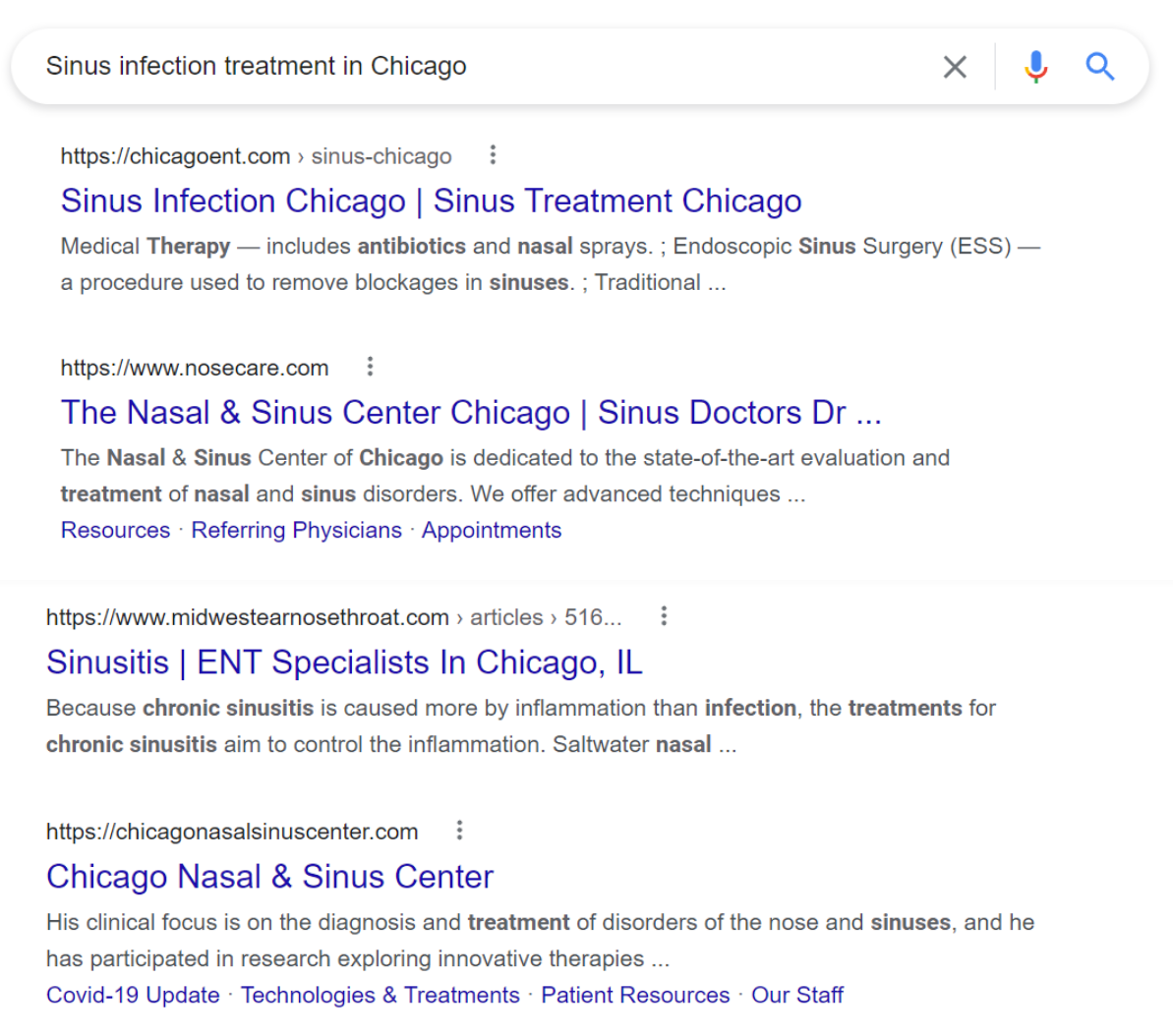 When determining which keywords to target, include solution-aware keywords about the ENT services and treatments you offer or insurance you accept, such as "blue cross blue shield ent cherokee county ga," to increase your chances of capturing a conversion-ready patient.
Create Geo-Optimized Landing Pages
If you're a multi-location ENT practice, you should develop landing pages for each location. Location-optimized landing pages are excellent for capturing searches with local intent. When a potential patient searches for a local ENT specialist, they'll find your location-optimized page with personalized content that will help ease them into conversion.
Also, location-optimized landing pages give personalized user experiences that help spread brand awareness and online credibility. Your landing pages may feature location-specific content like clinic video tours, practice and staff photos, specific patient reviews, etc.
Google Ads for ENT Providers
Google Ads or PPC marketing has the potential to provide results quickly in terms of traffic and patient acquisition. With paid search marketing, you can target your ideal patients, especially those on the decision-making cusp. Your ads will be displayed at the top of the SERPs, essentially putting your practice in front of your target audience. Basically, PPC enables you to serve the right ads, to the right people, at the right time.
Choose the Right Google Ads Account Structure
If your Google Ads campaign isn't performing well to your standards, you may want to revisit your account structure. Your Google Ads account structure lets you control how your paid ads will be displayed and when you want them to appear. The correct account structure will improve your Quality Score, help you get organized, and make optimization possible.
When it comes to account structures, we always recommend hybrid accounts for multi-location healthcare groups. Hybrid enables you to leverage the best qualities of segmented and consolidated account structures. Better budget control, detailed targeting in segmented accounts, and maximized ad impressions for consolidated accounts, effectively giving you the best of both worlds.
Google Ads Best Practices
Once you've picked the correct account for your PPC campaign, you can now focus on leveraging Google's Smart Bidding technologies. We're big advocates of revisiting account structures because it helps Google'e smart bidding algorithm do its thing and shine. Afterward, feel free to experiment with several bidding approaches that will get you the best results.
Another core element of successful PPC campaigns is the alignment of ads with keyword intent along the patient funnel. Basically, it would help if you had a comprehensive and diverse keyword strategy to cover the entire funnel, including:
Lower funnel "product aware" leads: These consumers know the solution to their problems is to meet with an ENT doctor. At this stage, you should set your account to target high-intent, product-aware keywords.
Mid-funnel "solution aware" leads: These consumers have found the solution to their ear, nose, and throat issues but are unsure which service or treatment to avail. This funnel stage needs you to educate patients about ENT services and treatments.
Upper funnel "problem aware" leads: These consumers are still researching and discovering solutions. They're not ready to meet with a physician yet, but they know there's something wrong. At this point, your campaign should target lower-intent keywords like "sleep apnea symptoms" or "is sleep apnea dangerous."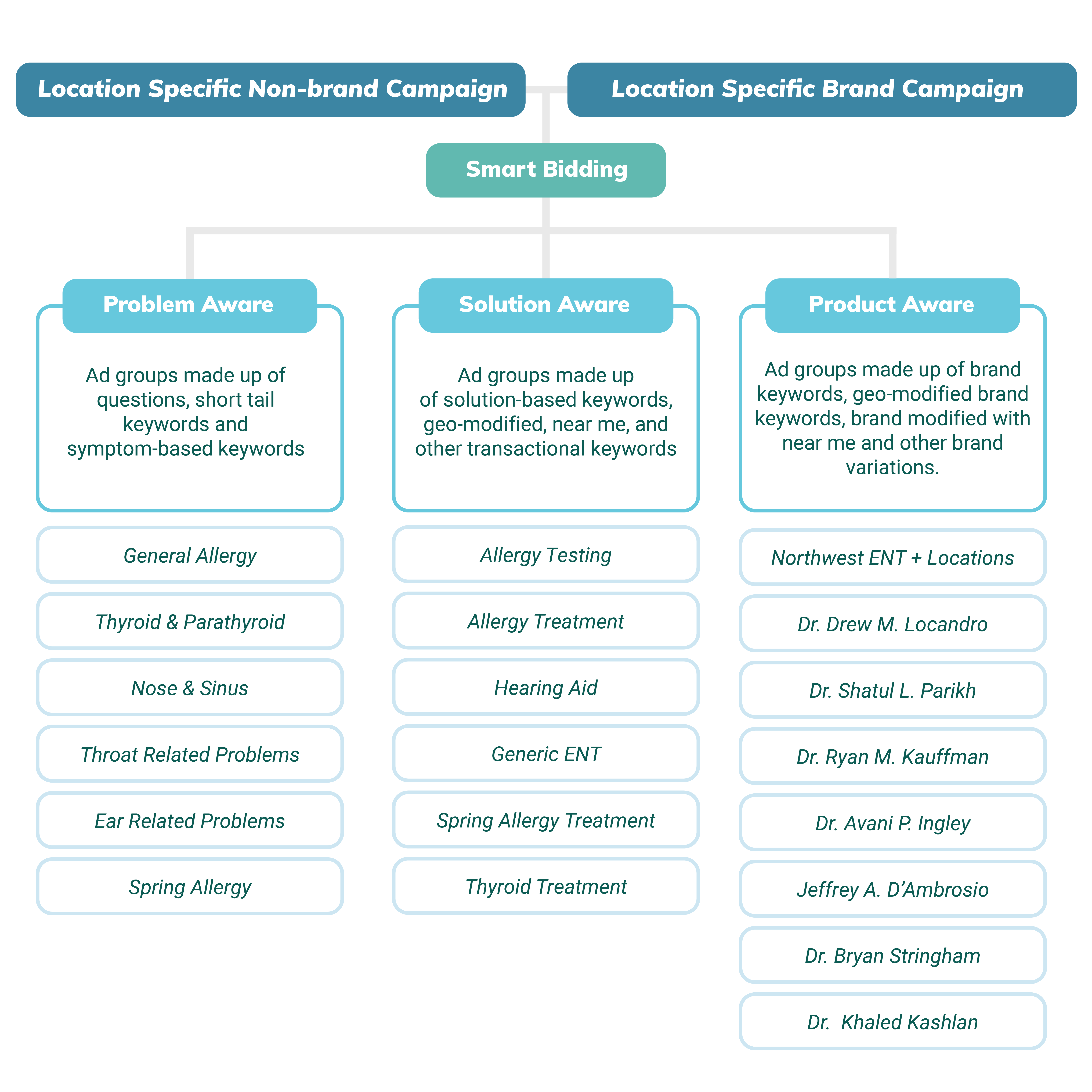 Brand Reputation Management for ENT Providers
Historically, physicians only grew their practice through referrals and word of mouth. That's not the case anymore. Now, healthcare consumers are more likely to read online reviews and feedback through search engines and social media. In fact, 72% of patients use online reviews when searching for a local healthcare provider. Therefore, an effective reputation management strategy will help you attract more patients and referrals by building your reputation in the communities you serve.
Brand Reputation Management Best Practices
Without actively encouraging patients to leave reviews, many won't even bother. Thus, the best way to generate patient reviews is to ask patients to leave an online review. Train your front-facing staff members who will collect, manage, and reply to reviews. Don't tell them to make something up.
Whether it's on your GBP, Yelp, Healthgrades, or Facebook, ensure you offer multiple ways to leave patient feedback and encourage regulars to leave numerous reviews on various channels. Perhaps the easiest way is to ask them to complete a short patient survey or through follow-up emails.
Finally, I recommend investing in review solicitation platforms like Podium, Birdeye, and Weave. These apps will integrate with your CRM systems, including your SMS and email.
Marketing Analytics for ENT Providers
In digital marketing, if you're not measuring, you're guessing–and guesswork has no place in healthcare marketing. Data-driven marketing provides clarity that will help connect the dots and understand which of your marketing pieces are working and which ones need tweaking.
In this case, ENT practices should use closed-loop reporting (CLR) to determine how your marketing pieces affect the patient journey (i.e., which leads generate more patients). With that said, CLR requires you to use the suitable attribution model, which may include the following:
First-touch: Credit is given to the first touchpoint leading to a conversion.
Last-touch: Credit is awarded to the last touchpoint before conversion.
Linear: Credit is awarded equally to all interaction points.
Multi-touch: Credit is given to all touchpoints equally.
Conclusion
When developing digital marketing for ENT providers, prioritize patient-centricity. Overall, ensure you build a user-friendly website, optimize your digital presence with local SEO, and leverage PPC to capture high-quality leads. Lastly, ensure your digital reputation is favorable and that you're staying on top of your campaign with data-driven marketing.