The pediatric healthcare market is one of the fastest-growing sectors in healthcare. Market research indicates that the pediatric market will grow into a $16.92 billion industry by 2029. The demand for pediatric services will also increase due to the rising prevalence of chronic illnesses, diarrhea, and injuries in children. In addition, the increasing awareness and diagnosis of illnesses like autism spectrum disorders and attention deficit hyperactivity disorder (ADHD) also contribute to market growth.
Despite the predicted market growth, pediatricians are still grappling with the challenges of being a specialty practice. For example, there's the challenge for pediatricians to create relevance among families and make them understand the importance of pediatrics and inform them how to access those services. Meanwhile, pediatric care providers must also find ways to distinguish their practice from primary care and family practices.
To overcome these challenges, child healthcare providers must implement savvy digital marketing for pediatricians, with multi-pronged strategies including SEO, PPC marketing, Facebook Ads, conversion rate optimization, web design, and reputation management.
Below are several tips and strategies to help you acquire more patients and grow your pediatric practice.
Implement Patient-First Web Design
Nowadays, most prospective patients and their parents will interact with your pediatric brand through your website, which is your best tool for making an excellent first impression. Therefore, your website should offer digital experiences that will make it easy for parents to choose your practice by removing friction.
Map out the patient's journey from start to finish while on your pediatric website, and you'll likely find several inflection points. Across these inflection points are opportunities to reduce or eliminate friction. Below are some best practices for user-friendly healthcare web design:
Prioritize Mobile-Friendliness, Speed, & User Interface
In order to provide first-rate digital experiences, your website needs to be fast, intuitive, and have cross-device functionality. Otherwise, 90% of visitors will leave your website following a poor user experience. To ensure a comfortable experience for your visitors, implement web design best practices like easy-to-read fonts, intuitive layouts and menus, professional images, and prominent call-to-actions (CTAs).
Page speed is also crucial since it can significantly affect bounce rates. Google's PageSpeed Insights is an excellent tool for analyzing and optimizing the performance of your pediatric website.
Finally, make sure your website works properly on all devices, especially on mobile, which accounts for 56% of global website traffic. Responsive design supports cross-device functionality and enables your website to display correctly regardless of the device used.

Leverage High-Value Content
Most parents visiting your pediatric website will have concerns and questions regarding their child's health. Besides adhering to the best practices of readability and accessibility, your website should have high-value content that revolves around patient personas. This patient-first approach will help answer the patient's questions and provide real-world value. It also aligns with your organizational goals of enhancing your brand in the community–such is the power of high-value content.
Focus on publishing healthcare-related content for educating patients, which will help establish your brand as an authority in pediatrics. Therefore, write compelling articles, blog posts, and website copy that resonates with your ideal audience. Feel free to use various content formats, including videos (explainer or FAQ videos are great). By offering high-value content, you also get plus points from Google with its recent Helpful Content Update.
Optimize for Your Local Search Presence
When a parent searches for the "pediatric doctor near me," will your practice appear on the search results? Over the years, the number of "near me" healthcare-related searches has doubled, and pediatric practices are local services. It makes sense; parents want to visit a nearby specialist because it's quick and convenient. Bottom line-minded pediatricians who wish to attract more patients and dominate their local areas must optimize their websites for local searches. Below are several best practices for improving your local SEO.
Plan Your Local Keyword Strategy
Your local SEO strategy stands or falls based on your selected keywords. So take the time to create a local keyword list you wish to rank for. It's always best to go for more detailed and less competitive keywords, preferably ones that revolve around your unique selling propositions (USPs) and the communities you serve.
Local SEO keywords are typically:
High-intent, solution-aware keywords:

Used by the bottom of the funnel (BOF) searchers who are ready to make a decision. 

Location-based keywords

: These are long-tail keywords with geographical identifiers such as "pediatrician north miami."
Claim Citations and Listings
Claiming and populating local citations and listings is a straightforward way to boost your local search presence. Basically, these are local structured directories where you can provide accurate and timely information about your practice. For local pediatricians, you may use national directories like Yelp, Vitals, RateMDs, Healthgrades, and ZocDoc. Also, claim your listings with pediatric-specific directories like KidsHealth.org and the American Academy of Pediatrics (AAP).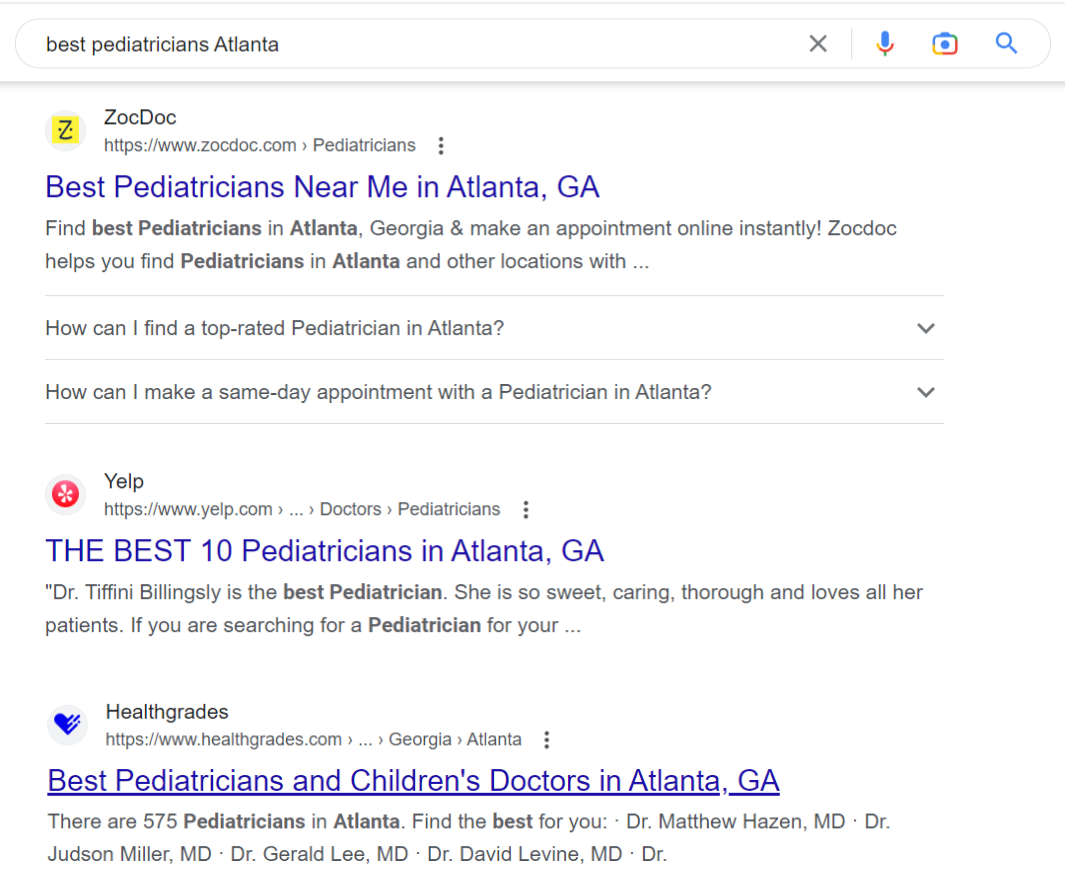 Claim Your Google Business Profile
Your Google Business Profile or GBP (formerly Google My Business) is an excellent tool for driving awareness for your practice in your geographical area. Parents can readily access critical information about your pediatric clinic through your GBP listing–and that interaction may result in a website click or phone call.
Claiming your GBP listing is free, and you just have to provide the following information:
Practice name

Website URL

Address

Phone number, email

Hours of operation

On-site photos of clinic and staff

A quick description of your practice
Ensure you provide the correct and complete information. With an incomplete or incorrect Google profile, you're potentially driving away new patients and leading them toward your competitors.
Build Dedicated Landing Pages
Create dedicated landing pages for each location (if you're a multi-location practice). Simply put, location-optimized landing pages are pages specifically designed to rank well for searches with local intent. These landing pages will attract people searching for local pediatricians in their city or region. Since keywords with location identifiers tend to be high-intent, location-optimized landing pages will help boost conversion rates.
Nowadays, patients expect personalized experiences when navigating web pages. Therefore, you should incorporate location-specific keywords and custom content to get the most out of your landing pages. Feel free to include maps of your clinic, video tours, patient reviews and testimonials, etc., and any custom content designed to engage patients and provide personalized experiences.
Invest in Google Ads Marketing
Healthcare practices looking to fill their waiting rooms are finding great success with robust Google Ads or PPC marketing. Paid search can get your practice in front of parents who are actively looking for a pediatrician, so you're essentially targeting the hand-raisers. A well-optimized PPC campaign will display your ads at the top of SERPs, and it lets you target your ideal audience, increasing your chances of getting new patients. Along with a solid local SEO strategy, PPC is one of the more reliable ways to improve your local patient acquisition.
Outlined below are some simple strategies for a more effective paid search campaign:
Mind Your Google Ads Account Structure
Your Google account structure is the arrangement of campaigns, ads, ad groups, keywords, and other targeting parameters that influence how your ads behave–like how, when, and where they appear. There's no perfect account structure since the most optimal ones can depend on company size and industry. By revisiting your account structure, your teams may find more ways to leverage Google's smart bidding algorithm.
We generally use the hybrid account structure with a relatively good success rate for our clients with multiple locations. Hybrid enables your campaign to benefit from the best features of consolidated and segmented accounts. As such, your campaign benefits from maximized ad impressions with consolidated accounts while you receive better budget control and more granular targeting with segmented structures.
Without a good account structure, you're prone to confusion about the purposes of specific ad groups, and it'll become more difficult to manage individual ads.
Understand Search Intent for PPC Ads
With PPC, you can't just use keywords and phrases that are mildly relevant and hope for the best. The best paid search marketers understand the importance of aligning ads with keyword intent in relation to your ideal audience's journey. In other words, your ads and their corresponding landing pages must match your patient's commercial, informational, navigational, and transactional queries.
Having said that, your keyword strategy should be diverse enough to cover your entire funnel, which may include the following:
Upper funnel "problem aware" leads:

People in this phase know they have a problem and are researching solutions. Capture searchers in this phase with lower-intent keywords like "signs of ear infection in breastfed baby."

Mid-funnel "solution aware" leads:

People in this phase have found solutions to their problems but are not quite sure of which treatments to get for their child. Use informational keywords revolving around your service lines, such as "mmr vaccines side effects."

Lower funnel "product aware" leads:

People in this phase have decided to see a pediatrician. This phase uses high-intent, product-aware keywords with location identifiers such as "broward county monkeypox vaccine."
Have a Reputation Management Strategy
New research finds that over 70% of consumers read online reviews when considering a new doctor. On a related note, are you confident that parents will choose your practice based on your reviews? Does your practice even have reviews at all? If not, you might be in trouble. Online reputation can make or break your healthcare practice. Therefore, we always recommend that our clients have a reputation management strategy in place.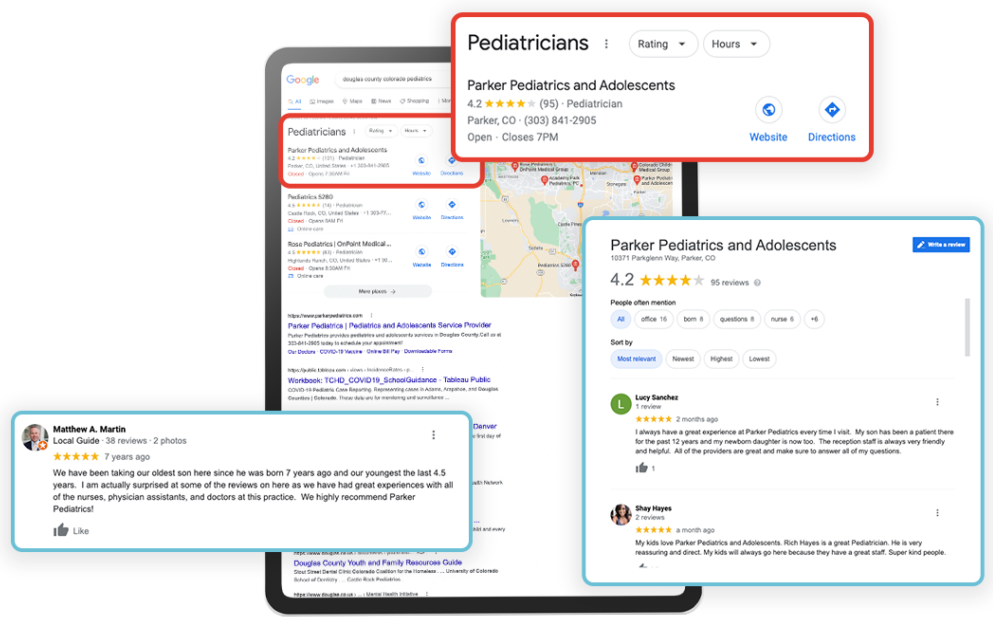 Strategies for Managing Your Online Reputation
The best and most reliable way to collect reviews is to ask patients directly, or rather their parents. Train your staff on the best practices of generating reviews, and hire someone to manage your online reputation. Most people will be more than happy to leave their feedback, especially after a good appointment.
However, ensure you have multiple channels where people can write reviews. You may give out fliers detailing where people can leave their reviews, but it's hard to go wrong with short patient reviews and follow-up emails.
Alternatively, investing in review solicitation systems like Birdeye, Podium, and Weave can streamline your reputation management campaign. These systems can easily integrate with your CRMs, allowing you to monitor all conversations about your brand, whether good or bad. For instance, if there's a scathing review of your practice, someone from your team can hop in to respond and address the issue.
Monitor Your Digital Marketing Campaign
In digital marketing, if you're not measuring, you're guessing. And guesswork will take you nowhere. Any respectable marketer knows the power of data-driven marketing. Analytics and ROI measuring will help you stay on top of your campaign, so you know which marketing pieces deliver results or need tweaking.
Based on my experiences working with the country's top pediatric practices, one of the best approaches is to use closed-loop reporting (CLR), as it provides in-depth insights into how each marketing technique affects the patient journey. Proper CLR implementation hinges on choosing an attrition method wisely:
First-touch model

awards all the credit to the first touchpoint after a conversion.

Last-touch model

awards all credit to the last touchpoint before conversion.

Position-based

attributes 40% of the credit each to the first and last touchpoints, and the remaining 20% is distributed to all interactions in the middle.

Linear model

attributes the credit equally to all the touchpoints made before conversion.
Conclusion
Top-tier digital marketing for pediatricians puts patient-centricity front and center. Whether you're doing local SEO, Google Ads, web design, and reputation management, all your marketing pieces should revolve around putting the patient first and compassionately assisting them to achieve the best experiences and outcomes. The strategies I outlined above should help you focus on patient-centricity to grow your practice and attract more patients.