The chiropractic care market is expected to be a $16.9 billion industry by 2027, with a CAGR of 3.1% between the forecast period 2022-2027. The growth of the chiropractic market is attributed mainly to the growing preference by consumers for non-invasive treatments of chronic pains. Plus, more people are more accepting of chiropractic therapy due to the associated cost-saving benefits and as an alternative pain treatment.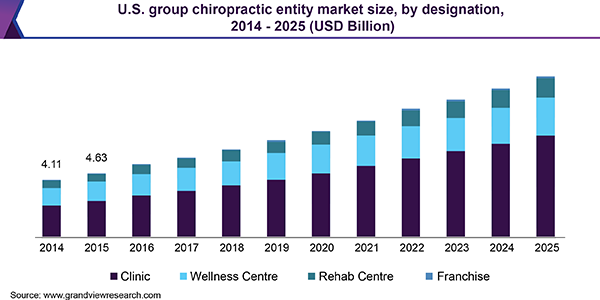 As a result, the number of chiropractic studios and clinics, consisting of practices supported by private equity entities and smaller individual setups, will also keep growing. Furthermore, with the aging U.S. population, demand for chiropractic care that addresses age-related conditions will increase and remain high.
With its predicted growth and high demand, chiropractic care will become a competitive arena. Therefore, providers need multi-faceted digital marketing for chiropractors with high-level strategies such as SEO, PPC marketing (Google Ads), Facebook Ads, conversion rate optimization, and reputation management. Let's dive right in!
Local SEO for Chiropractors
Did you know that "near me" healthcare-related searches in Google have doubled since 2015? Like many healthcare markets, chiropractic is a local service. Chiropractors rely on attracting potential patients in their geographical area. Likewise, patients looking for chiropractic treatments will want to work with a nearby provider instead of driving 30 minutes to the next town for an appointment. Optimizing for local SEO will make it easier for patients to find your practice online.
Local SEO Best Practices
Boost your local visibility with the following strategies:
Citations & Listings
Start your winning local SEO strategy by creating and optimizing your practice's listings and citations on some of the top local and national directories, such as Yelp, Healthgrades, and ZocDoc. Ensure you optimize your listings and citations by providing complete information about your practice, including practice name, address, and phone number. On top of that, you should also claim your listings in niche chiropractic categories such as the National Directory of Chiropractic and Find a Chiropractor.com.
Google Business Profile (GBP) Optimization
One of the most crucial local SEO steps is to claim your Google Business Profile or GBP (formerly Google My Business). Businesses with GBP listings are 70% more likely to attract customers for in-store visits than those without profiles. Therefore, if you haven't already, make sure that you claim and populate your chiropractic clinic's GBP listing by providing the following information:
Practice name

Address

Contact information (phone number, email)

Hours of operation

Photos of your studio or clinic

A short description of your practice
In addition, create a series of frequently asked questions or FAQs about common patient inquiries. Answer questions about your services, treatments, pricing, and accepted insurance.
Local SEO Keyword Strategy
When creating your target keyword list, consider your chiropractic clinic's unique selling proposition or USPs, your geographical area, and how patients search for your services. Do proper keyword research and determine the local SEO keywords you wish to rank for. Local SEO keywords generally look like this:
High-intent, solution-aware:

the searcher is looking for chiropractic services and is ready to book an appointment.

Location-based

: Long-tail key phrases with geographical identifiers have a transactional or commercial intent that often indicates the desire to purchase.
When developing your keyword list, focus on solution-aware and location-based keywords that align with specific chiropractic treatments, such as "chiropractic adjustments olympia." Be detailed and granular with your keywords to capture high-intent patients and deal with less competition.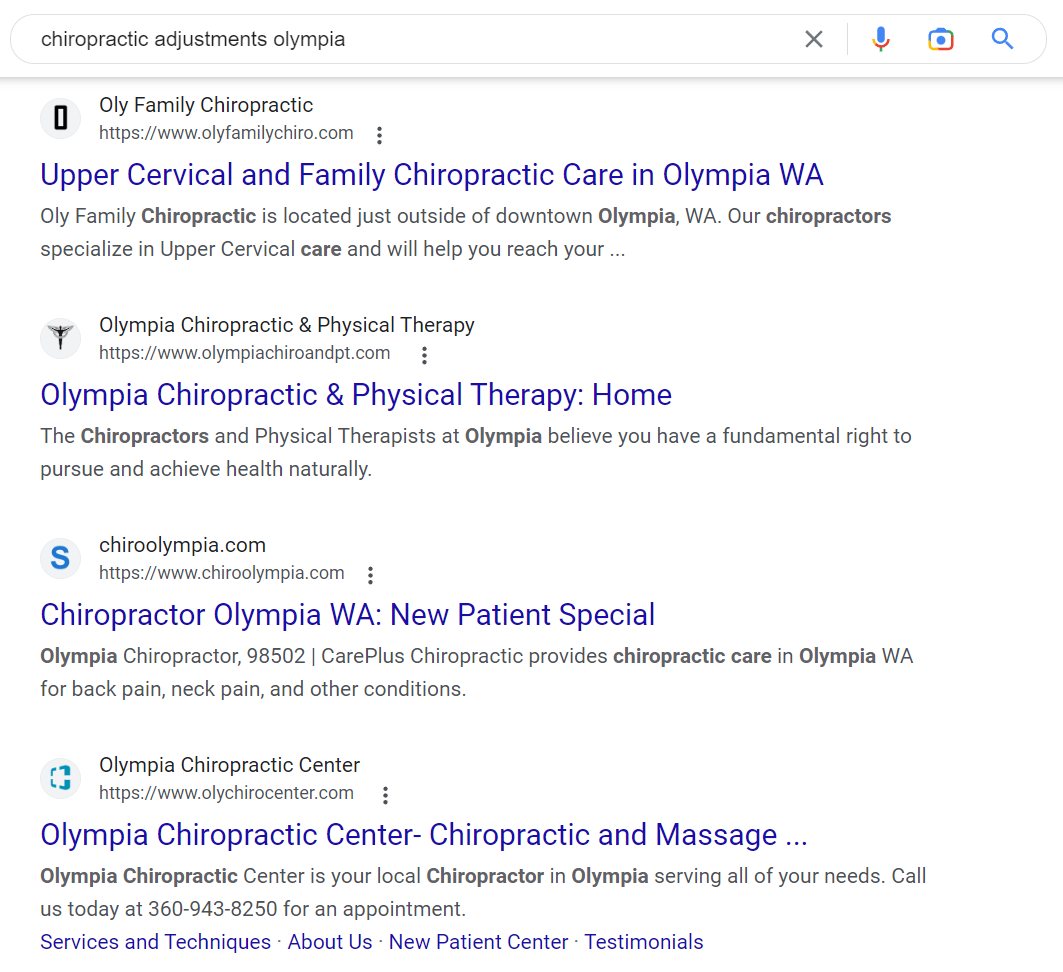 Geo-Targeted Landing Pages
Geo-targeted landing pages are location-optimized pages that enable your chiropractic practice to be discovered in specific regions and localities. These pages target location-specific keywords like a city or region where the practice is located. Best of all, geo-targeted landing pages offer a more personalized experience that many consumers appreciate.
Make sure all your locations and affiliates have corresponding geo-personalized landing pages. Provide custom content for each location page, like a map of your clinic and FAQs that address common patient concerns.
Web Design for Chiropractors
Your chiropractic website is your digital front door and is usually the first interaction point for many potential patients. Thus, your website design must be optimized and offer complete information about your practice and services, such as hydrotherapy, massage therapy, hot and cold, cold laser therapy, etc.
Website Design Best Practices
Aim to provide a user-centric experience with your chiropractic website. Start by offering a comfortable and user-friendly experience with easy-to-read fonts, intuitive navigation, professional graphics and images, and prominent CTAs for guiding patients along the funnel. Also, since 62% of global website traffic comes from mobile devices, your website should be mobile-friendly, fast, and has a responsive design. A fully-realized user experience can go a long way in building brand awareness and improving conversion rates.
Make It Easy for Patients to Reach Out
Make it intuitive and easy for potential patients to call your office to book an appointment or ask questions. The last thing you want is to put barriers between your conversion steps that will result in a disjointed experience. To make it convenient for patients to reach out, use AI chatbots or live chat software and click-to-call phone numbers.
Also, invest in an online scheduling system to streamline the appointment process. With an online scheduling system, you can drastically reduce the volume of phone calls, enabling your team to focus on delivering better service and care.
Key Content Should Be Easily Discoverable
Ensure you regularly produce high-quality content as part of your digital marketing campaign. This is more important than ever with Google's Helpful Content Update, which rewards websites that provide valuable and helpful content to visitors.
However, your content library should be searchable and easy to find–patients go to your website to find information and need answers fast. Don't hide your key content behind poor layouts, confusing menus, and multiple links. When people can easily find your chiropractic-related content, you'll have more opportunities to drive high-quality leads and patients.
Google Ads for Chiropractors
Google Ads or PPC advertising is one of the fastest ways to spread brand awareness and attract bottom of funnel (BOF) leads–searchers ready to book an appointment. A paid search media campaign will allow you to put your practice in front of your target audience by placing your ads on top of the SERPs.
Google Ads Best Practices
Below are some of the best practices for optimizing your PPC campaign for chiropractors:
Google Ads Account Structure
Nowadays, modern PPC campaigns have leaned towards automation. The new smart bidding system lets you bid more strategically and better than having any human intervention. However, you need the proper account structure to make the most out of Google Ads' automated system. Many of our clients have benefited from hybrid structures because it delivers the best of both worlds of segmented and consolidated account structures.
On the one hand, the consolidated structure helps maximize ad impressions and leverages Google's automated bid system. Conversely, your campaign also benefits from the segmented account spectrum with better budget control and granular targeting, often based on location.
In other words, the hybrid structure affords you better control of your PPC budget without compromising impression scalability and bidding efficiency.
Alignment of Ads with Keyword Intent
Successful PPC campaigns have a built-in funnel-based structure where the ad groups align with keyword intent along the funnel. Thus, a diverse keyword strategy that covers the entire funnel is necessary. These funnels include:
Upper funnel "problem aware" leads:

These people are researching and discovering solutions to their problems. They don't necessarily need a chiropractor now, but they know there's a problem (e.g., low back pains, tension headaches, etc.). In this stage, you should target keywords like " lower back pain treatment."

Mid-funnel "solution-aware" leads:

These people know about the solution but are not quite sure which treatment or service is right for them. At this stage, your content should focus on educating patients about chiropractic adjustments and treatments.

Lower funnel "product aware" leads:

These people have decided that a visit to a chiropractor will help solve their issue. For this stage, you should focus on targeting high-intent, product-aware keywords such as "best chiropractor near me."
Digital Reputation Management for Chiropractors
Most chiropractic doctors don't have a digital reputation management system, which can be a costly mistake. Like many healthcare businesses, your online reputation can make or break your practice. Based on the 2022 Healthcare Trends Report by YouGov, 72% of consumers use online reviews and feedback when choosing a healthcare provider. In addition, 72% of the survey respondents said they would only consider providers with four stars or better.
A well-crafted digital reputation management strategy can help you with patient feedback collection (more reviews), review monitoring, patient engagement, and reputation crisis management (how to respond to and address negative feedback).
Best Practices for Getting More Reviews
The easiest and most cost-efficient way to collect more patient reviews is to ask them directly. Train your staff to ask for reviews as an SOP. Politely request a review/feedback of their experience after an appointment and explain how reviews greatly help your clinic. Following a positive care experience, most people would be happy to leave a review, especially your regulars.
In addition, ensure that you offer multiple channels for leaving reviews, which should be fast and easy to complete. Good starting points include a short patient survey form and follow-up emails. It will also be ideal if you encourage your patients to leave a review through your Google business profile.
If you have the budget, invest in a patient review-generation system such as Podium, Birdeye, and Weave. These review management platforms can integrate with your CRM systems (e.g., email, SMS, etc.), effectively automating the review collection process. These systems will also let you stay on top of online reputation crises. They help monitor the negative conversation about your brand (i.e., negative reviews), so your marketing team can hop in and address patient complaints.
Marketing Analytics for Chiropractors
Data-driven digital marketing takes out the guesswork for chiropractic marketers. Using a centralized analytics platform, chiropractic practitioners can reliably monitor campaign performance and key marketing analytics and make adjustments to drive optimal results. If you're not monitoring your digital marketing campaign, optimizable becomes impossible.
Data-Driven Marketing Best Practices
Based on our experience working with the country's most prominent names in chiropractic, marketers should use closed-loop reporting (CLR) to gain in-depth insights into how each marketing strategy affects the patient journey.
The key to proper CLR implementation is choosing an attribution model wisely:
First-touch model

gives credit to the initial touchpoints of the user (i.e., Patient searches for chiropractic services on Google and clicks on your website via SERP).

Last-touch model

gives credit to the patient's last touchpoint before converting (i.e., Patient clicks on one of your spinal manipulation PPC ads before calling for an appointment).

Position-based

attribution model gives 40% of the credit to the first and last touchpoints, with the remaining 20% spread out between any interaction in the middle.

Linear model

maps the patient journey by giving credits to every interaction steps the patient made before converting. Each touchpoint shares equal credit for the conversion.

Conclusion
Top-shelf digital marketing for chiropractors begins with a rock-solid local SEO plan, an excellent user-centric website, and a well-optimized Google Ads campaign. For good measure, invest in reputation management strategies and marketing analytics for a well-rounded chiropractic marketing campaign. When developing strategies for a sustainable patient acquisition model, focus on patient-centricity and stay ahead of marketing trends.