The COVID-19 pandemic has significantly affected allergy and immunology centers, thanks to service shutdowns, postponement of care, and staff shortages. However, as we head into the post-pandemic era with much less health precautions, more people are suffering from asthma and allergic disorders. In addition, the allergy and immunology market is projected to grow at a CAGR of 11.63% by 2027.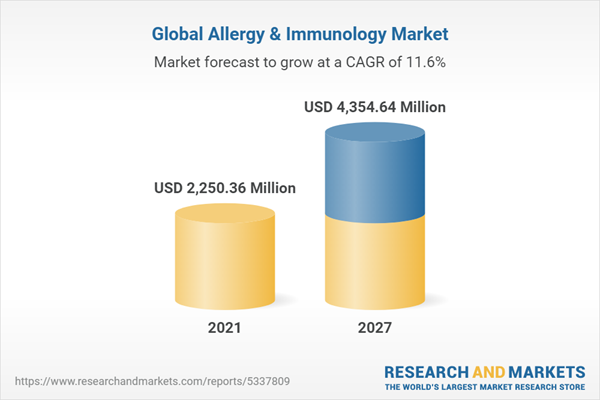 Based on these trends, it's fair to expect that demand for allergy, asthma, and immunology services will skyrocket. Plus, providers will have to contend with changing consumer behavior and growing competition. In order to stay competitive and increase your patient base for services like allergy testing and immunotherapy, you need a solid digital marketing strategy tailored for allergy and immunology providers.
The Importance of Allergy & Immunology Digital Marketing
The importance of digital marketing in healthcare is changing the very landscape of the market. With more than 80% of patients that use the internet to find hospital units and healthcare providers, it's best for allergy and immunology practices to reconfigure their marketing initiatives to better fit the digital era we live in.
In addition, 74% of those who have access to the internet have used it to look up information for themselves or family members. This is especially more prevalent for disease-specific information, including allergic conditions–where allergic individuals or their families would find information about symptoms and potential treatment options.
Allergy, asthma, and immunology services must have a solid digital presence and establish themselves as an authority in the subject. Thus, it's crucial for providers to have a robust allergy & immunology digital marketing campaign that cover all the essential bases including SEO, PPC marketing, conversion rate optimization (CRO), web design, reputation management, and more.
Build a Website With a First-Rate Digital Experience
A well-optimized allergy & immunology website that focuses on the user-experience (UX) is a core pillar of your digital marketing campaign. If the recent updates from Google told us anything, it's that Google wants users to have excellent user experiences. Fortunately, it's what allergy patients want as well. 
What's a good user experience anyway? Below are several things that will help improve your website's digital experience:
Optimize for Speed and Responsive Design
A fast and easy to navigate website is paramount to providing good user experiences. This means you should pay close attention to how fast your web pages load, how intuitive is the navigation, and if it has a strong SEO foundation. Moreover, considering that most allergy & immunology patients would find your practice using a mobile device, your website needs to have a responsive design, which means it adapts or responds based on the size of the screen it's being viewed on.
Make Key Content Easy to Find
From searching allergy symptoms to finding a specialist, searchers want answers and fast. Don't hide your site's key content behind multiple web pages and links, and confusing menus. Establish your brand as a trusted authority that provides accurate, reliable information. However, ensure that the information they need is easy to discover and searchable.
Due to Google's Helpful Content Update, you also have to ensure your content offers real value to readers, or you'll risk getting a penalty from the search engine.
While you're at it, remove friction from the patient journey by making it easy to set up an appointment. Some good ideas are to include a prominently displayed call button, an information request form, or an AI chatbot–all of which will improve the patient experience and save you tons of money and time.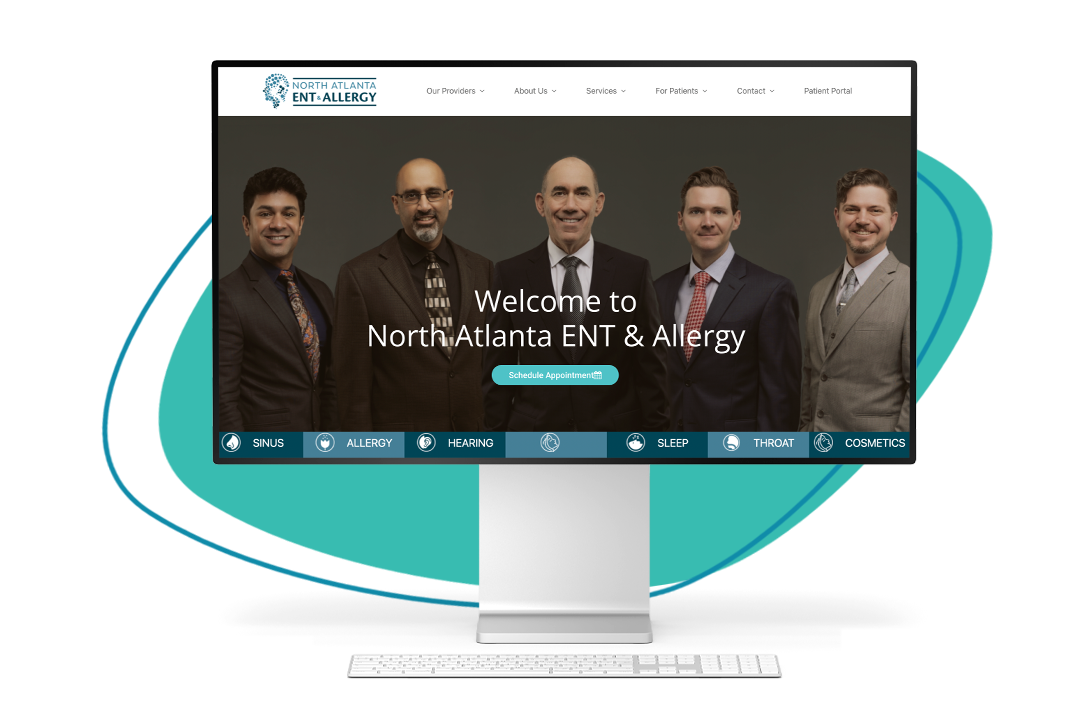 Optimize for Local SEO
Like many healthcare services, allergy & immunotherapy services are local. According to the American College of Allergy, Asthma & Immunology (ACAAI), more than 50 million Americans suffer from allergic conditions each year. With that many people suffering from allergies, most potential patients will look for a nearby local allergy, asthma, and immunology specialist using "near me" healthcare-related searches.
This makes sense since people want to visit local healthcare providers due to convenience, as opposed to driving 30 minutes to the next city for an appointment.
Local SEO Best Practices
Here are simple SEO strategies for improving your local organic visibility:
Optimize Your Google Business Profile (GBP)
More than a billion people use Google Maps every month, highlighting the importance of claiming your practice's Google Business Profile or GBP. One of the easiest ways to attract more patients is to claim, populate, and optimize your allergy center's GBP. A non-existent, incomplete or ineffective Google business listing will drive potential patients toward your local competitors. 
With a fully optimized Google listing, searchers will readily access key information about your practice, such as address, phone number, and business hours. Plus, you get to showcase your clinic's online reputation with reviews, which is a critical deciding factor for 74% of people looking for healthcare providers. Meanwhile, an unclaimed business listing will risk confusing potential patients with misinformation. 
Develop a Localized Keyword Strategy
Take a step back and think of specific keywords you want to rank for on a local level. Typically, a local keyword list would be based on your unique selling proposition (i.e., your clinic's specialties or unique service lines), how your potential patients search for your services, and your geographical target market.
Local SEO keywords are generally:
High-intent, solution-aware:

the person knows that they require allergy testing or immunotherapy shots.

Location-based

: long-tail key phrases that include geographical identifiers such as "allergy challenge testing in Burlington WA."
Go for a more specific, granular approach when developing your local keywords. Hone in on your USPs and optimize for keywords with less competition.
Use Geo-Personalized Web Pages
If you have multiple locations and affiliate groups, create a unique website and landing pages for each of your locations. Geo-personalized websites and landing pages will help you rank for location-based searches. Ensure you also use location-specific keywords for all your websites and landing pages.
Geo-localized websites and landing pages provide a more personalized experience to the user, giving them a better overall experience with your brand.
Leverage Your Online Reputation
Your online reputation can make or break your allergy & immunology practice, especially with local patients. When people search for a local allergy clinic for themselves or a loved one, they will likely make a shortlist of the best-reviewed providers in the area. In fact, 71% of healthcare consumers use online reviews as the very first step to finding a physician or provider. Aside from your website, your digital reputation is often the first impression you make on potential patients.
Easy enough! If your clinic has plenty of reviews that are predominantly positive, the more likely you'll attract new patients and referrals from doctors and hospitals.
Online Reputation Management Best Practices
Perhaps the easiest way to generate more positive reviews for your practice is to directly ask patients to leave a review after an appointment. Tell them to relate their care experience, but not make something up. Train your patient-facing staff members to kindly ask people to leave reviews.
Moreover, you should make it accessible for patients to rate their experiences and leave reviews. Make it easy by giving multiple channels to leave reviews such as a review section on your website, email follow-ups, social media accounts, and customer feedback surveys.
Alternatively, you could invest in review solicitation programs like Podium, Birdeye, and Weave. These apps seamlessly integrate with your email and SMS and will collect patient reviews automatically. Finally, make sure you showcase the positive reviews left by patients on your website, landing pages, and social media accounts.
Invest in Google Ads
Google Ads provides a unique opportunity for you to capture potential patients at the cusp of making a decision. For instance, if a person uses a high-intent keyword like "allergen test near me," it means they're looking for an immediate solution. With Google Ads for allergy & immunology, you can put your clinic at the top of the SERPs and in front of patients looking for a specialist.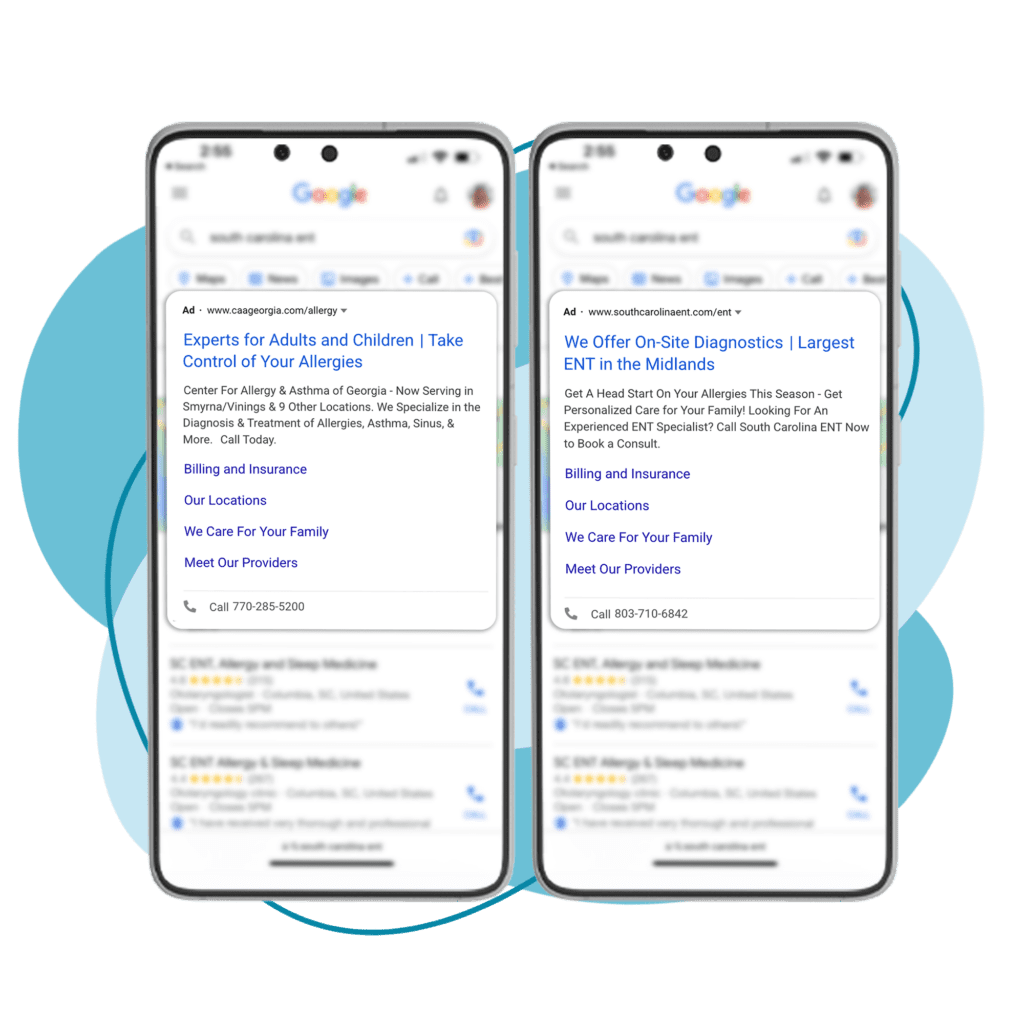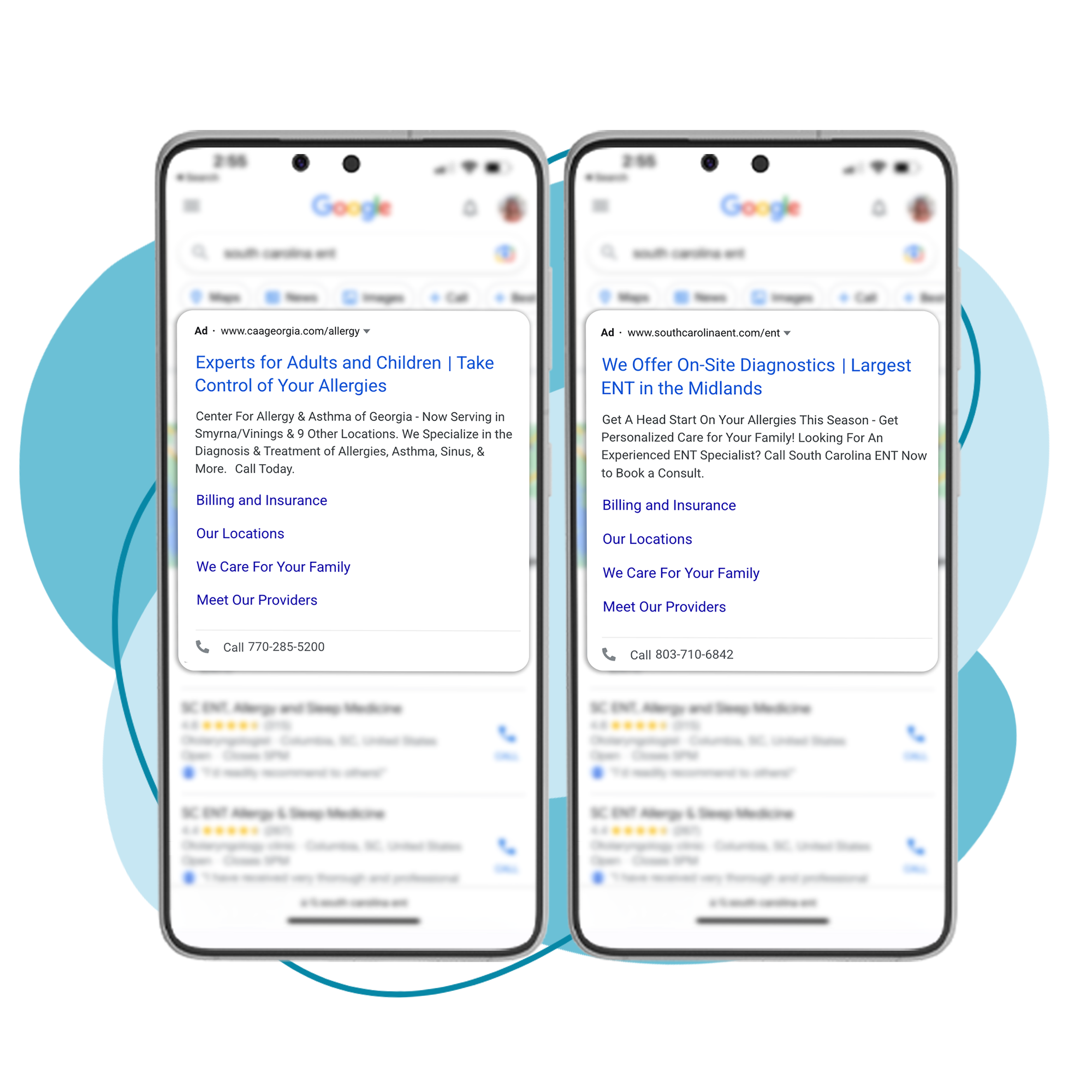 PPC Ads Best Practices
The foundation, efficacy, and efficiency of your Google Ads campaign is your account structure. Paid search teams can develop their ad accounts based on the spectrum of most segmented or consolidated. For instance, a multi-location allergy & immunology practice can benefit from a hybrid account structure that combines the best of worlds of segmented and consolidated account structures. This essentially means you can have maximized impressions from consolidated ad groups, and detailed targeting and budget control that come with segmented accounts.
Once you've decided on the right PPC account structure, you'll need to set up your account to leverage Google's automatic bidding strategies. This highlights the importance of using the right account structure as it lets Google's smart bidding algorithm shine and have optimal performance. From here, feel free to experiment with your bidding strategies to determine the most optimal approach.
Another critical element of a robust paid search campaign is the alignment of ads with keyword intent along the funnel. This means your keyword strategy should be diverse enough to cover the patient funnel, including:
Lower funnel "product aware" leads:

These users are solution-aware and are ready to book an appointment with an allergy specialist. At this stage of the patient journey, your bidding strategy should focus on high-intent, product-aware keywords.

Mid-funnel "solution aware" leads:

These users are searching for a solution, and are not quite sure which treatments to get. Use keywords that will help educate them about allergy and asthma treatments.

Upper funnel "problem aware" leads:

These users are researching and discovering solutions, and aren't quite ready to see a specialist. At this stage, optimize for lower-intent keywords like "severe allergy symptoms in adults."
Implement Marketing Analytics & Real-time ROI Measurement
The key to scaling patient acquisition for your allergy clinic is data-driven digital marketing. If you don't monitor your marketing performance, how will you know if you're making progress? Data-driven marketing provides clarity to healthcare providers, allowing them to connect the dots and adjust (if necessary), and understand if their campaign produces the desired results.
Having said that, allergy & immunology marketers should utilize closed-loop reporting (CLR). The CLR system ties patient data and revenue back to your marketing activities. This gives your team a better picture of which marketing activities contribute to which stage of the patient acquisition. However, CLR implementation is not without its challenges such as:
HIPAA regulations dictate which data you can use

Over-generalized direct traffic attribution

May require manual tracking to capture acquisition accurately

New privacy restrictions and cookieless browsers make patient data less accessible
Data-Driven Marketing Best Practices
First order of the day is the integration of your EHR, CRM, and other systems for collecting in-depth analytics. These include your CRM systems, Google Analytics, HIPAA privacy safeguards, data privacy, search console, etc.
Another integral step for data-driven marketing is to create a centralized and shareable analytics dashboard–a single source of truths for your marketing team. While you're at it, you can minimize inefficiencies and poor collaboration experiences by eliminating redundant data silos and improving communication across the board.
Last but not least, identify goals and separate KPIs for each of your clinic's departments. During goal-setting with your marketing team, you should:
Define your marketing goals and KPIs in great detail

Set goals based on the needs of the organization

Structure your PPC accounts to align with your goals
Conclusion
Patient-centricity comes first when developing a robust allergy & immunology digital marketing campaign. To summarize, you should build a website that focuses on first-rate digital experiences, leverage SEO to boost your local visibility, and manage and showcase your online reputation. Also, allocate some of your budget for Google Ads to put your practice in front of patients.