Addiction treatment centers and rehab facilities tread a fine line in digital marketing. Being too aggressive makes you look like an ambulance chaser. Yet too much modesty buries you in the online noise or makes you look unconfident.
On the one hand, your audience is desperately searching for a trustworthy organization and is ready to take action if everything lines up. On the other hand, these individuals are often skeptical and vigilant. They rely heavily on the centers to educate them on making the best choice for themselves.
Therefore, digital marketing strategies for addiction treatment centers must focus on three core pieces:
Show up in front of those seeking a solution

Create a comfortable, safe patient journey for easy conversion

Stay ethical and compliant while marketing online
Digital Marketing Strategy for Rehab Centers
Most people still feel uncomfortable reaching out to employers, families, friends, and even primary care doctors for addiction help. According to a Surgeon General report, 1 in 7 Americans are at risk of developing addictions, but only 1 in 10 end up receiving treatment.
Thankfully, the online space is safe and private (for the most part), and today's consumers are more than adequate in their online research skills. Therefore, having an effective rehab center digital marketing strategy is vital to drug treatment patient acquisition.

Addiction Treatment Marketing Best Practices
Drug treatment centers must focus their marketing on combating historic stigma while working with a vulnerable population while providing open and honest information. Unlike other healthcare services, addiction treatment centers have more restrictions tied to selling and promotion.
Some online marketing best practices for drug treatment centers include:
Positioning themselves as an expert in the field by providing open, honest, and credible information

Promoting empathy in all messaging to build a safe environment for patients to reach out

Focus on local SEO to reach adjacent patients seeking solutions

Create mobile-friendly and well-optimized user experiences (UX) for easy conversion

Maintain a positive brand reputation to convince patients to take actions
Build an SEO-friendly Website
An SEO-friendly website is fundamental to effective online rehab marketing. Your digital front door makes or breaks how the patients perceive your organization for the first time.
Most patients prefer to make the rehab decision as discreetly as possible. They prefer to get everything done without calling or talking to anyone. Therefore, an optimized, navigable, and informative website would be the baseline of any drug treatment marketing strategy.
Rehab Center Website Best Practices
If you're revamping an old website or building a new one, following these rehab center website best practices will ensure your site ranks higher on Google and converts better.
1. Optimize for Mobile
In 2020, mobile drove 61% of website traffic in the U.S., up from 57% in the previous year. These are stats that addiction treatment centers cannot afford to ignore.
Therefore, optimize your website for the mobile end to capture your audience on the go. Create AMP pages for a faster, better viewing experience on the mobile and ensure all website elements are properly displayed on all devices.
2. Provide Robust, Comprehensive Information
Since most individuals are reluctant to ask for drug treatment help openly, the digital space has become the primary patient acquisition channel for addiction treatment centers.
Therefore, your website should provide patients with the necessary information, such as locations, hours, treatment programs, initial cost, and insurance information.
3. Make Conversion Easy
Create multiple methods for your patients to get in touch with you, either by calling, through a chatbot, or submitting a contact form. With forms, it's best to protect your patient-submitted information with an approved plug-in and the proper disclaimers to ensure you comply with privacy regulations.
Furthermore, addiction treatment centers deal with sensitive information that may not all be submittable via an online form. Therefore, configure an auto-response system so a member of your staff can reach out to initiate an intake.
4. Elevate the User Experience
Again, patients seeking addiction treatment are sensitive to the historic stigma to the point that they feel reluctant to talk about their needs in general. So, it's wise to add some interactive functions on your website to answer their questions without forcing them to call you.
Some options include Facebook Messenger autoresponder, chatbots, downloadable brochures or whitepapers, and 24/7 real-human customer support chats.
Local SEO for Addiction Treatment Centers
Addiction treatment is a local service. Most patients prefer a familiar environment, even if they must be fully checked into the facility for the duration of treatment. Being close to their families and friends is a great emotional relief. Cost is another reason why patients choose a nearby treatment center over a remote one.
Addiction Treatment Center Local SEO Best Practices
This means local SEO is the key to patient acquisition for drug treatment centers. Follow these best practices to ensure you present yourself properly in front of the right crowd when they search for a solution.
1. Citations & Listings
List your treatment center on niche listings like the USA Rehab Directory and the National Directory of Alcohol and Drug Rehab Centers. At the same time, list yourself on local and regional directories based on your facility locations. Finally, manage your listings by updating hours, addresses, services, and other information to answer potential patients' questions upfront.
2. Google Business Profile (Formerly Google My Business) Optimization
Create a Google Business Profile for each location with information unique to each facility, including
Your address, phone number, and hours of operation

Your website

Facility images

Announcements and Covid-19 protocols

Insurance accepted
Addiction treatment centers also benefit from creating an FAQ on their business listings. Build out this section based on actual questions you've received from patients instead of copying general information from your website.
3. Geographical Keyword Strategy
Addiction treatment is an urgent need, yet the patient journey could be longer due to concerns of shame, treatment duration, disruption of daily routines, and relapse. That's why patients search for addiction treatment centers near them.
See below for a few high-intent geographical keywords
"Best drug rehab in Springfield"

"Alcohol rehab near me"

"Cheap rehab centers near Chicago"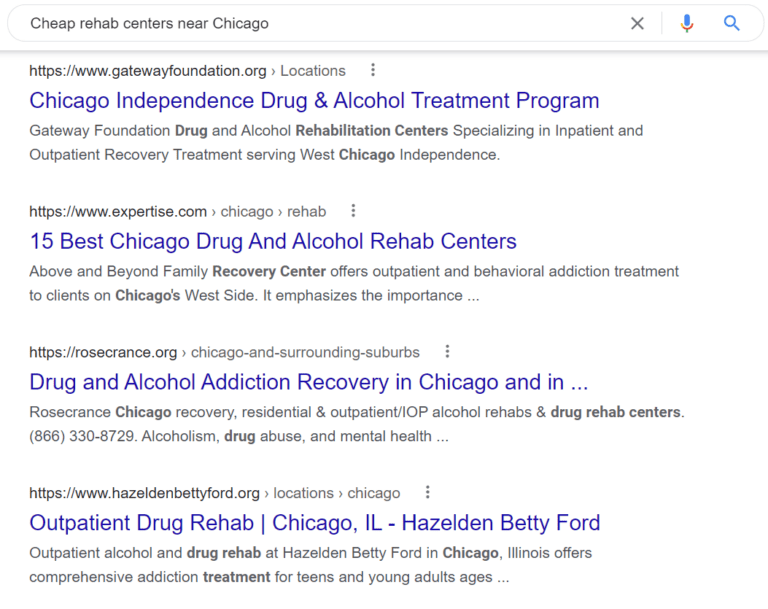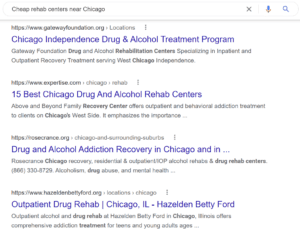 Meanwhile, target some local keywords relevant to addiction treatment to capture your patient at the beginning of their journey. For example: "addiction therapist near me," "substance abuse counseling in Kansas City," etc.
4. Well-Optimized Location Pages
A location list on your website isn't enough for today's addiction treatment marketing needs. Instead, you should build individual pages and optimize them accordingly.
Create a detailed explanation of programs offered by each location. You can also add short bios of the doctors and therapists working at each branch to reinforce the human connection. Location-specific images and reviews are other helpful items to add to improve SEO efficiency and user experience.
Rehab Center Brand Reputation Management
Today's consumers are skeptical about buying anything. As of 2021, 90% of consumers read reviews before making a purchase, whereas 62% of consumers expressed reluctance to buy from a business that censors online reviews.
Given the sensitive nature of addiction treatment, you can expect your future patient to be twice as alert. Sometimes, all it takes is one negative review pointing out that your facility was unfriendly or your service was not what the patient expected for someone to look away.
Therefore, gathering more positive reviews while addressing negative ones without hiding or deleting them is the key to online reputation management for addiction treatment centers.
Collect More Positive Reviews
Positive reviews are rehab centers' lifeblood for three reasons:
A good reputation builds trust with potential patients

Positive reviews make it easier to receive professional referrals

There will always be negative reviews; drown them out with more positive ones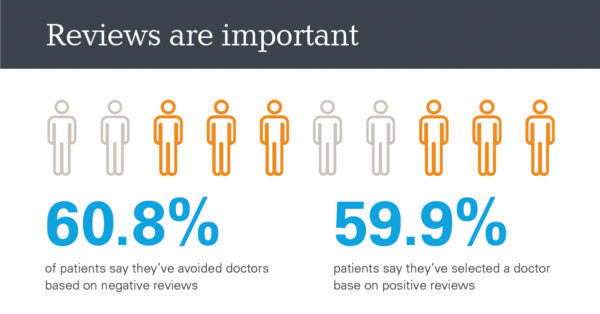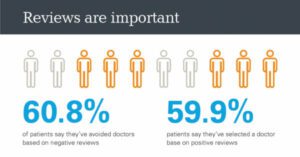 The easiest way to gather positive reviews is by asking your patient to leave one while they're physically present. You can also create a follow-up email or invest in a review solicitation program to remind past patients to leave a review.
However, understand that addiction treatment centers must follow stricter privacy rules than other healthcare providers like dentists. Therefore, know your regulations so your review solicitation is compliant.
Learn more about how to gather more positive reviews
Rehab Center Reputation Management Best Practices
Having a review solicitation system in place alone isn't enough. Rehab centers should implement other reputation management best practices as well:
Know your listings: If your facilities are listed on various websites, create a document to keep track of their performances.

Optimize your About page: Your "About Us" page introduces you to future patients. Make sure it's friendly, honest, and optimized.

Consider using reputation management software: If you have multiple locations, reputation management software, like BirdEye or Podium, can ease the workload on your marketing team. For example, requests for feedback can be automated when you sync it with your customer relationship management (CRM) software. This ensures requests go out quickly when a resident is discharged. 
Learn more about how to manage your reputation online
Google Ads for Drug Treatment Centers
PPC ads are a highly effective method to reach local clients and can help you dominate the search engine results page in competitive markets.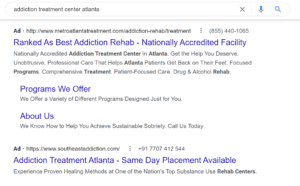 Optimizing your campaign for geographical keywords can capture patients seeking treatment at the bottom of the funnel. PPC campaigns also allow you to target time-sensitive keywords, like "rehab centers open right now," without changing your website copy to optimize for a low-volume, high-intent keyword.
Become LegitScript Certified
Addiction treatment centers must be LegitScript-certified to run Google Ads. This is to protect patients from malicious solicitors and fraudulent organizations.
To begin the process, reach out to LegitScript, fill out an application, and pay the initial fee. Once approved, follow the instructions to finalize your LegitScript certification. Then, apply for a secondary certification from Google by initiating a PPC campaign. Treatment centers must hold both certifications to run Google Ads online.
Learn more about LegitScript Certification
Rehab Marketing PPC Tips and Best Practices
Start with refining your keyword strategy since PPC campaigns allow you to target dynamic keywords and even time-sensitive keywords. Focus on keywords most likely to convert a patient when building out campaigns. 
We've found success targeting keywords that aim at the root of addiction problems, such as behavioral health terminology. If you offer dual diagnosis treatment programs, you may want to explore targeting keywords related to mental health like depression, PTSD, anxiety, etc. 
Make sure your campaigns are optimized for mobile and deliver a seamless experience. For example, use call extensions so patients browsing on the mobile can reach someone immediately if they are having a crisis and need help fast. 
Finally, keep your landing page user-friendly and campaign-specific, and create a prominent CTA to make things easy!
Find more Addiction Treatment Center PPC Best Practices
Measuring Addiction Treatment Marketing ROI
Marketing analytics with real-time ROI measurement provides visibility and clarity for rehab marketing strategy optimization. In recent years, addiction treatment centers found closed-loop reporting most effective.
Closed-loop reporting measures current campaigns' patient acquisition efficacy. In other words, how each keyword, campaign, and channel contributed to the final conversion. It also allows your marketing team to strengthen the weaker links in your patient acquisition process for more conversions. 
Data-driven Marketing Best Practices
Combine closed-loop reporting with other data-driven marketing best practices to gain full insight into campaign and strategy performance. Some helpful strategies include:
Centralized data: keep all marketing data in one place. Integrate your Google Analytics, CRM, and other tracking data into one dashboard to easily create customized reports and visualize how different campaigns and targeting affect online patient acquisition.

Full-scale marketing team: build a full team so each person can specialize in one task. Invest in project management and communication tools to improve work efficiency

Set individual goals and KPIs: Cookie cutter goals do not work with addiction treatment centers. Set individual goals for website traffic, email open rate, PPC ads conversion, etc., and track the most significant KPIs.
Rehab Marketing Attribution Models
Finally, use the appropriate attribution model to make sense of your data.
For example, use a first-touch model if you're trying to identify which campaign grabs the patient's attention the most. Correspondingly, use a last-touch model to determine the last action before conversion.
If you're aiming for a more comprehensive analysis of your patient acquisition journey, the multi-touch attribution model will explain which stages and campaigns have the most significant impact on moving the patient forward. Meanwhile, the linear attribution model will give you an overview of the full journey while mapping out each action.
Learn more about data-driven marketing best practices for rehab centers
Addiction Treatment and Rehab Marketing in 2022
Unfortunately, the stigma around addiction treatment remains. As a result, treatment centers must be visible in front of those seeking a solution or have a good reputation for receiving therapist referrals.
Therefore, start with an informative, user-friendly, and search-engine-optimized website. Then, focus your addiction treatment marketing on local SEO, reputation management, and Google ads. Finally, remember to always be empathetic, respectful, compliant, and ethical because trust and professionalism are the real bread and butter of addiction treatment marketing.