Supercharge Your Healthcare
Organization's Local SEO
Strategy and Rank at the
Top of Google
Download the free eBook "5 Local SEO Best Practices for Healthcare Providers"–a comprehensive guide of local SEO best practices that will help you reach potential patients and grow your practice.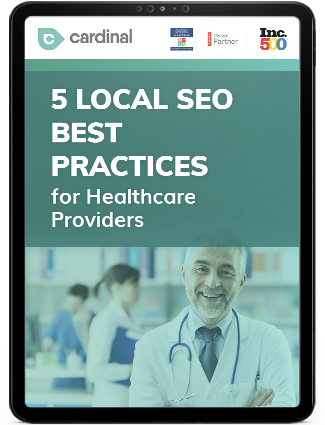 Local SEO best practices that can improve search rankings, connect you with high-interest patients, increase brand awareness, and reduce patient acquisition costs.
Consumers use local search for finding the products and services they need. Healthcare is no exception–77% of healthcare consumers start the patient journey via a search engine.
Local SEO means optimizing your healthcare practice or organization's website for local searches. Proper understanding of local SEO will allow you to develop a strategy to increase online visibility and help patients find and access the healthcare services they need.
Download the guide and learn how to:
Ensure that your NAP (Name, Address, Phone) is consistent across all reputable online listings.

Optimize your GMB (Google My Business) listing and bring it to life with engaging content.

Develop optimized landing pages for each city and region-specific provider locations.

Create high-quality, locally-focused content for backlink opportunities within the local community.

Facilitate positive patient experiences with optimized and mobile-friendly websites.

In this 19-page comprehensive local SEO guide, you'll find:

5 best practices for creating a healthcare SEO strategy.

2 checklists for on-site and off-site SEO best practices.

5 essential Google My Business optimizations to turn your listing into a free patient acquisition tool.
Your Cheat Sheet for Supercharging Your Local SEO Strategy
A definitive guide for hospitals, specialty clinics, urgent care, and dental practices that need to keep on top and stay on track with their local SEO strategy.