Digital Marketing
For Ophthalmology Practices



30 Million
Americans wear contact lenses.
50%
of people who wear contacts or glasses are 25 to 44 years old.
450 Thousand
U.S. Google searches occur monthly for optometrist.
HELP YOUR NEW PROSPECTS SEE THE LIGHT
Growing your ophthalmology practice means targeting the prospects who are looking for you right now. Our award winning web design and a streamlined online marketing campaign will help targeted prospects find you first and stick with you.
Precise Website Design and Cutting Edge Digital Strategy for Your Opthamology Practice
Your new clients may look for your practice on their mobile phones, on the office laptop during a break, or at home on a Smart TV – you never know. We make sure that your site looks amazing no matter where your prospects find it, and we gear your marketing campaign to each platform as well.
42%
of prospects will check your reputation online before choosing you
Only 32%
of people will choose your practice because you are close by
Our digital marketing solutions build your ophthalmology practice's reputation online. Our medical website design create a meaningful impact that your target market will appreciate, using cutting edge technology without overshadowing the messaging of your practice.
We are proud to announce that our CEO, Alex Membrillo, has released his latest book titled The Anatomy of Medical Marketing.
Offering a step by step approach to increase your patient volume and keep your practice off life support, Membrillo will help you grow your practice with ease.
Igniting your Growth with Cardinal
Leverage Cardinal's medical marketing solutions to grow your ophthalmology patient base
SEO
Over 4.4 Million Google searches occur for a Ophthalmologist each year in the U.S. In addition, Eye Doctor receives over 3.6 Million searches each year.
We multiply your results by focusing on the major search engines. A number one ranking for a targeted keyword can bring more business than any other marketing strategy, and we have the chops to get the job done for you.
Paid Search
Paid search works right beside SEO to ensure that your target market sees your ophthalmology practice every day. Your online campaign will work 24/7 to bring you business, even catching those prospects who wake up in the middle of the night worrying about their eye health.
Social Advertising
Once you are in with a social group, you can take advantage of referral business, high loyalty rates and increased marketing ROI. Social advertising gives you a leg up on your competition by precisely targeting your preferred ophthalmology customer in real time.
Web Design
Our award winning medical web design keeps your prospect on the hook until your entire sales funnel is finished. We make ophthalmology exciting, customizing your website to your practice specifically. We streamline your look, taking advantage of the latest tricks without overshadowing your core message.
Reputation management
At Cardinal, we ensure that your potential ophthalmology clients always see your best foot forward when searching for you online. One bad review can lose you business, so it's important to know what's being said and manage review responses. Our Reputation Management solutions can include managing you ophthalmology practice's web presence on site's like Zocdoc, Healthgrades, and Yelp.
Cardinal specializes in Ophthalmology marketing
We advertise in the right places, and we give you the website to follow up on the traffic. We ensure that your prospects learn your business from stem to stern so they can make an informed decision. Give your ophthalmology practice the freedom to present itself more fully online through Cardinal's services – award winning website design and precise, streamlined online marketing with proven results.
Call Cardinal today to learn more.

Cardinal's competitors constantly try to get us to switch to them. We are not interested in switching.
CARDINAL'S PROPRIETARY MARKETING TECHNOLOGY PATIENT STREAM'S BENEFITS:

Double Your Patient Volume for the Same Spend
Dump the campaigns that don't generate returns. Our AI based marketing platform automatically optimizes towards the campaigns that are driving high value patients.

Modernize Your Medical Practice
Tired of relying on billboards & TV that don't have quantitative ROI numbers? Step into the future of marketing and run medical group patient preference campaigns digitally and see which campaigns bring top of the funnel awareness that ends up converting through bottom of the funnel campaigns down the road.

Executive Level Reporting
Give your CMO the reporting she didn't even know was possible. No longer do you have to report on cost per lead. With Patient Stream, you will now be able to report on Cost Per Patient.

Improve the Patient Experience
Keep patients in your hospital system by showing remarketing campaigns at the right time with the right message with Patient Stream. Your patients will never forget where to go for care.

Increase Patient Volume Across Service Lines
Patient Stream not only helps you see if a patient was driven from a campaign, we can also track a patient who came in through primary care and ended up having an ACL repaired.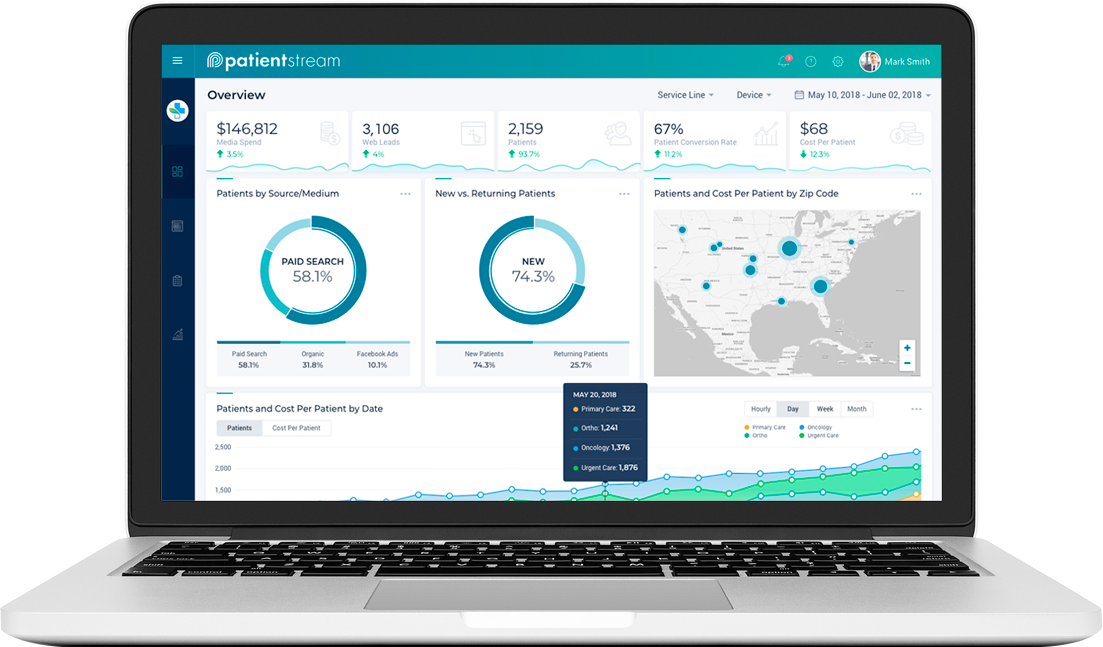 Ready to Rise Up on the Internet?
Fill out the form to get started!