Despite my decade of experience helping market physicians and healthcare practices, I recently put myself in a novel position — that of the patient trying to choose a provider. With several referrals in hand, I went online to see what I could learn both about my own situation and how online reviews affect your chances of winning new patients.
Spoiler alert: They matter a lot.
Potential Patients Searching Online Before Booking Appointment
If you work in the healthcare industry, chances are good that most of your new patients come from referrals. Given that, you – like many others in your field – may assume that you don't need to market yourself online, preferring instead to get your patients by word of mouth.
Well, bad news. While referrals from insurance providers, other physicians and individuals are an excellent source of new patients, they are heavily impacted by online reviews. The statistics are clear — 70 percent of healthcare appointments start with online searches, while 61 percent of patients referenced online patient reviews prior to selecting a provider. In short, people read reviews, even if they have been referred from a trusted source.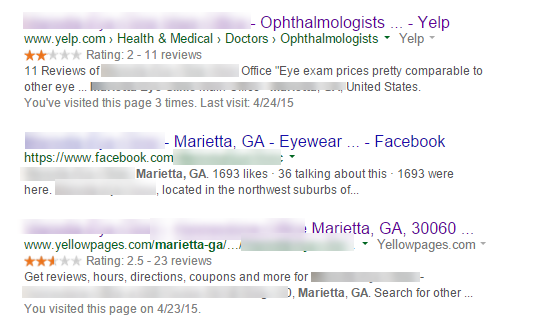 The first practice I researched had many bad reviews from multiple sources…next! 
Reviews: Tiebreakers between Multiple Referrals
It's also important to understand that prospective patients rarely receive just one referral. Usually they get multiples, sometimes as many as 10 – which was the case when I asked my orthopedic surgeon for a good physical therapist in my area. The same occurred when I chose from the 10 eye doctors on a list sent along with my insurance card.
At no point did I feel as though I only had one "choice."
The approach I took when looking for an eye doctor, is a great example of how most patients search. I was able to immediately eliminate five of the 10 choices because they were "big box" companies, and I knew I wanted an independent physician.
But I still had five left, so I then searched for the practices on Google. The first one was bad news — poor reviews based on disinterested doctors and long wait times. The second was pretty good, but I wanted to choose the best, so I kept looking. The next three were good too, and I ended up choosing the one that was both close to me and had a great reputation.
With so many people jumping online before committing to an appointment with you, and with so much competition, it is critical you take your reviews into account. Negative reviews can and will cause people to keep searching for other providers, and choose those whose reviews are better. Online praise, on the other hand, can make you the preferred choice and win you patients.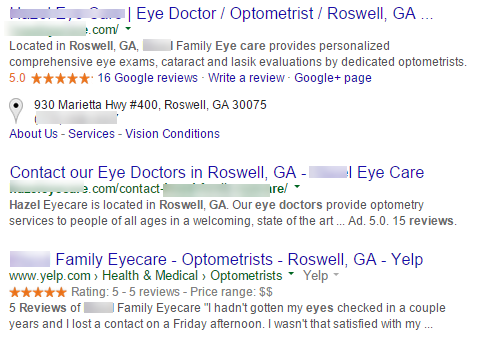 Here you can see the reviews from my new eye doctor.
Google Is Always There
Patients can and will search for you on Google, like I did when trying to decide between my many referrals. Patients read online reports, and will move on if they don't like what they see (lookin' at you, 2-star review). It's therefore crucial to manage your personal image as well as that of the overall practice for which you work. Without attention to these reviews, you can sabotage your success by letting the competition trump you with better reviews – even if they aren't actually better providers.
So ask yourself: Is your healthcare online reputation driving people away? Is it just neutral (which is unlikely)? Or is it actively closing the deal for you and your practice?
Hopefully the answer is the latter, but if not, don't worry. Many in the healthcare industry have yet to address their online profiles, so this is a perfect chance for you to get the jump on the competition and make yourself stand out to patients and prospects alike.
If you're interested in learning how to effortlessly attract business and use the referrals you get to your advantage, fill out the form below for a complimentary online review audit.
Source
https://www.thinkwithgoogle.com/research-studies/the-digital-journey-to-wellness-hospital-selection.html