Even Google makes mistakes, but it is relatively quick to fix them when it does. Restaurant marketers and searchers alike can celebrate because the local listing Knowledge Carousel is dead and replaced with a much more sensible solution.
For a little over a year, if you searched for a hotel, restaurant, or other generalized local listing, Google would top your search results with a stark black bar with a selection of establishments related to your search. This "Knowledge Carousel" was a distracting and disconnected visual element on a results page, and it raised a lot of concerns in the SEO community.

Google has finally decided to replace the Knowledge Carousel with a less awkward—and more visually appealing—"3-Pack." The 3-Pack offers the top three algorithmically ranked listings in a boxed area below the top AdWords results. These three items have associated review rankings, pictures, and even pricing information.
Clicking on one of the 3-Pack listings will take you to a new business profile page, similar to what you may have seen when clicking through on items in the Knowledge Carousel or in the Knowledge Graph.
What Does This Mean for My Business?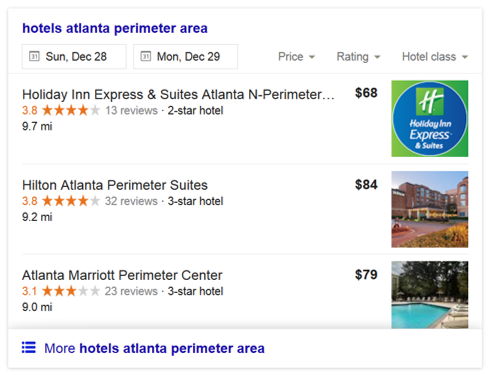 Google made the right decision for everyone with this one. Its Knowledge Carousel took control away from businesses, leading to a lot of unhappiness with the service.
The biggest problem outside of the question of how SEO would affect it was that businesses could not control the thumbnail shown in association with their business.
The thumbnail was key to getting clicks, yet there were instances where the photo was not even related to the business in question. The solution to this was clunky at best, and did not always work.
With the Knowledge Carousel gone, businesses can blissfully return to focusing on improving their overall SEO ranking. By implementing a solid restaurant SEO strategy, you can help your website reach a spot in the coveted 3-Pack, which will help you to see a significant boost in web traffic and a notable return on your SEO investment. Even in fiercely competitive markets, boosting your search ranking will push you higher up the totem pole should users want more options than just the ones offered in the 3-Pack.