Websites that Convert
Driving qualified traffic to a website that has a great user experience is vital to returning the highest level of return on investment for your marketing dollars.

Responsive Design
Whether you look at one of our websites on your phone or desktop, it will perform just as well.

Custom
Your business is unique, so your website should be as well.

Built for ROI
We are a marketing agency at heart, so every website we create is made for one purpose – ROI.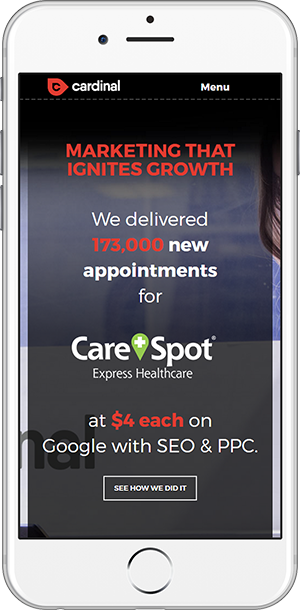 Content Management
You won't have to call us every time you need something minor changed, our CMS makes it easy for you to work autonomously.

Project Management
Our project managers are adept at building simple as well as complicated websites.

SEO & Paid Search Friendly
We were born as an SEO company so you better believe that every site we build is made to drive search engine traffic.
"The new website that Cardinal launched for us immediately increased our visibility on Google."
-Carolyn M. – Atlanta Brain and Spine Care
Ready to Rise Up on the Internet?
Fill out the form to get started!