Every year in the United States, more than eight million seniors receive care from a home health agency, nursing home, hospice, residential community, or adult day service center. There are more than 28,000 assisted living communities throughout the U.S. alone. And according to research from the Urban Institute, the number of Americans aged 65 years and older will double over the next two decades.
Based on these numbers and the aging U.S. population, it's no far cry to predict that the demand and market for senior care solutions is poised to mushroom. Across all of the healthcare verticals that we work with at Cardinal Digital Marketing, that demand is creating tremendous competition online.
Where to Focus Your Digital Marketing Resources
We've written elsewhere about the consumerization of healthcare, but let me share a few examples that illustrate the point. Let's say I'm a forty-something whose father just suffered a stroke. Dad is somewhat incapacitated and will need in-home care for the foreseeable future. All of a sudden, I have a rather urgent need for in-home care. Our family physician has recommended a few services, but I'd like to see what my options are.
Or, let's say mom has been diagnosed with moderate dementia. We'll need to find her an adult day service center so that we can continue working and caring for our families. And that day center needs to be close to mom's home.
They're not easy situations, but they happen. For the many people facing these challenges, the first step is to go online to search for solutions. As a result, senior care groups of any ilk need to have a robust digital presence to reach these audiences. Outdated websites and makeshift digital marketing strategies will not work anymore.
To get with the times and get your own digital marketing strategy up to speed, I recommend focusing on the following areas:
1. Build Your Foundation on Local SEO
The hypothetical scenarios I shared above illustrate just how local senior care decisions tend to be. For practical and personal reasons, most people want to be close to their families, even if the term of care is relatively brief. This is precisely why the first step in our guide to senior care marketing is to build your local SEO foundation.
Connecting with these local audiences means finding ways to show up in location-specific search experiences. For example, if you're a hospice provider in the Atlanta area, you'll want to be highly visible when people Google things like "hospice care Atlanta."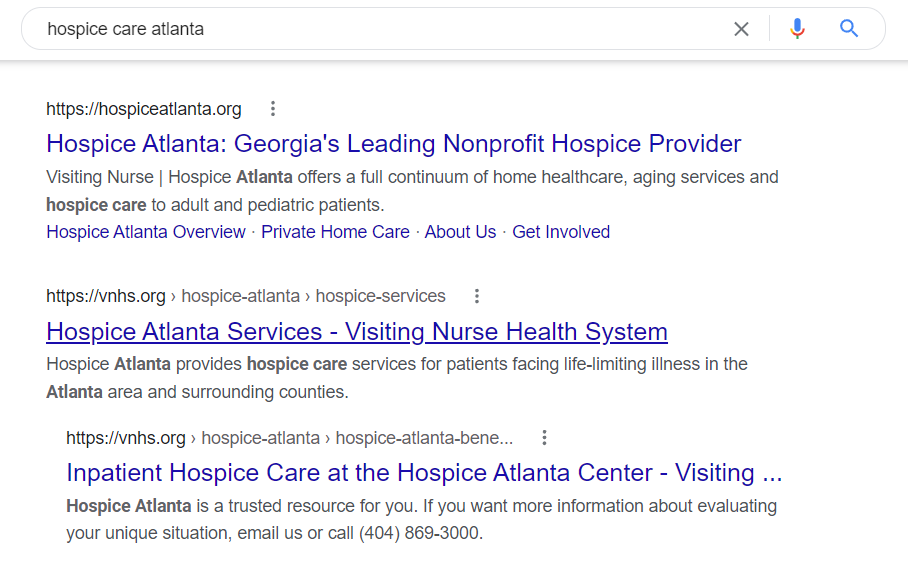 Three simple strategies can help you perform better in local search:
Set Up Google My Business & Other Listings
It's difficult to overestimate the number of senior care providers I come across with poor or non-existent Google My Business listings. Big mistake, as more than a billion people use Google Maps every month.
Start by verifying a Google My Business listing for each of your locations. These listings can factor significantly in local search experiences, so the more complete and optimized your listings are, the more likely they'll show up when people are searching for senior care in a specific geographic area.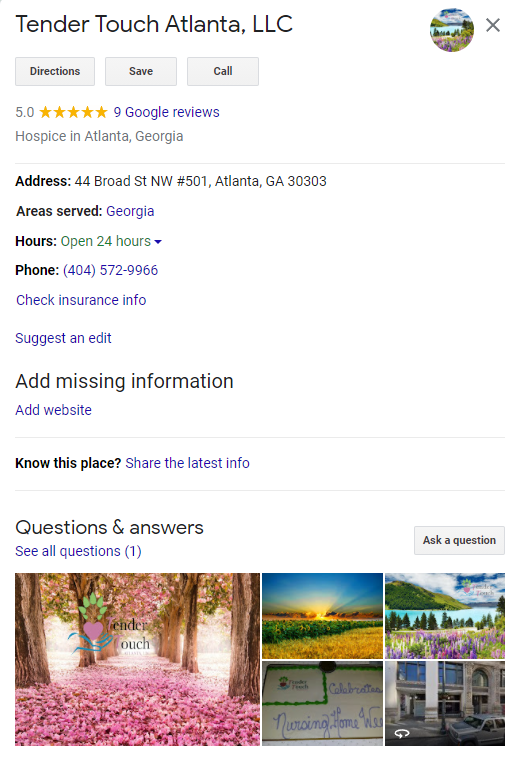 To that end, what do people want to know about your senior care business?
Hours of operation, address, and contact information
Links to websites and appointment scheduling
Reviews and ratings
FAQs about your services, pricing, insurance, and so on
Photos of facilities and staff
Updates about COVID-19 protocols
Build a Localized Keyword Strategy
Keywords are the language that people use to look online for senior care. They're what search engines use to connect seniors and their families with what they need online. Take the time to define the specific list of keywords you want to rank for. Typically, a localized keyword list is based on your unique selling proposition (USP), how your target audience searches online, and the location or region you serve.
Local SEO keywords typically are:
High-intent, solution-aware: a person who already knows the outcome they want
Location-based: these are longer tail keyword phrases that include location identifiers
When getting started with SEO, it may seem daunting to try and rank for "independent living community boston." Instead, hone in on your USP and try to rank for the long-tail keywords that have less competition. Your target keyword then becomes "independent living community for active athletic seniors in boston." These long-tail keywords will appeal to your ideal customers and will be easier to rank for.
Create Localized Web Pages
Create a unique website page for each location within your senior care group. This location page will help each location rank for location-based searches—your Brooklyn location for people in New York, for example, or your La Mesa facility for people in San Diego.
When building these dedicated location pages, give each location page a distinct URL that includes location information and more than 500 words of content. Use location-specific keyword combinations, too. Finally, tie these location pages to their corresponding listings on Google My Business and elsewhere.
Read our guide to learn how to create perfect healthcare location pages.
2. Create Digital Experiences That Make it Easy for Patients to Choose You
This aspect of digital marketing is all about removing friction. If you were to map out the entire start-to-finish-journey for your ideal customer profile, you'd likely identify several inflection points. In the world of senior care, these often include appointment scheduling, FAQs about insurance and cost, or program enrollment (to name a few).
Across these inflection points lie opportunities for your teams to reduce friction by making things easier. While those opportunities are numerous, you can capitalize on many of them by getting a few things right about your digital experience:
Optimize for Mobile, Speed, & UX
Your website is the digital face of your senior care organization. It needs to be fast, well structured, and easy to use. This includes paying close attention to site structure and navigation, cross-device functionality, and adherence to SEO best practices. Accessibility is important, too, especially given your target demographic. For a quick idea of where your site is at, try Google's PageSpeed Insights test.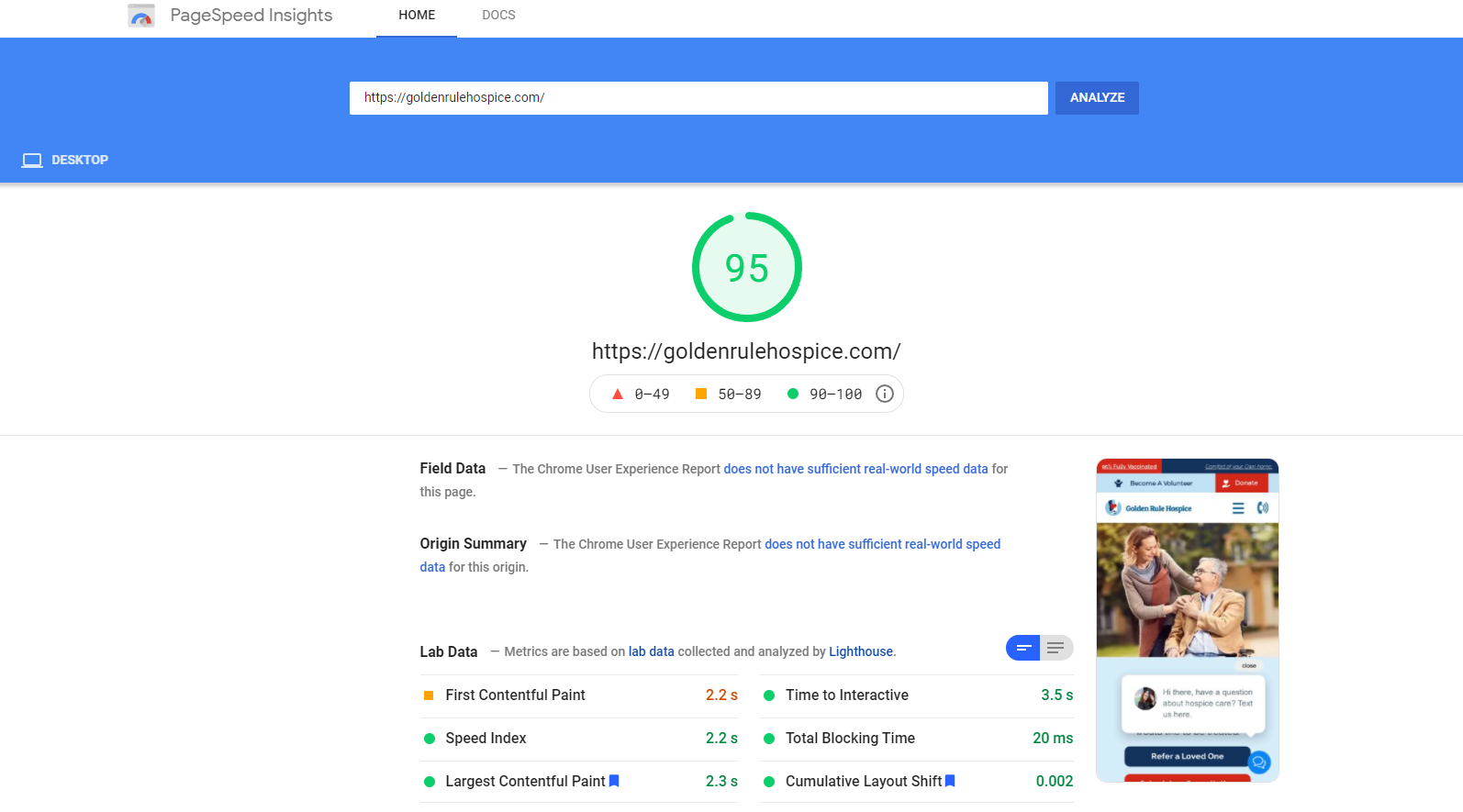 Healthcare consumers demand fast load speeds when searching for a senior care provider or they will quickly bounce. Aim for an 85 or above.
Bring Answers and Information to Your Audience
When searching for senior care, people want answers. Don't make them hunt for them. Create a website experience that makes it easy to get information. Position your brand as a trusted, empathetic advisor that can be a resource to them. That means you have a logical navigation structure, and it doesn't take people more than three clicks to get information.
Consider using different types of content to educate. Augment your written content with explainer videos. Include FAQs on pages to make it easy to find information (and help with your SEO). Make sure it's easy to find information about insurance, pricing, and available services.
Lastly, provide opportunities for them to speak to someone. Be it a prominently displayed phone number or button that goes to an information request form. Some senior care organizations connect their content and knowledge bases to a chatbot that can answer queries 24/7.
3. Showcase Your Reviews and Social Proof
As a general rule, the higher the volume and frequency of positive reviews your business receives, the better it will rank in various search experiences. One of the reasons behind this is that so many consumers read reviews before deciding on a senior care provider.

Instead of relying on family and friends for referrals, people are looking for digital reviews and ratings, testimonials, and other signals that they can trust you. Social proof comes in many forms, including:
Ratings and reviews
Testimonials
Interviews, podcasts, and Q&A
Print media and radio placements
Community involvement
Social media presence
For some ideas on how to make use of reviews and social proof in your digital marketing efforts, read our article
How to Get More from Your Online Reviews
.
4. Align Your Senior Care Advertising Strategy with Your Marketing Maturity
Some people go online with a problem but no idea how to solve it. Or they know they have a problem but are avoiding it and scrolling social media instead. Others are farther along the path to selecting a senior care provider but need to see the pragmatics (cost, insurance, program details, etc.). The key to a successful advertising strategy is understanding your marketing maturity and advertising goals and aligning that with user intent.
First, Capture the Hand-raisers
If you need to build your lead pipeline and you're new to digital advertising, I recommend starting where the intent is high. That means pay-per-click (PPC) Google Ads that target keywords at the bottom of the funnel. Google Ads can be an effective way to quickly capture market share while ramping up your SEO program. At the bottom of the funnel, people are going to search engines and looking for options ASAP.
They often have a recommendation from a doctor, so they know they need hospice care or skilled nursing. When they go online, they're looking for specific services that are local, such as "memory care in atlanta" or "home hospice care in brooklyn."

Even if the buyer's journey is a little longer, it still pays to target the bottom of the funnel to capture the hand-raisers. The people who are searching for "fun independent living community in Northampton" are ready to join a community and looking for local options. If you're not ranking for those keywords organically, PPC can get you to the top of Google.
Then, Build Brand Awareness, Nurture, and Encourage Conversions
After you build a strong SEO foundation and high-converting PPC ads, you can work on brand awareness and expand your advertising strategy to span the entire funnel.
A full-funnel digital advertising strategy can help engage people and then nurture those more likely to convert. It's about showing the right message at the right time to the right people.
At the top of the funnel, people don't quite know what they need yet, and they're not ready to act. For example, they may have a parent who is starting to show signs of dementia. So, they start searching "when is it time for a nursing home?" or "how do I keep my aging parent engaged at home?" Or they scroll social media, subconsciously thinking about their parent's health.
A well-placed video ad discussing the signs of cognitive decline might be able to stop the scroll. Or remarketing ads can be pushed to custom Facebook audiences, encouraging someone who downloaded a brochure on memory care services to schedule a tour.
A full-funnel advertising strategy keeps people engaged and aims to move them towards conversion. To get a more in-depth idea of what a full-funnel ad strategy looks like, see our guide to full-funnel Facebook ads.
5. Be Known for Prompt and Empathetic Communications
We mentioned how helpful a chatbot could be. Automated appointment scheduling, email responses, and other communication channels help, too. Some senior care brands run some of their customer services and support through social media.
Whichever tools, technology, and means you choose to communicate with people, keep one thing in mind: the choice to seek senior care is rarely without a little bit of stress and tension. For some families, the choice to seek out senior care is incredibly challenging.
In my experience, the senior care brands that successfully differentiate themselves with empathetic, transparent, and informative communications are the ones that succeed. In fact, they've built a company culture that insists on it.
CASE STUDY

How King'sBridge Increased PPC Conversions 1075% YoY

It's a familiar story: a small but mighty marketing team at a senior living company needs to revive its digital advertising in a big way. When the King'sBridge team engaged with Cardinal, they wanted to build a PPC program that delivers high-quality leads without ballooning their cost per acquisition.
Can You Meet the Need in Your Community?
That question sounds like a challenge for a reason. I know for a fact that there are too many senior care providers out there who do really great work but fly under the radar due to immature digital marketing strategies. It's not that people aren't looking for help in those communities—they are. Only, they're finding what they need elsewhere.
The good news is that you can change things and change them in a hurry. All that's needed is some close attention to the best practices I've outlined above. Establishing a well-rounded local SEO strategy or user-friendly digital experience isn't trigonometry. Digital reputation management and full-funnel paid advertising are not rocket science.
But these strategies can be a launchpad, even in the highly competitive senior care market.