According to the CDC, 50 million suffer chronic pain; that's 1 in 5 U.S. adults. With the aging population and pain being one of the most common reasons adults seek medical care, the pain management treatment market is experiencing significant growth. In fact, market research suggests that pain management will grow to a $120 billion industry by 2028.
With market growth and high demand, competitors are pouring out into the pain management field, and they got their sights on your prospective patients. In addition, the awareness of the opioid crisis in relation to prescribed opioids has made patients apprehensive and more discerning of pain management specialists.
More than ever, providers need a fully-realized digital marketing strategy for pain management that involves high-level strategies like SEO, Google Ads, Facebook Ads, conversion rate optimization (CRO), web design, and reputation management.
Below are the proven strategies that will help attract more patients and grow your pain management practice:
Enhance Digital Footprint with Local SEO
For many healthcare practices, the local market is the arena. This is truer than ever when the volume of "near me" healthcare-related searches has doubled over the years. Although private equity consolidations are trending upward, pain management is predominantly a local healthcare service. As such, specialists rely on attracting patients within the communities they serve. By the same token, chronic pain patients prefer a nearby clinic instead of traveling to another city for miles.
Outlined below are strategies that will help boost your local presence:
Claim Local Citations & Listings
One of the simplest ways to improve your local SEO is to claim and optimize local citations and listings. Optimize your listings by providing accurate and complete information, including your NAP (name, address, and phone number). Structured directories like Yelp, Yellow Pages, Vitals, RateMDs, Healthgrades, and ZocDoc will help search engines to validate your business and ensure the accuracy of information regarding your practice.
Optimize Google Business Profile
Your Google Business Profile or GBP (formerly Google My Business) listing is another vital tool for local SEO. Billions of people use Google Maps monthly when searching for a local business address. Meanwhile, businesses with Google profiles are 70% more likely to attract in-store visits than those without.
The statistics above highlight the importance of claiming and populating your GBP listing. If you haven't already, claim your GBP listing since it's absolutely free. Update your profile by providing timely and accurate information about your practice, including:
Practice name

Address

Website URL

Contact information (phone number, email)

Operational hours

Clinic and staff photos

A blurb about your clinic
However, don't just stop at claiming your profile; make sure to optimize the content as well. This means adding photos, videos, and frequently asked questions (FAQs). The Google Q&A feature is vital since you can add questions about common inquiries and provide correct and complete answers.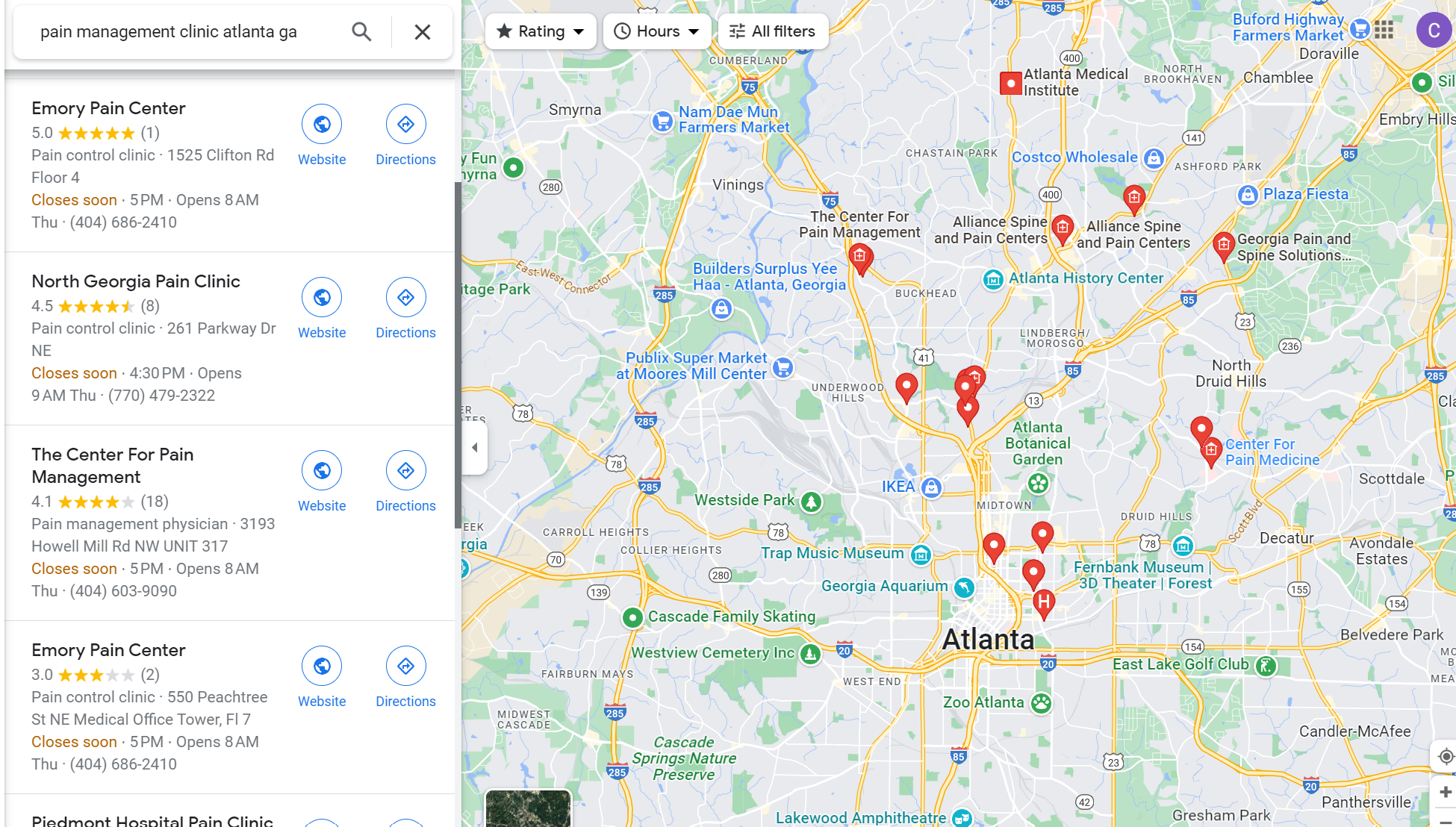 Make a Local Keyword Strategy
Take time to determine which local keywords you want to target. While considering which local keywords to use, assess your unique selling proposition or USPs, how patients search for your services, and the community/area you serve. Local SEO keywords are typically:
High-intent, solution-aware:

For targeting a person who has decided to see a pain management specialist.

Location-based

: These long-tail keywords have location identifiers like "pain clinic portland," for example.
Don't use broad and sitewide keywords. Instead, be specific and granular with your local SEO keywords to improve your chances of ranking higher due to less competition.
Build Personalized Location Pages
Personalized location pages are designed to help your pain management practice be more visible in specific regions and local areas. These landing pages are optimized for location-specific keywords like a city or region where your clinic operates. If you have a multi-location practice, you must build a geo-personalized landing page for each location.
The best benefit of location-optimized landing pages is that they offer personalized experiences to your patients. Offer custom content for each landing page, like a map of your clinic, video tours, and FAQs that answer your patient's most common questions.
Build a Patient-Centric Pain Management Website
With any optimization campaign, your website is the most crucial place to start. It's your practice's digital front door and is the first touchpoint for many of your patients, and you know what they say about first impressions and all. A website optimized for user experience will not only promote your services and treatments, but it will also convey what makes you different from the competition. Below are some surefire tips to make your website more patient-centric:
Optimize for Speed, UX, and Mobile
You can't hope to provide a user-centric experience with a slow, poorly-designed website. Thus, your pain management website must be fast, easy to navigate, and works perfectly on all devices and screens. For starters, include easy-to-read fonts, seamless navigation, professional images, and prominent CTAs to help guide people along your funnel.
When more than half of global website traffic comes from mobile devices, your website must have a responsive design. It's a modern web design technique that displays your healthcare website correctly on laptops, computers, smartphones, tablets, etc. Without responsive design, you're hurting your site's ability to provide a good user experience.
Prioritize High-Quality and Discoverable Content
Google's Helpful Content Update has forever changed the content marketing landscape by rewarding websites that provide user-centric content over articles written for search engines. In this regard, your content strategy should revolve around publishing high-quality content that provides value to visitors.
As such, your top-notch content should be technically discoverable. For example, your key content should be correctly loaded on your website. Launch your content management system (CMS) and set your content for discoverability. Refrain from burying your top content behind poorly-designed menus, tons of links, and slow-loading pages
Make It Easy for Visitors to Reach Out
Once you've succeeded in engaging your visitor, don't prevent them from reaching out to your clinic by having unnecessary friction between your conversion steps. With that said, use AI chatbots, live chat software, and click-to-call phone numbers to streamline the process of reaching out.
In addition, consider investing in patient scheduling systems to streamline the appointment process. These scheduling platforms can drastically reduce phone calls and give you more control with virtual scheduling assistants. Not only are you making it easy for patients to convert, but you're also decreasing the workload burden on your staff.
Target High-Quality Leads With Google Ads
The world of digital marketing has drastically changed over the years, and Google Ads is one of the main drivers of this transformation. As such, Google Ads or PPC marketing remains one of the most effective forms of paid advertising and lets you put your practice in front of high-quality leads or people who want exactly what you have to offer.
However, Google Ads will only work for you when properly implemented. Below are some quick tips to help optimize your PPC campaign.
Choose the Proper Account Structure
In this day and age of PPC automation, the appropriate account structure is critical to a successful paid search campaign. How you structure your account will enable you to control many aspects of your ads, including when they'll be triggered or where and when you want them to appear. While there's no such thing as the perfect account structure, we always recommend hybrid accounts for multi-location healthcare businesses.
Hybrid lets your practice benefit from the best qualities of segmented and consolidated accounts. On the one hand, segmented structures give better budget control and targeting precision, while consolidated accounts maximize ad impressions and leverage Google's automatic bidding features.
Align PPC Ads with Search Intent
Another noteworthy quality of a successful Google Ads strategy is the alignment of ad groups with keyword/search intent along the patient funnel. For this reason, you must have a diverse keyword strategy that enables you to cover each funnel stage. Thus, research your keywords and align your ads to cover the following funnel:
Upper funnel "problem aware" leads:

These patients are dealing with chronic pain and researching solutions. At this point, target lower-intent keywords like "sudden severe lower back pain female."

Mid-funnel "solution-aware" leads:

These patients have found solutions to their chronic pain but are unsure which treatments or medications to get. For this stage, use educational keywords, such as "when chronic pain becomes too much" or "why is my doctor sending me to pain management."

Lower funnel "product aware" leads:

These people have been mandated by their doctor to see a pain management specialist. For this stage, your ads should target high-intent, product-aware keywords with location identifiers. Manage Your Digital Reputation
Did you know 81% of patients rely on online reviews before choosing a healthcare provider? Your digital reputation helps prospective patients understand the level of care your clinic provides and determine if a doctor fits their needs. For many prospective patients, the decision-making process involved in selecting providers can depend on other patients' feedback.
With consistent and overall positive feedback, you'll attract more patients and physician referrals.
Best Practices for Digital Reputation Management
In reality, many patients won't bother to leave reviews for your practice. This is why the best way to get more reviews is to ask your patients outright to leave online reviews. Fortunately, satisfied patients and regulars will be more than happy to leave their feedback.
Train your front-facing staff about the best practices of collecting reviews and develop a plan on how to respond to positive and negative feedback. Be consistent and provide thoughtful and polite answers because they can go a long way toward building a healthy digital reputation.
Also, make sure you offer multiple ways to leave reviews. For instance, you can ask your patients to leave reviews on your website, social media accounts, Yelp and GBP listings, Healthgrades, and more. However, it's also best to implement simple review generation methods like short patient surveys and follow-up emails.
If you have the budget, invest in review solicitation programs such as Podium, Birdeye, and Weave. These reputation management systems will seamlessly integrate with your CRM systems (e.g., SMS, email) and can automate your review collection process.
Gain Clarity with Data-Driven Marketing
Just getting your digital marketing campaign off the ground is the easy part. The bulk of the work in digital marketing comes from experimenting and fine-tuning your strategies for optimal results. This is why you should implement marketing analytics to monitor performance and KPIs, gain clarity and make better decisions. With data-driven marketing, you can connect the dots and determine which marketing pieces produce returns.
For many of our healthcare clients, we use closed-loop reporting, or CLR, as it's the gold standard for gaining insights backed by reliable data. This reporting method lets us pinpoint how each marketing strategy affects the patient journey.
In this case, you can start by integrating all your systems, including EHRs (Search Console, Google Analytics, CRM system, etc.) and CRMs. Moreover, establish a single source of truth for your marketing team with a centralized analytics dashboard. For good measure, eliminate all unnecessary organizational silos and focus on improving communication across the board.
Conclusion
Pain management clinics will continue to fight uphill battles, considering the market growth and worsening competition. The digital marketing strategies I outlined above should help reinforce your campaign to increase patient acquisition and accelerate practice growth. One key thing to remember is to revolve your marketing campaign around patient centricity–always put patients first, and you'll stay ahead of the competition.