During the COVID-19 pandemic, the bariatric market was one of the most impacted sectors in healthcare. According to the American Society for Metabolic & Bariatric Surgery (ASMBS), bariatric surgeries are considered non-emergent procedures, so many operations were put on hold. But with the pandemic ending, bariatric patients are now willing to resume their operations, especially when the oncological queue has become shorter. In combination with the rising prevalence of morbid obesity and Type 2 Diabetes as serious public health concerns, it's safe to say that demand for bariatric services will be high.
In addition, analysts predict that the bariatric surgery market will grow at a CAGR of 5.7% between 2022-2027. Thus, the market is expected to expand, which means more competition. Having said that, providers who want to stay competitive, grow their practice, and reach more patients to help them with their weight-loss procedures will need robust digital marketing for bariatric surgeons.
Why Invest in Bariatric Surgery Digital Marketing?
Digital marketing has become an invaluable tool for advertising healthcare brands. According to the 2021 Business Intelligence Report by ZenithMedia, healthcare groups have spent more of their resources in digital marketing than traditional channels like television–garnering 46% of the total ad spend. In the same report, digital marketing ad spend is expected to grow to 49% in 2023. Moreover, 82% of U.S.-based patients use search engines when looking for healthcare providers.
On a related note, 41.9% of adult Americans are clinically obese. Considering that one of the primary driving forces of weight-loss surgeries is obesity, it's fair to expect that demand for bariatric procedures will remain high.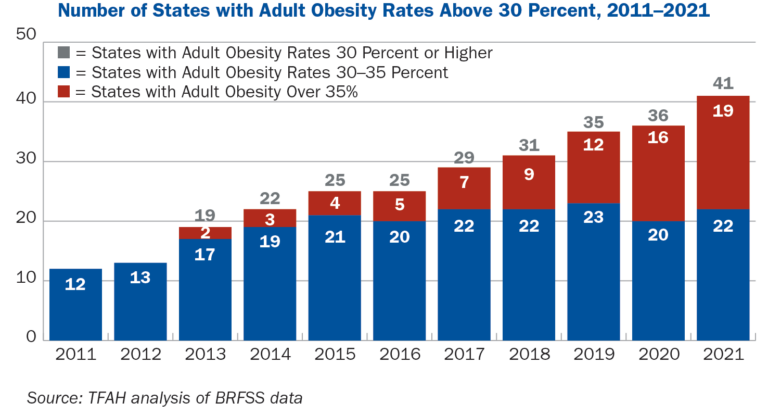 What does this mean for bariatric surgeons?
It means bariatric service providers will need to keep pace with the adoption of digital solutions for marketing to stay competitive. Otherwise, your potential high-value patients will happily go to a competing practice. Your bariatric practice needs to have a robust digital presence and become an authority in weight-loss procedures in your area of operation. This is why you need a multi-pronged digital marketing strategy consisting of various key marketing activities like SEO, PPC advertising, web design, conversion rate optimization, reputation management, and analytics.
Optimize for Local SEO
The majority of healthcare providers, including bariatric practices, rely on attracting patients from the local area. At the same time, patients prioritize convenience and proximity when choosing a healthcare provider. It makes sense because people don't want to travel longer and farther just for an appointment. To attract high-value bariatric patients in your area, you need to invest in local SEO.
Local SEO Best Practices
Below are several strategies that will help improve your practice's local visibility:
Optimize Google Business Profile (GBP)
The first order of the day is to claim your Google Business Profile or GBP (formerly Google My Business) if you haven't already. It's free and easy to claim, and you only need to provide the following information:
Practice name

Address

Contact information (phone number, email)

Hours of operation

Practice photos

A brief description of your practice
By claiming your GBP and supplying essential information about your practice, you're making it easy for searchers to convert. Also, when a billion people use Google Maps every month, and 64% of users learn about local businesses using their GBP profiles, it's hard to ignore the importance of claiming and optimizing your profile.
Another benefit to optimizing your GBP is that it enables you to showcase your online reputation. One of the most prominent elements of a GBP is the reviews, where potential patients can read about other people's experiences with your bariatric center. Meanwhile, searchers will likely bounce if you cannot claim your profile since they can't find critical information about your practice.
Use Geo-Personalized Web Pages
If you have a multi-location bariatric practice and affiliates, you should create a unique website and personalized landing pages for each location. These geo-personalized pages offer customized user experiences and increase your chances of ranking for location-based searches. Use location-specific keywords to further optimize these web pages for optimal results.
As mentioned, geo-personalized web pages provide people with more personalized healthcare experiences. They want to be treated like individuals with unique medical needs and circumstances. Personalization in healthcare marketing gives consumers more satisfaction, and they are more likely to convert.
Build a Local Keyword Strategy
Obviously, you'll want to target keywords based on your area of operation. In general, you'll want to create a keyword list based on your unique selling proposition or USP (i.e., specialties or unique service lines), target geographical location, and how patients search for your services. There are two main types of local SEO keywords:
High-intent, solution-aware:

the person knows about his weight-loss problems and is looking for a specialist to help.

Location-based

: these are long-tail keywords with geographical identifiers, such as "bariatric surgery nyc Medicaid" or "best bariatric surgeon in Tampa."
Be more specific when developing your local SEO keyword list by honing in on your USPs and optimizing for less-competitive keywords.
Use Google Ads for Bariatric Surgery
Google Ads or PPC marketing enables bariatric surgery providers to capture patients at the decision-making cusp (i.e., patients who are already looking for a specialist). For example, if a person uses a high-intent keyword like "gastric sleeve surgery near me," they know the problem and are now seeking a solution. With an optimized PPC campaign, your practice will appear at the top of Google Search results and right in front of someone looking for a weight-loss surgeon.
PPC Marketing Best Practices
Automation that forever changed the PPC landscape in recent years. Although automation has made our lives simpler, you can't help but feel a loss of control. Healthcare marketers should revisit their account structures to ensure they get the most out of Google Ads automation while maintaining a certain level of autonomy.
With that said, your PPC agency should structure your accounts based on the spectrum of most segmented or consolidated. While there's no such thing as a perfect account structure, multiple-location bariatric practices and affiliates can benefit from a hybrid account. With a hybrid account, you're essentially getting the best of both worlds–maximized impressions from consolidated ads, while segmented accounts provide granular targeting and tighter budget control.
After determining the proper account structure for your PPC campaign, the next step is to optimize the account to leverage Google's smart bidding algorithm. This highlights the importance of choosing a suitable account structure to empower Google's smart bidding algorithm to do its thing. We encourage you to experiment with bidding strategies for the best results.
Another hallmark quality of a robust PPC campaign is the alignment of ads with search intent along the buyer's funnel. In other words, your keyword strategy must be diverse enough to cover the entire funnel, including:
Lower funnel "product aware" leads:

These people know what they want and are ready to book an appointment with a bariatric surgeon. Your bidding strategy should focus on high-intent, product-aware keywords at this stage.

Mid-funnel "solution aware" leads:

These people seek solutions but are not sure which treatment to get. Target keywords that will educate them about bariatric surgery procedures such as Sleeve Gastrectomy, Roux-en-Y Gastric Bypass (RYGB), and Adjustable Gastric Band (AGB).

Upper funnel "problem aware" leads: These people are aware of the problem and are in the research phase to find solutions. At this stage, optimize for lower-intent keywords like "how to know if i'm overweight for my age."
Develop a User-Centric Website
A critical component of your bariatric digital marketing campaign is a well-designed and user-centered website. A user-centric website is designed and built with your target audience's preferences and needs. User-centricity is now mandatory due to Google's recent updates that it will only reward websites that provide the best user experiences. Patients will also appreciate it if your website offers an intuitive, curated user experience.
How does one develop a user-centric website? Here are some ideas:
Build a Fast, Intuitive, and Responsive Website
Your website must be fast-loading and easy to navigate to ensure a first-rate digital experience. This is paramount because 46% of internet users don't revisit a website after a poor experience. Audit your website and make a note of your page load speeds, how easy it is to navigate, and if it has a strong SEO foundation.

When 59% of global website traffic comes from mobile devices, it's crucial to have a mobile-friendly website. Besides speed and navigation, you should also ensure your website features a responsive design. This means your website will adapt or respond accordingly based on the screen it's being viewed on.
Make Key Content Easily Discoverable
Visitors to your website will look for information about bariatric procedures and other weight-loss solutions–they're looking for answers and want them fast. Therefore, it's critical to establish your brand as an authority in all things bariatric.
However, website visitors should be able to find your key content easily. Aside from site usability issues and design flaws, visitors will jump ship if they can't find the answers they're looking for quickly. So don't hide your best content behind multiple web pages, links, and poorly-designed menus.
In addition, Google's Helpful Content Update should compel marketers to give their content strategy a well-deserved evaluation. In other words, your content library should provide real value to users, so they can leave with the answers they need.
Leverage Your Brand Reputation
Do you know 90% of patients use reviews when evaluating a physician? Many healthcare businesses live or die with their online reputation because it's usually the first touchpoint of patients. If your practice has mostly negative reviews or none at all, there's a good chance they won't call your office. Even if you have many positive reviews, you must highlight them and make them a part of your marketing campaign.
Digital Reputation Management Best Practices
To get more reviews, the simplest way is to ask patients for reviews after their appointments. However, ensure they can complete their reviews quickly and easily via follow-up emails or short experience surveys. Additionally, personalize your request for reviews because customers always appreciate a personalized touch. Some other ways to collect reviews include:
Your website

Google Business Profile (GBP)

Social media accounts

SMS
Alternatively, you could use review solicitation programs like Birdeye, Podium, and Weave. These review systems can seamlessly integrate with your CRMs, email, and SMS, essentially automating the review collection process. Lastly, highlight positive patient reviews on your website (About Us, Contact, or dedicated Reviews page), landing pages, and social media accounts.
Implement Analytics & ROI Measurement
For scaling multi-location bariatric services, data-driven digital marketing is the only tried and true solution. By staying on top of their campaigns, healthcare groups will know how their campaign performs in the real world. Otherwise, you can't measure your ROI, and optimization becomes impossible.
Closed-Loop Marketing
Bariatric surgery marketers can benefit from implementing closed-loop reporting (CLR) because it ties patient data and revenue to marketing activities. This way, your marketing team can determine which of your marketing strategies contribute to which stage of patient acquisition.
However, the implementation of CLR is not without its challenges, including:
Manual monitoring may be necessary for accurate acquisition

Over-generalized traffic attribution

HIPAA laws dictate which data you can use

Cookieless browsers and new privacy restrictions limit patient data access
Bariatric surgery providers can overcome these challenges with extensive data analytics and ROI measurement strategy.
Conclusion
Too many bariatric surgery providers are doing great with their practice but need to catch up due to underdeveloped digital marketing strategies. It's not like people in your community don't search for bariatric procedures; it's just that they're finding their needs from the competition. Fortunately, it's not too late to reinvigorate your digital marketing campaign by following the best practices I outlined above.