Have you ever heard the saying, "Health is wealth"? Well, as people strive to live longer and have better, happier lives, that saying especially applies today. Health is one of the most important things we have, which means that people are willing to invest in the best healthcare they can find to be able to perform daily activities without any problems.
Take a look at this percentage of consumers who use search engines before scheduling an appointment with dentists, chiropractors, nurses, physical therapists, and other healthcare specialists: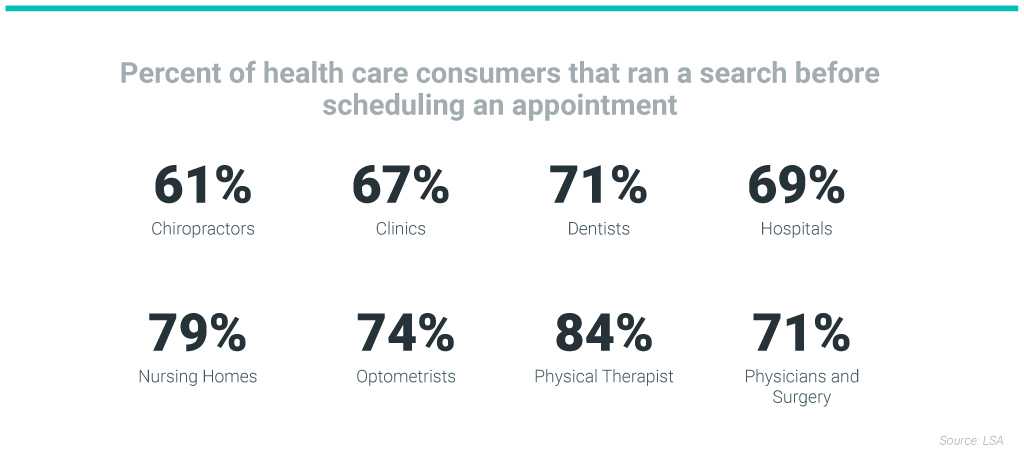 A quick search on Google shows us specialized healthcare websites that use search engine optimization (SEO) strategies to gain the trust of potential customers and to turn them into loyal patients.
Although it doesn't seem obvious, applying SEO strategies to a healthcare business is necessary. A healthcare provider could be the best in the city but if no one knows about it, then there's no way they can attract new patients.
In this article, we'll share simple SEO tips that can help you attract new patients to your practice.
Why is it Important to Optimize Your Web Pages for Search?
First, it helps to understand the role that search engines play in the healthcare industry.
As in any industry, healthcare providers have competitors, which are other nearby medical organizations that offer services like yours. Therefore, your main goal is probably to attract more patients than your competitors. You want these potential clients to know what your specialties are and to come to you first when a medical issue occurs.
Creating and optimizing high-converting web pages that contain actionable content is a good way to achieve this goal.
Most adults now own smartphones. At any moment or from any location, they're able to search the internet to find what they're looking for–including a doctor. That's why your website must have certain characteristics to engage web visitors, including information about the services that you offer and how you stand out from your competitors.
SEO is the best way to lead potential patients to your business. SEO works to improve your website's visibility in search engines so that potential patients can see your website first, before your competitors. Using the best medical SEO tactics, you can make your healthcare organization stand out in major search engines such as Google, Bing, Yahoo, Safari, and others.
Here are some of the tactics you can implement today:
1.   Use the Correct Keywords
It's difficult to recognize the line that divides general SEO with medical SEO, but it all lies in the keywords.
Many people believe that plugging keywords on a web page is quite easy, but if you do it incorrectly, you can hurt your medical practice rather than help it.
Therefore, it's important to use appropriate keywords. But don't beat yourself up if you're not getting immediate results; this is an ongoing trial and error process to get it right.
Learn to use tools like Google Keyword Planner to identify which keywords are best to use on your page. This tool allows you to see which keywords are the most popular, which are the most used by your competitors, which ones attract more patients, and provides other insights.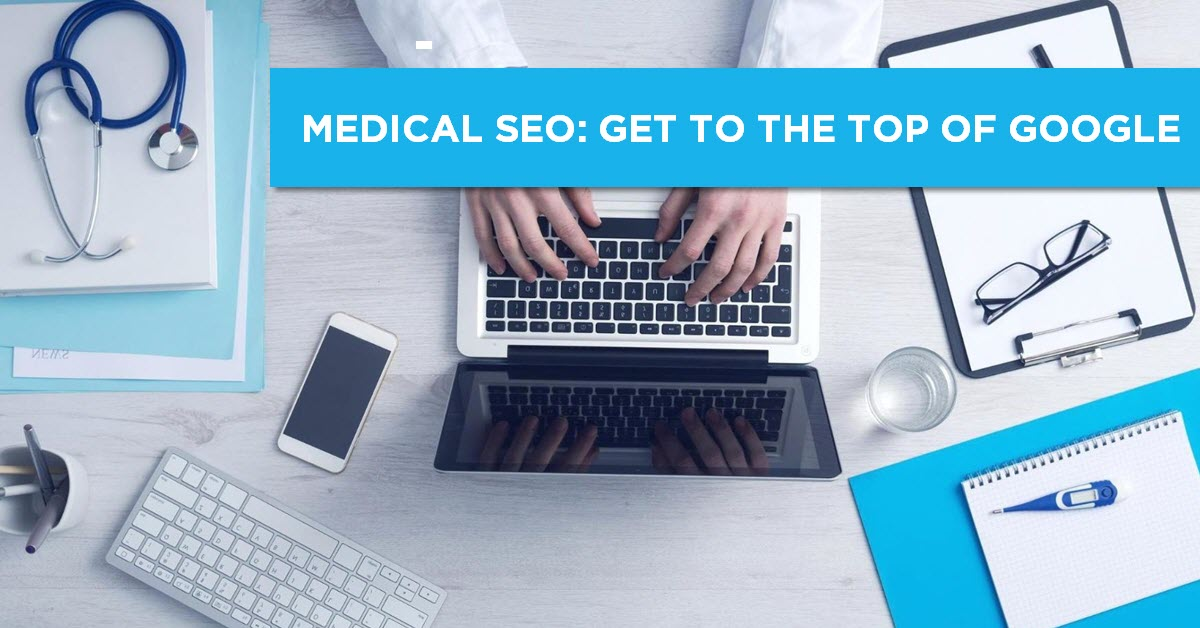 Make a list of keywords that you think may work for your website and compare them with the keywords that have a better impact on your web pages as well as your competitors.
Also, try to include the keywords organically in your articles. By this, we mean that it should not seem forced into the text. You must use them naturally.
Even if you have the most appropriate keywords for your website, if you do not follow this approach when creating content then search engines like Google will not give you a good ranking.
2.   Define Your Title Tags and Meta Descriptions
Don't just use SEO for your content pages, you should use the right keywords naturally in your title tags and meta descriptions too.
In case you're new to search engine optimization (SEO), here's a good example of title tags just pulled from Google organic results: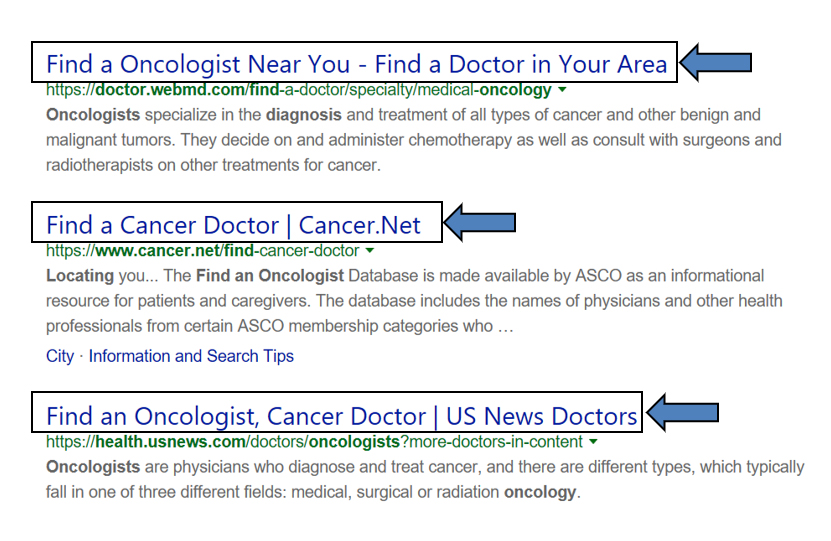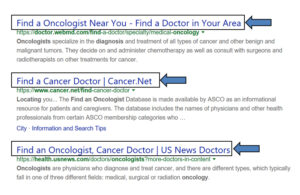 Here's how meta descriptions appear in the search engine results: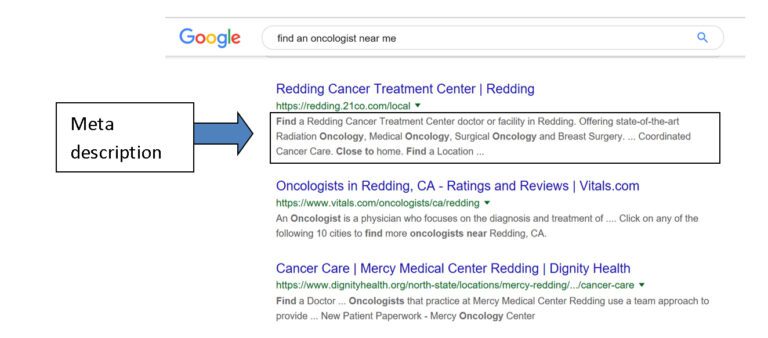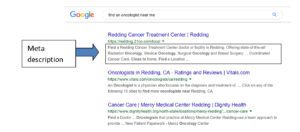 Your website's title tag and meta description that is displayed in the organic search results are fundamental factors that cause people to either click to your page or bypass it. You want to create title tags and meta descriptions that will persuade people to click.
The title tag shouldn't contain more than 65 characters and it should include keywords relevant to your business. Meta descriptions should not exceed 150 characters and should accurately describe the content of your page.
The metadata also provides information to the search engines so that they can understand the main theme of your website quickly.
3.   Create Unique and Engaging Content
Nowadays, it's very easy to find new content from around the world on every conceivable topic imaginable.
Search engines such as Google give more relevance to a web page that publishes unique content—content that stands out from your competitors.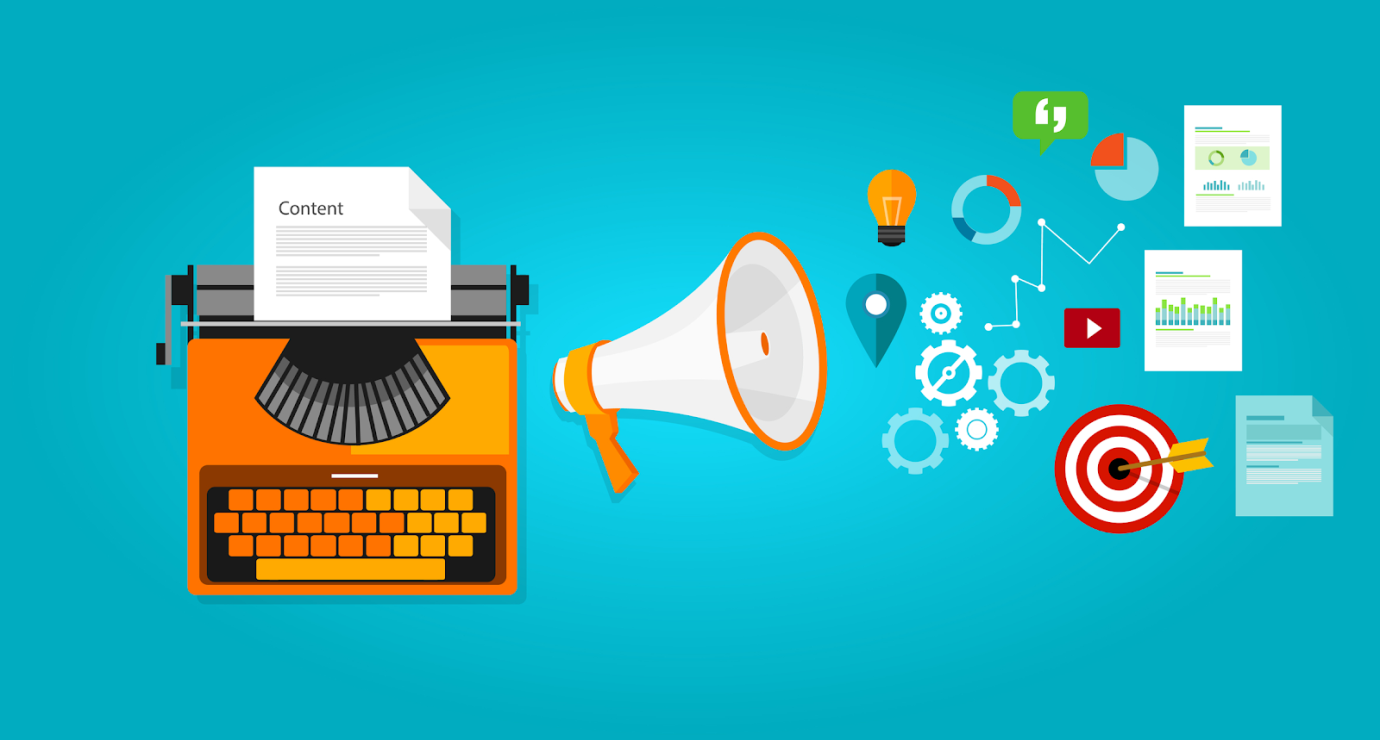 To succeed in the ever-competitive SEO environment, create and publish a variety of content that gives users confidence about your services as a healthcare organization. This will help create a feeling of trust in your business.
Publish content such as case studies, patient testimonials, interviews, photos, videos, blog posts, and articles that are created unique to your business. These types of content are magnets for generating qualified leads through organic search.
Another way to increase your credibility is to answer frequently asked questions (FAQs) on your website, or even on your social media channels. These include questions about your healthcare organization, some medical procedures, and processes related to your medical practice.
4.   Multiply, Magnify, and Diversify Your Online Presence
This may seem like a lot of work, but you can experience good results by following this strategy.
A single web page is not enough to catch users' attention, especially when it comes to health issues. Since fake news and dangerous DIY remedies exist online, a patient concerned about their health will seek answers from different sources and go with the most relevant, trustworthy healthcare provider.
The use of social media networks is also very important. Social media signals aren't a primary Google ranking factor, but the 'signals' correlate with other factors to improve your search visibility.
Through social media networks such as Facebook, YouTube, LinkedIn, and others, you can promote and position your healthcare organization and help it be recognized by a wider audience and potentially more patients.
5.   Build Trust Through Expert Authors
Search engines try to make the information that appears in the first results of user searches as reliable as possible so that the user does not receive misguided content.
That's why search engines pay close attention to their end-user (the reader/customer). And this is especially important when we talk about the validity of health content on medical websites.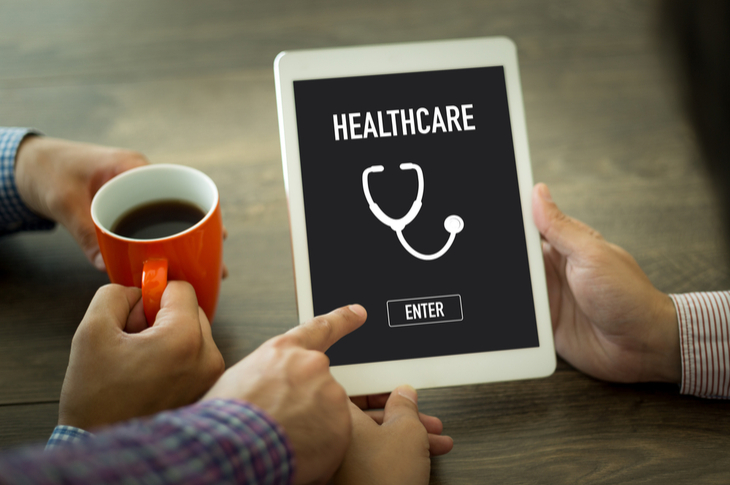 Make sure that the content you post on your website is written by professionals in the healthcare industry, people who have solid reputations and are already known to provide quality services.
You should also provide adequate information about the doctors who write the articles, including their education, certifications, publications, professional associations, and any awards they've won. This shows your audience that you are providing quality content from a trustworthy source. Search engines like Google also appreciate knowing the source is credible and they will reward your website with a higher search ranking.
6.   Include a Sitemap on Your Website
A sitemap explains the structure of your website and includes all of your webpages. This is vital information for search engines and helps them to quickly scan and identify the information that your website contains. This helps them answer queries more quickly, and in turn, they'll rank your page more favorably.
A sitemap helps you improve crawlability on your website.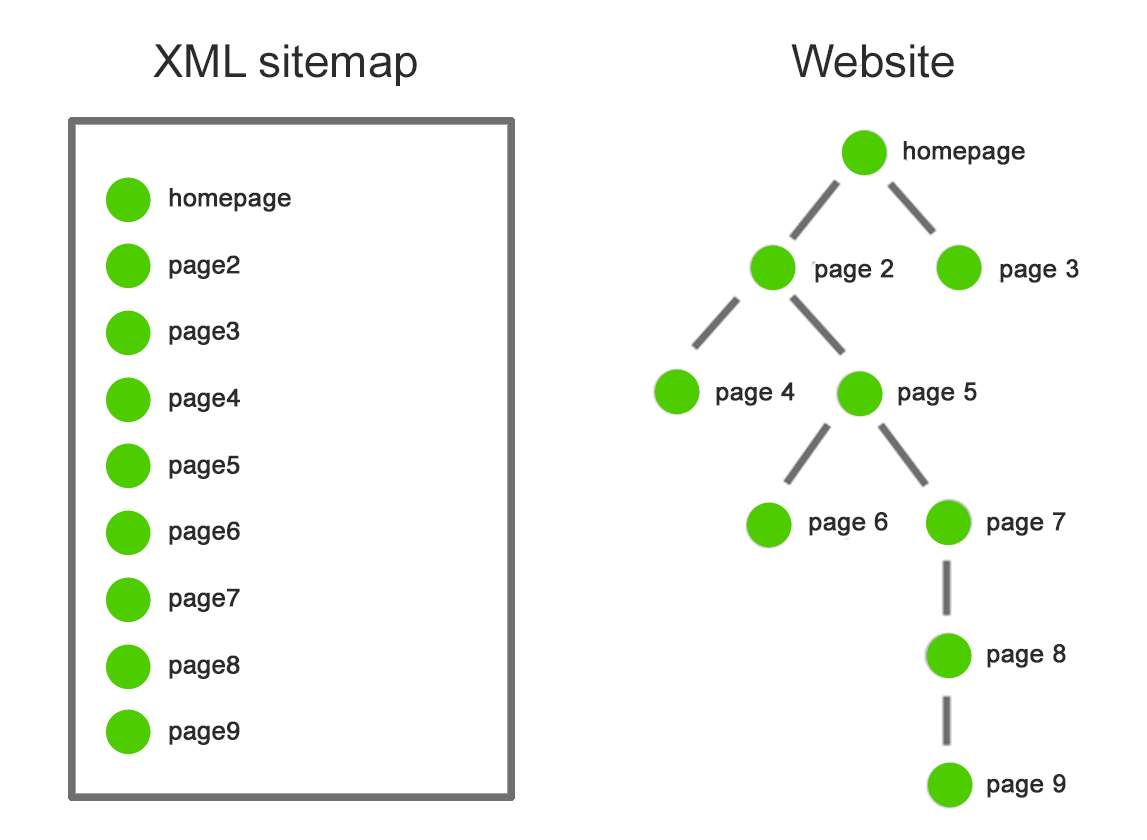 Generating a detailed sitemap can be a long and tedious process, but it's worth it. You'll drive more traffic, get more keywords ranked on Google's first page of the search engine results, and generate more leads.
7.  Embrace Local Search Marketing
The internet contains information about healthcare organizations from all over the world. But when an internet search is performed on health service providers, local results tend to pop up first. Search engines know that for certain types of queries, users want local results.
Users are often looking for an immediate solution, like an urgent care practice when they're sick. Because of the immediate need, local searches are often more likely to convert into customers. According to HubSpot, "28% of local searches become purchases."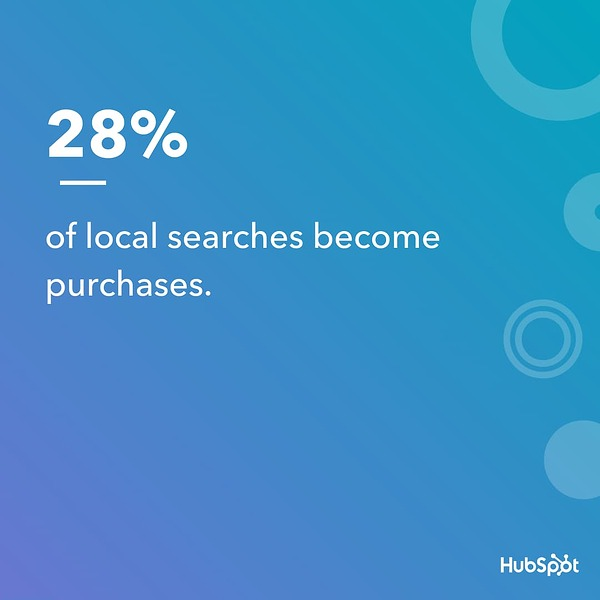 Because users are searching for local medical solutions, your website needs to be targeted to people who live in the area where you practice healthcare.
You can use free tools like Google My Business to help increase your local presence. It's easy to set up and you can build a business profile that includes all the information that your customers need. It'll appear not only in Google Search, but also on Google Maps.
In addition to Google My Business, there are many SEO management tools that can help you improve your local search ranking, like Moz, Whitespark, Yext, and ReviewTrackers.
If you want to dominate local search results, you need to pay attention to local search trends.
8.   Don't Be Afraid to Ask for Professional Help
One of the best things you can do is to not go at this alone; don't be afraid to ask for help from SEO professionals. They can help you implement SEO best practices and delve into the more technical side of SEO.
We also recommend that you look for a professional in the world of web development, so that your website meets all quality standards (both in design, loading speed, ease of use, etc.)
This will help ensure that you'll be among the first results of search engines.
Conclusion
The use of SEO strategies has become more important than ever before, especially for healthcare organizations.
So, it becomes very important to follow the best practices mentioned above. Just keep in mind that if you consistently publish helpful high-quality content, you'll build the authority of your healthcare website. And consequently, you'll attract more traffic and patients to your website.
It may not yield quick results, but the moment Google and other search engines begin to trust your healthcare organization, your site traffic will continuously grow over time.
Do you need help with SEO for your healthcare practice? Speak with Cardinal Digital Marketing team today!