The brand-to-consumer relationship has grown well beyond the confines of the web. Apps, virtual reality, and augmented reality (think Pokémon Go) are all examples of how business owners can find creative, and more personal ways to reach their customers outside of static web pages.
The Physical Web – which is essentially an extension of the web in the physical world – allows smartphone users to walk up to any inanimate object in the real world (be it a vending machine, displayed menu, poster, billboard, etc.) and use their phones to receive relevant content without the need to download an app.
Looking to promote Happy Hour? Want to showcase your latest culinary creation? The Physical Web can make it happen, by delivering that content straight to users' phones.
In other words, the Physical Web makes it easier for restaurant owners to reach potential patrons, by overcoming the many challenges associated with app discovery.
In fact, the Physical Web will likely prove to be the most effective way to connect and engage with your hyperlocal prospects – the folks most likely to become recurring patrons.
But first, how, exactly, do you build a Physical Web project?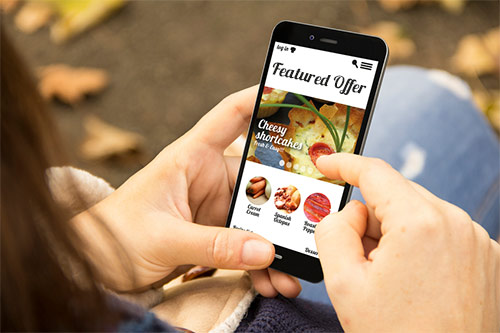 It's actually not complicated – nor costly – to build a Physical Web project. All you need is a BLE beacon that supports the Eddystone-URL format and a website.
With your Eddystone beacons, you can broadcast a URL that either points to a static webpage (like a landing page) or to a web app. The only caveat here is that the customers you reach should already have the Google Chrome browser app installed on their phones to receive Physical Web notifications (since the Physical Web is a Google project).
Unlike other beacon projects, the Physical Web doesn't push notifications to users. Instead, the first step of the Physical Web experience is that the end-user must first request a list of "what's nearby."
This first step – which gives the user the choice of accessing surrounding URLs – falls in line with this consumer-driven economy we live in. By giving them a choice, you're far more likely to reach highly qualified prospects, rather than people who just happen to pass by your establishment.
Once the end-user requests the list of nearby URLs, a ranked list of these URLs will be shown on their phone. The user can then choose one specific URL (the one your restaurant is promoting, for example), which then opens a new page in their Chrome browser.
Three ways you can use the Physical Web to grow your restaurant business
The Physical Web is simply a technology that helps any business connect with its prospects. But for restaurant owners, it offers unique ways to serve an audience that is undeniably loyal to establishments with whom they build a relationship. Here are three ways you can leverage the power of the Physical Web to attract and retain patrons:
Create table-side toys that entertain kids and delight parents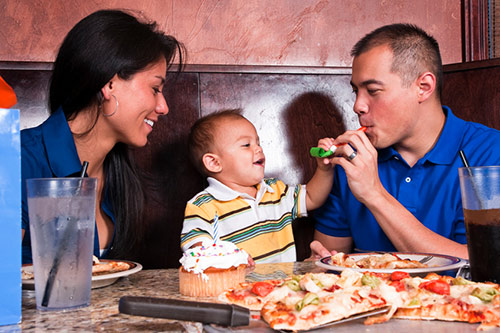 The Physical Web can be added to objects within your existing environment, like, for example, toys you offer children who visit your restaurant.
If you own a child-friendly restaurant, one of your key strategies is to make the dining experience enjoyable for both parents and children. The incorporation of toys can make this possible. Toys can distract and entertain children, giving their parents a few minutes of peace to enjoy their meals.
A toy with a beacon inside of it can send a URL of a webpage directly to a user's smartphone. The webpage could then allow the user to personalize the toy (for example, change color, or expressions).
This type of digitally-based interaction is sure to keep children entertained, which in turn will encourage parents not only to revisit your restaurant but to share their experiences with their peers.
As a way to stand out in a crowded space
Many restaurants find themselves physically side-by-side competing establishments, either in a mall or some type of shopping complex. The Physical Web can help your restaurant stand out by sending out a URL that promotes your discounts for that particular time of day or, perhaps, that encourages users to download your app for specific savings and offers.
Most customers walking around in a mall or shopping complex are looking for the best possible deal at that moment. You can hand-deliver exactly what they're looking for, straight to their smartphones, courtesy of beacon technology and the Physical Web.
Offer a little more information to help customers make their decision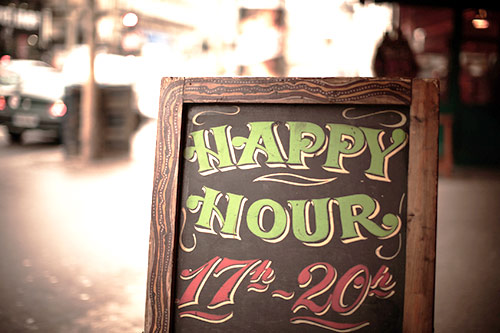 There's only so much information you can put on a physical object like a poster of a menu you display on the sidewalk. The Physical Web gives you the ability to delve deeper and provide passerby traffic the opportunity to learn more about your offerings.
A patron walking by a digital display of your menu can be prompted to open a URL that contains a bit more information about your food list. For example, you could promote timely discounts, nutritional information, or seasonal dishes.
If you choose to point folks to a landing page, you can use this opportunity to optimize that page for conversion (embed videos, add additional resources via links), more so than you can do with static real-world objects.
Tap into the natural curiosity of your hyperlocal customers
Hyperlocal customers are always on the hunt for the best savings and offers available in front of them. Sometimes, the confines of the real world limit your ability to offer a personalized experience to each passerby that guarantees they'll walk through your doors.
But by leveraging the power of the web, in connection with the real world, you can deliver interactive experiences to your prospective patrons at the exact moment when they're most likely to make a conversion.