The medical industry is increasingly turning to content-led strategies to create and nurture relationships at all stages of the customer journey.
And it's paying off.
A 2015 Aberdeen study shows nearly 8x year-on-year-traffic for content marketing leaders versus followers. Content marketing adopters can also expect to see 6x greater conversion rates than non-adopters.
And, thanks to programmatic delivery options, content marketing is truly now scalable. As your marketing team looks to shift from talking at patients to speaking with them, it's time that you tap into data to add value to your patients' journey.
Through data-driven content, you'll be able to find them at the most relevant time, and tailor your content so that your practice always comes across as informative and engaging.
Here's why data is such an important part of the overall content marketing strategy for your hospital or medical practice.
Understand your patients, then target them with content tailored to their needs
With so much data available from social and paid media healthcare accounts, it's never been easier – and more important – to use the insights about your audience that you have access to. By understanding – in near real time – the primary medical-led concerns and motivations of your audiences, you can quickly develop and adjust your content accordingly.
For example, by the time someone searches for a specific term, like, implanted nerve stimulators, you've already missed out on tremendous content opportunities earlier on in the funnel. What about trying to create content based on this patient's needs before she discovers a solution? Creating content around chronic pain, or prolonged back pain or minimally invasive surgical options to reduce pain can get a medical clinic's name on the radar of a searcher at the moment they begin their online search for a solution to their needs.
Look at the results for an online search of what to do if I suffer from chronic back pain: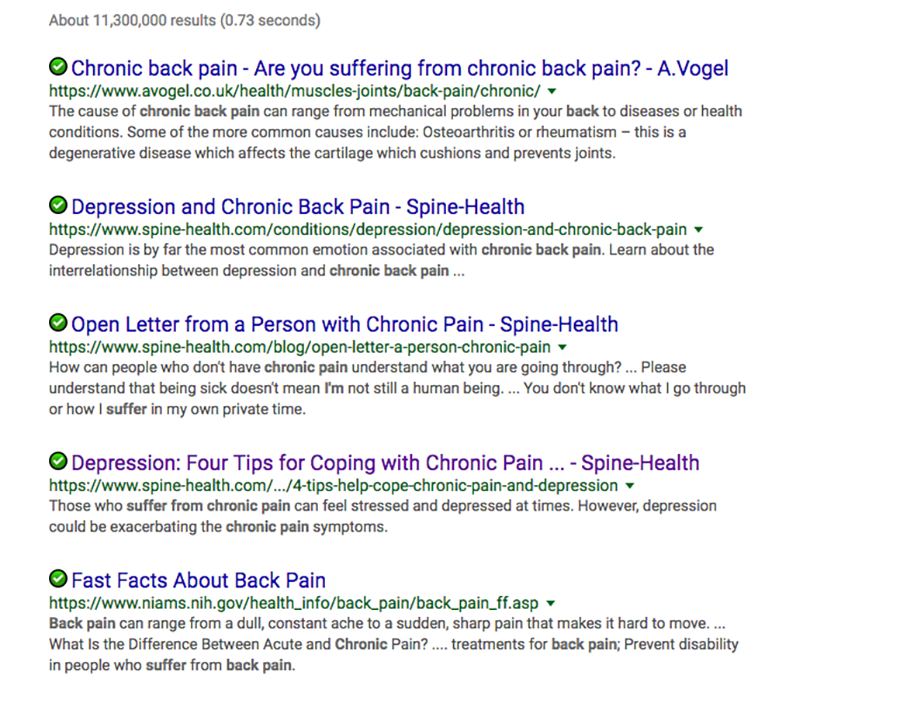 For the purpose of this search, we were inspired to click on the fourth entry – Depression: Four Tips for Coping with Chronic Pain.
When we got to the actual page, we were greeted with a simple blog post that outlined information we, as the chronic pain sufferer, would find valuable: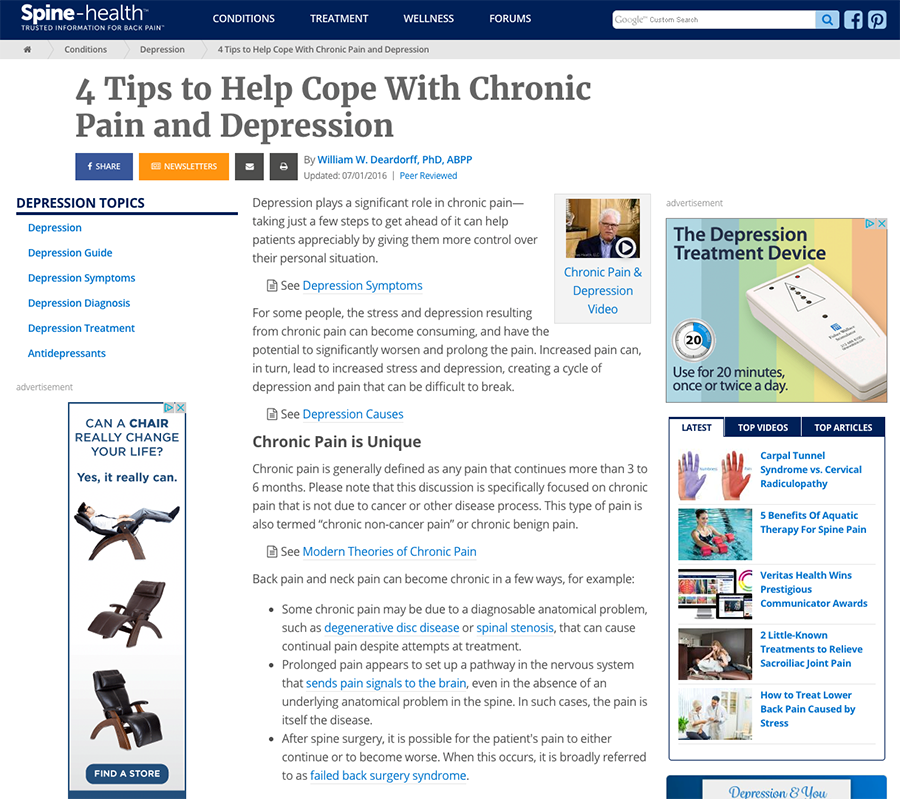 This alone might be enough for Spine-health to get on the radar of prospective patients. However, as part of their content strategy, Spine-health took this content one step further and introduced a relative pop-up call to action that triggered after we scrolled toward the bottom of the page: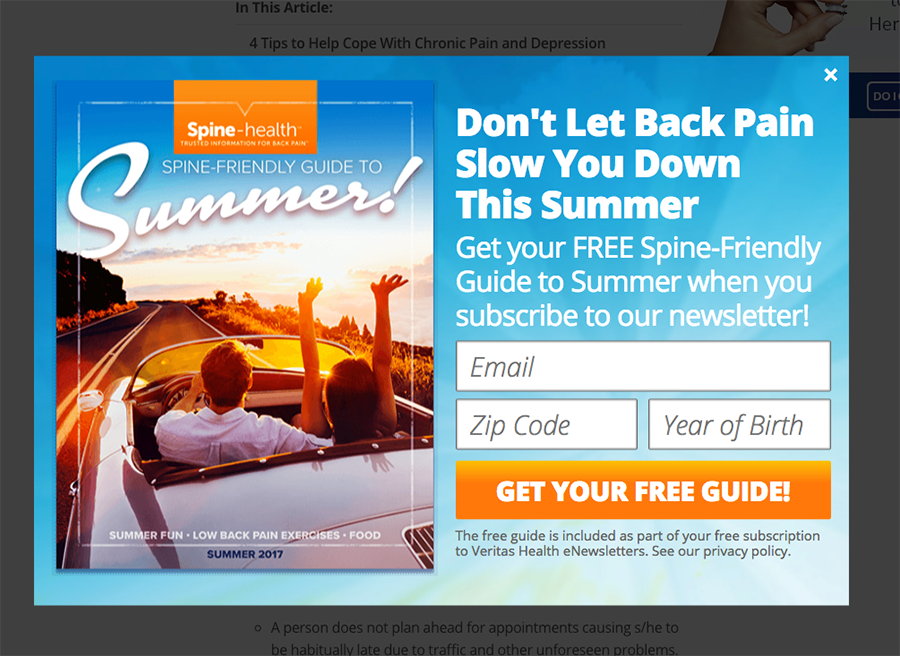 Now, not only did Spine-health offer helpful tips to people early on in the patient's journey, but they also increased their chances of an on-page conversion.
Data helps you avoid the tendency to use digital channels as a broadcast source
In our experience working with a number of medical professionals, what we've discovered is there's a tendency for marketing departments to focus only on promoting the messaging they want to share, ignoring completely the needs and wants of their prospective patients.
Use data-driven insights to create a far more balanced content strategy that weaves your digital marketing message with useful and valuable content that addresses your patients' needs.
We love what the Mayo Clinic does with their "blog" page (which they actually call "Sharing Mayo Clinic").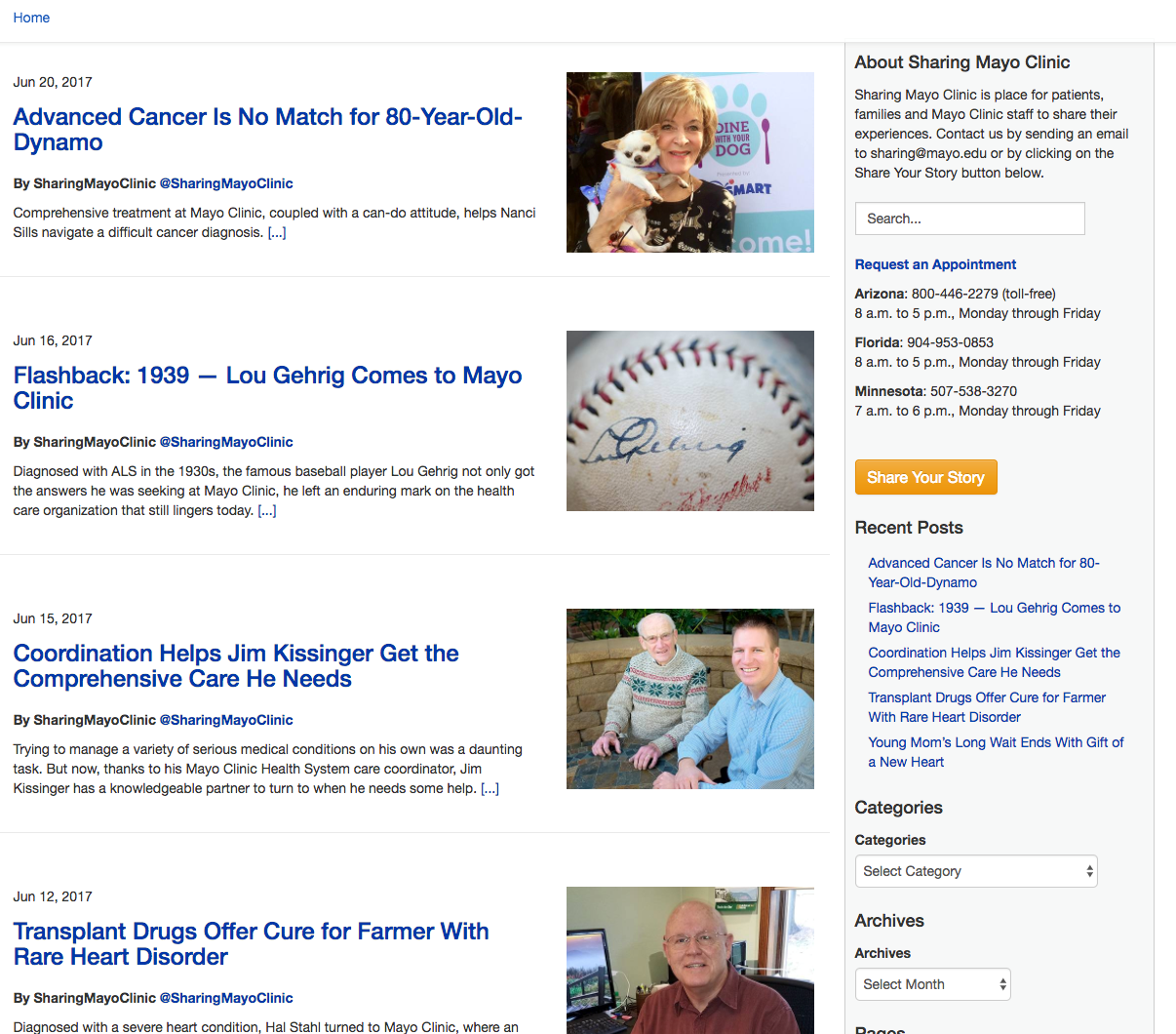 The content found here is overwhelmingly focused on patient success stories, and articles designed to inspire. In other words, Mayo Clinic doesn't just focus on targeting long-tail keywords to rank higher. Their data has shown that their prospective patients want to feel hopeful; this page does just that.
Maintain relevancy in all stages of the patient journey
Data will help you match your content with your patients at every single pivotal touch point. Similar to "broadcasting," mismatched content shown at the wrong time will lead to your patients completely ignoring your messaging.
For example, if you're building out content aimed at targeting people in the awareness stage of skin cancer treatments, be sure to engage those audiences at that stage of their journey by dissecting what type of content gets them to convert.
During this awareness stage, video testimonials from folks who were surprised by their skin cancer diagnosis might help, as would guides to help people perform self-examinations.
Also, make sure the structure of your content is relevant to the touch points of your patients' journey. For example, if you're building out a content strategy around family awareness of skin cancer, it makes sense that the content you create is family friendly (a detailed white paper would not do; rather, a fun and short video would be effective).
Find out what your patients are doing, not just where they are
A huge component of an effective content strategy is context. Make sure you align your paid content with relevant contextual environments such as medical service comparison, online medical magazines and more.
Granular data access for audience targeting can help you reach your relevant patients at other key touch points. For example, people sharing content with friends or family on Facebook, or people who search with specific terms can be identified through sophisticated targeting solutions.
Take advantage of the herd mentality
According to research performed by Edelman, 70% of global consumers say online reviews are the second-most trusted form of advertising.
Reviews, also known as user-generated content, can be extremely influential. Look at how you can marry this type of content with your audiences so that your medical practice will further resonate with them.
Look at this page we found for an optometrist in El Paso, TX: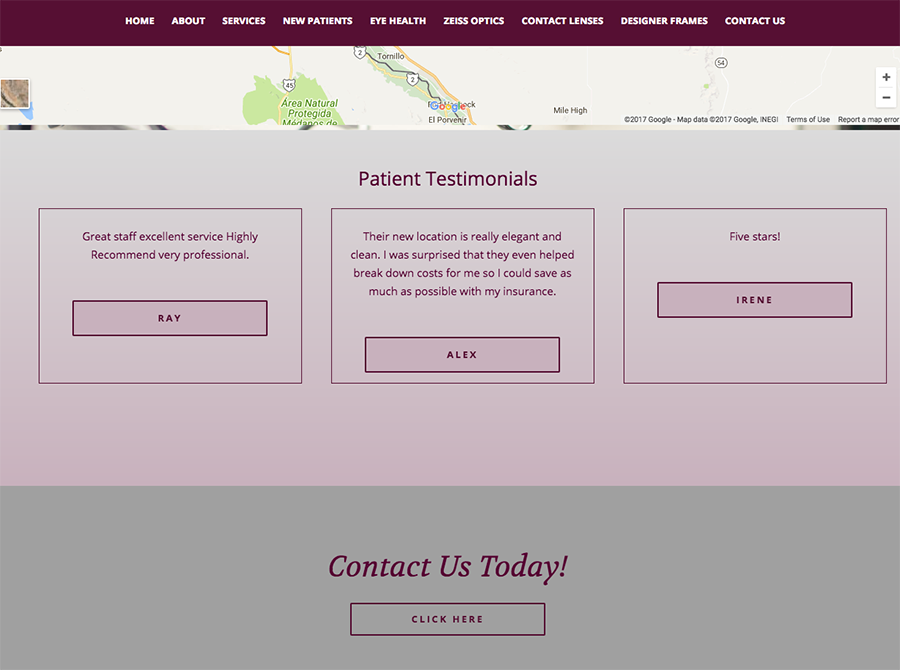 These three reviews are found on the homepage, and actually, don't link to anywhere. What if, however, each of these testimonials funneled to a landing page that expanded on the content of that review? For example, Alex's testimonial, focusing on the cleanliness of the clinic and the kindness of the staff could be turned into an entire landing page that helps visitors experience the clinic through the comfort of their homes and screens.
This landing page could include, of course, Alex's review, but also a video of the clinic, interviews with the staff, as well as other related reviews that bolster Alex's claims.
Go beyond the written word
The amount of paid media options available programmatically has increased significantly this past year. Video has proven to be one of the most popular forms of communication, particularly for people looking for medical services.
Combine data and placement to get your most relevant –and engaging – content in front of your most relevant audiences, and you're sure to see an increase in conversions.
Content for content sake is nothing more than wasted effort
Content is one of the most talked about strategies in medical or dental digital marketing, but what's not discussed nearly enough is the importance of data-driven content. Creating a bunch of articles, videos, or social posts without any direction or purpose won't help you target any patients.
In fact, this strategy might drive them away.
Before you commit to any type of content marketing plan, be sure that you've delved deep into data so that the content you do produce has a purpose.