Although podiatry is not the most lucrative sector in healthcare, it's pretty on track to grow decently during the current forecast period. The foot care market was valued at $4.3 billion in 2020, and it's predicted to grow into a $5 billion industry by 2028. The rising geriatric population and the increasing prevalence of diabetes are two main growth drivers. In addition, people are also becoming more aware of the importance of foot health care, especially with athletes, which further pushes growth.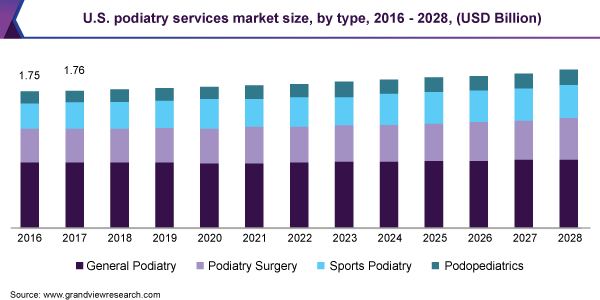 With the expected growth of the podiatry services market, the U.S. Bureau of Labor and Statistics projects that the number of podiatrists in the United States will grow by more than 200+ new specialists. Considering how lucrative a podiatry career is, this is hardly surprising.
For foot care specialists, the arena is about to get more competitive. If you have a poor digital marketing campaign, you'll lose patients to competitors. Podiatrists who want to leverage the industry growth and stay competitive (especially in their local areas) will need robust digital marketing for podiatrists.
Outlined below are some tips and strategies to help enhance your digital marketing campaign:
Improve Your Local SEO
Is your podiatry clinic optimized for local searches? If people search for the term "podiatry services near me," will your website be on the front page? If not, you're potentially losing high-intent prospective patients ready to convert. Podiatry is a local service, so you must rely on attracting patients within your geographic area. It would be best to have a solid local SEO strategy to improve your local search presence.
Below are some tips and strategies to optimize for local SEO:
Optimize Google Business Profile
Considering that Google is the most popular website, not claiming and optimizing your Google Business Profile or GBP (formerly Google My Business) is a severe misstep. A GBP listing helps improve your local search presence by showing your listing in front of your prospective patient's eyes. Plus, you have no excuse not to claim your GBP listing since it's easy to set up and free.
To optimize your GBP listing, provide the following information:
Name of practice

Address

Website URL

Contact information (phone number, email)

Hours of operation

Photos of clinic and staff

A short blurb about your clinic
Also, include more photos, videos, and frequently asked questions (FAQs) in your GBP listing. FAQs are handy since it allows you to pre-answer some of the most common queries about your practice, including service details, pricing, and insurance information.
Optimize Local Citations and Listings
On top of your GBP profile, another best practice is to get listed in local podiatry directories where patients may search for a service similar to yours. Local listings and citations can help search engines to validate your business and strengthen brand credibility. Some of the best structured directories you can use are Healthgrades, Yellow Pages, Vitals, RateMDs, Yelp, and ZocDoc. Podiatry-specific directories like the American Podiatric Medical Association (APMA) and the American Board of Podiatric Medicine are worth considering.
Have a Local Keyword Strategy
While ranking for a broad keyword like "best podiatry clinic" is the dream for podiatrists, it's a general keyword and very expensive due to much competition. It will be next to impossible to rank for such keywords unless you're a well-known national podiatry brand. Instead, focus on high-intent location keywords like "foot center pasadena ca" to attract patients in your geographical area.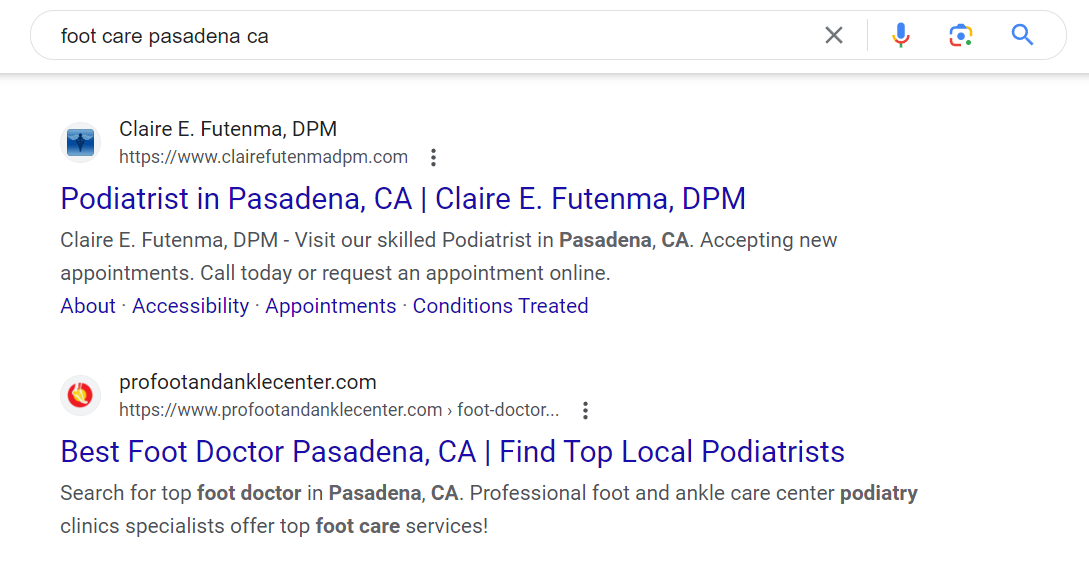 When developing local keyword lists, consider your unique selling propositions or USPs, target geographical area, and how patients search for your podiatry services or treatments. Remember there are two main types of local SEO keywords: High-intent, solution-aware keywords, and location-based keywords. The more specific and granular your keywords are, the more likely you'll capture high-quality podiatry patients. Once you've determined your local keywords that resonate with local audiences, use those keywords for your site content and ad copy.
Build Geo-Personalized Web Pages
One of the best practices for healthcare businesses with multiple locations is to develop geo-personalized websites and landing pages for each location and optimize them for keywords with location identifiers. These pages are great for putting location-optimized content informing local searchers of everything they need to know to convert. Think of call-to-actions (CTAs), video tours of your clinic, patient reviews, and more.
The behaviors of prospective patients have changed, and they're more accepting of their roles as healthcare consumers. As such, 76% of consumers expect personalized experiences when browsing a website or landing page. Geo-personalized websites and landing pages are the perfect vehicles to deliver such customized experiences. 
Provide First-Rate Digital Experiences
Podiatry websites are where people communicate their foot health concerns, learn about common podiatric conditions, and manage care for their loved ones. However, many healthcare websites have a lot going on, making them hard to use. If you can't provide a seamless and comfortable experience with your website, your prospects will leave for a competing practice.
Therefore, you must ensure that you provide first-rate digital experiences with top-tier website design for podiatrists. Below are some best practices for optimizing your podiatry website.
Fast, Simple, and Clear Website Navigation
As mentioned, many healthcare websites are overwhelming with a lot going on. Plus, they have many pages that are not organized. Avoid this trend, and your podiatry website will stand out. Audit your website and ensure you provide intuitive and frictionless navigation with easy-to-read fonts, professional images, sensible layouts and menus, and prominent call-to-actions (CTAs).
Page speed is another aspect you can't afford to overlook–especially with Google's shift towards mobile-first indexing. Also, website conversion rates drop by an average of 2.11% with each additional second of page load time (between 0-9 seconds). I recommend using tools like PageSpeed Insights to evaluate the loading speeds of your web pages and adjust accordingly for optimal results.
Optimize for Mobile
Did you know that 56% of consumer traffic comes from mobile devices? Many patients will view your podiatry website through a smartphone or tablet. Simply put, healthcare marketers not optimizing their websites for responsive design and mobile-friendliness will lose business. With responsive design, your healthcare website will appear correctly regardless if it's being viewed on a desktop computer or smartphone device.
Key Content Should Be Discoverable
When patients visit your website, they're either planning to make a transaction or setting up an appointment, or, more likely, gathering information. To support these actions, your website should have an extensive collection of high-quality, valuable content covering podiatry-related topics. High-quality, helpful content will position your practice as the authority in podiatry and patient-centered care.
On top of that, your important content should be technically discoverable. Launch your content management system (CMS) and ensure your blogs, articles, and service pages are correctly loaded on your site. Don't bury your top-notch content under poorly-designed navigation and poor user experiences.
Leverage the Power of Paid Search
Google Ads or PPC marketing allows podiatrists to capture patients about to make a decision (i.e., patients actively looking for a foot care specialist). For instance, if a searcher uses a high-intent keyword like "diabetic foot care near me," they know the problem and solution. With a strong PPC campaign, your practice will appear at the top of SERPs and before prospective patients looking for a foot care doctor.
Choose Your Account Structure
The foundation and effectiveness of Google Ads depend heavily on your account structure. Healthcare marketers should develop accounts based on the most segmented or consolidated spectrums. In this case, we like to use hybrid accounts for clients with multiple locations since they have the best qualities of both segmented and consolidated accounts. As a result, you can have maximized ad impressions, detailed targeting, and better budget control.
After choosing the proper structure, ensure your campaign leverages Google's automatic bidding options. A campaign with a suitable account structure will better benefit from Google's smart bidding features. At this stage, I highly encourage testing different bidding strategies to get the best results.
Align PPC Ads with Search Intent
The alignment of PPC ads with keywords along the funnel is a vital ingredient of an effective paid search strategy. In order to cover the entire funnel, your keyword strategy should have enough diversity. These funnels include:
lower or "product aware" leads

mid-funnel or "solution aware" leads

upper-funnel or "problem aware" leads
Lastly, connect your landing pages for the leads in every funnel phase. These landing pages should be relevant and optimized for good user experiences. However, always prioritize your lower or product-aware leads so you can capture conversion-ready patients. Expand Your Telehealth Capabilities
The effects of COVID-19 have pushed the healthcare industry to adopt various digital solutions, most notably telehealth, quickly. During the pandemic, many foot care clinics have adopted telehealth, and it quickly became a more than viable method of care delivery. In reality, podiatric care doesn't always require in-person visits. Plus, people suffering from foot injuries and conditions are more likely to see a specialist with telehealth instead of waiting out their symptoms.
Telehealth is popular with podiatric patients since it removes many barriers to receiving care, including convenience and time. Therefore, podiatry clinics have not only adopted telehealth but also made it their USP. In this digital age of healthcare, podiatrists should expand and showcase their telehealth capabilities.
Marketing Your Clinic's Telehealth
If your foot care clinic has telehealth, you should tenaciously market it. Use call-only ads to attract patients using their mobile devices and start the conversation for potential solutions to their podiatric issues. With adequately integrated telehealth, you can potentially reach new markets since healthcare consumers value accessibility and convenience.
Keep in mind that not all patients are comfortable talking about their conditions over video calls. Thus, use an empathetic and relatable tone and focus on being educational when crafting your ad messaging. Moreover, set aside some budget for telehealth-specific campaigns and ensure you showcase your successful sessions.
Manage Your Digital Reputation
Most local healthcare providers can live or die by their online reputation. When people search for podiatric specialists, they're more likely to choose the best-reviewed clinics and centers nearby. True enough, 90% of consumers will use online reviews before booking their first healthcare appointment. Simply put, the better your online reputation is, the more patients and referrals you'll attract. In this case, you need a solid reputation management plan.
How to Get More Reviews and Enhance Your Reputation
Collecting patient reviews is one of the best ways to build your reputation. So what's the best way to collect reviews? It may surprise you, but encouraging your patients to leave reviews is the best method. Perhaps you can ask them to fill out a short survey or hand out printed flyers indicating where they can leave feedback after each appointment.
It's also a good idea to train your front-facing staff on the best practices of collecting reviews and develop a plan on how to manage and respond to reviews, whether positive or negative. Just responding to reviews and addressing the issue can help with patient satisfaction and establish your practice as one that cares.
In addition, review solicitation programs like Birdeye, Podium, and Weave can help streamline your reputation management campaign if your budget allows it.
Conclusion
From web design to local SEO to PPC marketing to reputation management, digital marketing for podiatrists will help increase patient acquisition and outperform competitors. The strategies outlined above are excellent launchpads for your digital marketing campaign for long-term practice growth with a constant focus on acquiring new patients.