Among all healthcare sectors, physical therapy is one of the most disrupted professions during the height of the COVID-19 pandemic. Clinics that stayed open during the pandemic had fewer patients walking through their doors, and care hours severely decreased. Despite the implementation of telehealth, many PTs were uncertain about payment, outcomes, and patient satisfaction.
Despite the barriers placed by the pandemic, physical therapy remains one of the most lucrative markets in healthcare. The U.S. Bureau of Labor and Statistics projects that physical therapy is projected to grow by 17% from 2021-2031. This rapid growth is due to the aging American population, increased sports injuries, rising obesity levels, and the effectiveness of outpatient services.
If you want your rehab or outpatient clinic to stay competitive in 2023 and beyond, you should know about the top PT marketing trends that will likely shape how you run your practice.
1. Accelerated Adoption of Digital Solutions by PT Providers Will Continue
From their willingness to embrace new practices and payment models, physical therapy has always been fearless in evolving. With the onset of the pandemic, it's clear that PTs will once again consider what's coming next–for most providers, it's the adoption of emerging digital technologies. True enough, providers are evaluating the efficacy and utility of digital tools to enhance and modify care delivery and optimize clinical outcomes.
However, the digital transformation of physical therapy prices can't come soon enough. As outlined in our The State of Healthcare Marketing 2022 Survey, almost half of the healthcare groups have yet to implement a customer relationship management (CRM) solution. This delay and hesitance to adopt emerging tech solutions can be attributed to entrenched analog workflows and the complexities of patient privacy laws.
Forward-thinking therapists should leverage digital marketing technologies to come out on top in 2023. Below are some of the ways rehabs and outpatient clinics can take advantage of their digital transformations:
Expanded Telehealth Solutions
The pandemic pushed telehealth past its tipping point with a significant spike in usage. According to the American Physical Therapy Association (APTA), 48% of physical therapists used telehealth one year into the pandemic. In contrast, only 2% of PTs provided video-based care before the pandemic hit. Still, the increase in telehealth usage isn't as widespread or uniform as it seems.


As we move on from the pandemic, more patients are embracing telehealth. Thus, PTs should be prepared to offer or expand telehealth-based care for consumers concerned about distance or convenience–like folks in rural areas.
Better Access and Engagement for Patients
Digital tools, like the aforementioned telehealth services, will give patients better access to care. All patients need is a smartphone or tablet and an internet connection to access care anytime and anywhere.
In addition, digital solutions can drive better patient engagement by providing patients with asynchronous access to their PTs between in-person visits. For example, patients can ask about abrupt changes to their condition or exercise programs through smartphones. This connectivity helps with patient engagement since they know their PTs are always "watching" and may communicate anytime, creating a sense of accountability.
Benefits for Clinicians and PT Practices
The digital transformation of healthcare can provide numerous benefits to PTs and PTAs, such as higher job satisfaction and lower rates of burnout, leading to better employee retention. This is a critical boon amidst the ongoing staff shortages in healthcare. Rehabs and outpatient clinics that adopted digital tools have reported:
Greater insight into patient health data

Better scheduling flexibility

Better adherence by patients to the plan of care

Better access to patient-reported data

Improved patient access to their providers

Increased revenue due to more services provided and fewer cancellations/no-shows
2. Patient-Centric Content is Still the Gold Standard
Last year, Google rolled out the Helpful Content update, which forever changed how healthcare groups approach content creation. Google constantly strives to provide better user experiences; the Helpful Content Update aims to connect users to patient-centric content. It's part of Google's encompassing effort to make sure searchers find value-based content written for people and not the algorithms. Thus, the days of writing for search engines are coming to a close.
What does this update mean for PT marketing teams and their content?
Stick to your niche:

Since the goal is to provide valuable and helpful content, content writers must stick to their niche. Some organizations branch out for more search visibility, not realizing that experts in the topic automatically outdo them. This leads to content with low authority and credibility.

Provide sufficient answers to questions and concerns by patients:

Google defines helpful content as information that teaches users about something they want to know or helps them complete a task. It would be best if you strived to give them all the necessary answers when writing about physical therapy content.

Demonstrate authority and first-hand experience:

When creating content, are you showcasing your first-hand experience and depth of knowledge of physical therapy topics? Or are you simply rewriting or summarizing what others say about the topic without adding value? Your content should demonstrate your authority and first-hand experience with the issue.
A patient-centric content strategy drives better user engagement because you understand their unique needs and circumstances. This Google update is about providing "helpful" content relevant to your patients. How can you ensure that you're delivering patient-centric content to your audience? Below are some best practices to ensure patient-centricity in your content:
Understand Your Patient and Their Needs
Empathy and deeper perspectives are critical to helping you unlock the type of messaging that resonates with your target audience. For starters, you may conduct community and patient satisfaction surveys and talk with patient-facing staff members. These measures will put you in a better place to understand physical therapy patients, along with their needs, pain points, and motivations.
Create More High-Quality Long-Form Content
While it's tempting to create short, snackable content for this fast-moving world and social media, the bread-and-butter of your content strategy is long-form content. Thorough long-form content will not only improve your search rankings and establish your practice as an authority, but it can also make way for more link-building opportunities. Furthermore, long-form pieces enable you to provide more detailed and comprehensive (thus, more helpful) answers to your patients' questions.
Remove Low-Value Content and Improve the Existing Ones
Thin and low-quality content does more harm than good for your marketing efforts. Audit your PT website and use crawler tools like Screaming Frog (which we use) or MarketMuse to look for thin or unhelpful content. You should remove any low-value and unhelpful content. Meanwhile, Improve your existing content by optimizing the relevant pages with keywords, writing more content based on secondary keywords, and adding Frequently Asked Question (FAQ) sections.
3. PTs Should Leverage Digital Marketing for Talent Recruitment
There's no easy way to say it, but staffing shortages in healthcare are very real. As the world grapples with the effects of the post-pandemic era, PT providers deal with a lack of personnel, especially in outpatient settings. According to a workforce benchmark report by APTA, the main reasons why employees leave are pay, relocation, and work-life balance.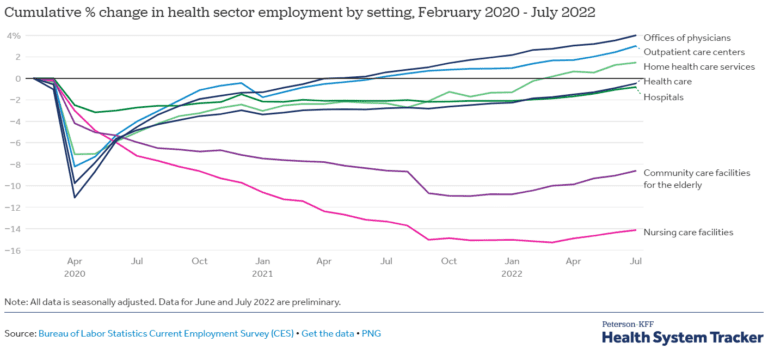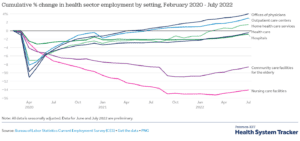 For PT practices to stay competitive and keep service disruptions to a minimum this year, they need to leverage digital marketing to recruit employees, including PTAs, social workers, techs, business office employees, etc.
How Digital Marketing Supports Recruitment
Let's get this out of the way; there's no magic bullet for talent acquisition. Your organization's strong culture and operational infrastructure are the core elements to attract the best talents – your digital marketing team will then help you spread the word. The key here is to improve brand recall via brand marketing. Robust brand marketing should highlight the following:
Employee perks and benefits

Cultural and employee satisfaction

Awards and recognitions

Opportunities for growth (e.g., training, mentorships, continuing education, etc.)

Reviews and testimonials from current and past employees
Below are several proven strategies to improve your PT organization's brand recall:
Develop Optimized Career Websites and Landing Pages
Your recruitment team shouldn't spend most of their time crafting personas of ideal candidates but instead, focus on presenting value to potential hires. In this case, your PT marketing team can help showcase your clinic's brand, culture, and people–demonstrating that you value your team. With that said, your team should build the following for your recruitment efforts:
Recruitment landing pages

Recruitment websites

Add-on pages for talent acquisition
Like other elements of your physical therapy website, the career websites and landing pages must be optimized for user experience (UX) and web design. For example, your channels should be easy to navigate, have clear call-to-actions (CTA), and have a straightforward application process. Don't make potential hires hunt down the next step of the application process.
Build Conversion-Focused Career Pages
If your recruitment channels are getting traffic but hardly any application, your next order of the day should be a robust conversion rate optimization (CRO) campaign. An excellent way to start is by auditing your recruitment pages to determine potential barriers that prevent job seekers from submitting their applications. Some examples of these barriers are:
Insufficient or unclear job information

Confusing navigation steps

Lack of clear CTAs
On top of developing your career pages, your digital marketing can also help remove the roadblocks that prevent applications from converting. With a robust CRO strategy, you can expect lower bounce rates and more applications.
Implement an Omnichannel Recruitment Advertising Campaign
Your recruitment ad strategy will depend on the positions you're trying to fill. With the current talent market's competitiveness, the ball is undoubtedly in the employers' court. To attract highly qualified candidates, you need a recruitment advertising campaign that spans across different channels.
For instance, rehab directors, executive directors, and senior physical therapists are generally not recruited through job sites and search engines. They usually hear about job opportunities through word-of-mouth and referrals. A positive digital reputation will put your rehab or outpatient clinic in a better position to attract people for higher positions.
Meanwhile, you'll have more luck recruiting social workers, PTAs, nurses, and occupational therapists through the usual channels like career websites. In this case, your marketing team can leverage PPC marketing to target employees who may recently quit or have been terminated. Success depends on how tight your keyword strategy is.
4. Personalized Marketing Will Remain a Core Strategy
Personalized marketing in healthcare was proven to be a success in 2022, so expect that it will remain a core strategy for PT providers this year. People are more accepting of their roles as healthcare consumers, so they want to be treated like unique individuals with unique needs and circumstances. Therefore, one-size-fits-all marketing won't resonate with many people anymore. Personalized physical therapy marketing will increase the patient pipeline, improve retention, and develop meaningful consumer relationships.
How do you add a touch of personalization to your PT marketing campaign? Here are some tips to consider:
Use Geo-Personalization
Geographical personalization uses location data to give users proximity-based experiences. An excellent way to leverage geo-personalization is through your landing pages. When potential patients visit one of your landing pages, they'll see information relevant to their location, giving them a more personalized experience.
This makes sense because people looking for PT services will want to choose a nearby outpatient clinic because of the convenience factor. With a geo-personalized landing page, potential admits will have all the information they need to schedule an appointment, including:
Which clinic is closest to their location

Which of your locations are accepting new patients

Which PT services are offered in a particular clinic

Which insurances are accepted 
With geo-personalization, you're helping potential patients in their journey to find the best and most convenient physical therapy providers in their area and removing various barriers to conversion. Best of all, geo-personalization is HIPAA-compliant.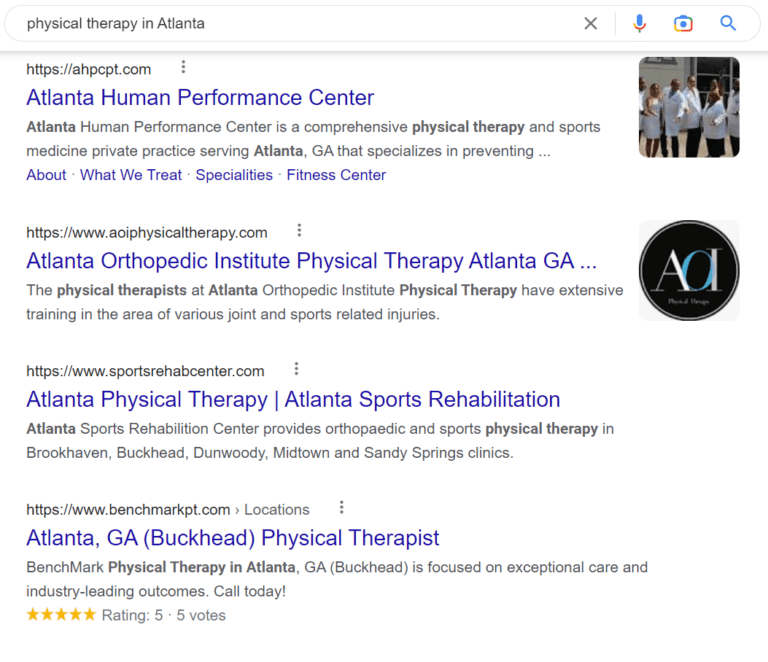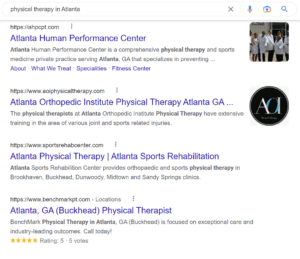 Integrate Patient Portals and Mobile Apps
One of the best advantages of adopting digital solutions is the ability to deliver more personalized care. For example, patient portals and mobile apps can improve the patient experience by eliminating long wait times and frustrating check-in processes. In addition, your portal and apps are customizable to support your branding efforts and maintain a consistent voice. Finally, patient portals and mobile apps can increase your revenue by preventing no-shows and last-minute cancellations since you can send reminders and give patients 24/7 access to view appointments online.
5. Looming Economic Uncertainties Will Affect Marketing Strategies and Investments
Many people, including wall street experts, are predicting a recession in the first half of 2023. Hence, the looming recession will undoubtedly affect the healthcare industry, including physical therapy. What does this mean for PT practices in 2023?
For starters, the recession will likely trigger higher deductibles and will impact patient decision-making for receiving care. In addition, a recession will result in increased unemployment, leading to more uninsured patients. In other words, budgets will be tight, people will be more sensitive to receiving care due to the costs, and many may even defer care.
As a result, PT providers will have to work with tighter marketing budgets, highlighting the importance of monitoring marketing performances and budgets over the next several months. For rehabs and outpatient clinics looking to maximize their digital marketing budgets, we recommend reading our guide for Google Ads Optimizations to Maximize Your Healthcare Budget.
Conclusion
With the ongoing staff shortages and looming economic uncertainty, PT providers indeed have their hands full in 2023. As we move on from the pandemic, you can expect tougher competition in the PT niche as more providers engage in digital transformation. The main arena for 2023 is providing enhanced patient experiences and coping with the effects of a post-pandemic era. By knowing the trends we outlined above, your rehab or outpatient clinic will be better positioned to outperform the competition.