According to industry experts, the global audiology services market is projected to experience considerable development and expansion between 2020-2023. Moreover, the global audiology devices market (e.g., hearing aids, cochlear implants, etc.) is expected to reach $16 billion by 2028. The market growth is attributed to the rising awareness concerning the physical, social, and psychological needs of patients with hearing loss. Also contributing to the market growth are the increasing elderly population, the prevalence of auditory disorders, and easier access to hearing aids via government programs.
What does this mean for audiologists?
The growth of the audiology market and continued private equity acquisitions means stiffer competition for providers. Furthermore, COVID-19 has significantly shifted the behavior of healthcare consumers. To stay competitive and attract patients with auditory disorders and their families, you need robust and results-driven digital marketing for audiologists.
The Importance of Audiology Digital Marketing
Digital marketing evolved into an indispensable element of healthcare brands. True enough, the internet has become one of the most crucial advertising channels for healthcare businesses. In 2021, digital marketing overtook television for healthcare ad spend, consisting of 46% of all healthcare ads–and it's predicted to grow to 49% in 2023. Combined with the fact that 82% of Americans use search engines to find a healthcare provider, there's no way to overstate the importance of digital marketing.
According to the Hearing Loss Association of America, 48 million Americans have some degree of hearing loss. Thus, you can trust that millions will look up information online about hearing loss, its symptoms, and potential treatments–well, 74% of them, to be specific.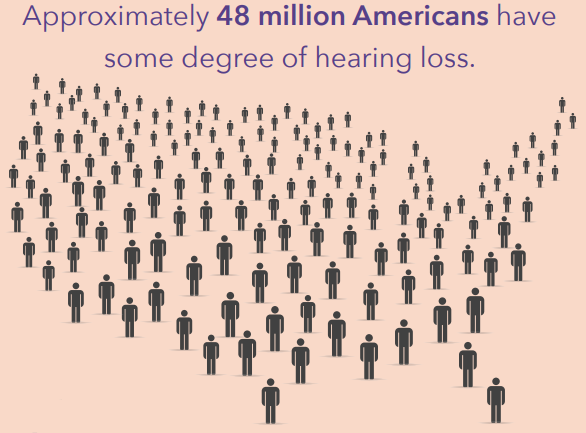 Audiology providers need to have a solid digital presence and establish themselves as reputable experts to attract hearing loss patients and their families. The best way to accomplish this is to develop a multi-pronged digital marketing campaign with strategies like SEO, Google Ads, Facebook marketing, web design, and conversion rate optimization (CRO).
Leverage Local SEO for Audiologists
The vast majority of healthcare providers rely on attracting patients within their local geographical areas. By the same token, most patients will want to work with audiologists close to their homes or work for the sake of convenience and less travel time. In fact, "near me" searches for healthcare services have doubled since 2015.
For audiologists to attract high-value patients in their geographic area, they need to leverage the power of local SEO.
Local SEO Best Practices
Below are several surefire strategies to improve your audiology center's organic search visibility on a local level:
Claim and Optimize Your Google Business Profile (GBP)
If you haven't already, make sure you claim your audiology clinic's Google Business Profile (formerly Google My Business). It's free and easy to claim by simply providing the following information:
Name of your practice
Address
Contact information (phone number, email)
Hours of operation
Photos of your center or clinic
A brief description of your practice
Just like that, you have offered critical information to searchers, making it easy for them to convert via your Google profile. Furthermore, more than a billion people use Google Maps each month, and over half of GBP interactions have resulted in website visits. In addition, 64% of users learn about the address of a business via their Google profile.
Besides providing critical information about your audiology practice, you can showcase your clinic's positive online reputation through the review section of your profile. On the other hand, not claiming your profile exposes your potential patients to misinformation and confusion.
Create a Local Keyword Strategy
Determine the keywords you want to rank for locally. Generally, you want a local keyword list based on your practice's unique selling proposition or USP (i.e., specialties or individual service lines), how audiology patients search for your services and target geographical location. In general, local SEO keywords are:
High-intent, solution-aware:

the person knows he has auditory issues and is looking for an audiologist for potential treatment.

Location-based

: long-tail keywords that include geographical identifiers, such as "LA hearing center" or "hearing test atlanta georgia."
When creating your local keyword list, be specific and granular as possible. Define your USPs and optimize for less-competitive local keywords.
Use Geo-Personalized Web Pages
For multi-location audiology groups and their affiliates, building a unique website and landing pages for each location is a must. Geo-personalized websites and landing pages increase your chance of ranking for location-based searches. You can optimize these pages further by using location-specific keywords.
Also, geo-localized websites and landing pages help improve your conversion rates by providing searchers with a more personalized digital experience.
Build a Website With Top-Notch User-Experience
A well-designed and optimized audiology website that focuses on user experience is the foundation of your digital marketing campaign. Recent Google updates tell us that it will reward websites that can provide the best user experiences. It's a good thing hearing loss patients want first-rate digital experiences as well.
What are the hallmarks of a website that focuses on user experiences? Below are a few tips to help improve your audiology website's digital experience:
Create a Fast-Loading, Intuitive, and Mobile-Friendly Website
Your audiology website must be fast and easy to use to provide a good user experience. Evaluate the loading speeds of your pages, how intuitive the navigation is, and if it has strong groundwork for SEO. If your website is slow, poorly designed, and tough to navigate, you're losing patients to your competitors.
In addition, most of your patients and their families will find and navigate your hearing website on their mobile devices–highlighting the importance of responsive web design. Responsive design means that your website adapts or responds based on the screen it's being viewed on.
Key Content Should Be Easy to Discover
People will visit your website for hearing loss information, including symptoms, causes, diagnosis, and treatment options. They want answers and fast. This is why you need to establish your practice as a reliable source of information about hearing loss conditions, auditory illnesses, and all things audiology.
With that said, the last thing you want is to bury key, authoritative content behind multiple web pages and links and poorly-designed menus. Make sure visitors will find the information they need quickly and easily.
On a related note, the rollout of Google's Helpful Content Update is a wake-up call to healthcare marketers to get their content house in order and provide real value to readers. This means in order to get into the good side of Google, your content should answer questions and concerns that patients have and leave them feeling satisfied.
Finally, ensure you eliminate friction from the patient journey by offering a hassle-free appointment system. You can use an AI Chatbot, have clear CTAs and prominent call buttons, and an information request form.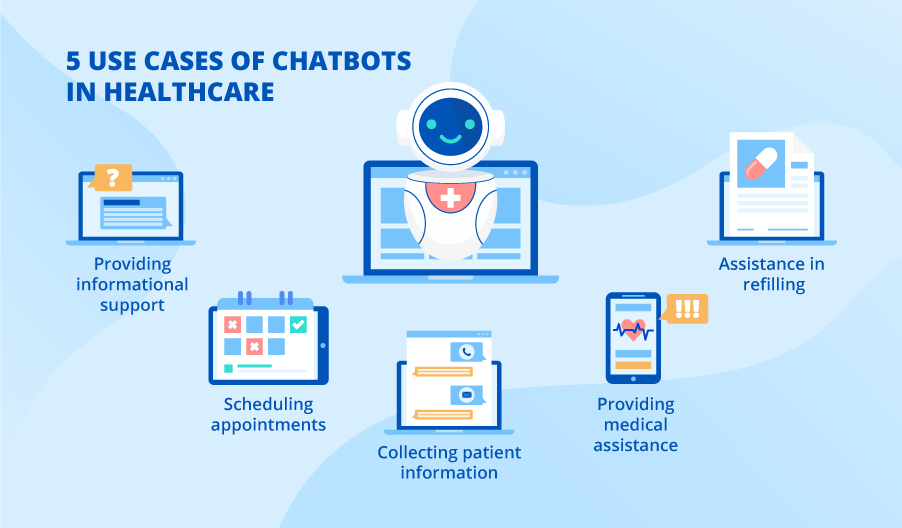 Invest in Google Ads
Google Ads (PPC marketing) enables healthcare providers to capture potential patients on the verge of making a decision. For example, if a user searches for high-intent keywords like "hearing test near me," they know the problem and seek a solution. With Google Ads for audiologists, your practice will appear on top of the SERPs right in front of people searching for a hearing specialist.
Google Ads Best Practices
The foundation and effectiveness of your Google Ads campaign hinge on your account structure. Your PPC team should develop accounts based on the most segmented or consolidated spectrums. For example, audiologist groups with multiple locations and affiliates can leverage a hybrid account structure that provides the best qualities of segmented and consolidated account structures. As a result, impressions are maximized due to consolidated ad groups, and you're given detailed targeting and budget control from segmented accounts.
After optimizing your PPC account structure, ensure your campaign takes advantage of Google's automatic bidding options. Your campaign can achieve optimal performance with a suitable account structure by letting Google's intelligent bidding algorithm shine. We also encourage experimentation with bidding strategies to get the best results.
Furthermore, aligning your ads with keywords along the patient funnel is another core element of a successful paid search campaign. Therefore, your keyword strategy should have enough diversity to cover every consumer funnel, including lower or "product aware," mid-funnel or "solution aware," and upper-funnel or "problem aware" leads.
Finally, link the appropriate landing pages for the leads in every funnel state. These landing pages should be relevant and optimized to provide a user-friendly and seamless experience. If there's one area to focus on, your lower funnel needs to be maximized to capture many ready-to-buy patients.
Expand Telehealth Capabilities
The COVID-19 pandemic has accelerated the adoption of digital solutions in the healthcare industry. During the pandemic, many hearing centers have adopted telehealth, also known as tele-audiology. More evidence suggests the viability of tele-audiology as a care delivery service. True enough, several audiology services like hearing screening, diagnostic testing, intervention, and rehabilitation are possible with telehealth.
Today, telehealth is very popular with patients because it removes many barriers to care delivery, including travel time and convenience. Thus, many hearing centers have integrated telehealth into their operation, made it their USP, and become a primary traffic driver for their practice. Audiologists should expand their telehealth capabilities to stay competitive in the digital age of healthcare.
Telehealth Marketing Best Practices
If you have telehealth, market it aggressively. Call-only ads capture patients using their mobile devices and initiate conversations as they seek solutions for their hearing loss. With adequately integrated telehealth systems, you may be able to reach a new market segment because healthcare consumers appreciate convenience and accessibility.
Remember that not everyone is comfortable discussing their hearing issues over a video call. Therefore, ensure the ad messaging features an empathetic tone and focuses on educating patients. While you're at it, allot some marketing resources for telehealth-specific campaigns and highlight successful tele-audiology sessions.
Manage Your Brand Reputation
Your practice lives or dies by your online reputation, especially locally. When potential patients and their families search for a hearing specialist, they'll gravitate toward the best-reviewed clinics and centers in the area. In fact, 71% of healthcare customers will read reviews first when looking up a provider. In many cases, your online reputation becomes your first impression for patients.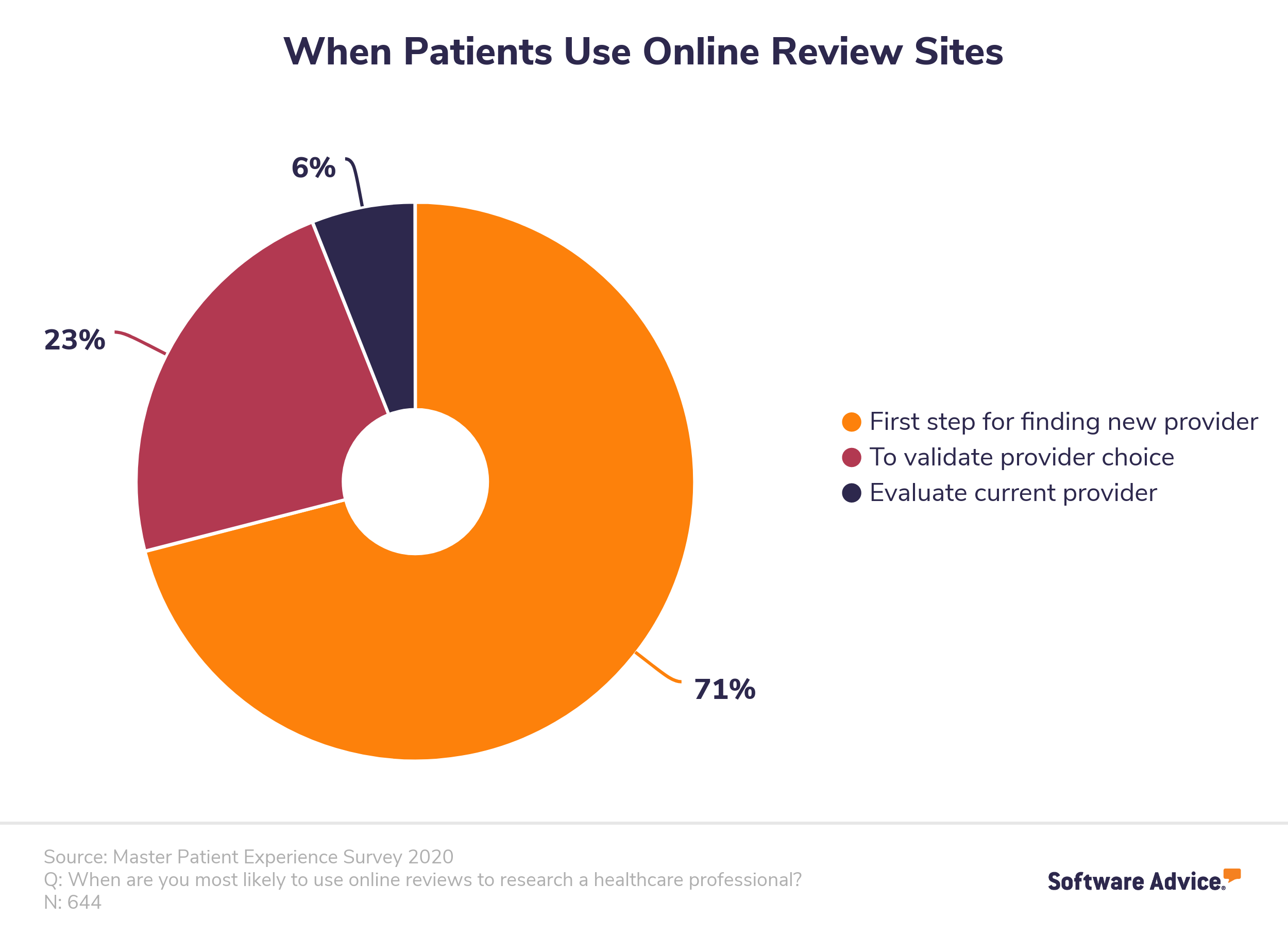 With that said, you don't just need positive reviews and feedback; you need a lot of them. Thus, it might be worth considering for audiologists to invest in review generation systems.
Brand Reputation Management Best Practices
The simplest way to get more reviews is to ask for them on a regular cadence. However, ensure reviewers can complete the task quickly, like with a short experience survey or follow-up email. In addition, add personalization to your review requests because consumers always appreciate a personalized touch. Other channels where you can collect patient reviews are your website, social media accounts, and on your Google Business Profile.
Before greenlighting your review collection strategy, ensure all stakeholders are aligned. Work with your Customer Success Manager when developing review collection strategies and go over the potential challenges and concerns (i.e., HIPAA compliance). Don't rush by launching a full-blown review collection campaign in all your locations. Instead, launch in phases to give your team more chances to fine-tune your processes.
Conclusion
When developing a digital marketing campaign for audiologists, you should always prioritize patient-centricity–it's all about the patients and how you can provide real value to them.
In summary, successful digital marketing leverages local SEO and robust web design to deliver first-rate online experiences. Then, dedicate resources to develop a powerful Google Ads campaign to capture patients on the decision-making cusp. Finally, expand your telehealth capabilities, manage your online reputation, and market them to attract new patients.