There's no other way to put it: healthcare marketers have their work cut out for them in 2021. Even though agility and adaptability are nothing new to the work of a healthcare marketer, it has never felt quite like this. COVID-19 has created tremendous uncertainty, economic instability, and political volatility. Locally, nationally, and globally, healthcare is both top of mind and totally upturned.
Quite the environment for building brand awareness and generating demand!
Nonetheless, the drum beats on and healthcare organizations must adapt if they want to remain competitive. As healthcare marketers, here are the trends that we need to keep our eyes on this coming year—where to invest, where to dial back, and some thoughts on the future of healthcare marketing as we know it.
1. The Fallout From the COVID-19 Pandemic Will Be Lasting
The onset of colder weather and the holiday season caused COVID-19 infection and hospitalization rates to surge across the country. The winter months were grime, with the overall weekly hospitalization rate at its highest point since the beginning of the pandemic. Hospitals strained under this growing burden and faced critical equipment and staffing shortages. But the light at the end of the tunnel is now visible. Vaccine distribution is well under way, and we're finally seeing cases and hospitalizations decrease.
It's been a bumpy road to get to this point, and the impact of the COVID-19 pandemic will still be felt in the healthcare industry well into 2021.
Throughout the past year, people and businesses have been more or less stuck in the middle, without much assurance as to what's safe, what's not, and when this is all going to be over. Unemployment hit an all-time high of 14.7% in April 2020. In July 2020, LinkedIn became the latest big name to announce a massive layoff of almost 1,000 employees.
This turmoil and lack of confidence extend directly into the world of healthcare. Attitudes toward hospitals and medical facilities have taken a hit. According to research from Forbes, only 24% of U.S. adults trust that companies are "putting their health and well-being first when making business decisions." Despite new protocols and precautions for providing care, people are wary about walking into a medical facility.
Understandably so: horror stories spread on social media like wildfire, as does inaccurate or outdated information from non-medical sources. As a result, things have come to a halt, and many healthcare marketers have hit pause on the traditional demand generation strategies they've relied on in the past.
What it means for healthcare marketers
Ask anybody in the healthcare field and you'll hear a similar refrain: this isn't the kind of thing that's going to change overnight. We won't wake up one day and never hear about COVID-19 again—not now, not in 2021. Instead, healthcare marketers will have to do what they've always done: pivot. Says Kurt Lee Hurley, CMO of American Family Care, in a recent interview with Cardinal Digital Marketing CEO Alex Membrillo:
"There's always going to be something that either disrupts the market or intervenes into the best-laid plans. With that being said, all good marketers have to be prepared to pivot. We're not just creative people, but we're analytical people. At the end of the day, I think using those faculties to be able to not just pivot but even, perhaps, in this state of things, as they're today, we're ready to disrupt going forward."
With that in mind, here are a few high-level areas of your 2021 strategy to reconsider through the lens of COVID-19:
Long-term growth strategies
Demand generation
Brand reputation
Brand awareness
Communication and public relations
Patient and partner education
Options for seeking care, including elective vs. non-elective surgeries
2. Effective Communication Will Be Essential
In an environment where even routine visits now look vastly different—from how they're scheduled to how they're carried out—patients need information. While authoritative, proactive communication has always been a hallmark of strong healthcare brands, today there are practical and safety considerations unlike ever before.
Patients want to know how to seek care and how safe it is to do so. When it comes to COVID-19, specifically, people want facts—they want information on prevention, symptoms, testing, and treatment. The ability of healthcare marketers to cut through the noise and meet this demand will be essential to building trust and nurturing patient relationships.
What it means for healthcare marketers
Believe it or not, this is a tremendous brand-building opportunity. It's an opportunity for healthcare marketers to humanize their communication strategies. At this moment, 52% of US online adults prefer to buy from companies that show how they are protecting customers against the threat of COVID-19. In our view, any communication coming from a healthcare brand needs to be:
Compassionate
Trustworthy
Useful
Think about the information that your patients need right now. For example, we've been closely monitoring Coronavirus Search Trends from Google. A cursory glance reveals that people are seeking information about symptoms, treatment options, and a vaccine.
To meet this search demand, healthcare marketers can source verified, factual information from subject matter experts within their healthcare organizations and make that content available to their patient communities through various communication channels.
3. Patient Experience Will Remain a Top Priority
It has to. Have you had any kind of engagement with your primary care provider or dentist lately? Pre-appointment communications, check-in procedures—everything has changed. Our view is that it's not the patients' job to "figure it all out." Instead, healthcare organizations need to audit every touchpoint across the patient journey and, where needed, update and enhance the interaction so that patients feel cared for, understood, and confident in the safety of their care.
What it means for healthcare marketers
As mentioned in the previous section, communication is essential to shaping the patient experience. Healthcare marketers should focus on a few high-level areas that must be communicated to patients in light of COVID-19:
Appointment availability and scheduling
Procedures for in-person and telehealth appointments
Accommodation of elective vs. non-elective procedures
New safety procedures and requirements
General information about COVID-19
Next, it's important to optimize the experiences themselves. For example:
Update your website content and navigation to make COVID-19 and telehealth information impossible to miss, ideally, with a dedicated page that's easy to find and includes FAQs and links/CTAs out to things like appointment scheduling and additional resources.
Revisit your automated phone system and call routing to include information about updated procedures, policies, and contact information. If patients can get the information they need without proceeding to a live phone interaction, it will help ease the increased burden on contact centers.
Personalize email and text notifications so that they're bringing value to the patient journey. Do you have dedicated responses for telehealth appointments? Has your appointment confirmation and cancellation policy changed? Are there opportunities in your email and text sequence to include information about COVID-19 or business operation changes?
Provide a mobile app experience. Mobile healthcare apps now allow patients to send physicians messages without a call, upload documents, check appointments, and see test results. Follow My Health and My Chart are excellent examples. As healthcare further limits in-person interactions, mobile apps will be a key part of giving patients all they need conveniently and effectively.
Post updates to your business listings, too. A lot of people use Google Maps to search for healthcare providers nearby, especially for urgent care. Make sure your Google My Business listing is updated so patients can find you! Include safety and health bulletins, too, so patients know what to expect before they come in. Read our article to get more tips on how to optimize your Google My Business listing.
4. Your Brand Reputation Might Make or Break You
According to research from Edelman, 71% of people will lose trust in a brand if they feel that the brand is "putting profit over people" during the pandemic. To put it bluntly, what your company says and does will have a lot more visibility—and scrutiny—in the coming year. This is especially true for healthcare businesses and brands.
The good news is that 85% of people want brands to use their platform and reach to educate consumers (Edelman). Few people expect brands to stop advertising and PR altogether—they just want brands to get it right. What's more, healthcare experts are in a unique position to reach their audiences: according to the same Edelman report, 78% of people feel that medical doctors are "credible spokespeople" for a brand's "virus-related actions."
What it means for healthcare marketers
In working with healthcare organizations on brand reputation and public relations strategy, we've built our pandemic-proof approach around a couple of key parts:
Transparency. Now is not the time to selectively omit the details. If your company has had to scale back operations or make changes that impact the patient experience, be the first to let your audience know. The same goes for how you're making patients safer, or the good you're supporting in the community.
Authority. Remember that your patients are looking to you for credible information about their healthcare and safety amid the global pandemic. Provide physician-vetted information and bulletins on the channels your audiences use, such as Google Maps (your Google My Business Listing), mobile app (Follow My Health, for example), and your website.
Reputation. If you don't have a review program in place designed to generate customer/patient reviews, now is the time to do so. Not only will positive reviews help your healthcare brand's visibility and digital reputation, but it's an opportunity to see and respond to what actual patients are telling you and, perhaps, identify gaps in your patient experience.
Public relations. Now is not the time to turn off your PR activities. But there's a twist: instead of press releases and social media posts drawing attention to the good your brand is doing in the community, use those platforms to draw attention to the causes that your brand is supporting. There's a difference.
Community engagement. We know that people are turning to healthcare professionals now more than ever for credible information. Use this opportunity to moderate your communities and forums with professional input from your organization's medical experts. It's a chance to build awareness, answer questions, and drive engagement among your patient base.
5. Investment in SEO and Content Marketing Will Evolve
How to optimally direct marketing spend is always top of mind for healthcare marketers. It's a conversation we have every day. In the immediate aftermath of the global pandemic, the knee-jerk reaction was to hit pause on marketing and SEO budget—at least for the time being.
But that won't remain the norm. Now, the conversation has evolved into, "how can we redirect our spending to best support our patients—current and future—given the 'new normal?" Organic search volume hasn't gone away; people are just searching for different things. Demand for high-value content hasn't disappeared; people are just interested in different topics.
What it means for healthcare marketers
As you budget time and resources for your 2021 SEO and content marketing campaigns, think about investments that will allow you to weather the storm while building brand reputation and capturing future search traffic. Many healthcare "purchase" decisions are still high-consideration, even at the consumer level. And people are still finding your content through Google search as a means of evaluating your medical practice.
Of course, achieving high-ranking content is a long game. In terms of where to get the most bang for your buck, here a few places to focus on:
Local SEO:
Why? Because people are increasingly reliant on local "Near Me" type searches to find credible medical practices for a variety of healthcare needs, including family care, urgent care, and elective surgeries. Optimizing your content and listings (Google My Business, for example) for your local markets can help you capture this traffic now and in the future.
High-value Content:
Think about the kind of information that patients need right now, 2021, and that only you as a medical authority can provide. This might be a guide to keeping children safe as they return to school, for example; or a starter guide for telehealth. Patients appreciate rich content that helps them look after themselves and their families (as opposed to simply capturing their email addresses).
6. Telemedicine Will Become More Prevalent
Necessity is the great motivator, and COVID-19 has created the resurgence of telemedicine (also known as "telehealth") options. While some appointments still require in-person visits, telemedicine appointments are suitable for visits that don't require a face-to-face examination. This helps limit exposure and spread while keeping both patients and healthcare providers a measure safer. Plus, telemedicine gives physicians a way to see and evaluate people with COVID-19 symptoms without direct exposure. While telemedicine won't replace traditional healthcare, we predict that these types of appointments will become more common and essential for specific market segments.
What it means for healthcare marketers
It's very much the job of healthcare marketers to build awareness and demand around their practice's telemedicine options. Here are some high-level action items to get the word out and drive adoption:
Build a framework for the future. Healthcare organizations must examine how telehealth fits into their long-term strategy and lay the groundwork for the future. Ask yourself, does your target demographic want telehealth? How technically savvy are they? Will telehealth help you serve patients better? Now, think 10 years into the future. How do you prepare today's tech-savvy millennials for telemedicine as they age?
Create a dedicated website hub for telehealth, then update your website, Google My Business listings, social media accounts, and other channels to point to this landing page (where sensible). This page should be informative, educating patients about what telemedicine is, how it works, and frequently asked questions. Consider including video testimonials for telehealth adopters.
Get the word out to existing patients through email and text messaging campaigns, targeted advertising, and content marketing. Make it easy for patients to get all the information they need to take advantage of your telemedicine options.
Advertise to target markets. Boosted posts on Facebook, for example, allow you to reach target demographics with engaging content about your telehealth offerings. You can also target PPC advertising to appear in telemedicine-related searches within your local markets.
For additional information about telemedicine marketing, please see the following resources from Cardinal Digital Marketing:
7. Healthcare (and Healthcare Marketers) Will Lean into Innovative Services
Medicine is always at the forefront of innovations in treatment and technology. Yet, the pressure on medical practices to develop new ways to treat patients and improve the patient experiences promises to increase in 2021—especially as a COVID-19 vaccination remains an open question.
From 3D modeling in surgery to using artificial intelligence for hearth therapy treatments, the pace of new healthcare innovations is dizzying. On the patient experience side, healthcare providers are rolling out telemedicine, curbside care and diagnostics, new healthcare apps, and AI-powered chatbots.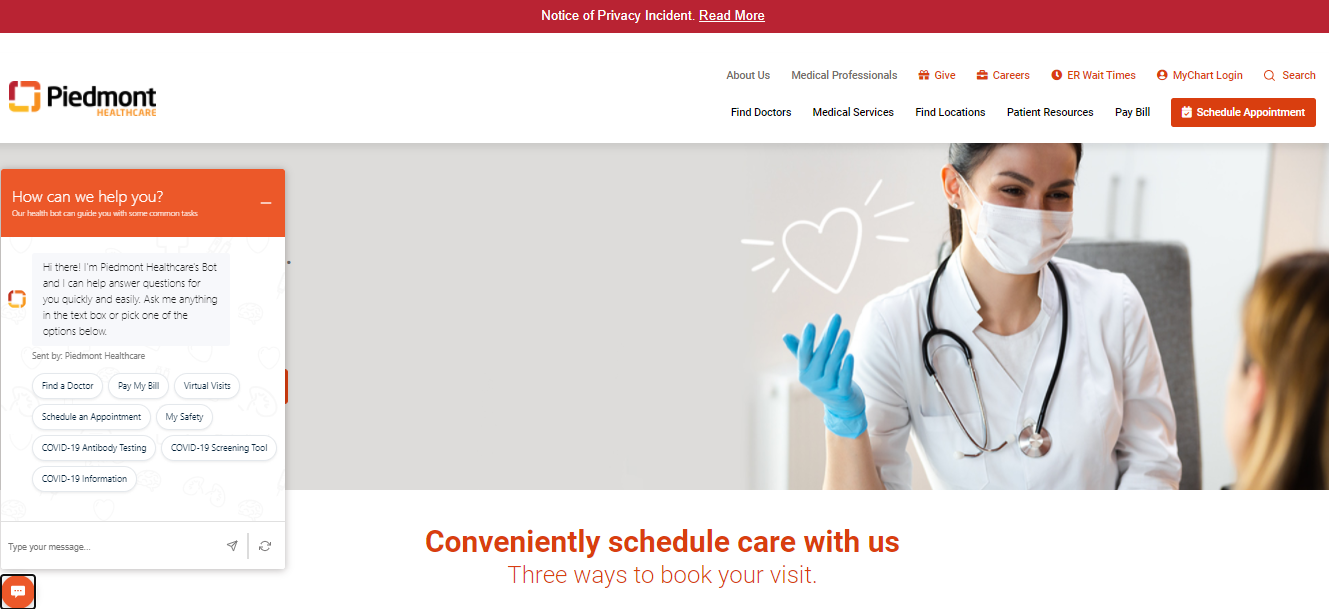 Piedmont Healthcare's website includes a convenient chatbot that allows visitors to easily get the information they need or schedule an appointment.
What it means for healthcare marketers
As advanced as all of this technology might be—and as good as it might be for enhancing the patient experience—adoption and awareness don't happen by themselves. Many patients don't take advantage of these innovations because they either don't know they exist or don't understand them.
To increase adoption, healthcare marketers must effectively communicate these new services and create a seamless patient experience for those who seek them out. Here are a few examples:
The creators of the PreeMe+You app have campaigned around how data from the app is used in research for improving patient experience and outcomes with premature births.
Florence, an AI-powered healthcare chatbot, integrates with Facebook Messenger and Skype directly. It's free and it integrates into those experiences in a couple of clicks, after which the Florence team has a captive audience that they can nurture until they're ready to receive care.
Medical providers have broadcast brain surgery using Facebook Live or used augmented reality (AR) to simulate medical problems and treatments. Consider ways that you can give prospective patients a look behind the scenes (with patient consent, of course). More than ever, patients want exhaustive information about every step of medical procedures they're considering, including the safety precautions you take.
8. Healthcare UX Will Be a Dealbreaker
We know that improving the experience for patients once they reach our pages is essential. Google certainly thinks so: in a May 2020 Google Webmaster Central Blog post, the company announced that Google Search will now factor UX signals into its rankings, including Google's new Core Web Vitals.
What this really means is the need to create effortless experiences for patients of all skill levels and digital literacy as they seek care from you through your website. On a basic level, this means that your website loads fast, is easy to use and find, and is accessible across all devices and platforms.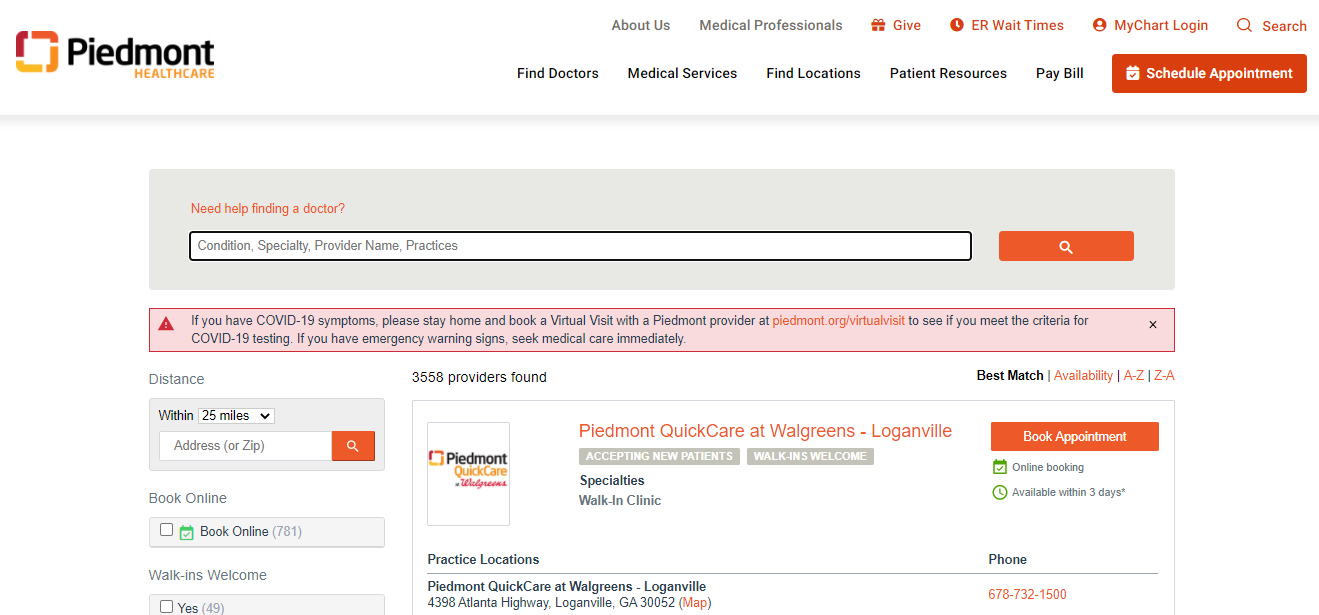 User experience is more important than ever. If your digital platforms and patient portals are cumbersome to use, the patient experience will suffer. Make sure you walk a mile in patients' shoes and optimize every touchpoint.
What it means for healthcare marketers
Now is the time to walk a mile in the shoes of your patients. Fortunately for you, there's a dedicated Core Web Vitals report that you can pull through Google Search Console to get an idea of where your web pages stand from a UX perspective, as well as suggestions on how to make improvements.
This is a good place to start.
But do give your sites a whirl on desktop, iPhone, Android, and any other devices or platforms your users tend to use. Are there any pages on your site that load slowly? Do you have pop-ups running that, however important to demand generation, are actually annoying and intrusive for patients trying to seek care? Finally, are there experiences that don't translate well to mobile devices?
Here are a few other areas to test and optimize from a UX perspective:
Accessing COVID-19 updates and resources
Making an appointment
Making a telehealth appointment
Finding a particular practice area (orthopedics, oncology, etc.)
Logging into the patient portal
Finding their provider's bio and credentials
In Closing: Patients Are The Priority
A unifying theme across all of these 2021 healthcare marketing trends is patient experience. In our view, the call of the hour in 2021 and beyond will be innovating, communicating, advertising, messaging, and marketing with the patient in mind—empathy marketing, if you will. No matter where you focus your energy, the patient experience should always be the starting point. Remember, COVID-19 is just one challenge facing your patient base.
To that end, communication will be essential to connecting patients with the care they need. Isn't that what healthcare marketing is all about? Marketers who can adapt to changing circumstances, adapt to market volatility, and connect with patients in a way that brings value to their journey, will do wonders for their brand.
Demand generation won't be a problem at all.
Because the need for quality healthcare isn't going anywhere. It's just that patients are more savvy and selective than ever.
Editor's Note: This post was originally published in September 2020. Some parts have been updated to reflect new information about the COVID-19 pandemic and vaccine distribution.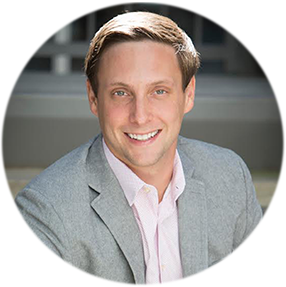 Alex Membrillo
Founder and CEO
Alex Membrillo is the CEO of Cardinal, a digital marketing agency focused on growing multi location companies. His work as CEO of Cardinal has recently earned him the honor of being selected as a member of the 2018 Top 40 Under 40 list by Georgia State University as well as 2015 and 2016 Top 20 Entrepreneur of metro Atlanta by TiE Atlanta, Atlanta Business Chronicle's 2016 Small Business Person of the Year,and the Digital Marketer of the Year by Technology Association of Georgia (TAG).