You've likely invested in search engine optimization (SEO) and maybe you've even seen an increase in traffic, but you're still not converting enough leads to meet your growth objectives. If you're trying to reach more people and SEO isn't proving effective, you might want to consider paid search advertising. Paid search, specifically Google Ads, can get you in front of a large—highly targeted—audience quickly
With paid search, you don't have to worry about publishing blog content, guest posting, cultivating backlinks, or anything else. It can be a quick and effective method to generate leads. In this article, I'll show you how paid search can help you drive high-quality traffic, leads, and ultimately patients to your medical practice or hospital.
This article consists of two parts. First, I'll show you how three healthcare companies are generating leads with Google Ads. Then, I'll discuss PPC best practices so you can also develop effective campaigns with high ROIs.
Let's get started.
3 Healthcare Companies with Successful Google Ads Campaigns
If you've ever doubted that paid search can deliver real leads, you need to read these case studies from three healthcare companies that launched successful Google Ads campaigns:
1). CareSpot Urgent Care
CareSpot is an urgent care center with locations throughout the United States. They provide high-quality care that is an affordable alternative to the emergency room. As a multi-location business, they had unique needs for their PPC strategy: it was critical that their Google Ad campaigns did not compete with each other. To achieve this, their PPC strategy centered on a 4-pronged approach:
Center-level budgets
Geofencing
Direct response keywords
Ad structure
Center-level, individual budgets allowed each CareSpot location to have its own PPC campaign with a separate budget. This allowed them to manage the budget more efficiently and allocate spend to the campaigns where leads could be acquired at a cheaper cost.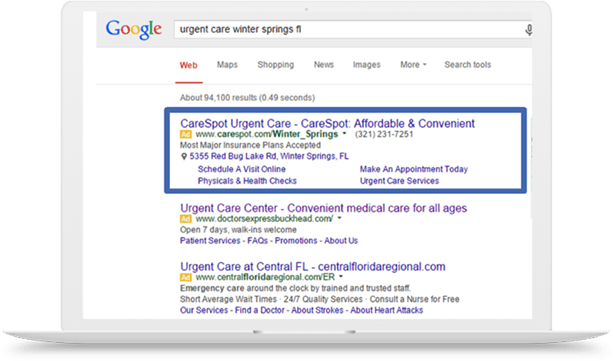 As a result of this 4-prong approach, CareSpot ranked #1 in local map listings in 50% of searches. They also ranked in positions 1-3 (the visible 3-pack) of the map listings in 97% of searches.
When you rank at the top of the map listings, you get more leads. During a 9-month period, CareSpot acquired 173,880 digital leads.
2). Trinity School of Medicine
While organic search is instrumental to long-term digital success, if you want to see immediate results you may need to invest in paid search. Trinity School of Medicine had aggressive growth goals and decided Google Ads would get them the results they needed.
Luckily, they were able to piggy-back on their SEO keyword research to jump-start their PPC campaigns. Since they had already identified the keywords people used to search, they just had to fine-tune their targeting.
If you want to reduce your ad spend and cost-per-click rates, you need to make sure your ads aren't displayed to the wrong audiences. If someone has no chance of becoming a paying customer, why show them an ad? Trinity School of Medicine developed a negative keyword list that ensured their ads were only shown to qualified searchers.

In conjunction with Google Ads, they also launched a complementary display ad campaign to increase brand awareness. Graphic advertisements were displayed on targeted web sites based on their relevance to specific keywords, patient persona research, and if they had visited Trinity's website previously.
Trinity School of Medicine used a variety of digital marketing strategies to achieve impressive results. In three months, they saw a 12% increase in applications from qualified leads.
Learn how we've helped other higher education institutes get similar results using paid search and SEO.
3). Einstein Healthcare Network
Albert Einstein Healthcare Network is a private non-profit healthcare organization based in the Philadelphia, Pennsylvania region of the United States. With more than 20 hospitals, this region is highly competitive. Einstein Healthcare Network wanted to increase their brand awareness, promote their patient-first approach, and generate more leads.
Their Google Ads campaign sought to meet potential patient's needs by answering questions at each stage of the patient's journey. By providing easy access to high-quality information, they could increase trust with their brand.
The PPC campaign used these tactics:
Campaign restructure
Ad copy revision
Better landing page experiences
Through their new Google Ads campaign, Einstein Healthcare Network increased online appointment requests by 197%.
The Basic Principles of Google Ads
Now that you've seen how other healthcare companies have generated leads using Google Ads, I'll show you how you can too. Let's start with the basics.
The first step is to determine the keywords that your potential clients will be searching for on Google, then develop a PPC ad campaign that will show up on the search engine result page (SERP) when users input the keywords you bid on.
You're most likely not the only hospital or medical practice serving advertisements to potential patients in your industry or locality. Your competitors can also develop ad campaigns using the same keywords as you. Tampa, Florida is home to several hospitals, and they all may be running ads for the keywords "hospital in Tampa" or "Tampa hospital with ER."
For your ad to appear when someone uses your keywords, you need to submit the highest bid for those keywords. When you set up your Google Ads campaign, you have to set your maximum bid. The probability of your ad showing on a search engine is directly proportional to how much you're willing to pay for every click.
In other words, the more you're willing to pay per click, the more likely your ad will show up in the search results (which is the reason paid search is frequently called PPC, which means pay-per-click).
Below are the fundamental components of a Google Ads campaign;
Landing page or web page
Google Ads account
List of targeted keywords
Ad graphics or ad copy
Payment details
If you're a hospital owner or medical practice looking to generate leads using Google Ads, below are the steps to follow:
1). Develop Spending Plan for Campaign
One of the most frequently asked questions relating to Google Ads is "how much should I spend on a Google Ad campaign?". Our advice is to set up your campaign based on your budget and optimize around that amount. Evaluate your marketing strategy and determine how Google Ads fits into your overall marketing strategy. Is it a crucial element that you're counting on to generate all of your leads? If so, you may want to allocate more money to your budget.
It's also important to know how much your competition is investing in paid search. How much are they bidding for your keywords? What is the average cost-per-click for your target keywords? You can use the Google Keywords Planner to figure out a lot of this information.
Once you answer these questions, you'll be able to develop a spending plan for your Google Ads campaign.
If you're not sure where to start, you may want to contact an agency to help you plan your campaign budget so you don't spend unnecessarily. Feel free to reach out to Cardinal Digital Marketing if you want to discuss our PPC management services.
2). Choose Keywords for Your Ads Campaign
After you've laid out your budget, the next thing you need to do is research the best keywords for your Google Ad campaign. These must be relevant keywords you want your website or landing page to show up for based on the products and services you offer.
Google's Keyword Planner is one of the best tools for keyword research.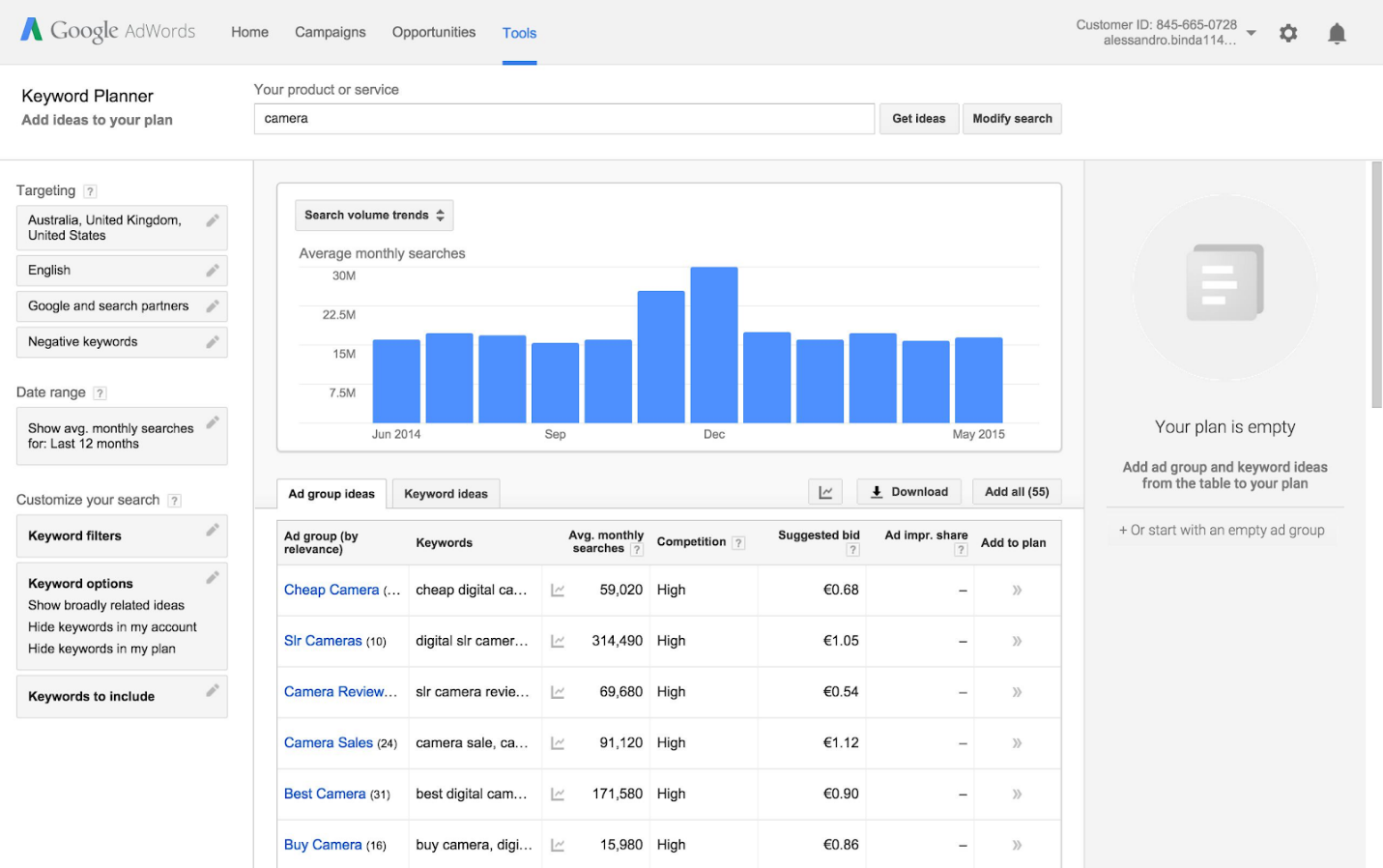 This tool helps you to find the best keywords for your ad based on search volume and competition. It also shows you the cost-per-click (CPC) for your ad. CPC refers to the rate you will be charged for every click on your ad.
Another effective method when conducting keyword research is to ask customers how they found you. Find out what they typed into the search bar when looking for information about your products or services. How did they arrive at your web site? You can also listen to what they're saying on digital platforms. People often turn to forums or social media to ask questions. This type of information is often gathered during buyer persona development.
3). Build a Landing Page That Matches Your Ad Copy
When you create your ad campaign, you need to link to a webpage. While your first thought might be to just link to your homepage or product page, there might be a better choice. Depending on the product or service you're advertising, you might convert more clicks into leads if you use a custom landing page.
Whether you decide on a landing page or another page on your website, your ad copy must match your landing page. When potential customers click on your ad copy, they expect the webpage to relate to what they clicked on.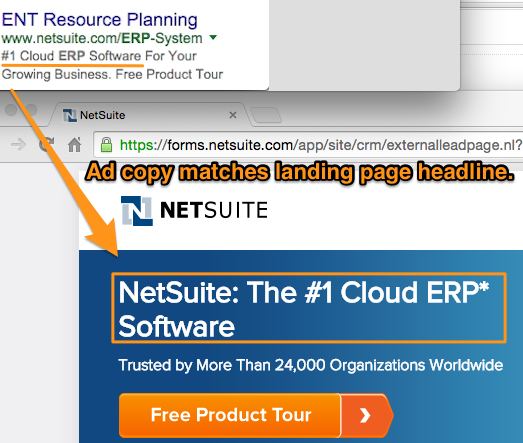 If your Google ad copy is promising but the content of your landing page doesn't match your ad, you'll be delivering a poor experience to your customers. They will get confused and will have no choice but to leave your landing page–resulting in a wasted click and ad spend.
Thus, aligning your ad copy with your landing page is one of the best practices to adopt if you want to generate clicks that result in leads.
If you need help with PPC management, feel free to reach out to the paid search experts at Cardinal Digital Marketing! We're here to simplify the process and get you more leads.
4). Create Multiple Ad Groups in One Campaign
When a search user Googles a particular keyword (e.g., project management), Google Ads' algorithm will automatically find relevant results for that keyword. This will cause your ad to be shown to the searcher if the searched keyword matches keywords that you've included in an ad group.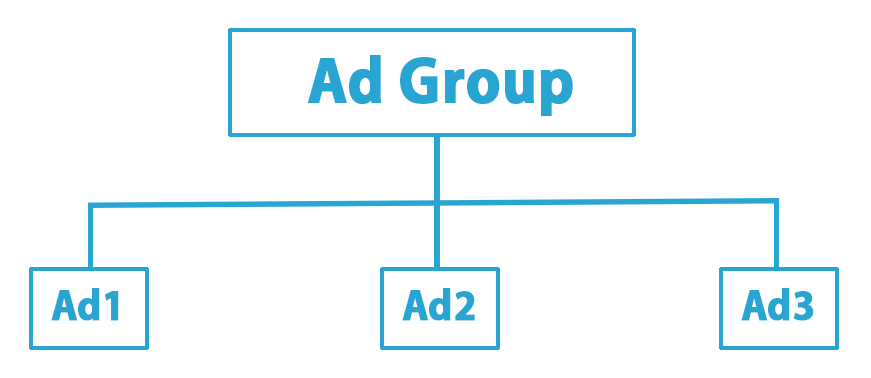 Remember that the feature and description of your ad must be relevant to the keyword that will trigger your ad to be shown.
For example, when searchers look for 'back pain' in the search bar, your ad copy must address users who are looking to cure back pain. The more applicable your ad is to the users' keywords, the more likely they will want to navigate to your landing page.
5). Create Ads in Google Ads
Now that we've talked about how to set up your campaign, let's talk about the ads themselves. While the backend of your campaign is important, your ads are what potential patients see. They need to be well-crafted for your ad campaign to be successful. If your ads are poorly designed, use confusing language, or have weak CTAs, no one will click them.
Here are a few tips to help you create effective paid search campaigns.
Focus on relevancy
When developing a PPC campaign for your hospital or medical practice, the first thing you must ensure is that your ad copy is aligned with the searcher's intent. When planning your ad campaign, refer back to your buyer persona or patient persona. Think about the problems your patients are trying to solve. What questions do they have? What benefits are they hoping to receive? Use the same language that they use so that your ad copy resonates with them and they click on it.
The more relevant your ads are to your target demographic, the more likely they will click.
High-performing ads with high click-through-rates (CTR) tend to have a higher ad rank. Ad rank is a value that's used to determine your ad position relative to other ads. Google assigns ad rank based on several factors, including your bid amount and the ad relevance.
If possible, try to make your ad different from your competitors' ads. While you want to make your ad copy unique and enticing, be careful that it's not too witty or uses jargon, as people might not understand what you're saying. Ultimately, you want to make it easy for your target audience to understand what products or services you're offering and that you have the best answer for their search question.
Use a simple and direct call-to-action
You want to generate leads from every click on your ad. Therefore, when a potential client gets to your website, you need to make them take action.
Your call-to-action can be structured in several different ways:
Quote form
Inquiry form
Call button
One thing to note is that creating ads with juicy words such as; offer, free, and discounts will increase your chances of generating more clicks and leads.
Don't Use Spammy Language
Your ads must be professional and valuable. There's no need to use ALL CAPS, don't spam FREE, and avoid using MiX CaSeS in your ad copy. As much as possible, use the same language as your target patient.
If you want to run your first Google Ads campaign and need help, talk with a PPC expert at Cardinal Digital Marketing.
6). A/B Test Ad Copy
After you've created your landing page and ads and selected your keywords, you need to think about how to measure the performance of your ads.
By creating multiple ads, you can test to determine which ad is performing best based on keywords selected, ad copy, and the landing page.

After running your ad, if ad 'B' outperforms ad 'A', you can put ad 'A' on hold.
Another factor you should concentrate on is 'Quality Score.' Quality Score is Google's method of evaluating the quality and importance of both your keywords and ads. Google determines your CPC using the quality score and multiplies it by your maximum bid to decide your ad in the ad auction process.
Short campaigns don't provide enough data. Try to stay consistent with your PPC advertising campaigns. That way, you'll be able to generate enough data to make well-informed decisions that will grow your business revenue.
Conclusion
The Google advertising platform is a must for any medical practice or hospital that wants to reach its target audience in real-time, without spending a lot of money on traditional advertising. Unlike SEO, which takes time to see movement in your page rank, PPC allows you to get in front of potential patients immediately.
Bear in mind, though, that what works for one company may not necessarily translate to success for you. Because industries differ and so does the audience, it's important to conduct thorough keyword research, develop highly relevant ads, and to continually test your campaigns.
If you've dabbled in PPC advertising before but gave up quickly, you may want to reconsider it. It's proven to be successful for many healthcare companies and with the right approach, you could also see similar results.
If you want to discuss whether PPC advertising is right for you, feel free to reach out to us. We're happy to review your digital marketing strategy and share how our PPC management services could help you meet your business goals.