How a personal injury law firm boosted local SEO, increased digital leads, and improved PPC ROI dramatically


Cardinal's Continued Efforts resulted in:
20%
increase in organic website traffic
31%
increase in ranked targeted keywords
27%
decrease in cost per acquisition (CPA)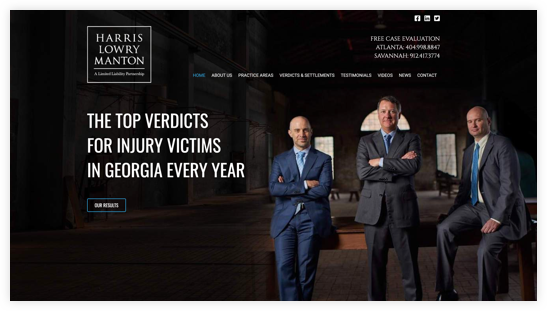 Company Overview
Serving Atlanta, Savannah, and all of the southeastern region, Harris Lowry Manton is the personal injury law firm known for delivering results. Touted for delivering "the most 8-figure verdicts in Georgia for ten years running," Harris Lowry Manton specializes in a variety of practice areas, including catastrophic injury, medical malpractice, and product liability.
Problem
Driving organic search traffic and digital leads within the personal injury law space means always staying a step ahead of the competition. Harris Lowry Manton engaged Cardinal Digital Marketing to deploy more aggressive, cutting edge SEO and PPC strategies tailored for personal injury law and designed to deliver bottom-line-results: digital brand awareness, website traffic, and leads.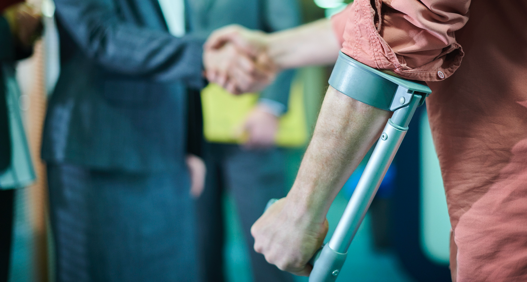 Solutions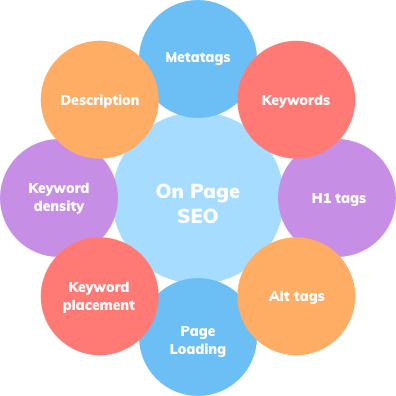 In-depth website optimizations
First and foremost, the Cardinal Digital Marketing team performed a full-scale website audit and update. This included a variety of on-page optimizations, such as meta tags, header tags, unique landing page content, internal linking and image alt tags, all of it aligned with detailed keyword research. Our team also performed site speed optimizations and implemented a redirection plan for more than 35 defunct or archived pages.
Comprehensive link building campaign
Domain authority is a big part of search visibility and generating organic site traffic. To help drive domain authority for Harris Lowry Manton, our team performed ongoing link building outreach to make sure authoritative and relevant sites were linking back to high-value content on the website.
This included Google Plus shares and profile optimizations for both the Atlanta and Savannah locations, submitting online local and business directory listings, and revising outdated listings with current NAP information.
In addition, our team conducted a competitor backlink profile analysis to identify and pursue potential linking opportunities, as well as YouTube channels for both Harris Lowry Manton locations to share videos (and link them back to web properties). Finally, through a thorough "link detox" campaign we were able to analyze over 1500 links to identify and remove harmful backlinks.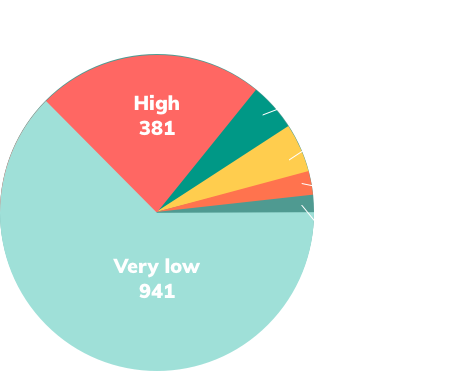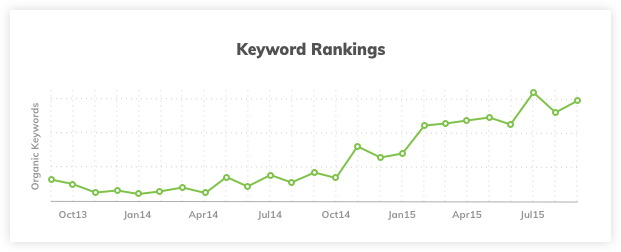 Blog posts and content optimization
Our content team also created and published new blog posts relevant to the main practice areas that Harris Lowry Manton aims to rank for (these posts were also used during link building). All landing page content was similarly adjusted to align with practice area optimization, including the appropriate use of keywords, length, and quality, as well as Onsite meta tags optimization for improved search presence for both the Atlanta and Savannah offices.
Efficient, lead-generating PPC campaigns
Our teams built and launched PPC campaigns optimized to reach and drive qualified leads to Harris Lowry Manton landing pages. Using a combination of branded search traffic and display remarketing, our team has been able to continue driving leads and conversions while consistently reducing cost per acquisition, thus improving ROI for these PPC campaigns.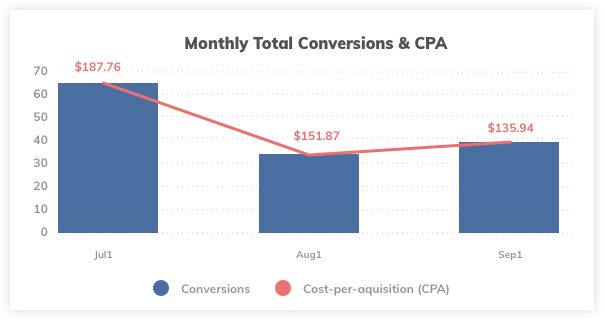 Outcomes
Because law—especially personal injury law—is one of the most challenging and competitive industries to market to, our team had to be strategic and targeted in our approach to web design, SEO, and digital marketing.
Our efforts around SEO have contributed to a 20% increase in organic website traffic, as well as a 31% increase in ranked targeted keywords for both the Atlanta and Savannah markets. Overall, 44% of the firm's target keywords are ranking, with 9% of keywords ranking on the first two pages of search results, helping to drive more qualified visitors to the website.
20%
increase in organic website traffic
31%
increase in ranked targeted keywords
27%
decrease in cost per acquisition (CPA)
On the PPC side of things, a 27% decrease in cost per acquisition (CPA) has dramatically improved ROI for these campaigns. Our PPC team continues to monitor and adjust spend and creative based on target keyword strategy, conversion rate, and other important data, to continue maximizing bottom-line impact (leads) for the firm.
Ready to Rise Up on the Internet?
Fill out the form to get started!