CentiMark is the nation's largest commercial roofing company, as well as a leader in the flooring industry. With locations throughout the U.S. and Canada, CentiMark has cemented its foothold in the marketplace.
CentiMark is the nation's largest commercial roofing company, as well as a leader in the flooring industry. With locations throughout the U.S. and Canada, CentiMark has cemented its foothold in the marketplace.
They turned to Cardinal for help.
It's always exciting to help bring an established brand into the digital landscape. There's so much potential out there, and it's our job to hone in on the strategies aimed to deliver the best return on investment for our clients.
In the case of CentiMark, after an initial audit of their existing strategies and assets, we concluded that they'd see the best return if we designed a collaborative paid and organic strategy. By creating these two types of campaigns, CentiMark would see enormous gains in their brand awareness and would increase the number of leads they funnel through the purchase cycle.
Organic Marketing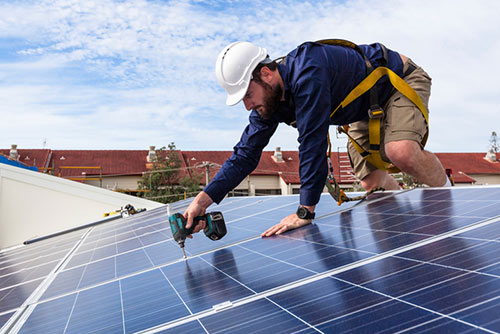 Organic – or SEO – marketing is key toward building authentic relationships between brands and consumers. The work we do for an SEO campaign also helps us establish and refine our paid campaigns.
For CentiMark, one of the first steps we took was to examine their marketplace, competitors, and prospective audiences. Our goal was to develop clear buyer personas, who would serve as the focal point of all of our campaigns moving forward.
With our personas in place, we could then develop a comprehensive keyword list, to help us determine what types of pages and content we needed to create.
Our keyword list for CentiMark was rather robust, due to the number of personas they target. We wanted to ensure that the messaging we crafted was targeted with laser-like precision for each of their ideal customers.
In addition, we wanted to ensure our keyword lists represented buyers at all stages of the purchase cycle. For example, a business owner who's just begun his search for roofing solutions (awareness stage) uses different types of keywords in his search, then someone in the consideration stage, who might begin comparing products and brand names.
We took all of this into consideration as we developed our keyword lists. Once completed, we then had a foundation from which to build our organic campaigns.
Our SEO campaigns are varied and encompassing, but include such assets as:
Article and blog posting
On-site content
Digital PR and link-building
Our SEO campaigns are built on the premise that content is king, but authority is the kingdom. What we mean here is that it's extremely important to produce keyword-rich content that ranks high on search engines, and that also provides a quality experience for prospects who discover that content online.
You can see the results of our efforts thus far:

Our client has seen some incredible gains across the board for keywords we've concluded their target audiences are searching for.
Paid strategy
It's rare for an organic strategy, alone, to be enough to grow a brand and sustain that growth. That's particularly true for large brands like CentiMark, with various locations throughout North America.
In order to successfully build CentiMark's brand company-wide, as well as within each specific location, we needed to turn to paid media.

Fortunately for us, a great deal of work for our paid campaigns was done during our organic development. The keywords we used for our SEO efforts would serve as the crux of our paid media campaigns as well.
However, we also took these lists one step further to ensure our client enjoyed the best possible ROI. Our SEO team spent considerable time creating a negative keyword list that would minimize the frequency of our client's ads appearing at the wrong time, to people not likely to become customers.
Building a negative keyword list is a complex, but necessary, process. Our goal is to ensure that our paid media content shows up when and where they're supposed to – so that cost-per-click and cost-per-lead are minimized.
Negative keyword lists make that happen.
With our updated keyword lists set, it was time to create specific campaigns for our client. Each campaign is unique, however, follows a similar path:
We prioritized our ads based on the ROI we knew we'd get from each ad. We then created landing pages for these ads, allowing us to track performance. We then crafted a series of ads for our campaigns, each with their own set parameters and budget.
Our paid media team then monitored – and continue to monitor – each campaign. In the past, this has been problematic for multi-location companies like CentiMark. It has been incredibly difficult to monitor the success of location-based campaigns within one organization.
Knowing this, we designed a proprietary software solution that makes it easy for us to track analytics across each location. This type of granular analysis – which we handcrafted specifically for multi-location businesses – makes it possible for us to make adjustments at the local level.
Our constant surveillance approach to ad management allows us to make changes on the fly to improve our client's ad performance and ROI. We not only revisit budgets, but we also tweak content, A/B test landing pages and more, all in an effort to get the most out of every single campaign, across every single location.
You can see an example of one of our paid media ads below:

You'll notice that beyond just the ad headline and body, there are four extensions beneath the ad: "Locate an Office," "Videos," "Roofing Systems" and "Roof Warranties."
These extensions did not appear automatically – we added them into CentiMark's AdWords account. There are many reasons why we'd add extensions to a client's paid ads. For starters, these extensions help the ad take up more valuable digital space on the results page. But, in addition, these extensions add versatility to the ad. Now, with these extensions, someone "ready to convert" can click right on "Locate an Office" while someone who's "just browsing" can look at other extensions, such as "Videos" or "Roofing Services."
The marriage between paid and organic
The strategy we implemented for CentiMark represents the most effective way to build brand recognition and leads, in both the short and long terms.
As you can see from the graph below, 75% of the clicks our client received from Google came from organic listings: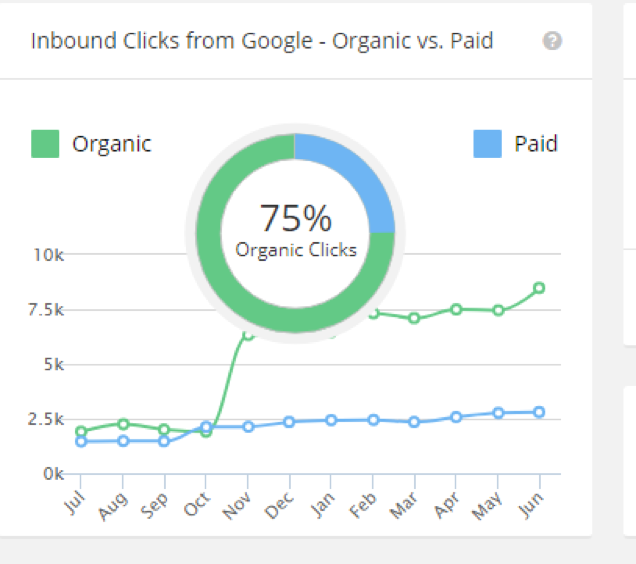 However, that's not to say that paid search didn't play a role in the increase of clicks and leads.
Actually, what this represents is that through our combined strategy, we were able to increase our clients' leads, without inundating them with oversized paid ad budgets.
When a prospect searches for a key term (such as "commercial roofing", it's very possible that our client's ad and organic entry are listed on the results page.
When a prospect searches for a key term (such as "commercial roofing", it's very possible that our client's ad and organic entry are listed on the results page.
Our work with CentiMark has just begun. We continue to refine our strategies and adjust areas that need improvement. SEO and paid search are never ending; the only way to truly succeed is to monitor every campaign and find ways to improve on what works.
Ready to Rise Up on the Internet?
Fill out the form to get started!